Abstract
Dust events are among the climatic hazards which may occur the year over in the southwest of Iran. The goal of this research was to investigate the role of the polar front jet stream (PFJ) as one of the most important synoptic patterns affecting the formation of dust events in the southwest of Iran during a statistical period (1998–2012). The research method was a combination of statistical–synoptic and remote-sensing analyses. The frequency of occurrence, duration, and intensity of dust events were studied by using hourly data of five synoptic weather stations. Also, climatic stability condition considering climatic conditions of ground level and 500-hpa level was investigated by using networked data obtained from the NCEP. Dust detection was done by using the data of Meteosat-7 satellite and MODIS sensor of Aqua satellite. In addition, weather conditions were analyzed simultaneously with dust events using dust measurement indices such as aerosol absorption index (AAI) of TOMS sensor and aerosol optical depth (AOD), and concentration rate of dust and visibility extracted from the output data of the numerical simulation model (COAMPS). Statistical results showed that the main factor of more than 20 % of total dust events in the southwest of Iran was the synoptic pattern of the PFJ, leading to the formation of dust events in the cold period of the year. Finally, synoptic analysis of weather maps and satellite images clearly indicated the effective role of PFJ in the formation of dust events of cold periods in the southwest of Iran.
Access options
Buy single article
Instant access to the full article PDF.
USD 39.95
Price includes VAT (USA)
Tax calculation will be finalised during checkout.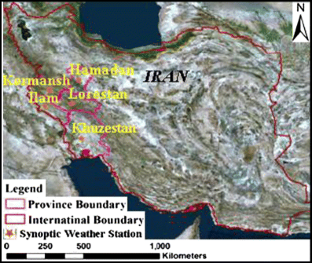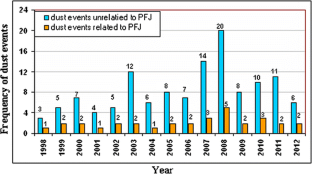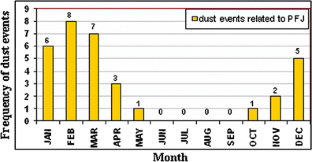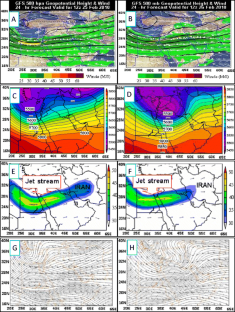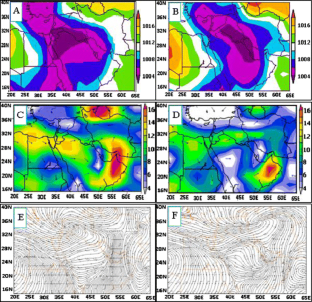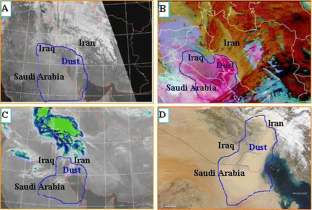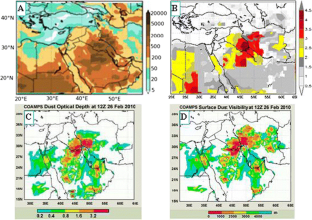 References
Alam K, Trautmann T, Blaschke T, Subhan F (2014) Changes in aerosol optical properties due to dust storm in the Middle East and Southwestern Asia. Remote Sens Environ 143:216–227

Al-Dabbas MA, Ayad Abbas M, Al-Khafaji RM (2010) Dust storms loads analyses—Iraq. Arab J Geosci 5(1):121–131

Al-Dousari AM, Al-Awadhi J, Ahmed M (2012) Dust fallout characteristic within global dust storm major trajectories. Arab J Geosci. doi:10.1007/s12517-012-0644-0

Alles DL (2007) Geomorphology and dust storms in China, pp 1–35

Bennion P, Richard H, O'Hara S, Wiggs G, Wegerdt J, Lewis S, Small I et al (2007) The impact of airborne dust on respiratory health in children living in the Aral Sea region. Int J Epidemiol 36:1103–1110

Brooks N, Legrand M (2000) Dust variability over Northern Africa in the Sahel. In: McLaren SJ, Kniverton D (eds) Linking land surface change to climate change. Kluwer Academic Publishing, Dordrecht, pp 1–25

Engelstaedter S, Tegen I, Washington R (2006) North African dust emissions and transport. Earth-Sci Rev 79:73–100

Fairlie TD, Jacobb DJ, Parkb RJ (2007) The impact of transpacific transport of mineral dust in the United States. Atmos Environ 41:1251–1266

Fung I, Tegen I (1995) Contribution to the atmospheric mineral aerosol load from land surface modification. J Geophys Res 100:18707–18726

Goudie AS (2009) Dust storms: recent developments. J Environ Manag 90:89–94

Goudie A.S, Middleton N.J (2006) Desert dust in the global system. Oxford University Press, 288 pp. ISBN-10: 3-540-32354-6

Hakim JH, Uccellini LW (1992) Diagnosing coupled jet stream circulations for a Northern Plains snow band from the operational nested-grid model. Weather Forecast 7:26–48

Hara Y, Uno I, Wang Z (2006) Long-term variation of Asian dust and related climate factors. Atmos Environ 40:6730–6740

Haywood J, Francis P, Osborne S, Glew M, Loeb N, Highwood E, Tanre D, Myrhe G, Formenti P, Hirst E (2003) Radiative properties and direct radiative effect of Sahara dust measured by the C-130 aircraft during SHADE:1 solar spectrum. J Geogria Res Atmos 108(4–1):4–16

Herman JR, Bhartia PK, Torres O, Hsu NC, Seftor CJ (1997) Global distribution of UV absorbing aerosols from nimbus 7/TOMS data. J Geophys Res 102:16.911–16,922

Herrmann LA, Stahr K, Jahn R (1999) The importance of source region identification and their properties for soil-derived dust. Contrib Atmos Phys 72:141–150

Hojati S, Khademi H, Fazcano A, Landi A (2011) Characteristics of dust deposited along a transect between central Iran and the Zagros mountains. Catena J 88:27–36

Hsu NC, Herman JR, Torres O, Holben BN, Tanre D, Eck TF, Smirnou A, Chatenet B, Lavenu F (1999) Comparison of the TOMS aerosol index with sun- photometer aerosol optical thickness: results and applications. Geophys Res 104(D6):6269–6279

Kalderon-Asael B, Erel Y, Sandler A, Dayan U (2009) Mineralogical and chemical characterization of suspended atmospheric particles over the East Mediterranean based on synoptic-scale circulation patterns. Atmos Environ 43:3963–3970

Kaplan ML, Lin Y-L, Hamilton DW, Rozumalski RA (1998) The numerical simulation of an unbalanced jetlet and its role in the palm sunday 1994 tornado outbreak in Alabama and Georgia. Mon Weather Rev 126:2133–2165

Khoshakhlagh F, Najafi MS, Samadi M (2012) An analysis on synoptic patterns of springtime dust occurrence in West of Iran. Geogr Res Q 2(80):99–124

Khosravi M (2011) A survey on the vertical distribution of dust and particle to arise from storms in Middle East by using NAAPS model; case study: Sistan, Iran, fourth international congress of Islamic geographers, University of Sistan and Baluchestan, PP. 122–136

Kim J (2008) Transport routes and source regions of Asian dust observed in Korea during the past 40 years (1965–2004). Atmos Environ 42:4778–4789

Kutiel H, Furman H (2003) Dust storms in the Middle East: sources of origin and their temporal characteristics. Indoor Built Environ 12:419–426

Lim J, Chun Y (2006) The characteristics of Asian dust events in Northeast Asia during the springtime from 1993–2004. Glob Planet Chang 52:231–247

McPeters R.D (1996) Nimbus 7 total ozone mapping spectrometer (TOMS) data products users guide. NASA Ref. Publ, 1384

Meng Z, Lu B (2007) Dust events as a risk factor for daily hospitalization for respiratory and cardiovascular diseases in Minqin, China. Atmos Environ 41:331–343

Middleton NJ (1986) Dust storms in the Middle East. J Arid Environ 10:83–96

Miri A, Ahmadi H, Ekhtesasi MR, Panjehkeh N, Ghanbarie A (2009) Environmental and socio-economic impacts of dust storms in Sistan Region, Iran. J Environ Stud 66:343–355

Prezerakos NG, Flocas HA, Michaelides SC (2006) The role of the interaction between polar and subtropical jet in a case of depression rejuvenation over the Eastern Mediterranean. Meteorog Atmos Phys 92:139–151

Prospero JM, Blades E, Naidu R, Mathison G, Thani H, Lavoie MC (2008) Relationship between African dust carried in the Atlantic trade winds and surges in pediatric asthma attendances in the Caribbean. Int J Biometeorol 52:823–832

Raispour K, Tavousi T, Khosravi M (2011) Investigate of formation Arabian's dust storm and spread over Iran, Fourth International Congress of Islamic Geographers, University ofSistan and Baluchestan, PP. 90–107.

Rashki A, Eriksson PG, Rautenbach CJ, Kaskaoutis DG, Grote W, Dykstra J (2013) Temporal changes of particulate concentration in the ambient air over the city of Zahedan, Iran. Air Qual Atmos Health 1:123–135

Shao Y, Dong CH (2006) A review on East Asian dust storm climate, modeling and monitoring. J Glob PLA Cha 52:1–22

Shi Z, Shao L, Jones T, Lu S (2005) Microscopy and mineralogy of airborne particles collected during severe dust storm episodes in Beijing. China J Geophys Res. doi:10.1029/2004 JD005073

Ta W, Xiao H, Qu J, Xiao Z, Yang G, Wang T, Zhang X (2004) Measurements of dust deposition in Gansu province, China, 1986–2000. Geomorphology 57:41–51

Takemi T, Seino N (2005) Dust storms and cyclone tracks over the arid regions in East Asia in spring. J Geophys Res 110(D18S11):11

Tavousi T, Khosravi M, Raispour K (2010) Synoptic analysis of dust storm in Khuzestan province. J Geogr Dev (Iran) 20:97–118

Thorncroft CD, Flocas HA (1997) A case study of Saharan cyclogenesis. Mon Weather Rev 125:1147–1165

Toon OB (2003) African dust in Florida clouds. Nature 424:623–624

Uccellini LW, Kocin PJ (1987) The interaction of jet stream circulations during heavy snow events along the east coast of the United States. Wea Forecast 2:289–308

Wang W, Fang Z (2006) Numerical simulation and synoptic analysis of dust emission and transport in East Asia. Glob Planet Chang 52:57–70

Wang S, Wang J, Zhou Z, Shang K (2005) Regional characteristics of three kinds of dust storm events in China. Atmos Environ 39(3):509–520

Wang X, Huang J, Ji M, Higuchi K (2008) Variability of East Asia dust events and their long-term trend. Atmos Environ 42:3156–3165

Washington R, Todd M, Middleton NJ, Goudie AS (2003) Dust-storm source areas determined by the total ozone monitoring spectrometer. Ann Assoc Am Geogr 93(2):297–313

Whitney LF (1977) Relationship of the subtropical jet stream to severe local storms. Mon Weather Rev 105:398–412

Xiao J, Chang C (2009) Dust storm and its causes in northern China. Technol Train 1:555–558

Yamamoto T, Yoshino M, Suzuki J (2007) The relationship between occurrence of dust events and synoptic climatological condition in East Asia, 1999–2003. J Meteorol Soc Jpn 85:81–99

Yarnal B (1993) Synoptic climatology in environmental analysis: a primer. Bellhaven press, London, 195 pp

Zarasvandi A, Carranza EJ, Moore F, Rastmanesh F (2011) Spatio-temporal occurrences and mineralogical–geochemical characteristics of airborne dusts in Khuzestan province (Southwestern Iran). J Geochem Explor 111:138–151

Zhu A, Ramanathan V, Li F, Kim D (2007) Dust plumes over the Pacific, Indian, and Atlantic Oceans: climatology and radiative impact. J Geophys Res. doi:10.1029/2007JD008427

Zoljoodi M, Didevarasl A, Montazerzohor Z (2013) Application of the dust simulation models in the Middle East, and dust-dispersion toward the western/southwestern Iran. Nat Sci 5:818–831
Acknowledgments
We thank the University of Sistan and Baluchestan for their generous support of the project. We also thank the anonymous reviewer for constructive suggestions on data analyses and interpretations.
About this article
Cite this article
Raispour, K., Khosravi, M., Tavousi, T. et al. The influence of the polar front jet stream on the formation of dust events in the southwest of Iran. Air Qual Atmos Health 9, 15–23 (2016). https://doi.org/10.1007/s11869-014-0270-y
Received:

Accepted:

Published:

Issue Date:
Keywords
Dust

Jet stream

Climatic hazard

Iran