Abstract
Time-series studies reporting associations between daily air pollution and health use pollution data from monitoring stations that vary in the frequency of recording. Within the Air Pollution and Health: A European and North American Approach (APHENA) project, we evaluated the impact of systematically missing daily measurements on the estimated effects of PM10 and ozone on daily mortality. For four cities with complete time-series data, we created patterns of systematically missing exposure measurements by deleting observations. Poisson regression-derived city-specific estimates were combined to produce overall effect estimates. Analyses based on incomplete time series gave considerably lower pooled PM10 and ozone health effects compared to those from complete data. City-specific estimates were generally lower although more variable. Systematically missing exposure data for air pollutants appears to lead to underestimation of associated health effects. Our findings indicate that the use of evidence from studies with incomplete exposure data may underestimate the impact of air pollution and highlight the advantage of having complete daily data in time-series studies.
Access options
Buy single article
Instant access to the full article PDF.
US$ 39.95
Tax calculation will be finalised during checkout.
Subscribe to journal
Immediate online access to all issues from 2019. Subscription will auto renew annually.
US$ 79
Tax calculation will be finalised during checkout.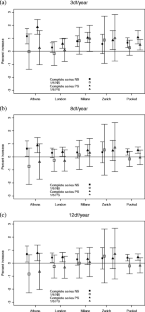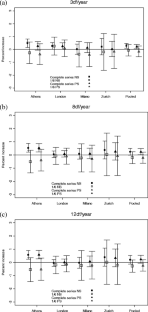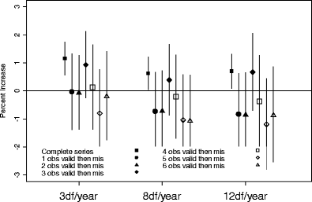 References
Anderson HR, Atkinson RW, Peacock JL, Marston L, Konstantinou K (2004) Meta-analysis of time series studies and panel studies of particulate matter (PM) and ozone (O3). Report of a WHO task group. World Health Organization, Copenhagen

Bell ML, McDermott A, Zeger SL, Samet JM, Dominici F (2004) Ozone and short-term mortality in 95 U.S. urban communities, 1987–2000. JAMA 292:2372–2378

Berkey CS, Hoaglin DC, Mosteller F, Colditz GA (1995) A random-effects regression model for meta-analysis. Stat Med 14:395–411

Burnett RT, Goldberg MS (2003) Size-fractionated particulate mass and daily mortality in eight Canadian cities. Revised analyses of time-series studies of air pollution and health. Health Effects Institute, Boston, pp 85–89

Dominici F, Daniels M, Zeger SL, Samet JM (2002) Air pollution and mortality: estimating regional and national dose–response relationships. J Am Stat Assoc 97:100–111

Evans J, van Donkelaar A, Martin R, Burnett R, Rainham D, Birkett N, Krewski D (2013) Estimates of global mortality due to particulate air pollution using satellite imagery. Environ Res 120:33–42

Fang SC, Mehta AJ, Alexeeff SE, Gryparis A, Coull B, Vokonas P, Christiani DC, Schwartz J (2012) Residential black carbon exposure and circulating markers of systemic inflammation in elderly males: the normative aging study. Environ Health Perspect 120(5):674–680

Farhat N, Ramsay T, Jerrett M, Krewski D (2013) Short-term effects of ozone and PM2.5 on mortality in 12 Canadian cities. J Environ Prot 4:18–32

Gryparis A, Forsberg B, Katsouyanni K, Analitis A, Touloumi G, Schwartz J et al (2004) Acute effects of ozone on mortality from the "air pollution and health: a European approach" project. Am J Respir Crit Care Med 170:1080–1087

Katsouyanni K, Samet JM, Anderson HR, Atkinson R, LeTertre A, Medina S et al (2009) HEI Health Review Committee. Air pollution and health: a European and North American approach (APHENA). Boston, MA. Res Rep Health Eff Inst 142:5–90

Katsouyanni K, Touloumi G, Samoli E, Gryparis A, Le Tertre A, Monopolis Y et al (2001) Confounding and effect modification in the short-term effects of ambient particles on total mortality: results from 29 European cities within the APHEA2 project. Epidemiology 12:521–531

Kim SY, Sheppard L, Hannigan MP, Dutton SJ, Peel JL, Clark ML, Vedal S (2013) The sensitivity of health effect estimates from time-series studies to fine particulate matter component sampling schedule. J Expo Sci Environ Epidemiol 23(5):481–486

Klemm RJ, Thomas EL, Wyzga RE (2011) The impact of frequency and duration of air quality monitoring: Atlanta, GA, data modelling of air pollution and mortality. J Air Waste Manag Assoc 61(11):1281–1291

Kloog I, Nordio F, Coull BA, Schwartz J (2012) Incorporating local land use regression and satellite aerosol optical depth in a hybrid model of spatiotemporal PM(2.5) exposures in the Mid-Atlantic states. Environ Sci Technol 46(21):11913–11921

Kloog I, Zanobetti A, Schwartz J (2013) Using novel exposure models to investigate the association between mortality and long and short term exposure to PM 2.5 in Massachusetts. Epidemiology 24:555–561

Maynard D, Coull BA, Gryparis A, Schwartz J (2007) Mortality risk associated with short-term exposure to traffic particles and sulfates. Environ Health Perspect 115(5):751–755

Pope CA III, Dockery DW (2006) Health effects of fine particulate air pollution: lines that connect. J Air Waste Manag Assoc 56:709–742

Samet JM, Zeger SL, Dominici F, Curriero F, Coursac I, Dockery DW et al (2000) The national morbidity, mortality, and air pollution study. Part II: morbidity and mortality from air pollution in the United States. Res Rep Health Eff Inst 94(Pt 2):5–70, discussion 71–79

Samoli E, Analitis A, Touloumi G, Schwartz J, Anderson HR, Sunyer J et al (2005) Estimating the exposure-response relationships between particulate matter and mortality within the APHEA multicity project. Environ Health Perspect 113:88–95

Wang Z, Liu Y, Hu M, Pan X, Shi J, Chen F, He K, Koutrakis P, Christiani DC (2013) Acute health impacts of airborne particles estimated from satellite remote sensing. Environ Int 51:150–159
Acknowledgments
D. Krewski also serves as Chief Risk Scientist for Risk Sciences International (www.risksciences.com), which has conducted air pollution risk assessments for public and private sector clients. APHENA core group: H.R. Anderson, R. Atkinson, R. Burnett, F. Dominici, K. Katsouyanni, D. Krewski, A. Le Tertre, S. Medina, R. Peng, T. Ramsey, J. Samet, E. Samoli, J. Schwartz, G. Touloumi, A. Zanobetti. Core group APHEA-2 data providers: H.E. Wichmann (Germany); J. Sunyer (Spain); MA. Vigotti, L. Bisanti, P. Michelozzi (Italy); D. Zmirou (Grenoble, France); J. Schouten (The Netherlands); J. Pekkanen (Finland); L. Clancy (Ireland); A. Goren (Israel); C. Schindler (Switzerland); B. Wojtyniak (Poland); B. Kriz (Prague, Czech Republic); A. Paldy (Hungary); E. Niciu (Romania); M. Macarol-Hitti (Slovenia); B. Forsberg (Sweden); F. Kotesovec (Teplice, Czech Republic); M. Pavlovic (Croatia).
Financial support
Research described in this article was conducted under contracts to the European Commission (EC) Climate Programme (contract number: QLK4-CT-2002-30226) and the Health Effects Institute (HEI, contract numbers: HEI 039–2 and 4737|RFPA98-6|05-11). HEI is an organization jointly funded by the US Environmental Protection Agency (EPA) (Assistance Agreement R82811201) and automotive manufacturers. The contents of this article do not necessarily reflect the views of HEI nor do they necessarily reflect the views and policies of the US Environmental Protection Agency (EPA) or of motor vehicle and engine manufacturers. Additional support was provided by a career award from the Natural Sciences and Engineering Research Council of Canada to D. Krewski.
About this article
Cite this article
Samoli, E., Peng, R.D., Ramsay, T. et al. What is the impact of systematically missing exposure data on air pollution health effect estimates?. Air Qual Atmos Health 7, 415–420 (2014). https://doi.org/10.1007/s11869-014-0250-2
Received:

Accepted:

Published:

Issue Date:
Keywords
Air pollution

Monitoring

Short-term effects

Systematically missing

Time-series analysis