Abstract
The aim of this study is to determine the levels of selected heavy metals (Pb, Zn, Cd, Fe and Cr) at ten preschools in Selangor, Malaysia. Dust samples from the interior of classrooms and surface soils were collected using soft paint brushes while Kimwipes were used to collect samples of dust from interior walls and children's palms. Heavy metals in the dust samples were determined using inductively coupled plasma mass spectrometry (ICP-MS). The concentrations of the selected heavy metals in the indoor dust were dominated by Fe with a concentration of 4,801 ± 1,873 μgg−1 followed by Pb > Zn > Cr and Cd with concentration of 253.5 ± 83.2, 144.9 ± 73.4, 11.9 ± 6.8 and 0.23 ± 0.10 μgg−1, respectively. Fe also had the highest concentration of all the heavy metals investigated in the samples taken of soil dust (8,225 ± 6,800 μgg−1), the interior walls (1,865 ± 756 μgm−2) and children's palms (3,882 ± 3,401 μgm−2). Using enrichment factor (EF) analyses, Pb, Zn and Cd in the indoor dust were found contributed by anthropogenic factors while the same was true for Zn, Cd and Cr in the indoor wall and children's palm samples.
Access options
Buy single article
Instant access to the full article PDF.
USD 39.95
Price includes VAT (USA)
Tax calculation will be finalised during checkout.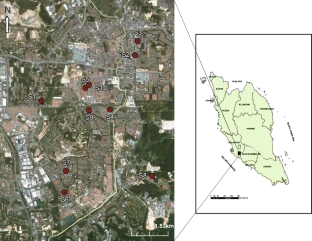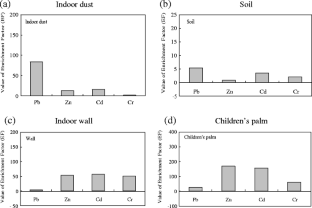 References
Abdul-Wahab SA (2006) Indoor and outdoor relationships of atmospheric particulates in Oman. Indoor Built Environ 15(3):247–255

Abdul-Wahab SA, Yaghi B (2004) Total suspended dust and heavy metal levels emitted from a workplace compared with nearby residential houses. Atmos Environ 38(5):745–750

Abechi ES, Okunola OJ, Zubairu SMJ, Usman AA, Apene E (2010) Evaluation of heavy metals in roadside soils of major streets in Jos metropolis, Nigeria. J Environ Chemi Ecotoxicol 2(6):98–102

Adachi K, Tainosho Y (2004) Characterization of heavy metal particles embedded in tire dust. Environ Int 30(8):1009–1017

Akhter MS, Madany IM (1993) Heavy metals in street and house dust in Bahrain. Water Air Soil Poll 66(1–2):111–119

Al-Khashman OA (2007) The investigation of metal concentrations in street dust samples in Aqaba city, Jordan. Environ Geochem Hlth 29(3):197–207

Almeida SM, Pio CA, Freitas MC, Reis MA, Trancoso MA (2006) Source apportionment of atmospheric urban aerosol based on weekdays/weekend variability: evaluation of road re-suspended dust contribution. Atmos Environ 40(11):2058–2067

Almeida SM, Canha N, Silva A, Freitas MDC, Pegas P, Alves C, Evtyugina M, Pio CA (2010) Children exposure to atmospheric particles in indoor of Lisbon primary schools. Atmos Environ 40:7594–7599

Al-Momani IF (2007) Trace elements in street and household dusts in Amman, Jordan. Soil Sediment Contam 16(5):485–496

Al-Rajhi MA, Seaward MRD, Al-Aamer AS (1996) Metals levels in indoor & outdoor dust in Riyadh, Saudi Arabia. Environ Int 22:315–324

Aucott M, Caldarelli A (2012) Quantity of Lead Released to the Environment in New Jersey in the Form of Motor Vehicle Wheel Weights. Water Air Soil Poll 223(4):1743–1752

Bero BN, Von Braun MC, Knowles CR, Hammel JE (1993) The use of X-ray fluorescence to detect lead contamination of carpeted surfaces. Environ Monit and Assess 27(1):17–33

Biegalski SRL, Sberger S, Hoff RM (1998) Source-Receptor Modeling Using Trace Metals in Aerosols Collected at Three Rural Canadian Great Lakes Sampling Stations. J Air Waste Manage Assoc 48:227–237

Brauer M, Hoek G, Van Vliet P, Meliefste K, Fischer PH, Wijga A, Koopman LP, Neijens HJ, Gerritsen J, Kerkhof M, Heinrich J, Bellander T, Brunekreef B (2002) Air pollution from traffic and the development of respiratory infections and asthmatic and allergic symptoms in children. Am J Resp Crit Care Med 166(8):1092–1098

Butte W, Heinzow B (2002) Pollutants in house dust as indicators of indoor contamination. Rev Environ Contam Toxicol 175:1–46

Chattopadhyay G, Lin KCP, Feitz AJ (2003) Household dust metal levels in the Sydney metropolitan area. Environ Res 93:301–307

Clements-Croome DJ, Awbi HB, Bakó-Biró Z, Kochhar N, Williams M (2008) Ventilation rates in schools. Build Environ 43(3):362–367

Davis AP, Shokouhian M, Ni S (2001) Loading estimates of lead, copper, cadmium, and zinc in urban runoff from specific sources. Chemosphere 44:997–1009

Decker JA, Malkin R, Kiefer M (1999) Exposures to lead-based paint dust in an Inner-City high school. Am Ind Hygiene Assoc J 60(2):191–194

Dockery DW, Speizer FE, Stram DO, Ware JH, Spengler JD, Ferris BG Jr (1989) Effects of inhalable particles on respiratory health of children. Am Rev Resp Dis 139(3):587–594

Duong TTT, Lee BK (2011) Determining contamination level of heavy metals in road dust from busy traffic areas with different characteristics. J Environ Manag 92(3):554–562

Gaudry A, Moskura M, Mariet C, Ayrault S, Denayer F, Bernard N (2008) Inorganic Pollution in PM10 Particles Collected Over Three French Sites Under Various Influences: Rural Conditions, Traffic and Industry. Water Air Soil Poll 193(1–4):91–106

Habil M, Massey DD, Taneja A (2013) Exposure of children studying in schools of India to PM levels and metal contamination: sources and their identification. Air Qual Atmos Health 6:575–587

Han S, Bian H, Feng Y, Liu A, Li X, Zeng F, Zhang X (2011) Analysis of the relationship between O3, NO and NO2 in Tianjin, China. Aerosol Air Qual Res 11(2):128–139

Harney J, Trunov M, Grinshpun S, Willeke K, Choe K, Trakumas S, Friedman W (2000) Release of lead-containing particles from a wall enclosure. Am Ind Hyg Assoc J 61(5):743–752

Hassan SKM (2012) Metal concentrations and distribution in the household, stairs and entryway dust of some Egyptian homes. Atmos Environ 54:207–215

Hochstetler HA, Yermakov M, Reponen T, Ryan PH, Grinshpun SA (2011) Aerosol particles generated by diesel-powered school buses at urban schools as a source of children's exposure. Atmos Environ 45(7):1444–1453

Holford P, Colson D (2008) Optimum Nutrition for Your Child's Mind: Maximize Your Child's Potential. Celestial Arts, Canada

Hunt A, Johnson DL, Griffith DA, Zitoon S (2011) Citywide distribution of lead and other element in soils and indoor dusts in Syracuse, NY. Appl Geochem 27(5):985–994

Jalaludin BB, O'Toole BI, Leeder SR (2004) Acute effects of urban ambient air pollution on respiratory symptoms, asthma medication use, and doctor visits for asthma in a cohort of Australian children. Environ Res 95(1):32–42

Jaradat QM, Momani KA, Jbarah AAQ, Massadeh A (2004) Inorganic analysis of dust fall and office dust in an industrial area of Jordan. Environ Res 96(2):139–144

Järup L (2003) Hazards of heavy metal contamination. Br Med Bull 68:167–182

Kang Y, Cheung KC, Wong MH (2011) Mutagenicity, genotoxicity and carcinogenic risk assessment of indoor dust from three major cities around the Pearl River Delta. Environ Int 37(3):637–643

Kim KW, Myung JH, Ahn JS, Chon HT (1999) Heavy metal contamination in dusts and stream sediments in the Taejon area, Korea. J Geochem Explor 64:409–419

Kumpiene J, Brännvall E, Taraskevicius R, Aksamitauskas C, Zinkute R (2011) Spatial variability of topsoil contamination with trace elements in preschools in Vilnius, Lithuania. J Geochem Explor 108(1):15–20

Landrigan PJ, Kimmel CA, Correa A, Eskenazi B (2004) Children's health and the environment: Public health issues and challenges for risk assessment. Environ Health Persp 112(2):257–265

Latif MT, Othman MR, Kim CL, Murayadi SA, Sahaimi KNA (2009) Composition of household dust in semi-urban areas in Malaysia. Indoor Built Environ 18(2):155–161

Li X, Poon C-S, Liu PS (2001) Heavy metal contamination of urban soils and street dusts in Hong Kong. Appl Geochem 16(11–12):1361–1368

Llop S, Lopez-Espinosa MJ, Rebagliato M, Ballester F (2013) Gender differences in the neurotoxicity of metals in children. Toxicol 311:3–12

Lupoli TA, Ciaccio CE, Portnoy JM (2009) Home and school environmental assessment and remediation. Curr Allergy Asthma Rep 9(6):419–425

Mendell MJ, Heath GA (2005) Do indoor pollutants & thermal conditions in schools influence student performance? A critical review of the literature. Ind Air 15(1):27–52

Meyer I, Heinrich J, Lippold U (1999) Factors affecting lead, cadmium, and arsenic levels in house dust in a smelter town in eastern Germany. Environ Res 81(1):32–44

Mohai P, Kweon BS, Lee S, Ard K (2011) Air pollution around schools is linked to poorer student health and academic performance. J Epidemiol Community Health 65(6):852–862

Mohd Tahir N, Chee PS, Jaafar M (2007) Determination of heavy metals content in soils and indoor dusts from nurseries in Dungun, Terengganu. Malay J Anal Sci 11(1):280–286

Moshammer H, Bartonova A, Hanke W, Van Den Hazel P, Koppe JG, Krämer U, Ronchetti R, Sram RJ, Wallis M, Wallner P, Zuurbier M (2006) Air pollution: A threat to the health of our children. Ac Paediatr, Int J Paediatr 95(SUPPL. 453):93–105

Pekey H, Pekey B, Arslanbaş D, Bozkurt ZB, Doğan G, Tuncel G (2012) Source apportionment of personal exposure to fine particulate matter and volatile organic compounds using positive matrix factorization. Water Air Soil Poll 224:1403

Pekkanen J, Timonen KL, Ruuskanen J, Reponen A, Mirme A (1997) Effects of ultrafine and fine particles in urban air on peak expiratory flow among children with asthmatic symptoms. Environ Res 74(1):24–33

Qian Z, Chapman RS, Tian Q, Chen Y, Lioy PJ, Zhang J (2000) Effects of air pollution on children's respiratory health in three Chinese cities. Arch Environ Hlth 55(2):126–133

Rasmussen PE, Subramanian KS, Jessiman BJ (2001) A multi-element profile of house dust in relation to exterior dust and soils in the city of Ottawa, Canada. Sci Total Environ 267(1–3):125–140

Roberts JW, Ott WR (2007) Exposure analysis. Taylor and Francis Group, New York

Sultan K, Shazili NA (2009) Distribution and geochemical baselines of major, minor and trace elements in tropical topsoils of the Terengganu River basin, Malaysia. J Geochem Explor 103(2–3):57–68

Sunyer J (2008) The neurological effects of air pollution in children. Eur Resp J 32(3):535–537

Taylor SR, McLennan SM, McCulloch MT (1983) Geochemistry of loess, continental crustal composition and crustal model ages. Geochim Cosmochim Ac 47(11):1897–1905

Tiittanen P, Timonen KL, Ruuskanen J, Mirme A, Pekkanen J (1999) Fine particulate air pollution, resuspended road dust and respiratory health among symptomatic children. Eur Resp J 13(2):266–273

Tong STY, Lam KC (1998) Are nursery schools and kindergartens safe for our kids? The Hong Kong study. Sci Total Environ 216:217–225

Tong STY, Lam KC (2000) Home sweet home? A case study of household dust contamination in Hong Kong. Sci Total Environ 256(2–3):115–123

Turner A, Simmonds L (2006) Elemental concentrations and metal bioaccessibility in UK household dust. Sci Total Environ 371(1–3):74–81

Von Mutius E, Sherrill DL, Fritzsch C, Martinez FD, Lebowitz MD (1995) Air pollution and upper respiratory symptoms in children from East Germany. Eur Resp J 8(5):723–728

Wang X, Bi X, Sheng G, Fu J (2006) Hospital indoor PM10/PM2.5 and associated trace elements in Guangzhou, China. Sci Total Environ 366(1):124–135

Wang X, Ma J, Hou Q, Duan H (2011) Accumulation and health risk assessment of heavy metals in kindergarten surface dust in the city of Kaifeng. Huanjing Kexue Xuebao/Acta Scientiae Circumstantiae 31(3):583–593

Wichmann J, Lind T, Nilsson MAM, Beller T (2010) PM2.5, soot and NO2 indoor-outdoor relationships at homes, pre-schools and schools in Stockholm, Sweden. Atmos Environ 44(36):4536–4544

Yang W, Sohn J, Kim J, Son B, Park J (2009) Indoor air quality investigation according to age of the school buildings in Korea. J Environ Manage 90(1):348–354

Young SH, Cox-Ganser JM, Shogren ES, Wolfarth MG, Li S, Antonini JM, Castranova V, Park JH (2011) Pulmonary inflammation induced by office dust & the relation to 1 → 3-β-glucan using different extraction techniques. Toxicol Environ Chem 93(4):806–823
Acknowledgments
We also would like to thank the Universiti Kebangssan Malaysia for Research University Grants (UKM-AP-2011-23 and DIP-2012-020) and Ministry of Education for Fundamental Research Grant (FRGS/1/2013/STWN01/UKM/02/2). Thanks to ACP JSPS MOHE Project and LRGS grant 203/PKT/6724003&4 for partial support towards the success of this research. Special thanks to Alena Sanusi, Fatimah Ahamad and K Alexander for proof reading this manuscript.
About this article
Cite this article
Latif, M.T., Yong, S.M., Saad, A. et al. Composition of heavy metals in indoor dust and their possible exposure: a case study of preschool children in Malaysia. Air Qual Atmos Health 7, 181–193 (2014). https://doi.org/10.1007/s11869-013-0224-9
Received:

Accepted:

Published:

Issue Date:
Keywords
Heavy metals

Indoor dust

Preschools

Surface soils

Interior walls