Abstract
The source apportionment study in Hyderabad listed transportation, industries, and waste burning as critical sources of particulate matter (PM) pollution in the city. In this paper, we present sector-specific emissions for 2010–2011 for the Greater Hyderabad Municipal Corporation region, accounting for 42,600 t of PM10 (PM size <10 μm), 24,500 t of PM2.5 (PM size <2.5 μm), 11,000 t of sulfur dioxide, 127,000 t of nitrogen oxides, 431,000 t of carbon monoxide, 113,400 t of non-methane volatile organic compounds, and 25.2 million tons of carbon dioxide emissions. The inventory is spatially disaggregated at 0.01° resolution on a GIS platform, for use in a chemical transport model (ATMoS). The modeled concentrations for the urban area are 105.2 ± 28.6 μg/m3 for PM10 and 72.6 ± 18.0 μg/m3 for PM2.5, when overlaid on gridded population, resulted in estimated 3,700 premature deaths and 280,000 asthma attacks for 2010–2011. The analysis shows that aggressive pollution control measures are imperative to control pollution in Hyderabad and reduce excess exposure levels on the roads and in the residential areas. The planning and implementation of measures like advancing the public transportation systems, integrating the road and metro-rail services, promotion of walking and cycling, introduction of cleaner brick production technologies, encouraging efficient technologies for the old and the new industries, and better waste management systems to control garbage burning need to take priority, as these measures are expected to result in health benefits, which surpass any of the institutional, technical, and economic costs.
Access options
Buy single article
Instant access to the full article PDF.
USD 39.95
Price excludes VAT (USA)
Tax calculation will be finalised during checkout.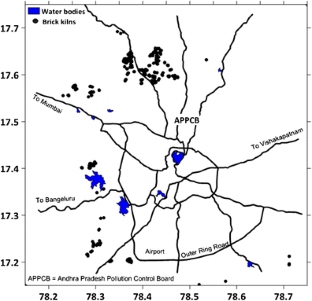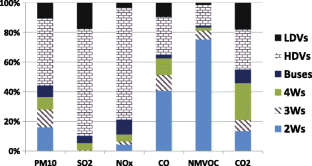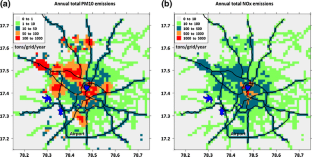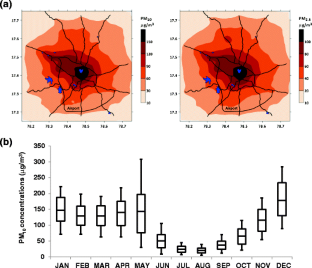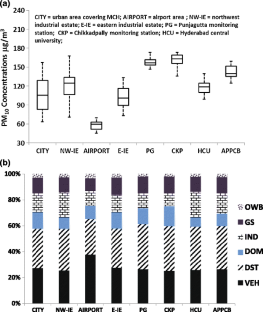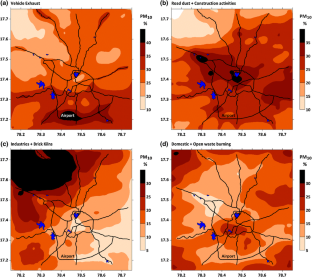 References
APPCB (2006) Analysis of Air Pollution and Health Impacts in Hyderabad, for the Burelal Committee. Govt. of India, Andhra Pradesh Pollution Control Board Hyderabad, India

Arndt RL, Carmichael GR, Roorda JM (1998) Seasonal source: Receptor relationships in Asia. Atmospheric Environment 32 (8):1397–1406. doi:http://dx.doi.org/10.1016/S1352-2310(97)00241-0

Atkinson RW, Cohen A, Mehta S, Anderson HR (2011) Systematic review and meta-analysis of epidemiological time-series studies on outdoor air pollution and health in Asia. Air Qual Atmos Health 5(4):383–391. doi:10.1007/s11869-010-0123-2

Balakrishnan K, Ganguli B, Ghosh S, Sambandam S, Roy S, Chatterjee A (2013) A spatially disaggregated time-series analysis of the short-term effects of particulate matter exposure on mortality in Chennai, India. Air Qual Atmos Health 6(1):111–121. doi:10.1007/s11869-011-0151-6

Bell ML, Davis DL, Gouveia N, Borja-Aburto VH, Cifuentes LA (2006) The avoidable health effects of air pollution in three Latin American cities: Santiago, São Paulo, and Mexico City. Environ Res 100(3):431–440. doi:10.1016/j.envres.2005.08.002

Calori G, Carmichael GR (1999) An urban trajectory model for sulfur in Asian megacities: model concepts and preliminary application. Atmos Environ 33(19):3109–3117

CAMx (2013) Comprehensive Air Quality Model with Extensions. http://www.camx.com. Accessed 11/02/2013

Chhabra SK, Chhabra P, Rajpal S, Gupta RK (2001) Ambient air pollution and chronic respiratory morbidity in Delhi. Arch Environ Health Int J 56(1):58–64. doi:10.1080/00039890109604055

CPCB (2010) Air Quality Monitoring, Emission Inventory and Source Apportionment Study for Indian cities. Central Pollution Control Board, Government of India, New Delhi, India

Cropper ML, Limonov A, Malik K, Singh A (2011) Estimating the Impact of Restructuring on Electricity Generation Efficiency: The Case of the Indian Thermal Power Sector. National Bureau of Economic Research Working Paper Series No. 17383

Englert N (2004) Fine particles and human health—a review of epidemiological studies. Toxicol Lett 149(1–3):235–242. doi:10.1016/j.toxlet.2003.12.035

Fenger J (1999) Urban air quality. Atmos Environ 33(29):4877–4900. doi:10.1016/S1352-2310(99)00290-3

GAINS (2010) Greenhouse Gas and Air Pollution Interactions and Synergies—South Asia Program. International Institute of Applied Systems Analysis. Laxenburg, Austria

Galab S, Reddy SS, Post J (2004) Collection, transportation and disposal of urban solid waste in Hyderabad. In: Baud I, Post J, Furedy C (eds) Solid Waste Management and Recycling, vol 76. GeoJournal Library Springer, Netherlands, pp 37–60. doi:10.1007/1-4020-2529-7_3

GRUMP (2010) Gridded Population of the World and Global Rural and Urban Mapping Project. Center for International Earth Science Information Network (CIESIN) of the Earth Institute, Columbia University, New York, USA

Gummeneni S, Yusup YB, Chavali M, Samadi SZ (2011) Source apportionment of particulate matter in the ambient air of Hyderabad city, India. Atmos Res 101(3):752–764. doi:10.1016/j.atmosres.2011.05.002

Gupta SK, Gupta SC, Agarwal R, Sushma S, Agrawal SS, Saxena R (2007) A multicentric case–control study on the impact of air pollution on eyes in a metropolitan city of India. Indian J Occup Environ Med 11(1):37–40. doi:10.4103/0019-5278.32463

Gurjar BR, Jain A, Sharma A, Agarwal A, Gupta P, Nagpure AS, Lelieveld J (2010) Human health risks in megacities due to air pollution. Atmos Environ 44(36):4606–4613. doi:10.1016/j.atmosenv.2010.08.011

Guttikunda SK, Calori G (2013) A GIS-based emissions inventory at 1 km × 1 km spatial resolution for air pollution analysis in Delhi, India. Atmos Environ 67(0):101–111. doi:10.1016/j.atmosenv.2012.10.040

Guttikunda SK, Goel R (2013) Health impacts of particulate pollution in a megacity—Delhi, India. Environ Dev 6(0):8–20. doi:10.1016/j.envdev.2012.12.002

Guttikunda S, Gurjar B (2012) Role of meteorology in seasonality of air pollution in megacity Delhi, India. Environ Monit Assess 184(5):3199–3211. doi:10.1007/s10661-011-2182-8

Guttikunda SK, Jawahar P (2012) Application of SIM-air modeling tools to assess air quality in Indian cities. Atmos Environ 62:551–561. doi:10.1016/j.atmosenv.2012.08.074

Guttikunda SK, Carmichael GR, Calori G, Eck C, Woo J-H (2003) The contribution of megacities to regional sulfur pollution in Asia. Atmos Environ 37(1):11–22

Guttikunda SK, Kopakka RV, Dasari P, Gertler AW (2013a) Receptor model-based source apportionment of particulate pollution in Hyderabad, India. Environ Monit Assess 185(7):5585–5593. doi:10.1007/s10661-012-2969-2

Guttikunda S, Begum B, Wadud Z (2013b) Particulate pollution from brick kiln clusters in the Greater Dhaka region, Bangladesh. Air Qual Atmos Health 6(2):357–365. doi:10.1007/s11869-012-0187-2

Guttikunda S, Lodoysamba S, Bulgansaikhan B, Dashdondog B (2013c) Particulate pollution in Ulaanbaatar, Mongolia. Air Qual Atmos Health 6(3):589–601. doi:10.1007/s11869-013-0198-7

Hart JE, Garshick E, Dockery DW, Smith TJ, Ryan L, Laden F (2011) Long-term ambient multipollutant exposures and mortality. Am J Respir Crit Care Med 183(1):73–78. doi:10.1164/rccm.200912-1903OC

HEI (2010) Outdoor Air Pollution and Health in the Developing Countries of Asia: A Comprehensive Review. Special Report 18, Health Effects Institute, Boston, USA

Holloway T, Levy Ii H, Carmichael G (2002) Transfer of reactive nitrogen in Asia: development and evaluation of a source–receptor model. Atmos Environ 36(26):4251–4264. doi:10.1016/S1352-2310(02)00316-3

IES (2004) Emission inventory and co-benefits analysis for Hyderabad. India. Integrated Environmental Strategies India Program. USEPA, Washington DC, USA

IES (2008) Co-benefits of air pollution and GHG emission reductions in Hyderabad. India. Integrated Environmental Strategies India Program. USEPA, Washington DC, USA

IFMR (2013) Household energy usage in India, Institute for Financial Management and Research, Chennai, India. http://www.householdenergy.in. Accessed 11/02/2013

IHME (2013) The Global Burden of Disease 2010: Generating Evidence and Guiding Policy. Institute for Health Metrics and Evaluation, Seattle, USA

Jahn HJ, Schneider A, Breitner S, Eißner R, Wendisch M, Krämer A (2011) Particulate matter pollution in the megacities of the Pearl River Delta, China—A systematic literature review and health risk assessment. Int J Hyg Environ Health 214(4):281–295. doi:10.1016/j.ijheh.2011.05.008

Johnson TM, Guttikunda SK, Wells G, Bond T, Russell A, West J, Watson J (2011) Tools for Improving Air Quality Management. ESMAP Publication Series, The World Bank, Washington DC, USA, A Review of Top-down Source Apportiontment Techniques and Their Application in Developing Countries

Kan H, Chen B, Chen C, Fu Q, Chen M (2004) An evaluation of public health impact of ambient air pollution under various energy scenarios in Shanghai, China. Atmos Environ 38(1):95–102. doi:10.1016/j.atmosenv.2003.09.038

Kupiainen K (2007) Road dust from pavement wear and traction sanding. Monographs of the Boreal Environment Research, No. 26, Finnish Environmental Institute, Helsinki, Finland

Maithel S, Uma R, Bond T, Baum E, Thao VTK (2012) Brick Kilns Performance Assessment, Emissions Measurements, & A Roadmap for Cleaner Brick Production in India. Study report prepared by Green Knowledge Solutions, New Delhi, India

NCEP (2013) National Centers for Environmental Prediction, National Oceanic and Atmospheric Administration, Maryland, USA. http://www.cdc.noaa.gov/cdc/data.ncep.reanalysis.html. Accessed 11/02/2013

Pande JN, Bhatta N, Biswas D, Pandey RM, Ahluwalia G, Siddaramaiah NH, Khilnani GC (2002) Outdoor air pollution and emergency room visits at a hospital in Delhi. Indian J Chest Dis Allied Sci 44(1):9

Pope CA III, Burnett RT, Thun MJ, Calle EE, Krewski D, Ito K, Thurston GD (2002) Lung cancer, cardiopulmonary mortality, and long-term exposure to fine particulate air pollution. JAMA J Am Med Assoc 287(9):1132–1141. doi:10.1001/jama.287.9.1132

Schipper L, Marie-Lilliu C, Gorham R (2000) Flexing the link between transport and greenhouse gas emissions: A path for the World Bank, vol 3. International Energy Agency, Paris, France

Schwela D, Haq G, Huizenga C, Han W, Fabian H, Ajero M (2006) Urban Air Pollution in Asian Cities—Status. Challenges and Management Earthscan Publishers, London, UK

SEI (2006) Developing and Disseminating International Good Practice in Emissions Inventory Compilation. Stockholm Environmental Institute, York, UK

Shah J, Nagpal T, Johnson T, Amann M, Carmichael G, Foell W, Green C, Hettelingh LP, Hordijk L, Li J, Peng C, Pu YF, Ramankutty R, Streets D (2000) Integrated analysis for acid rain in Asia: policy implications and results of RAINS-ASIA model. Annu Rev Energy Environ 25:339–375. doi:10.1146/annurev.energy.25.1.339

Siddique S, Banerjee M, Ray M, Lahiri T (2010) Air pollution and its impact on lung function of children in Delhi, the capital city of India. Water Air Soil Pollut 212(1):89–100. doi:10.1007/s11270-010-0324-1

SIM-air (2013) Simple Interactive Models for Better Air Quality. UrbanEmissions. Info, New Delhi, India. http://www.sim-air.org. Accessed 11/02/2013

USEPA (2006) Clearinghouse for Inventories & Emissions Factors - AP 42 (fifth ed.). vol 3. United States Environmental Protection Agency, Washington DC, USA

WHO (2004) Outdoor Air Pollution - Assessing the Environmental Burden of Disease at National and Local Levels. Environmental Budern Series, No.5. World Health Organization, Geneva, Switzerland

WHO (2011) Outdoor Air Pollution in the World Cities. World Health Organization, Geneva, Switzerland. http://www.who.int/phe/health_topics/outdoorair/databases/en. Accessed 11/02/2013

WHO (2013) Review of evidence on health aspects of air pollution – REVIHAAP. Science for Environment Policy, Issue 327, World Health Organization, Geneva, Switzerland

Wong C-M, Vichit-Vadakan N, Kan H, Qian Z (2008) Public Health and Air Pollution in Asia (PAPA): A Multicity Study of Short-Term Effects of Air Pollution on Mortality. Environ Health Perspect 116 (9). doi:10.1289/ehp.11257
About this article
Cite this article
Guttikunda, S.K., Kopakka, R.V. Source emissions and health impacts of urban air pollution in Hyderabad, India. Air Qual Atmos Health 7, 195–207 (2014). https://doi.org/10.1007/s11869-013-0221-z
Received:

Accepted:

Published:

Issue Date:

DOI: https://doi.org/10.1007/s11869-013-0221-z
Keywords
Particulate pollution

Emissions inventory

Dispersion modeling

SIM-air

ATMoS