Abstract
Residential wood combustion is an important contributor to heating-season ambient fine particle concentrations in many regions of North America. We applied a measurement and modeling approach to evaluate the effect of wood combustion on local and regional air quality in a non-urban setting with complex topography—the Adirondacks region of New York State. Spatially resolved topographic, census, property assessment, and emissions survey data were used to model spatial variability of woodsmoke fine particulate matter (PM2.5) emissions across the region. This spatial emissions model was then used to locate fixed-site monitors and to design a mobile-monitoring campaign. Measurements using a dual-wavelength AethalometerTM enabled the discrimination of woodsmoke from other combustion sources. By comparing these Aethalometer measurements with nephelometer measurements of PM2.5 we determined that the majority of the PM2.5 measured in the Adirondacks during calm, cold winter nights came from wood combustion. We used the measurements of spatial variability in woodsmoke PM2.5 concentrations, the spatial emissions estimates, and additional geographic covariates to develop a spatial model of woodsmoke PM2.5. Considering those living in areas in the upper tertile of modeled woodsmoke concentrations as "exposed," the model estimated that about 20% (~130,000 people) of the population in the study area were exposed to elevated woodsmoke. Further, the model demonstrates that U.S. census information can be combined with additional survey and property assessment data to provide a broadly applicable estimate of woodsmoke spatial patterns and population exposure. This approach is a promising method for screening potential woodsmoke problems, including those areas with complex terrains.
This is a preview of subscription content,
to check access.
Access this article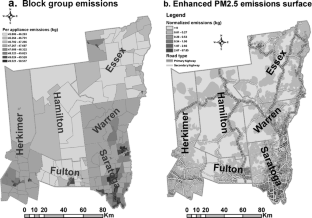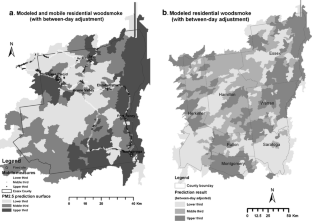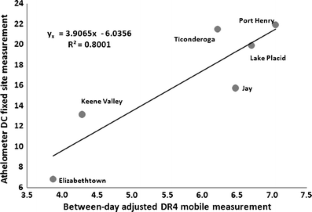 Similar content being viewed by others
References
Allen GA, Babich P, Poirot RL (2004) Evaluation of a new approach for real time assessment of woodsmoke PM. In "Proceedings of the Regional and Global Perspectives on Haze: Causes, Consequences and Controversies", Paper #16, Air and Waste Management Association Visibility Specialty Conference, Asheville, NC

Allen GA, Miller PJ, Rector LJ, Brauer M, Su JG (2011) Characterization of valley winter woodsmoke concentrations in Northern NY using highly time-resolved measurements. Aerosol and Air Quality Research (Accepted for publication)

Braun A, Huggins FE, Kubatova A, Wirick S, Maricq MM, Mun BS et al (2008) Toward distinguishing woodsmoke and diesel exhaust in ambient particulate matter. Environ Sci Technol 42(2):374–380

Briggs DJ, Collins S, Elliott P, Fischer P, Kingham S, Lebret E et al (1997) Mapping urban air pollution using GIS: a regression-based approach. Int J Geogr Inf Sci 11(7):699–718

Cyrys J, Heinrich J, Brauer M, Wichmann HE (1998) Spatial variability of acidic aerosols, sulfate and PM10 in Erfurt, Eastern Germany. J Expo Anal Env Epid 8:447–464

Environmental Systems Research Institute (2006) ArcInfo workstation ARC 9.2, manual user reference

Fine PM, Cass GR, Simoneit BRT (2002) Organic compounds in biomass smoke from residential wood combustion: emissions characterization at a continental scale. J Geophys Res-Atmos 107(D21):8349–8357

Fischer PH, Hoek G, van Reeuwijk H (2000) Traffic-related differences in outdoor and indoor concentrations of particles and volatile organic compounds in Amsterdam. Atmos Environ 34(22):3713–3722

Gilbert NL, Woodhouse S, Stieb DM, Brook JR (2003) Ambient nitrogen dioxide and distance from a major highway. Sci Total Environ 312(1–3):43–46

Hewitt CN (1991) Spatial variations in nitrogen-dioxide concentrations in an urban area. Atmos Environ Part B 25(3):429–434

Hoek G, Meliefste K, Cyrys J (2002) Spatial variability of fine particle concentrations in three European areas. Atmos Environ 36(25):4077–4088

Jerrett M, Arain A, Kanaroglou P, Beckerman B, Potoglou D, Sahsuvaroglu T et al (2005) A review and evaluation of intraurban air pollution exposure models. J Expo Anal Env Epid 15(2):185–204

Jordan TB, Seen AJ, Jacobsen GE (2006) Levoglucosan as an atmospheric tracer for woodsmoke. Atmos Environ 40(27):5316–5321

Karr CJ, Demers PA, Koehoorn MW, Lencar CC, Tamburic L, Brauer M (2009) Influence of ambient air pollutant sources on clinical encounters for infant bronchiolitis. Am J Respir Crit Care Med 180(10):995–1001

Kirchstetter TW, Novakov T, Hobbs PV (2004) Evidence that the spectral dependence of light absorption by aerosols is affected by organic carbon. J Geophys Res-Atmos 109(D21)

Larson T, Su J, Baribeau AM, Buzzelli M, Setton E, Brauer M (2007) A spatial model of urban winter woodsmoke concentrations. Environ Sci Technol 41(7):2429–2436

MacIntyre EA, Karr CJ, Koehoorn M, Demers PA, Tamburic L, Lencar C et al (2011) Residential air pollution and otitis media during the first two years of life. Epidemiology 22(1):81–89

Marshall JD, Ries FJ, Brauer M (2009) Intake fraction of urban wood smoke. Environ Sci Technol 43(13):4701–4706

Naeher LP, Brauer M, Lipsett M, Zelikoff JT, Simpson CD, Koenig JQ et al (2007) Woodsmoke health effects: a review. Inhal Toxicol 19(1):67–106

NARSTO (2005) Improving Emission Inventories for Effective Air Quality Management across North America. NARSTO, Oak Ridge

New York State Energy Research and Development Authority (2008) Assessment of Carbonaceous PM2.5 for New York and the region. NYSERDA Report 08–01. Prepared by NESCAUM and MJB Associates for NYSERDA: Albany, NY (March)

Ross Z, Jerrett M, Ito K, Tempalski B, Thurston GD (2007) A land use regression for predicting fine particulate matter concentrations in the New York City region. Atmos Environ 41(11):2255–2269

Sandradewi J, Prevot ASH, Szidat S, Perron N, Alfarra MR, Lanz VA et al (2008) Using aerosol light absorption measurements for the quantitative determination of wood burning and traffic emission contributions to particulate matter. Environ Sci Technol 42(9):3316–3323

Schreiber J, Chinery R, Kennedy K (2008) Smoke gets in your lungs: outdoor wood boilers in New York State. http://www.oag.state.ny.us/bureaus/environmental/pdfs/Smoke%20Gets%20in%20Your%20Lungs%20Revised%20March%202008.pdf. Accessed March 13, 2011

Su JG, Larson T, Baribeau AM, Brauer M, Rensing M, Buzzelli M (2007) Spatial modeling for air pollution monitoring network design: example of residential woodsmoke. J Air Waste Manag Assoc 57(8):893–900

Su JG, Buzzelli M, Brauer M, Gould T, Larson TV (2008) Modeling spatial variability of airborne levoglucosan in Seattle, Washington. Atmos Environ 42(22):5519–5525

Su JG, Jerrett M, Beckerman B (2009) A distance-decay variable selection strategy for land use regression modeling of ambient air pollution exposures. Sci Total Environ 407(12):3890–3898

U.S. Environmental Protection Agency (1995) Emissions factors & AP 42. http://www.epa.gov/ttnchie1/ap42/, accessed July 13, 2009

U.S. Environmental Protection Agency (2005a) State and county emission summaries ― PM2.5 emissions by source sector in New York in 2005. http://www.epa.gov/cgi-bin/broker?_service=data&_debug=0&_program=dataprog.dw_do_all_emis_2005.sas&pol=231&stfips=36. Accessed 02/05/2011

U.S. Environmental Protection Agency (2005b) Review of the National Ambient Air Quality Standards for Particulate Matter. Policy assessment of scientific and technical information. OAQPS Staff Paper. EPA-452/R-05-005. The U.S. Environmental Protection Agency, Office of Air Quality Planning and Standards: Research Triangle Park, NC

U.S. Environmental Protection Agency (2006) Our strategy to address outdoor wood-fired hydronic heaters. http://www.epa.gov/bns/reports/stakedec2006/BaP_HCB/OWB11-06-06.pdf, accessed March 13, 2011

U.S. Environmental Protection Agency (2009) AirData: access to air pollution data. The U.S. Environmental Protection Agency. http://www.epa.gov/air/data/index.html (accessed September 23, 2009)

U.S. Environmental Protection Agency (2010) The Great American Wood Stove Changeout Program. http://www.epa.gov/burnwise/pdfs/wc_are_happening.pdf. Accessed March 13, 2011

Wasserman S, Faust K (1994) Social network analysis. Cambridge University Press, Cambridge
Acknowledgements
This work was funded by the New York State Energy Research and Development Authority (NYSERDA), Biomass Heating R&D Program, Agreement Number 10669, Ellen Burkhard, project manager. We thank various individuals and organizations that provided comments on earlier versions of this manuscript, offered loans of equipment, participated in field operations, linked the property assessment data, and provided weather forecasting support for the project.
About this article
Cite this article
Su, J.G., Allen, G., Miller, P.J. et al. Spatial modeling of residential woodsmoke across a non-urban upstate New York region. Air Qual Atmos Health 6, 85–94 (2013). https://doi.org/10.1007/s11869-011-0148-1
Received:

Accepted:

Published:

Issue Date:

DOI: https://doi.org/10.1007/s11869-011-0148-1
Keywords