Abstract
We quantified the association between long-term exposure to air pollution and the incidence of asthma by conducting a systematic review and meta-analysis of cohort studies. Incidence was defined as the incidence of diagnosed asthma or of new wheeze symptom between two assessments or, in birth cohorts followed up to 10 years of age, a lifetime prevalence estimate of asthma or wheeze symptom. We identified 17 cohorts (eight birth cohorts and nine child/adult cohorts) with a total of 99 population-based risk estimates. The studies were heterogeneous in their design and methods of measurement. Follow-up ranged from 3 to 23 years. Most studies were based on within-community exposure contrasts dominated by traffic pollution. Twelve of the cohorts reported at least one positive statistically significant association between air pollution and a measure of incidence. Of the total of 99 estimates, only a minority (29) were positive and statistically significant. Estimates for meta-analysis were chosen a priori using a protocol. For the 13 studies with estimates for nitrogen dioxide (NO2), the random effects odds ratio was 1.07 (95% CI 1.02 to 1.13) per 10 μg/m3. For five studies with estimates for particulate matter with aerodynamic diameter <2.5 μm (PM2.5), the random effects estimate was 1.16 (95% CI 0.98 to 1.37) per 10 μg/m3. These estimates were reduced in size and statistical significance by adjustment for publication bias but remained positive. The results are consistent with an effect of outdoor air pollution on asthma incidence. Future meta-analyses would benefit from greater standardisation of cohort methods.
Access options
Buy single article
Instant access to the full article PDF.
USD 39.95
Price excludes VAT (USA)
Tax calculation will be finalised during checkout.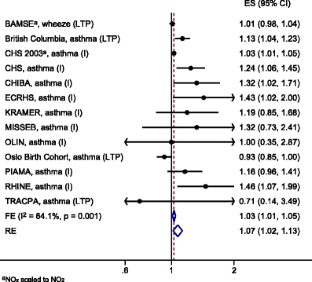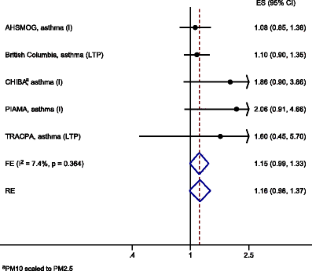 References
Abbey DE, Lebowitz MD, Mills PK, Petersen FF, Beeson WL, Burchette RJ (1995) Long-term ambient concentrations of particulates and oxidants and development of chronic disease in a cohort of nonsmoking California residents. Inhal Toxicol 7:19–34

Begg CB, Mazumdar M (1994) Operating characteristics of a rank correlation test for publication bias. Biometrics 50:1088–1101

Bennett CM, Simpson P, Raven J, Skoric B, Powell J, Wolfe R, Walters EH, Abramson MJ (2007) Associations between ambient PM2.5 concentrations and respiratory symptoms in Melbourne, 1998–2005. J Toxicol Environ Health A 70:1613–1618

Braback L, Forsberg B (2009) Does traffic exhaust contribute to the development of asthma and allergic sensitization in children: findings from recent cohort studies. Environ Health 8:17

Brauer M, Hoek G, Smit HA, de Jongste JC, Gerritsen J, Postma DS, Kerkhof M, Brunekreef B (2007) Air pollution and development of asthma, allergy and infections in a birth cohort. Eur Respir J 29:879–888

Clark NA, Demers PA, Karr CJ, Koehoorn M, Lencar C, Tamburic L, Brauer M (2010) Effect of early life exposure to air pollution on development of childhood asthma. Environ Health Perspect 118:284–290

Clougherty JE, Levy JI, Kubzansky LD, Ryan PB, Suglia SF, Canner MJ, Wright RJ (2007) Synergistic effects of traffic-related air pollution and exposure to violence on urban asthma etiology. Environ Health Perspect 115:1140–1146

Davies HT, Crombie IK, Tavakoli M (1998) When can odds ratios mislead? BMJ 316:989–991

Department of Health Committee on the Medical Effects of Air Pollutants (1995) Asthma and outdoor air pollution. HMSO, London

DerSimonian R, Laird NM (1986) Meta-analysis in clinical trials. Control Clin Trials 7:177–188

Duval S, Tweedie R (2000) A simple funnel-plot-based method of testing and adjusting for publication bias in meta-analysis. Biometrics 56:455–463

Egger M, Davey SG, Schneider M, Minder C (1997) Bias in meta-analysis detected by a simple, graphical test. BMJ 315:629–634

Gehring U, Cyrys J, Sedlmeir G, Brunekreef B, Bellander T, Fischer P, Bauer CP, Reinhardt D, Wichmann HE, Heinrich J (2002) Traffic-related air pollution and respiratory health during the first 2 years of life. Eur Respir J 19:690–698

Gehring U, Wijga AH, Brauer M, Fischer P, de Jongste JC, Kerkhof M, Oldenwening M, Smit HA, Brunekreef B (2010) Traffic-related air pollution and the development of asthma and allergies during the first 8 years of life. Am J Respir Crit Care Med 181:596–603

Health Effects Institute (2010) HEI special report 17: traffic-related air pollution: a critical review of the literature on emissions, exposure, and health effects. Health Effects Institute, Boston

Higgins JP, Thompson SG (2002) Quantifying heterogeneity in a meta-analysis. Stat Med 21:1539–1558

Jacquemin B, Sunyer J, Forsberg B, Aguilera I, Briggs D, Garcia-Esteban R, Gotschi T, Heinrich J, Jarvholm B, Jarvis D, Vienneau D, Kunzli N (2009) Home outdoor NO2 and new onset of self-reported asthma in adults. Epidemiology 20:119–126

Jedrychowski W, Perera FR, Maugeri U, Mrozek-Budzyn D, Mroz E, Flak E, Edwards S, Spengler JD, Jacek R, Sowa A, Musial A (2009) Early wheezing phenotypes and severity of respiratory illness in very early childhood: study on intrauterine exposure to fine particle matter. Environ Int 35:877–884

Jerrett M, Shankardass K, Berhane K, Gauderman WJ, Kunzli N, Avol E, Gilliland F, Lurmann F, Molitor JN, Molitor JT, Thomas DC, Peters J, McConnell R (2008) Traffic-related air pollution and asthma onset in children: a prospective cohort study with individual exposure measurement. Environ Health Perspect 116:1433–1438

Kerigan ATG (1986) A three-year cohort study of the role of environmental factors in the respiratory health of children in Hamilton, Ontario. Epidemiologic survey design, methods, and description of cohort. Am Rev Respir Dis 133:987–993

Kramer U, Sugiri D, Ranft U, Krutmann J, von Berg A, Berdel D, Behrendt H, Kuhlbusch T, Hochadel M, Wichmann HE, Heinrich J (2009) Eczema, respiratory allergies, and traffic-related air pollution in birth cohorts from small-town areas. J Dermatol Sci 56:99–105

Kunzli N, Bridevaux PO, Liu LJS, Garcia-Esteban R, Schindler C, Gerbase MW, Sunyer J, Keidel D, Rochat T (2009) Traffic-related air pollution correlates with adult-onset asthma among never-smokers. Thorax 64:664–670

Mann SLW (1992) Accumulation of factors influencing respiratory illness in members of a national birth cohort and their offspring. J Epidemiol Community Health 46:286–292

McConnell R, Berhane K, Gilliland F, London SJ, Islam T, Gauderman WJ, Avol E, Margolis HG, Peters JM (2002) Asthma in exercising children exposed to ozone: a cohort study. Lancet 359:386–391

McConnell R, Islam T, Shankardass K, Jerrett M, Lurmann F, Gilliland F, Gauderman J, Avol E, Kunzli N, Yao L, Peters J, Berhane K (2010) Childhood incident asthma and traffic-related air pollution at home and school. Environ Health Perspect 118:1021–1026

McDonnell WF, Abbey DE, Nishino N, Lebowitz MD (1999) Long-term ambient ozone concentration and the incidence of asthma in nonsmoking adults: the AHSMOG study. Environ Res 80:110–121

Miller RL, Garfinkel R, Horton M, Camann D, Pereral FP, Whyatt RM, Kinney PL (2004) Polycyclic aromatic hydrocarbons, environmental tobacco smoke, and respiratory symptoms in an inner-city birth cohort. Chest 126:1071–1078

Miyake Y, Tanaka K, Fujiwara H, Mitani Y, Ikemi H, Sasaki S, Ohya Y, Hirota Y (2010) Residential proximity to main roads during pregnancy and the risk of allergic disorders in Japanese infants: The Osaka Maternal and Child Health Study. Pediatr Allergy Immunol 21:22–28

Modig L, Jarvholm B, Ronnmark E, Nystrom L, Lundback B, Andersson C, Forsberg B, Modig L, Jarvholm B, Ronnmark E, Nystrom L, Lundback B, Andersson C, Forsberg B (2006) Vehicle exhaust exposure in an incident case–control study of adult asthma. Eur Respir J 28:75–81

Modig L, Toren K, Janson C, Jarvholm B, Forsberg B (2009) Vehicle exhaust outside the home and onset of asthma among adults. Eur Respir J 33:1261–1267

Morgenstern V, Zutavern A, Cyrys J, Brockow I, Gehring U, Koletzko S, Bauer CP, Reinhardt D, Wichmann HE, Heinrich J (2007) Respiratory health and individual estimated exposure to traffic-related air pollutants in a cohort of young children. Occup Environ Med 64:8–16

Nordling E, Berglind N, Melen E, Emenius G, Hallberg J, Nyberg F, Pershagen G, Svartengren M, Wickman M, Bellander T (2008) Traffic-related air pollution and childhood respiratory symptoms, function and allergies. Epidemiology 19:401–408

Oftedal B, Nystad W, Brunekreef B, Nafstad P (2009) Long-term traffic-related exposures and asthma onset in schoolchildren in Oslo, Norway. Environ Health Perspect 117:839–844

Patel MM, Hoepner L, Garfinkel R, Chillrud S, Reyes A, Quinn JW, Perera F, Miller RL, Patel MM, Hoepner L, Garfinkel R, Chillrud S, Reyes A, Quinn JW, Perera F, Miller RL (2009) Ambient metals, elemental carbon, and wheeze and cough in New York City children through 24 months of age. Am J Respir Crit Care Med 180:1107–1113

Pierse N, Rushton L, Harris RS, Kuehni CE, Silverman M, Grigg J (2006) Locally generated particulate pollution and respiratory symptoms in young children. Thorax 61:216–220

Ryan PH, LeMasters GK, Biagini J, Bernstein D, Grinshpun SA, Shukla R, Wilson K, Villareal M, Burkle J, Lockey J (2005) Is it traffic type, volume, or distance? Wheezing in infants living near truck and bus traffic. J Allergy Clin Immunol 116:279–284

Ryan PH, LeMasters GK, Biswas P, Levin L, Hu S, Lindsey M, Bernstein DI, Lockey J, Villareal M, Khurana Hershey GK, Grinshpun SA (2007) A comparison of proximity and land use regression traffic exposure models and wheezing in infants. Environ Health Perspect 115:278–284

Salam MT, Islam T, Gilliland FD (2008) Recent evidence for adverse effects of residential proximity to traffic sources on asthma. Curr Opin Pulm Med 14:3–8

Scarlett JF, Griffiths JM, Strachan DP, Anderson HR (1995) Effect of ambient levels of smoke and sulphur dioxide on the health of a national sample of 23 years old subjects in 1981. Thorax 50:764–768

Schindler C, Keidel D, Gerbase MW, Zemp E, Bettschart R, Brandli O, Brutsche MH, Burdet L, Karrer W, Knopfli B, Pons M, Rapp R, Bayer-Oglesby L, Kunzli N, Schwartz J, Liu LJ, Ackermann-Liebrich U, Rochat T, SAPALDIA Team (2009) Improvements in PM10 exposure and reduced rates of respiratory symptoms in a cohort of Swiss adults (SAPALDIA). Am J Respir Crit Care Med 179:579–587

Shima M, Adachi M (2000) Effect of outdoor and indoor nitrogen dioxide on respiratory symptoms in schoolchildren. Int J Epidemiol 29:862–870

Shima M, Nitta Y, Ando M, Adachi M (2002) Effects of air pollution on the prevalence and incidence of asthma in children. Arch Environ Health 57:529–535

Shima M, Nitta Y, Adachi M (2003) Traffic-related air pollution and respiratory symptoms in children living along trunk roads in Chiba Prefecture, Japan. J Epidemiol 13:108–119

Sterne JA, Gavaghan D, Egger M (2000) Publication and related bias in meta-analysis: power of statistical tests and prevalence in the literature. J Clin Epidemiol 53:1119–1129

Strachan DP, Butland BK, Anderson HR (1996) Incidence and prognosis of asthma and wheezing illness from early childhood to age 33 in a national British cohort. BMJ 312:1195–1199

Stroup DF, Berlin JA, Morton SC, Olkin I, Williamson GD, Rennie D, Moher D, Becker BJ, Sipe TA, Thacker SB (2000) Meta-analysis of observational studies in epidemiology: a proposal for reporting. Meta-analysis Of Observational Studies in Epidemiology (MOOSE) group. JAMA 283:2008–2012

WHO (2000) Evaluation and use of epidemiological evidence for environmental health risk assessment. EUR/00/5020369. WHO Regional Office for Europe, Copenhagen

WHO European Centre for Environment and Health (2005) Effects of air pollution on children's health and development—a review of the evidence. WHO Regional Office for Europe, Bonn
Acknowledgements
We gratefully acknowledge the support of Mary Field-Smith in the preparation of the paper for publication and the encouragement of the Health Protection Agency Air Quality Unit (Head—Professor Robert Maynard) in developing this study.
The study was funded by the Policy Research Unit of the UK Department of Health. The views expressed in this paper are those of the authors alone and do not necessarily reflect those of the Department of Health.
Electronic supplementary material
Below is the link to the electronic supplementary material.
About this article
Cite this article
Anderson, H.R., Favarato, G. & Atkinson, R.W. Long-term exposure to air pollution and the incidence of asthma: meta-analysis of cohort studies. Air Qual Atmos Health 6, 47–56 (2013). https://doi.org/10.1007/s11869-011-0144-5
Received:

Accepted:

Published:

Issue Date:

DOI: https://doi.org/10.1007/s11869-011-0144-5
Keywords