Abstract
Mobile source air toxics (MSAT) may pose an adverse health risk, especially in microenvironments with high exposures to vehicle exhaust or evaporative emissions. Although programs such as reformulated gasoline are intended to reduce the emissions of MSAT and ozone precursors, uncertainties remain regarding population exposures associated with both oxygenate-gasoline blends and conventional gasoline. Measurements were carried out in San Antonio, Texas under controlled conditions to establish relationships between vehicle tailpipe and evaporative emissions and concentration levels in a residence with an attached garage. This paper concentrates on the influence of vehicle type (sedan versus pickup truck), its operational mode (normal versus malfunction), and fuel type (conventional versus oxygenated) on the pollutant levels in the attached garage and adjacent room (kitchen).
Access options
Buy single article
Instant access to the full article PDF.
USD 39.95
Price excludes VAT (USA)
Tax calculation will be finalised during checkout.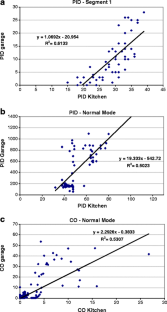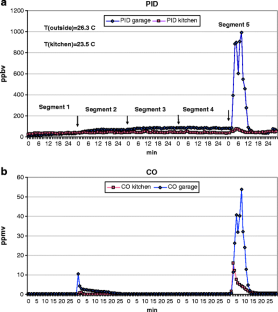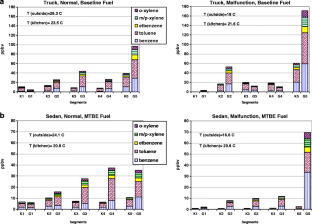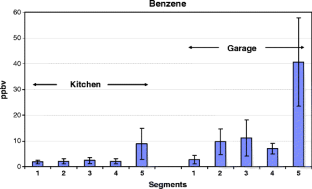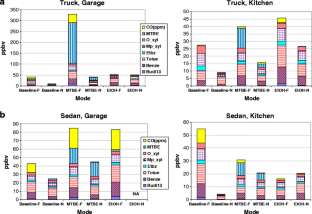 References
Batterman S, Hatzvasilis G, Jia CR (2006) Concentrations and emissions of gasoline and other vapors from residential vehicle garages. Atmos Environ 40:1828–1844

Batterman S, Jia CR, Hatzivasilis G (2007) Migration of volatile organic compounds from attached garages to residences: a major exposure source. Environ Res 104:224–240

Ceballos DM, Zielinska B, Sagebiel J, Fujita EM (2007) Characterization of solid phase micro extraction and gas chromatography for the analysis of gasoline tracers in different microenvironments. J Air Waste Manage Assoc 57:355–365

Dodson RE, Levy JI, Spengler JD, Shine JP, Bennett DH (2008) Influence of basements, garages and common hallways on indoor residential volatile organic compounds concentrations. Atmos Environ 42:1569–1581

Graham LA, Noseworthy L, Fugler D, O'Leary K, Karman D, Grande C (2004) Contribution of vehicle emissions from an attached garage to residential indoor air pollution levels. J Air Waste Manage Assoc 54:563–584

Hawthorne AR, Gammage RB, Dudney CS (1986) An indoor air quality study of 40 East Tennessee homes. Environ Int 12:221–239

Lansari AJJ, Streicher AH Huber, Crescenti GH, Zweidinger RB, Duncan JW, Weisel CP, Burton RM (1996) Dispersion of automotive alternative fuel vapors within a residence and its attached garage. Indoor Air Qual Climate 6:118–26

Mann HS, Crump D, Brown V (2001) Personal exposure to benzene and the influence of attached and integral garages. J R Soc Promot Health 121:38–46

Reiss R, Ryan P, Tibbetts SE, Koutrakis P (1995) Measurement of organic acids, aldehydes, and ketones in residential environments and their relationship to ozone. J Air Waste Manage Assoc 45:811

Thomas KW, Pellizzari ED, Clayton CA, Perritt RL, Dietz RN, Goodrich RW, Nelson WC, Wallace LA (1993) Temporal variability of benzene exposures for residents in several New Jersey homes with attached garages or tobacco smoke. JEAEE 3:49–73

Tsai P-Y, Weisel CP (2000) Penetration of evaporative emissions in a home from an M85-fueled vehicle parked in an attached garage. JAWMA 50:371–77

US EPA (1999a) Method TO-14A, Determination of volatile organic compounds (VOCs) in ambient air using specially prepared canisters with subsequent analysis by gas chromatograph. In compendium of methods for the determination of toxic organic compounds in ambient air, second edition, EPA/625/R-96/010b

US EPA (1999b) Method TO-11A, Determination of formaldehyde in ambient air using adsorbent cartridge followed by high performance liquid chromatography. In compendium of methods for the determination of toxic organic compounds in ambient air, second edition, EPA/625/R-96/010b

Wang H, Morrison GC (2006) Ozone-initiated secondary emission rates of aldehydes from indoor surfaces in four homes. ES&T 40:5262–68

Weschler CJ (2006) Ozone's impact on public health: contributions from indoor exposures to ozone and products of ozone-initiated chemistry. Environ Health Perspect 141:1489–96

Zielinska B, Fujita E, Sagebiel J, Harshfield G, Uberna E, Hayes T, Keene F (1998) Arizona Hazardous Air Pollutants Monitoring Program. J Air Waste Manage Assoc 48:1038–1050

Zielinska B, Sagebiel J, Harshfield G, Pasek R (2001) Volatile organic compound measurements in the California/Mexico border region during SCOS97. Sci Total Environ 276:19–31

Zielinska B, Fujita EM, Sagebiel JC, Campbell DE (2009) Section 211(B) Tier 2 high end exposure study of conventional and oxygenated gasoline, Final Report prepared for American Petroleum Institute, Washington, DC
Electronic supplementary materials
Below is the link to the electronic supplementary material.
About this article
Cite this article
Zielinska, B., Fujita, E., Ollison, W. et al. Relationships of attached garage and home exposures to fuel type and emission levels of garage sources. Air Qual Atmos Health 5, 89–100 (2012). https://doi.org/10.1007/s11869-010-0121-4
Received:

Accepted:

Published:

Issue Date:

DOI: https://doi.org/10.1007/s11869-010-0121-4
Keywords
Attached garage

Kitchen exposures

Evaporative emissions

Exhaust emissions

VOC

BTEX

CO

Oxygenated fuels