Abstract
Particulate matter (PM) is the major air pollution problem with health impacts in Estonia. The prevailing sources of particles are traffic and local heating. In this study, we quantified the health effects of PM in neighbourhoods of five main cities with a health impact assessment (HIA) approach that uses information on exposure, baseline mortality/morbidity and exposure–response relationships from previous epidemiological studies. The exposure was defined as modelled PM2.5 annual levels and daily averages of PM10 (monitoring data in Tallinn and Kohtla-Järve and modelled levels in Tartu, Narva and Pärnu). The modelled results were validated with data from monitoring stations and additional measuring programmes. The annual average concentration of PM2.5 in the neighbourhoods studied varied from 7.6 to 23.6 μg m−3. The analysis indicated that the exposure above natural background corresponds to 462 [95% confidence interval (CI) 120–815] premature deaths, resulting in 6,034 (95% CI 1,583–10,309) years of life lost per year. The average decrease in life-expectancy at birth per resident of Tallinn was estimated to be 0.63 (95% CI 0.16–1.08) years. In the polluted city centres, this average decrease may reach >1 year and in Pärnu, it may reach 0.95 year. However, in the least polluted neighbourhood, the decrease of life expectancy was only 0.17 years. In addition, 231 (95% CI 145–306) respiratory and 338 (95% CI 205–454) cardiovascular hospitalisations per year could be expected. The majority of the external costs are related to the long-term effects on mortality and amount to €270 (95% CI 190–350) million annually. In comparison, the costs of hospitalisations contribute just €1.1 (95% CI 0.6–1.6) million. The main differences in health impacts were mostly driven by differences in the pollution sources, the magnitude of such sources and distribution patterns in the atmosphere. The smallest health effects, with the exception of the green residential areas, were observed in the industrial cities Kohtla-Järve and Narva (due to the small share contributed by local residential heating and relatively little car traffic). However, it is questionable whether the mass of fine particles is the best indicator of air pollution risk in such areas.
Access options
Buy single article
Instant access to the full article PDF.
USD 39.95
Price excludes VAT (USA)
Tax calculation will be finalised during checkout.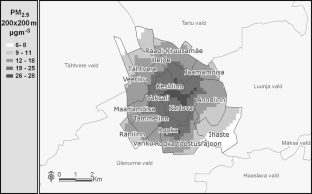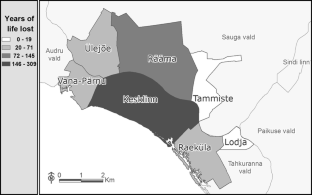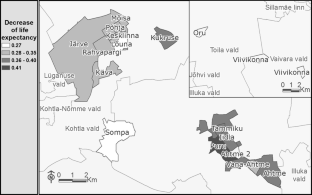 References
Abbey DE, Nishino N, McDonnell WF, Burchette RJ, Knutsen SF, Lawrence Beeson W, Yang JX (1999) Long-term inhalable particles and other air pollutants related to mortality in nonsmokers. Am J Respir Crit Care Med 159:373–382

Anderson HR (2009) Air pollution and mortality: A history. Atmos Environ 43:142–152

Anderson HR, Atkinson RW, Peacock JL, Sweeting MJ, Marston L (2005) Ambient particulate matter and health effects—publication bias in studies of short-term associations. Epidemiology 16:155–163

Anenberg SC, Horowitz LW, Tong DQ, West JJ (2010) An estimate of the global burden of anthropogenic ozone and fine particulate matter on premature human mortality using atmospheric modeling. Environ Health Perspect. doi:10.1289/ehp.0901220

Atkinson RW, Anderson HR, Medina S, Iñiguez C, Forsberg B, Segerstedt B, Artazcoz L, Paldy A, Zorrilla B, Lefranc A, Michelozzi P (2005) Analysis of all-age respiratory hospital admissions and particulate air pollution within the APHEIS programme. In: Medina S, Boldo E, Saklad M, Niciu EM, Krzyzanowski M, Frank F, Cambra K, Mücke HG, Zorilla B, Atkinson R, Le Tertre A, Forsberg B et al (eds) APHEIS Health Impact Assessment of Air Pollution and Communication Strategy. Third year report. Institut de Veille Sanitaire, Saint-Maurice

Ballester F, Medina S, Boldo E, Goodman P, Neuberger M, Iniguez C, Künzli N, network obotA, (2008) Reducing ambient levels of fine particulates could substantially improve health: a mortality impact assessment for 26 European cities. J Epidemiol Community Health 62:98–105

Boldo E, Medina S, LeTertre A, Hurley F, Mucke H, Ballester F, Aguilera I, Eilstein D (2006) Apheis: Health impact assessment of long-term exposure to PM2.5 in 23 European cities. Eur J Epidemiol 21:449–458

Brook RD (2008) Cardiovascular effects of air pollution. Clin Sci 115:175–187

Brunekreef B (1997) Air pollution and life expectancy: is there a relation? Occup Environ Med 54:781–784

Brunekreef B (2007) Health effects of air pollution observed in cohort studies in Europe. J Expo Sci Environ Epidemiol 17:S61–65

Brunekreef B (2008) Design of amMulti-cohort study of air pollution effects in Europe: The ESCAPE Study. In: 20th Annu Conf Int Soc-Environmental Epidemiology. Lippincott Williams & Wilkins, Pasadena, pp S32–S32

Brunekreef B, Forsberg B (2005) Epidemiological evidence of effects of coarse airborne particles on health. Eur Respir J 26:309–318

Cara AC, Buntinx F, Van den Akker M, Dinant GJ, Manolovici C (2007) Industrial air pollution and children's respiratory health: a natural experiment in Calarasi. Eur J Gen Pract 13:135–143

Chen B, Kan H (2008) Air pollution and population health: a global challenge. Environ Health Prevent Med 13:94–101

Chen Y, Craig L, Krewski D (2008) Air quality risk assessment and management. J Toxicol Environ Health A 71:24–39

Cohen A, Anderson H, Ostro B, Pandey K, Krzyzanowski M, Künzli N, Gutschmidt K, Pope CI, Romieu I, Samet J, Smith K (2004) Urban air pollution. In: Ezzati M, Lopez A, Rodgers A, Murray C (eds) Comparative quantification of health risks. World Health Organization, Geneva

COMM (2005) Commission Staff Working Paper. Annex to: The communication on thematic strategy on air pollution and the directive on "ambient air quality and cleaner air for Europe". Impact Assessment Commission of the European Communities, Brussels

Danielis R (2006) Air pollution and road transport in Europe. A cluster and a regression analysis among countries and cities. Working Paper no. 105. Trieste University, Trieste

de Hollander AEM, Melse JM (2006) Valuing the health impact of air pollution: deaths, DALYs or dollars? In: Ayres JG, Maynard RL, Richards R (eds) Air pollution and health. Imperial College Press, London

Dockery DW, Pope CA 3rd, Xu X, Spengler JD, Ware JH, Fay ME, Ferris BG Jr, Speizer FE (1993) An association between air pollution and mortality in six U.S. cities. N Engl J Med 329:1753–1759

Dominici F, McDermott A, Daniels M, Zeger SL, Samet JM (2005) Revised analyses of the National Morbidity, Mortality, and Air Pollution Study: Mortality among residents of 90 cities. Journal of Toxicology and Environmental Health-Part a-Current Issues 68:1071–1092

EAA (2007) EMEP/CORINAIR Emission Inventory Guidebook—2007. European Environment Agency, Copenhagen

EEA (2009) Air quality, health and vegetation impacts of PM10 and ozone in Europe, year 2005. European Environment Agency, Copenhagen

ERS, ISEE, ISEA (2006) Declaration on need for stricter European regulation of air pollution. Munich and Paris

ExternE (2005) Externalities of energy: methodology update. European Communities, Luxembourg

Filleul L, Rondeau V, Vandentorren S, Le Moual N, Cantagrel A, Annesi-Maesano I, Charpin D, Declercq C, Neukirch F, Paris C, Vervloet D, Brochard P, Tessier J-F, Kauffmann F, Baldi I (2005) Twenty five year mortality and air pollution: results from the French PAARC survey. Occup Environ Med 62:453–460

Folino AF, Scapellato ML, Canova C, Maestrelli P, Bertorelli G, Simonato L, Iliceto S, Lotti M (2009) Individual exposure to particulate matter and the short-term arrhythmic and autonomic profiles in patients with myocardial infarction. Eur Heart J 30:1614–1620

Forsberg B, Hansson H, Johansson C, Areskoug H, Persson K, Jarvholm B (2005) Comparative health impact assessment of local and regional particulate air pollutants in Scandinavia. AMBIO 34:11–19

Frey AK, Tissari J, Saarnio KM, Timonen HJ, Tolonen-Kivimäki O, Aurela MA, Saarikoski SK, Makkonen U, Hytönen K, Jokiniemi J, Salonen RO, Hillamo REJ (2009) Chemical composition and mass size distribution of fine particulate matter emitted by a small masonry heater. Boreal Environ Res 14:255–271

Furberg M, Preston K, Sawyer D, Brauer M, Hanvelt R (2005) Health and air quality 2005—phase 2: valuation of health impacts from air quality in the lower Fraser valley airshed. Final report. BC Lung Association, Vancouver

Gehring U, Heinrich J, Kramer U, Grote V, Hochadel M, Sugiri D, Kraft M, Rauchfuss K, Eberwein HG, Wichmann HE (2006) Long-term exposure to ambient air pollution and cardiopulmonary mortality in women. Epidemiology 17:545–551

Glasius M, Ketzel M, Wåhlin P, Bossi R, Stubkjær J, Hertel O, Palmgren F (2008) Characterization of particles from residential wood combustion and modelling of spatial variation in a low-strength emission area. Atmos Environ 42:8686–8697

Golub A, Strukova E (2008) Evaluation and identification of priority air pollutants for environmental management on the basis of risk analysis in Russia. J Toxicol Environ Health A 71:86–91

Gustafsson M, Blomqvist G, Gudmundsson A, Dahl A, Swietlicki E, Bohgard M, Lindbom J, Ljungman A (2008) Properties and toxicological effects of particles from the interaction between tyres, road pavement and winter traction material. Sci Total Environ 393:226–240

Hellén H, Hakola H, Haaparanta S, Pietarila H, Kauhaniemi M (2008) Influence of residential wood combustion on local air quality. Sci Total Environ 393:283–290

Hoek G, Brunekreef B, Goldbohm S, Fischer P, van den Brandt PA (2002) Association between mortality and indicators of traffic-related air pollution in the Netherlands: a cohort study. Lancet 360:1203–1209

Hubbell B, Fann N, Levy JI (2009) Methodological considerations in developing local-scale health impact assessments: balancing national, regional, and local data. Air Quality Atmos Health 2:99–110

Jedrychowski W, Masters E, Choi H, Sochacka E, Flak E, Mroz E, Pac A, Jacek R, Kaim I, Skolicki Z, Spengler JD, Perera F (2007) Pre-pregnancy dietary vitamin A intake may alleviate the adverse birth outcomes associated with prenatal pollutant exposure: epidemiologic cohort study in Poland. Int J Occup Environ Health 13:175–180

Jerrett M, Burnett R, Ma R, Pope I, Krewski D, Newbold K, Thurston G, Shi Y, Finkelstein N, Calle E, Thun M (2005) Spatial analysis of air pollution and mortality in Los Angeles. Epidemiology 16:1–10

Kaasik M, Orru H, Tekkel E, Vals P (2007) Situation and tendencies in air quality in a north European medium-sized town. In: Sokhi R, Neophytou M (eds) Abstr 6th Int Conf Urban Air Quality. Larnaca, p 212

Kappos AD, Bruckmann P, Eikmann T, Englert N, Heinrich U, Hoppe P, Koch E, Krause GH, Kreyling WG, Rauchfuss K, Rombout P, Schulz-Klemp V, Thiel WR, Wichmann HE (2004) Health effects of particles in ambient air. Int J Hyg Environ Health 207:399–407

Katsouyanni K, Touloumi G, Samolu E, Petasakis Y, Analitis A, Le Tertre A, Rossi G, Zmirou D, Ballester F, Boumghar A, Anderson HR, Wojtyniak B, Paldy A, Braustein R, Pekkanen J, Schindler C, Schwartz J (2003) Sensitivity analysis of various models of short-term effects of ambient particles on total mortality in 29 cities in APHEA2 Revised Analyses of Time-Series of Air Pollution and Health. Special Report. Health Effects Institute, Boston, pp 157–164

Kirso U, Steinnes E, Urb G, Teinemaa E, Kettrup A, Gebefügi I, Adamson J, Adamson K (2006) Levels of priority pollutants in ambient air of Estonia. In: 7th Eur Meet Environmental Chemistry. Brno

Krewski D, Jerrett M, Burnett RT, Ma R, Hughes E, Shi Y (2009) Extended follow-up and spatial analysis of the American Cancer Society study linking particulate air pollution and mortality. Health Effects Institute, Cambridge

Künzli N, Kaiser R, Medina S, Studnicka M, Chanel O, Filliger P, Herry M, Horak F, Puybonnieux-Texier V, Quenel P, Schneider J, Seethaler R, Vergnaud J, Sommer H (2000) Public-health impact of outdoor and traffic-related air pollution: a European assessment. Lancet 356:795–801

Laden F, Schwartz J, Speizer FE, Dockery DW (2006) Reduction in fine particulate air pollution and mortality: Extended follow-up of the Harvard Six Cities study. Am J Respir Crit Care Med 173:667–672

Lai T, Habicht J, Kiivet R-A (2009) Measuring burden of disease in Estonia to support public health policy. Eur J Public Health 19:541–547

McDonald JD, Zielinska B, Fujita EM, Sagebiel JC, Chow JC, Watson JG (2000) Fine particle and gaseous emission rates from residential wood combustion. Environ Sci Technol 34:2080–2091

McDonnell WF, Nishino-Ishikawa N, Petersen FF, Chen LH, Abbey DE (2000) Relationships of mortality with the fine and coarse fractions of long-term ambient PM10 concentrations in nonsmokers. J Expos Anal Environ Epidemiol 10:427–436

Mindell J, Joffe M (2004) Predicted health impacts of urban air quality management. J Epidemiol Community Health 58:103–113

Naess O, Nafstad P, Aamodt G, Claussen B, Rosland P (2007) Relation between concentration of air pollution and cause-specific mortality: four-year exposures to nitrogen dioxide and particulate matter pollutants in 470 neighborhoods in Oslo, Norway. Am J Epidemiol 165:435–443

Nel A (2005) Air pollution-related illness: effects of particles. Science 308:804–806

Nerriere É, Zmirou-Navier D, Blanchard O, Momas I, Ladner J, Le Moullec Y, Personnaz M-B, Lameloise P, Delmas V, Target A, Desqueyroux H (2005) Can we use fixed ambient air monitors to estimate population long-term exposure to air pollutants? The case of spatial variability in the Genotox ER study. Environ Res 97:32–42

Orru H, Jõgi R, Kaasik M, Forsberg B (2009a) Chronic traffic-induced PM exposure and self-reported respiratory and cardiovascular health in the RHINE Tartu Cohort. Int J Environ Res Public Health 6:2740–2751

Orru H, Kaasik M, Antov D, Forsberg B (2008) Evolution of traffic flows and traffic-induced air pollution due to structural changes and development during 1993–2006 in Tartu (Estonia). Baltic J Road Bridge Eng 3:206–212

Orru H, Kaasik M, Merisalu E, Forsberg B (2009b) Health impact assessment in case of biofuel peat—co-use of environmental scenarios and exposure-response functions. Biomass Bioenergy 33:1080–1086

Orru H, Teinemaa E, Lai T, Tamm T, Kaasik M, Kimmel V, Kangur K, Merisalu E, Forsberg B (2009c) Health impact assessment of particulate pollution in Tallinn using fine spatial resolution and modeling techniques. Environ Health 8:7

Pope C, Burnett R, Thun M, Calle E, Krewski D, Ito K, Thurston G (2002) Lung cancer, cardiopulmonary mortality, and long-term exposure to fine particulate air pollution. JAMA 287:1132–1141

Pope C, Dockery D (2006) Health effects of fine particulate air pollution: lines that connect. J Air Waste Manage Assoc 56:709–742

Pope CA 3rd, Thun MJ, Namboodiri MM, Dockery DW, Evans JS, Speizer FE, Heath CW Jr (1995) Particulate air pollution as a predictor of mortality in a prospective study of U.S. adults. Am J Respir Crit Care Med 151:669–674

Pope CA III, Ezzati M, Dockery DW (2009) Fine-Particulate Air Pollution and Life Expectancy in the United States. N Engl J Med 360:376–386

Scapellato ML, Canova C, de Simone A, Carrieri M, Maestrelli P, Simonato L, Bartolucci GB (2009) Personal PM10 exposure in asthmatic adults in Padova, Italy: seasonal variability and factors affecting individual concentrations of particulate matter. Int J Hygiene Environ Health 212:626–636

Schwarze PE, Ovrevik J, Lag M, Refsnes M, Nafstad P, Hetland RB, Dybing E (2006) Particulate matter properties and health effects: consistency of epidemiological and toxicological studies. Human Exp Toxicol 25:559–579

Zhang M, Song Y, Cai X (2007) A health-based assessment of particulate air pollution in urban areas of Beijing in 2000–2004. Sci Total Environ 376:100–108

Thorpe A, Harrison RM (2008) Sources and properties of non-exhaust particulate matter from road traffic: A review. Scie Total Environ 400:270–282

Tiwary A, Sinnett D, Peachey C, Chalabi Z, Vardoulakis S, Fletcher T, Leonardi G, Grundy C, Azapagic A, Hutchings TR (2009) An integrated tool to assess the role of new planting in PM10 capture and the human health benefits: a case study in London. Environ Poll 157:2645–2653

Tonne C, Beevers S, Armstrong B, Kelly F, Wilkinson P (2008) Air pollution and mortality benefits of the London Congestion Charge: spatial and socioeconomic inequalities. Occup Environ Med 65:620–627

Urb G, Teinemaa E, Kettrup A, Gebefügi I, Laja M, Reinik J, Tamm E, Kirso U (2005) Atmospheric pollution in Tallinn, levels of priority pollutants. Proc Estonian Acad Sci Chem 54:123–133

Valavanidis A, Fiotakis K, Vlachogianni T (2008) Airborne particulate matter and human health: toxicological assessment and importance of size and composition of particles for oxidative damage and carcinogenic mechanisms. J Environ Sci Health C Environ Carcinog Ecotoxicol Rev 26:339–362

WHO (2002) World Health Report 2002—reducing risks, promoting healthy life. World Health Organization, Geneva

WHO (2005a) European Union can save up to E161 billion a year by reducing air-pollution deaths

WHO (2005b) Health effects of transport-related air pollution. WHO/Euro, Bonn

WHO (2006) Health risks of particulate matter from long-range transboundary air pollution. WHO/Euro, Copenhagen

Williams R, Rea A, Vette A, Croghan C, Whitaker D, Stevens C, McDow S, Fortmann R, Sheldon L, Wilson H, Thornburg J, Phillips M, Lawless P, Rodes C, Daughtrey H (2008) The design and field implementation of the Detroit Exposure and Aerosol Research Study. J Expo Sci Environ Epidemiol 22:22

Wismar M, Blau J, Ernst K, Figueras J (eds) (2007) The effectiveness of health impact assessment. Scope and limitations of supporting decision-making in Europe. WHO, Copenhagen

Wong CM, Vichit-Vadakan N, Kan HD, Qian ZM, Teams PP (2008) Public Health and Air Pollution in Asia (PAPA): A multicity study of short-term effects of air pollution on mortality. Environ Health Perspect 116:1195–1202

World Bank (2007) Cost of Pollution in China. World Bank, Washington D.C.

Yorifuji T, Yamamoto E, Tsuda T, Kawakami N (2005) Health impact assessment of particulate matter in Tokyo, Japan. Int Arch Occup Environ Health 60:179–185

YTV (2008) Ilmanlaatu pääkaupunkiseudulla vuonna 2007. Helsinki Metropolital Area Counsil, Helsinki
Acknowledgements
The studies were funded by the Estonian Ministry of Environment. We would like to thank the local governments of these cities for supportive co-operation. The air quality assessment methods were partially supported by Estonian Ministry of Education and Research, research themes SF0180060s09, SF0180038s08 and SF1090050s07.
About this article
Cite this article
Orru, H., Maasikmets, M., Lai, T. et al. Health impacts of particulate matter in five major Estonian towns: main sources of exposure and local differences. Air Qual Atmos Health 4, 247–258 (2011). https://doi.org/10.1007/s11869-010-0075-6
Received:

Accepted:

Published:

Issue Date:

DOI: https://doi.org/10.1007/s11869-010-0075-6
Keywords
Health impact assessment

Air pollution

Particulate matter

Dispersion modelling

Traffic

Local heating

Costs