Abstract
Climate change are investigated by tracking temporal variation in meteorological parameters and oceanic records. The southern coast of Western Black Sea of Turkey is experienced evidential changing trend in climatic features due to the impact of global warming that significantly alter ambient temperature and wind circulations along the coast. It is extremely important to investigate the effect of climate change that causes this change for Western Black Sea Coast of Turkey. Therefore, this study aims to investigate climate change caused by global warming in sea surface temperatures and wind speeds of Western Black Sea Coast of Turkey. Coastal regions of Duzce, Zonguldak, Bartin, Kastamonu, and Sinop provinces in Western Black Sea are determined as main points. Wind speed, wind direction, and sea temperature data at those main points are used in study. Data are obtained from National Centers for Environmental Prediction. The length of data is 40 years (1979–2018). Analysis of these data is investigated with Sen's Innovative and Trend Analysis Methods (Mann–Kendall and Spearman Rho). Graphs created with Sen's Innovative method are classified into three regions (Low, Medium and High). Trend analysis methods are classified as increasing and decreasing. As a result of study was observed increasing trends at high level of wind speeds (15–25 m/s), in medium levels of wind direction (120–160 Deg.) and at high levels of Sea Surface Temperature (15–27 ℃) with Sen's Innovative Method. Decreasing trends were observed in daily analyzes of wind speed with trend analysis methods. Sea surface temperature daily and annual analyzes were observed increasing trends. These increasing trends are expected to change both marine life, fish population, precipitation regime and tourism habits for the study area.
Access options
Buy single article
Instant access to the full article PDF.
USD 39.95
Price includes VAT (USA)
Tax calculation will be finalised during checkout.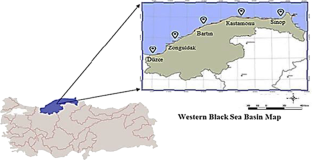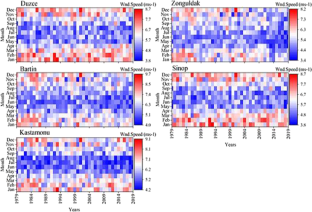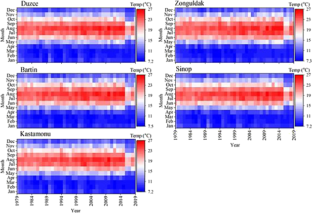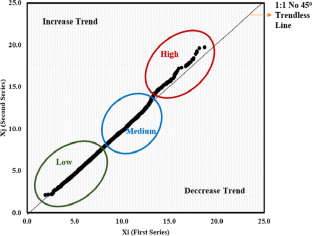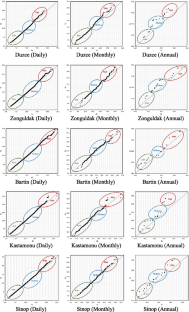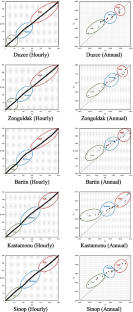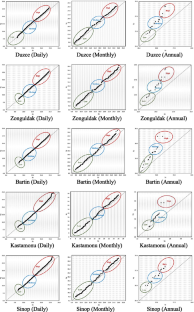 References
Allenbach K, Garonna I, Herold C, Monioudi IN, Giuliani G, Lehmann A, Velegrakis AF (2015) Black sea beaches vulnerability to sea level rise. Environ Sci Policy 46:95–109. https://doi.org/10.1016/j.envsci.2014.07.014

Ceribasi G (2018) Analysis of rainfall datas of the west black sea basin by innovative sen method. Aca Plat J Eng Sci 6:168–173. https://doi.org/10.21541/apjes.431965

Ceribasi G (2019) Analyzing rainfall datas' of eastern black sea basin by using sen method and trend methods. J Ins Sci Tech 9:254–264. https://doi.org/10.21597/jist.439569

Ceribasi G, Caliskan M (2019) Short- and long-term prediction of energy to be produced in hydroelectric energy plants of sakarya basin in Turkey. ES Part A: Rec Util Env Effects. https://doi.org/10.1080/15567036.2019.1665756

Ceribasi G, Aytulun U (2020) Investigation of the effect of climate change on precipitation and temperature data of Susurluk basin and Van Lake closed basin. Int J G Warm 22:54–71. https://doi.org/10.1504/IJGW.2020.110212

Ceribasi G, Ceyhunlu AI (2020) Generation of 1d and 2d flood maps of sakarya river passing through geyve district of sakarya city in Turkey. Nat Hazards 105:631–642. https://doi.org/10.1007/s11069-020-04327-8

Dabanli I, Sen Z, Yelegen MO, Sisman E, Selek B, Guclu YS (2016) Trend assessment by the innovative-sen method. Water Res Man 30:5193–5203. https://doi.org/10.1007/s11269-016-1478-4

Dabanli I, Sen Z (2018) Classical and Innovative-Şen trend assessment under climate change perspective. Int J G Warm 15:19–37. https://doi.org/10.1504/IJGW.2018.091951

Dabanli I, Sisman E, Guclu YS, Birpinar ME, Sen Z (2021) Climate change impacts on sea surface temperature (SST) trend around Turkey seashores. Acta Geophys 69:295–305. https://doi.org/10.1007/s11600-021-00544-2

Dadaser-Celik F, Cengiz E (2014) Wind speed trends over Turkey from 1975 to 2006. Int J Clim 34:1913–1927. https://doi.org/10.1002/joc.3810

Elouissi A, Sen Z, Habi M (2016) Algerian rainfall innovative trend analysis and its implications to Macta watershed. Arab J Geo 9:1–12. https://doi.org/10.1007/s12517-016-2325-x

Erismis M (2019) Trends in sea surface temperatures in Turkey. M.S. thesis. Cankiri: Cankiri Karatekin University, Institute of Social Sciences

European Severe Weather Database (ESWD) (2020) https://www.eswd.eu, (accessed 10 Jan 2020)

Fisk D (1997) Climate change and its impacts: A global perspective. Documentation. Crown Copyright

Gregory JM, Lowe JA (2000) Predictions of global and regional sea-level rise using AOGCMs with and without flux adjustment. Geophys Res Lett 27:3069–3072. https://doi.org/10.1029/1999GL011228

Guclu Y (2013) Sea surface temperature anomalies along the Black Sea Region coast of Turkey (1971–2010 period). J Hum Sci 10:863–896

Guclu YS (2018) Multiple Şen-Innovative trend analyses and partial mann-kendall test. J Hyd 566:685–704. https://doi.org/10.1016/j.jhydrol.2018.09.034

Guclu YS, Sisman E, Dabanli I (2020) Innovative triangular trend analysis. Arab J Geo 13:1–8. https://doi.org/10.1007/s12517-019-5048-y

Kahya E, Kalayci S (2004) Trend analysis of streamflow in Turkey. J Hydrol 289:128–144

Kendall MG (1975) Rank correlation methods. London: Charles Griffin, p 135

Kummu M (2016) Over the hills and further away from coast: global geospatial patterns of human and environment over the 20th-21st centuries. Environ Res Letters 11:1–15. https://doi.org/10.1088/1748-9326/11/3/034010

Levermann A, Griesel A, Hofmann M, Montoya M, Rahmstorf S (2005) Dynamic sea level changes following changes in the thermohaline circulation. Climate Dyn 24:347–354. https://doi.org/10.1007/s00382-004-0505-y

Li J, Wu W, Ye X, Jiang H, Gan R, Wu H, Jiang Y (2019) Innovative trend analysis of main agriculture natural hazards in China during 1989–2014. Nat Hazards 95:677–720. https://doi.org/10.1007/s11069-018-3514-6

Mann HB (1945) Non-parametric tests against trend. Econometrica 13:245–259

Mohorji AM, Sen Z, Almazroui M (2017) Trend analyses revision and global monthly temperature innovative multi-duration analysis. Earth Syst Environ 1:1–13. https://doi.org/10.1007/s41748-017-0014-x

National Centers for Environmental Prediction (NCEP) (2020) Wind speed, wind direction and sea surface temperature data acquisition. https://www.cpc.ncep.noaa.gov/ (accessed 30 Jun 2020)

Ozdemir ET, Yetemen O (2019) Meteorological Analysis of Lake Enhanced Snow in Istanbul, On February 17–19, 2015. J Anatolian Environ Anim Sci 2:105–121. https://doi.org/10.35229/jaes.574817

Poulos SE, Ghionis G, Maroukian H (2009) Sea-level rise trends in the Attico-Cycladic region (Aegean Sea) during the last 5000 years. Geomorphology 107:10–17. https://doi.org/10.1016/j.geomorph.2007.05.022

Poupkou A, Zanis P, Nastos P, Papanastasiou D, Melas D, Tourpali K, Zerefos C (2011) Present climate trend analysis of the etesian winds in the Aegean Sea. Theo App Clim 106:459–472. https://doi.org/10.1007/s00704-011-0443-7

Pörtner HO, Roberts DC, Masson-Delmotte V, Zhai P, Tignor M, Poloczanska E, Mintenbeck K, Alegría A, Nicolai M, Okem A, Petzold J, Rama B, Weyer NM (2019) Summary for policymakers. in: IPCC special report on the ocean and cryosphere in a changing climate. In press

Sen Z (2012) Innovative trend analysis methodology. J Hyd Eng 17:1042–1046. https://doi.org/10.1061/(ASCE)HE.1943-5584.0000556

Sen Z (2013) Trend identification simulation and application. J Hyd Eng 19:635–642. https://doi.org/10.1061/(ASCE)HE.1943-5584.0000811

Sen Z (2017) Innovative trend significance test and applications. Theo App Clim 127:939–947. https://doi.org/10.1007/s00704-015-1681-x

Sen Z, Sisman E, Dabanli I (2019) Innovative polygon trend analysis (IPTA) and applications. J Hyd 575:202–210. https://doi.org/10.1016/j.jhydrol.2019.05.028

Sisman E (2021) Power law characteristics of trend analysis in Turkey. Theor Appl Climatol 143:1529–1541. https://doi.org/10.1007/s00704-020-03408-9

Tsimplis MN, Josey SA, Rixen M, Stanev EV (2004) On the forcing of sea level in the black sea. J Geo Res 109:1–13. https://doi.org/10.1029/2003JC002185

Vigo I, Garcia D, Chao BF (2005) Change of sea level trend in the mediterranean and black seas. J Mar Res 63:1085–1100. https://doi.org/10.1357/002224005775247607

Wu H, Qian H (2017) Innovative trend analysis of annual and seasonal rainfall and extreme values in Shaanxi, China, since the 1950s. Int J Clim 37:2582–2592. https://doi.org/10.1002/joc.4866
Funding
The authors did not receive support from any organization for the submitted work. The authors have no conflicts of interest to declare that are relevant to the content of this article.
Additional information
Publisher's Note
Springer Nature remains neutral with regard to jurisdictional claims in published maps and institutional affiliations.
About this article
Cite this article
Ceyhunlu, A.I., Ceribasi, G., Ahmed, N. et al. Climate change analysis by using sen's innovative and trend analysis methods for western black sea coastal region of turkey. J Coast Conserv 25, 50 (2021). https://doi.org/10.1007/s11852-021-00839-y
Received:

Revised:

Accepted:

Published:
Keywords
Climate change

Sen's innovative method

Trend analysis

Western black sea

Turkey