Abstract
A new design of sampling device was developed and used for the assessment of microplastics in the floating plastic debris of the water channel flowing from the creek towards the sea. During the intermonsoon period (April to May), the collection using the sampling device showed over 106 microplastic particles with 9.9 g weight during the low tide conditions. A lesser number and amount of microplastic was recorded (95 particles weighing 8.7 g) during the high tide conditions. The collected microplastics were dried, segregated, assessed, and classified into four major categories, namely: plastic fragments, microfibre, microbeads, and foamed plastics. In total, six samplings were carried out in the water channel and it was evident that the maximum number and the maximum weight (g) of microplastics corresponds to low tide (post-high tide) conditions. The present investigation reveals that an insignificant quantity of microplastics is carried to the sea from the landward side. It is concluded that the origin of the microplastics in the oceans is through fragmentation and degradation of macro-and megaplastic transported to the sea through inland water channels connected to the sea. The contribution of microplastics from the landscape surrounding the sea/oceans is negligible. It is emphasized that the magnitude of microplastic in the oceans can be reduced by preventing the entry of macro- and megaplastics from the landward side.
This is a preview of subscription content,
to check access.
Access this article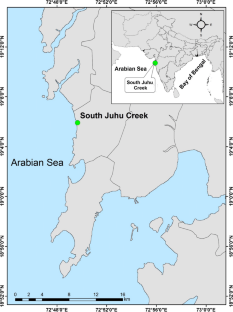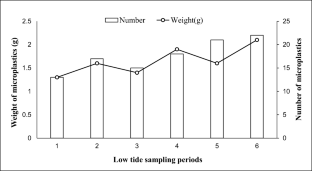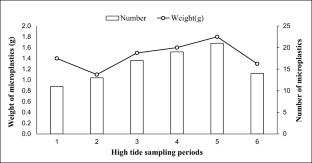 Similar content being viewed by others
References
Allsopp M, Walters A, Santillo D, Johnsto P (2006) Plastic debris in the world's oceans Greenpeace. International, Amsterdam

Alomar C, Sureda A, Capó X, Guijarro B, Tejada S, Deudero S (2017) Microplastic ingestion by Mullus surmuletus Linnaeus, 1758 fish and its potential for causing oxidative stress. Environ Res 159:135–142

Andrady AL (2011) Microplastics in the marine environment. Mar Pollut Bull 62(8):1596–1605

Andrady AL (2015) Persistence of plastic litter in the oceans. In: Bergmann M, Gutow L, Klages M (eds) Marine anthropogenic litter. Springer International Publishing, Berlin, pp 57–72

Andrady AL (2017) The plastic in microplastics: a review. Mar Pollut Bull 119(1):12–22

Arthur C, Baker JE, Bamford HA (2009) Proceedings of the international research workshop on the occurrence, effects, and fate of microplastic marine debris, September 9–11, 2008, University of Washington Tacoma, Tacoma

Astudillo JC, Bravo M, Dumont CP, Thiel M (2009) Detached aquaculture buoys in the SE Pacific: potential dispersal vehicles for associated organisms. Aquat Biol 5(3):219–231

Ballent A, Corcoran PL, Madden O, Helm PA, Longstaffe FJ (2016) Sources and sinks of microplastics in Canadian Lake Ontario nearshore, tributary and beach sediments. Mar Pollut Bull 110(1):383–395

Barnes DK, Galgani F, Thompson RC, Barlaz M (2009) Accumulation and fragmentation of plastic debris in global environments. Philosophical Trans Royal Soc London B: Biol Sci 364(1526):1985–1998

Boerger CM, Lattin GL, Moore SL, Moore CJ (2010) Plastic ingestion by planktivorous fishes in the North Pacific central gyre. Mar Pollut Bull 60(12):2275–2278

Browne MA, Galloway TS, Thompson RC (2010) Spatial patterns of plastic debris along estuarine shorelines. Environ Sci Technol 44(9):3404–3409

Butterworth A, Clegg I, Bass C (2012) Untangled–marine debris: a global picture of the impact on animal welfare and of animal-focused solutions. World Society for the Protection of Animals, London, p 75

Cheshire AC, Adler E, Barbière J, Cohen Y, Evans S, Jarayabhand S, Jeftic L, Jung RT, Kinsey S, Kusui ET, Lavine I (2009) UNEP/IOC guidelines on survey and monitoring of marine litter. UNEP Regional Seas Rep Stud

Claessens M, De Meester S, Van Landuyt L, De Clerck K, Janssen CR (2011) Occurrence and distribution of microplastics in marine sediments along the Belgian coast. Mar Pollut Bull 62(10):2199–2204

Colabuono FI, Barquete V, Domingues BS, Montone RC (2009) Plastic ingestion by Procellariiformes in southern Brazil. Mar Pollut Bull 58(1):93–96

Cole M, Lindeque P, Halsband C, Galloway TS (2011) Microplastics as contaminants in the marine environment: a review. Mar Pollut Bull 62(12):2588–2597

de Carvalho DG, Neto JAB (2016) Microplastic pollution of the beaches of Guanabara Bay, Southeast Brazil. Ocean Coast Manag 128:10–17

Debrot AO, Tiel AB, Bradshaw JE (1999) Beach debris in Curaçao. Mar Pollut Bull 38(9):795–801

Eriksen M, Maximenko N, Thiel M, Cummins A, Lattin G, Wilson S, Hafner J, Zellers A, Rifman S (2013) Plastic pollution in the South Pacific subtropical gyre. Mar Pollut Bull 68(1–2):71–76

Essel R, Engel R, Carus M, Ahrens RH (2015) Sources of microplastics relevant to marine protection in Germany. Texte 64:2015

Galgani F, Hanke G, Maes T, (2015) Global distribution, composition and abundance of marine litter. In: Marine anthropogenic litter (pp. 29-56). Springer: Cham

Geyer R, Jambeck JR, Law KL (2017) Production, use, and fate of all plastics ever made. Sci Adv 3(7):e1700782

Gregory MR (2009) Environmental implications of plastic debris in marine settings—entanglement, ingestion, smothering, hangers-on, hitch-hiking and alien invasions. Philos Trans Royal Soc B: Biol Sci 364(1526):2013–2025

Hidalgo-Ruz V, Thiel M (2013) Distribution and abundance of small plastic debris on beaches in the SE Pacific (Chile): a study supported by a citizen science project. Mar Environ Res 87:12–18

Hidalgo-Ruz V, Gutow L, Thompson RC, Thiel M (2012) Microplastics in the marine environment: a review of the methods used for identification and quantification. Environ Sci Technol 46(6):3060–3075

Hunter GJ (2003) Stormwater quality improvement devices: issues for consideration. In: International conference on urban storm drainage (Vol. 99)

Jayasiri HB, Purushothaman CS, Vennila A (2013) Quantitative analysis of plastic debris on recreational beaches in Mumbai, India. Mar Pollut Bull 77(1–2):107–112

Kaberi H, Tsangaris C, Zeri C, Mousdis G, Papadopoulos A, Streftaris N (2013) Microplastics along the shoreline of a Greek island (kea isl., Aegean Sea): types and densities in relation to beach orientation, characteristics and proximity to sources. In 4th international conference on environmental management, engineering, planning and economics (CEMEPE) and SECOTOX conference, Mykonos Island, Greece (pp. 197-202)

Karthik R, Robin RS, Purvaja R, Ganguly D, Anandavelu I, Raghuraman R, Hariharan G, Ramakrishna A, Ramesh R (2018) Microplastics along the beaches of southeast coast of India. Sci Total Environ 645:1388–1399

Kiessling I (2003) Derelict fishing gear and other marine debris

Kim IS, Chae DH, Kim SK, Choi S, Woo SB (2015) Factors influencing the spatial variation of microplastics on high-tidal coastal beaches in Korea. Arch Environ Contam Toxicol 69(3):299–309

Kumar VS, Pathak KC, Pednekar P, Raju NSN, Gowthaman R (2006) Coastal processes along the Indian coastline. Curr Sci 91(4):530–536

Laist DW (1997) Impacts of marine debris: entanglement of marine life in marine debris including a comprehensive list of species with entanglement and ingestion records. In: Marine debris (pp. 99-139). Springer: New York

Lassen C, Hansen SF, Magnusson K, Hartmann NB, Jensen PR, Nielsen TG, Brinch A (2015) Microplastics: occurrence, effects and sources of releases to the environment in Denmark

Lattin GL, Moore CJ, Zellers AF, Moore SL, Weisberg SB (2004) A comparison of neustonic plastic and zooplankton at different depths near the southern California shore. Mar Pollut Bull 49(4):291–294

Lee DI, Cho HS, Jeong SB (2006) Distribution characteristics of marine litter on the sea bed of the East China Sea and the South Sea of Korea. Estuar Coast Shelf Sci 70(1–2):187–194

Lippiatt S, Opfer S, Arthur C (2013) Marine debris monitoring and assessment: recommendations for monitoring debris trends in the marine environment

Manickavasagam S, Chellamanimegalai P, Dhayanath M (2019) Assessment of marine litter based on tide along Juhu Beach. Int J Curr Microbiol App Sci 8(7):1549–1555

Manickavasagam S, Kumar S, Kumar K, Bhuvaneswari GR, Paul T, Shukla SP (2020) Quantitative assessment of influx and efflux of marine debris in a water channel of south Juhu creek, Mumbai, India. Reg Stud Mar Sci 34:101095

Markose J, Maneesh KP, Niketh Manohar DP, (2017) Automatic trash removal system in water bodies. Int J Eng Sci 6674

Masura J, Baker JE, Foster GD, Arthur C, Herring C (2015) Laboratory methods for the analysis of microplastics in the marine environment: recommendations for quantifying synthetic particles in waters and sediments

McDermid KJ, McMullen TL (2004) Quantitative analysis of small-plastic debris on beaches in the Hawaiian archipelago. Mar Pollut Bull 48(7–8):790–794

Moore CJ, Moore SL, Leecaster MK, Weisberg SB (2001) A comparison of plastic and plankton in the North Pacific central gyre. Mar Pollut Bull 42(12):1297–1300

Moore CJ, Moore SL, Weisberg SB, Lattin GL, Zellers AF (2002) A comparison of neustonic plastic and zooplankton abundance in southern California's coastal waters. Mar Pollut Bull 44(10):1035–1038

Murthy RC, Rao YR, Inamdar AB (2001) Integrated coastal management of Mumbai metropolitan region. Ocean Coast Manag 44(5–6):355–369

Naji A, Esmaili Z, Khan FR (2017) Plastic debris and microplastics along the beaches of the strait of Hormuz, Persian gulf. Mar Pollut Bull 114(2):1057–1062

Opfer S, Arthur C, Lippiatt S (2012) NOAA marine debris Shorline survey field guide. US Department of Commerce, National Oceanic and Atmospheric Administration, National Ocean Service, Office of Response and Restoration, NOAA Marine Debris Program

Patil R, Itnare R, Ahirrao S, Jadhav A, Dhumal A (2016) Study of river harvesting & trash cleaning machine. Int J Innov Res Sci Eng 2:422–431

Phillips MB, Bonner TH (2015) Occurrence and amount of microplastic ingested by fishes in watersheds of the Gulf of Mexico. Mar Pollut Bull 100(1):264–269

Plastics Europe (2018) Plastics – the facts 2017, an analysis of European plastics production, demand and waste data. p. 16 (Brussels – Belgium)

Possatto FE, Barletta M, Costa MF, do Sul JAI, Dantas DV (2011) Plastic debris ingestion by marine catfish: an unexpected fisheries impact. Mar Pollut Bull 62(5):1098–1102

Rafique SMSM, Langde A, (2017) Design and fabrication of river cleaning machine

Ramesh R, Purvaja R, Ramesh S, James RA (2002) Historical pollution trends in coastal environments of India. Environ Monit Assess 79(2):151–176

Rees G, Pond K (1995) Marine litter monitoring programmes—a review of methods with special reference to national surveys. Mar Pollut Bull 30(2):103–108

Ribic CA, Dixon TR, Vining I, Duke M (1992) Marine debris survey manual (p. 92). US Department of Commerce, National Oceanic and Atmospheric Administration, National Marine Fisheries Service

Ryan PG, Moore CJ, van Franeker JA, Moloney CL (2009) Monitoring the abundance of plastic debris in the marine environment. Philos Trans Royal Soc B: Biol Sci 364(1526):1999–2012

Shim WJ, Hong SH, Eo SE (2017) Identification methods in microplastic analysis: a review. Anal Methods 9(9):1384–1391

Slat B (2014) The ocean clean up

Slaughter M (2012) Litter potential of sub-watersheds within dog river watershed

Sridhar KR, Deviprasad B, Karamchand KS, Bhat R (2007) Plastic debris along the beaches of Karnataka, southwest coast of India. Asian J Water, Environ Pollution 6(2):87–93

Thompson RC, Olsen Y, Mitchell RP, Davis A, Rowland SJ, John AW, McGonigle D, Russell AE (2004) Lost at sea: where is all the plastic? Science 304(5672):838–838

Veerasingam S, Mugilarasan M, Venkatachalapathy R, Vethamony P (2016) Influence of 2015 flood on the distribution and occurrence of microplastic pellets along the Chennai coast, India. Mar Pollut Bull 109(1):196–204

Vegter AC, Barletta M, Beck C, Borrero J, Burton H, Campbell ML, Costa MF, Eriksen M, Eriksson C, Estrades A, Gilardi KV (2014) Global research priorities to mitigate plastic pollution impacts on marine wildlife. Endanger Species Res 25(3):225–247

Vennila A, Jayasiri HB, Pandey PK (2014) Plastic debris in the coastal and marine ecosystem: a menace that needs concerted efforts. IJFAS 2:24–29

Vianello A, Boldrin A, Guerriero P, Moschino V, Rella R, Sturaro A, Da Ros L (2013) Microplastic particles in sediments of lagoon of Venice, Italy: first observations on occurrence, spatial patterns and identification. Estuar Coast Shelf Sci 130:54–61

Wessel CC, Lockridge GR, Battiste D, Cebrian J (2016) Abundance and characteristics of microplastics in beach sediments: insights into microplastic accumulation in northern Gulf of Mexico estuaries. Mar Pollut Bull 109(1):178–183

Wright SL, Thompson RC, Galloway TS (2013) The physical impacts of microplastics on marine organisms: a review. Environ Pollut 178:483

Xiong X, Zhang K, Chen X, Shi H, Luo Z, Wu C (2018) Sources and distribution of microplastics in China's largest inland Lake–Qinghai Lake. Environ Pollut 235:899–906

Yonkos LT, Friedel EA, Perez-Reyes AC, Ghosal S, Arthur CD (2014) Microplastics in four estuarine rivers in the Chesapeake Bay, USA. Environ Sci Technol 48(24):14195–14202

Zhao S, Zhu L, Li D (2015) Characterization of small plastic debris on tourism beaches around the South China Sea. Reg Stud Mar Sci 1:55–62

Zhu L, Bai H, Chen B, Sun X, Qu K, Xia B (2018) Microplastic pollution in North Yellow Sea, China: observations on occurrence, distribution and identification. Sci Total Environ 636:20–29
Acknowledgements
The authors are thankful to Director & Vice-chancellor, ICAR-Central Institute of Fisheries Education (CIFE), Mumbai, and Head of Department, Aquatic Environment and Health Management Division, ICAR- CIFE, Mumbai for necessary support and providing all possible facilities to complete this research work successfully. The permission and coordination received from Brihanmumbai Municipal Corporation (BMC) and citizens of Juhu and Khar-Danda villages are also acknowledged. The authors are also thanks to the journal editor for suggesting thoughtful and valuable comments to improve and revise the manuscript.
Funding
This research work was supported by the Indian Council of Agricultural Research-Central Institute of Fisheries Education, Mumbai, India.
Ethics declarations
Declaration of competing interest
The authors declare that they have no known competing financial interests or personal relationships that could have appeared to influence the work reported in this research article.
Additional information
Publisher's note
Springer Nature remains neutral with regard to jurisdictional claims in published maps and institutional affiliations.
Research Highlights
1. Baseline data about the quantity of microplastics flowing to the sea through a water channel is scarce in the literature.
2. An insignificant quantity of microplastics was present in the floating plastic debris flowing to the sea.
3. First report of an assessment of microplastics flowing to the sea from land by a fixed sampling device.
Supplementary Information
About this article
Cite this article
Manickavasagam, S., Shukla, S.P., Kumar, S. et al. Assessment of marine microplastics in floating plastic debris using a fixed sampling device: the example of South Juhu creek, Mumbai coast, India. J Coast Conserv 25, 20 (2021). https://doi.org/10.1007/s11852-021-00810-x
Received:

Revised:

Accepted:

Published:

DOI: https://doi.org/10.1007/s11852-021-00810-x
Keywords