Abstract
Coastal erosion is a major concern in Senegal, which is increasing over time. In the Palmarin peninsula, in the Saloum estuary, previous studies showed shoreline retreat rates of 1.20 m/yr in 1982 and 2.20 m in 1954–2002; our results show an increase to 2.45 m/yr in 2005–2010, 2.60 m/yr in 2010–2014 and 3.05 m/yr in 2014–2018. The main cause seems to be sea level rise, as there are not significant human factors. Short-term estimates show probable damages in two villages (Ngallou and Djiffer), where buildings are already being destroyed, tourist camps near the beaches and on the road that crosses the peninsula. There is also a significant risk that coastal erosion would connect the sea and the intertidal mud flat areas of the Saloum estuary, fragmenting the peninsula in several islands, changing the evolution of erosive processes and producing a decline of the mangroves, and with them of fishing. It is urgent to develop an adaptation plan for this area, to address the possible consequences of coastal erosion on the assets and activities of the population.
Access options
Buy single article
Instant access to the full article PDF.
USD 39.95
Price includes VAT (USA)
Tax calculation will be finalised during checkout.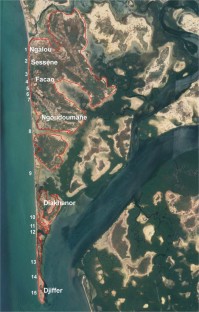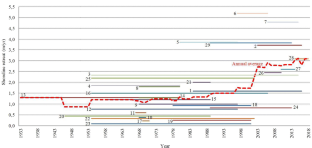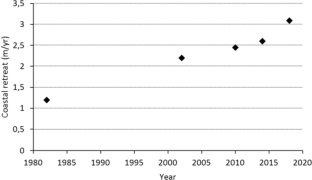 References
Amuzu J, Jallow BP, Kabo-Bah AT, Yaffa S (2018) The climate change vulnerability and risk management matrix for the coastal zone of the Gambia. Hydrology 5:14

Andrieu J (2018) Land cover changes on the west-African coastline from the Saloum Delta (Senegal) to Rio Geba (Guinea-Bissau) between 1979 and 2015. Eur J Remote Sens 51(1):314–325

ANSD (2020) Agence Nationale de la Statistique et de la Demographie, Republique de Senegal http://wwwansdsn/ Accessed 26 February 2020

Ba M, Diop EHS, Diouf B, Soumare A, Chevillotte H, Saos JL, Barusseau JP, Descamps C (1993) Evolution de l'embouchure du Saloum de 1958 à 1992. In: Diaw AT, Ba A, Bouland P, Diouf PS, Lake LA, Mbow MA, Ndiaye P, Thiam MD (eds) Gestion des ressources côtières et littorales du Sénégal. UICN, Gland, pp 121–131

Ba K, Wade S, Niang I, Trébossen H, Rudant JP (2007) Cartographie radar en zone côtière à l'aide d'images multidates Rso d'ERS-2: application au suivi de l'environnement de la Langue de Barbarie et de l'estuaire du fleuve Sénégal. Rev Télédétection 7:129–141

Bakhoum PW, Ndour A, Niang I, Sambou B, Traore VB, Diaw AT, Sambou H, Ndiaye ML (2017) Coastline mobility of Goree Island (Senegal), from 1942 to 2011. Mar Sci 7(1):1–9

Bakhoum PW, Niang I, Sambou B, Diaw AT (2018) Une presqu'île en érosion côtière? Dakar, la capitale sénégalaise face à l'avancée de la mer dans le contexte du changement climatique. Environ Water Sci Public Heath Territ Intell 1(4):92–109

Boak EH, Turner IL (2005) Shoreline definition and detection: a review. J Coast Res 21(4):688–703

Campredon P, Cuq F (2001) Artisanal fishing and coastal conservation in West Africa. J Coast Conserv 7:91–100

Cesaraccio M, Thomas YF, Diaw AT, Ouegnimaoua L (2004) Impact des activités humaines sur la dynamique littorale : prélèvements de sables sur le site de Pointe Sarène, Sénégal. Géomorphologie 10(1):55–63

Church JA, Clark PU, Cazenave A et al (2013) Sea level change. In: Stocker TF, Qin D, Plattner GK et al (eds) Climate change 2013: the physical science basis. Contribution of Working Group I to the Fifth Assessment Report of the Intergovernmental Panel on Climate Change. Cambridge University Press, Cambridge and New York, pp 1137–1216

Cissé A (2012) Evolution of the coastline and recomposition of the districts in Bargny: methodological approach by geographic information system (GIS). Dissertation, Cheikh Anta Diop University

Dennis KC, Niang-Diop I, Nicholls RJ (1995) Sea-level rise and Senegal: potential impacts and consequences. J Coast Res 14:243–261

Diadhiou YB (2010) Vulnérabilité du littoral de Palmarin (Petite Côte, Sénégal) au changement climatique. Dissertation, Cheikh Anta Diop University

Diadhiou YB, Ndour A, Niang I, Niang-Fall A (2016) Étude comparative de l'évolution du trait de côte sur deux flèches sableuses de la Petite Côte (Sénégal): cas de Joal et de Djiffère. Norois 240:25–42

Diallo MA, Keita AN (2009) The ocean data and information network for Africa. Senegal. In: Odido M, Mazzilli S (eds) African oceans and coasts. Kenya, UNESCO-IOC, pp 133–138

Diara M, Barusseau JP (2006) Late holocene evolution of the Salum-Gambia double delta (Senegal). Geo-Eco-Marine 12:17.28

Diop ES, Ba M (1993) Mangroves of Sénégal and Gambia. In: Diop ES (ed) Conservation and sustainable utilization of mangrove forests in Latin America and Africa regions, Mangrove ecosystems technical reports 3, vol II. ITTO/ISME, Okinawa, pp 19–37

Diop ES, Soumare A, Diallo N, Guisse A (1997) Recent changes of the mangroves of the Saloum River estuary, Senegal. Mangrove Salt Marshes 1(3):163–172

Diop S, Fabres J, Pravettoni R, Barusseau JP, Descamps C, Ducrotoy JP (2014) The Western and Central Africa land-sea interface: a vulnerable, threatened, and important coastal zone within a changing environment. In: Diop S, Barusseau JP, Descamps C (eds) The land/ocean interactions in the coastal zone of west and Central Africa. Estuaries of the world. Springer, Cham, pp 1–8

Enríquez-de-Salamanca Á, Díaz-Sierra R, Martín-Aranda RM, Santos MJ (2017) Environmental impacts of climate change adaptation. Environ Impact Assess Rev 64:87–96

Esmail M, Mahmod WE, Fath H (2019) Assessment and prediction of shoreline change using multi-temporal satellite images and statistics: case study of Damietta coast, Egypt. Appl Ocean Res 82:274–282

Faye I (2010) Dynamique du trait de côte sur les littoraux sableux de la Mauritanie à la Guinée-Bissau (Afrique de l'Ouest): Approches régionale et locale par photo-interprétation, traitement d'images et analyse de cartes anciennes. Dissertation, Université de Bretagne Occidentale, Brest

Goodwin P, Brown S, Haigh ID, Nicholls RJ, Matter JM (2018) Adjusting mitigation pathways to stabilize climate at 1.5°C and 2.0°C rise in global temperatures to year 2300. Earth's Future 6(3):601–615

Goussard JJ, Ducrocq M (2014) West African coastal area: challenges and outlook. In: Diop S, Barusseau JP, Descamps C (eds) The land/ocean interactions in the coastal zone of west and Central Africa. Estuaries of the world. Springer, Cham, pp 9–21

Ibe AC, Quelennec RE (1989) Methodology for assessment and control of coastal erosion in west and Central Africa. UNEP Regional Seas Reports and Studies 127

Jallow BP, Barrow MKA, Leatherman SP (1996) Vulnerability of the coastal zone of the Gambia to sea level rise and development of response strategies and adaptation options. Clim Res 6(2):165–177

Jonah FE, Mensah EA, Edziyie RE, Agbo NW, Adjei-Boateng D (2016) Coastal erosion in Ghana: causes, policies, and management. Coast Manage 44(2):116–130

Mentaschi L, Vousdoukas MI, Pekel JF, Voukouvalas E, Feyen L (2018) Global long-term observations of coastal erosion and accretion. Sci Rep 8:12876

MEPN (2006) Plan d'Action National pour l'adaptation aux changements climatiques. Ministère de l'Environment et de la Protection de la Nature, Dakar

Moore LJ, Ruggiero P, List JH (2006) Comparing mean high water and high water line shorelines: should proxy-datum offsets be incorporated into shoreline change analysis? J Coast Res 22(4): 894–905

Ndour A (2015) Morpho-sedimentary evolution and protection structures impact on the Rufisque and petite Côte Littoral (Senegal). Dissertation, Cheikh Anta Diop University

Ndour A, Laïbi RA, Sadio M, Degbe C, Degbe E, Diaw AT, Oyédé LM, Anthony EJ, Dussouillez P, Sambou H, Dièye EHB (2018) Management strategies for coastal erosion problems in West Africa: analysis, issues, and constraints drawn from the examples of Senegal and Benin. Ocean Coast Manage 156:92–106

Ndoye S, Fontaine C, Gaye CB, Razack M (2018) Groundwater quality and suitability for different uses in the Saloum area of Senegal. Water 10:1837

Neumann B, Vafeidis AT, Zimmermann J, Nicholls RJ (2015) Future coastal population growth and exposure to sea-level rise and coastal flooding - a global assessment. PLoS One 10(3):e0118571

Ngom H, Ndour A, Niang I (2018) Impacts of protective structures on sandy beaches: example of the Saly balnear station, petite Côte, Senegal. In: Almar R, Almeida LP, Trung Viet N, Sall M (eds) tropical coastal and estuarine dynamics. J coast res (Sp1) 81:114-121

Niang-Diop I (1993) Coastal erosion in Senegal - the case of Rufisque. In: Awosika LF, Ibe AC, Shroader P (eds) Coastlines of Western Africa. American Society of Civil Engineers, New York, pp 75–89

Niang-Diop I (1994) Les problèmes environnementaux de la côte du Sénégal. Ecodécision 11:40–43

Niang-Diop I (1995) Coastal erosion in Senegal, the example of the Rufisque district: past, present and future dynamic. Angers University, Dissertation

Niang-Diop I, Dnsokho M, Diaw AT, Faye S, Guisse A, Ly I, Matty F, Sene A, Diouf PS, Gueye K, Ndiaye P (2006) Senegal. In: Van Drunen MA, Lasage R, Dorland C (eds) Climate change in developing countries: results from the Netherlands climate change studies assistance Programme. CABI, Wallingford, pp 82–88

Niang-Diop I, Dansokho M, Faye S, Gueye K, Ndiaye P (2010) Impacts of climate change on the Senegalese coastal zones: examples of the cap Vert peninsula and Saloum estuary. Glob Planet Chang 72(4):294–301

Nicholls RJ, Hanson SE, Lowe JA, Warrick RA, Lu X, Long AJ, Carter TR (2011) Constructing Sea-level scenarios for impact and adaptation assessment of coastal area: a guidance document. Supporting material, Intergovernmental Panel on Climate Change Task Group on Data and Scenario Support for Impact and Climate Analysis (TGICA) https://wwwipcc-dataorg/docs/Sea_Level_Scenario_Guidance_Oct2011pdf Accessed 28 February 2020

Panfili J, Thior D, Ecoutin JM, Ndiaye P, Albaret JJ (2006) Influence of salinity on the size at maturity for fish species reproducing in contrasting west African estuaries. J Fish Biol 69:95–113

Sane M, Yamagishi H (2004) Coastal erosion in Dakar, Western Senegal. J Jpn Soc Eng Geol 44(6):360–366

Schaeffer M, Hare W, Rahmstorf S, Vermeer M (2012) Long-term sea-level rise implied by 1.5°C and 2°C warming levels. Nat Clim Chang 2:867–870

Schaeffer M, Baarsch F, Balo G et al. (2015) Africa's adaptation gap 2: bridging the gap—mobilising sources. Technical Report UNEP http://appsuneporg/piwik/downloadphp?file=/publications/pmtdocuments/-Africa's_Adaptation_Gap_2__pdf Accessed 28 February 2020

Simier M, Blanc L, Aliaume C, Diouf PS, Albaret JJ (2004) Spatial and temporal structure of fish assemblages in an "inverse estuary", the sine Saloum system (Senegal). Estuar Coast Shelf Sci 59:69–86

Tayaa M, Saine A, Ndiaye G, Deme M (2005) Canary current. GIWA regional assessment 41. UNEP-University of Kalmar, Kalmar

Thieler ER, Himmelstoss EA, Zichichi JL, Ergul A (2017) Digital Shoreline Analysis System (DSAS) version 4.0-An ArcGIS extension for calculating shoreline change. Open File Report 2005—1304, United States Geological Survey

Thior M, Sané T, Dièye EHB, Sy O, Cissokho D, Ba BD, Descroix L (2019) Coastline dynamics of the northern Lower Casamance (Senegal) and southern Gambia littoral from 1968 to 2017. J Afr Earth Sci 160:103611

Thomas YF, Diaw AT (1997) Suivi (1984-1993) de la rupture de la flèche de Sangomar, estuaire du fleuve Saloum, Sénégal. Photo-Interprétation 35(3–4):199–208

UNCC (2010) Adaptation to coastal erosion in vulnerable areas - Senegal. United Nations Climate Change. https://unfccc.int/climate-action/momentum-for-change/lighthouse-activities/adaptation-to-coastal-erosion-in-vulnerable-areas-in-senegal. Accessed 24 February 2019

Vos K, Harley MD, Splinter KD, Simmons JA, Turner IL (2019) Sub-annual to multi-decadal shoreline variability from publicly available satellite imagery. Coast Eng 150:160–174

Williams AT, Rangel-Buitrago N, Pranzini E, Anfuso G (2018) The management of coastal erosion. Ocean Coast Manage 156:4–20

Wöppelmann G, Martín B, Créach R (2008) Tide gauge records at Dakar, Senegal (Africa): towards a 100-years consistent sea-level time series? European Geophysical Union, General Assembly 2008, Vienna, Austria, 13–18 April

World Bank (2011) Vulnerability, risk reduction, and adaptation to climate change. Senegal. GFDRR-World Bank, Washington, DC

Zangh K, Douglas BC, Leatherman SP (2004) Global warming and coastal erosion. Clim Chang 64:41–58
Acknowledgments
I want to thank Romà Boule and Inés Carrillo for their hospitality in Palmarin.
Additional information
Publisher's note
Springer Nature remains neutral with regard to jurisdictional claims in published maps and institutional affiliations.
About this article
Cite this article
Enríquez-de-Salamanca, Á. Evolution of coastal erosion in Palmarin (Senegal). J Coast Conserv 24, 25 (2020). https://doi.org/10.1007/s11852-020-00742-y
Received:

Revised:

Accepted:

Published:
Keywords
Climate change

Coastal retreat

Sea flooding

Mangroves