Abstract
Commercial scale cultivation of Kappaphycus alvarezii, an introduced seaweed species has proved to be a profitable alternate livelihood in Palk Bay, Tamil Nadu, India since 2003. The current study was undertaken to evaluate the decadal changes in water quality during the period of large scale commercial cultivation of K. alvarezii. The hydrographic and water quality parameters were measured following standard procedures across three seasons (southwest monsoon, northeast monsoon and spring inter-monsoon). Consistently significant variations were not observed for the physico-chemical parameters between the culture and control sites in all the three culture locations during the three seasons. The observed variations were mostly site-specific. Statistical analyses revealed that there is no consistent variation of physico-chemical parameters in the study area in relation to the culture, control and reference sites. A comparison of the current study and previously reported aggregate data in this context indicated that the nutrient concentration was significantly higher during the current study than when compared to the pre-culture and initiation stages of culture, indicating no depletion in nutrient content due to seaweed culture. Moreover, long-term changes are insignificant in the Palk Bay region because of the influence of the Bay of Bengal waters seasonally enriched with inorganic nutrients from the major rivers draining into it during monsoon and the transport of nutrients across the coastal waters by the coastal and tidal currents. Therefore, the variations in the physico-chemical properties cannot be directly attributed as an impact of seaweed cultivation in Palk Bay. Rather, the changes were observed to be seasonal and found to be within the range already reported for this part of the coast.
Access options
Buy single article
Instant access to the full article PDF.
USD 39.95
Price excludes VAT (USA)
Tax calculation will be finalised during checkout.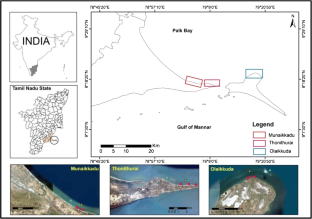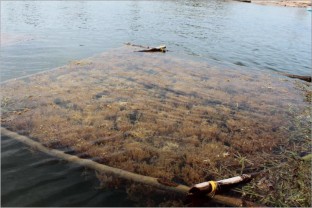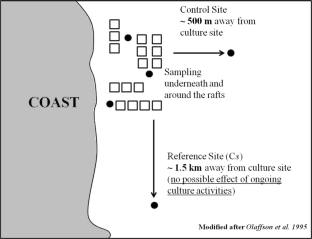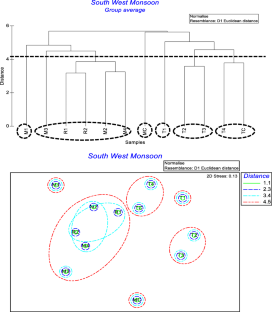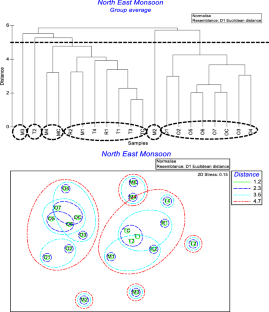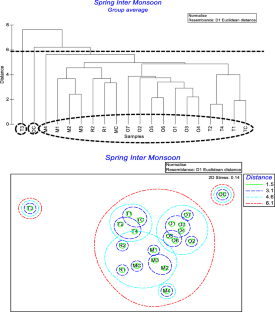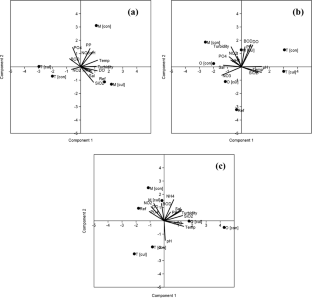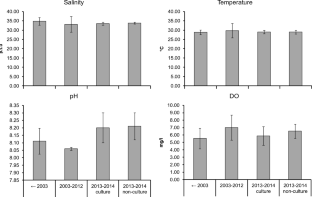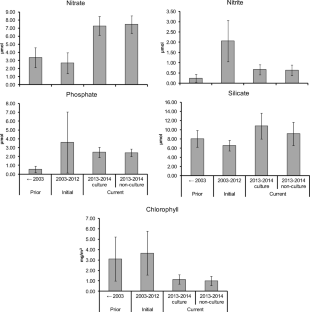 References
Anantharaj K, Anantharaj PP, Ganesh J (2013) Studies on the physico chemical status of Kattumavadi coastal region, southeast coast of India. International Journal of Research in Marine Science 2(2):45–49

Bindu S, Kumaraguru AK, Korabu LS (2011) Hydrological conditions in seagrass beds in Palk Bay and gulf of Mannar, south east coast of India. J Mar Biol Assoc India 53(1):108–115

Carpenter EJ, Capone DG (1983) Nitrogen in the marine environment. Academic Press, New York

Chennubhotla VSK (1988) Status of seaweed culture in India. Technical report. Food and Agriculture Organisation, Rome

Chung SH (1986) Comparative studies on the relationship between the laver production and environmental characteristics of laver farming area in the Republic of Korea and Japan. Bulletin of Fisheries Research and Development Agency 37:157–178

Clarke KR, Warwick RM (2001) Changes in marine communities: An approach to statistical analysis and interpretation. 2nd edition, PRIMER- E LTD, Plymouth Marine Laboratory, United Kingdom

Crawford B (2002) Seaweed farming: an alternative livelihood for small-scale fishers. Coastal Resources Centre, Narragansett (RI)

De Silva SS (1992) Tropical Mariculture. (pp. 28–29). Academic Press, New York

FAO (2014) The state of world fisheries and aquaculture (SOFIA). Food & Agriculture Organization of the United Nations, Rome

Gaarder T, Gran HH (1927) Investigations of the production of plankton in the Oslo Fjord. Conseil Permanent International Pour L'Exploration De La Mer Rapports Et Proces-Verbaux Des Reunions 42:1–48

Grasshoff K, Ehrhardt M, Kremling K (1999) Methods of seawater analysis. Verlag Chemie, Weinheim

Hammer Ø, Harper DAT, Ryan PD (2001) PAST: paleontological statistics software package for education and data analysis. Palaeontol Electron 4(1):9

Hansen HP (1999) Determination of oxygen, In: Grasshoff, K., Ehrhardt, M., Kremling, K. (Eds.), Methods of seawater analyses, (pp. 75–90) Verlag Chemie, Weinheim: 75–90

Hayashi L, Hurtado AQ, Msuya FE, Bleicher-Lhonneur G, Critchley AT (2010) A review of Kappaphycus farming: prospects and constraints. In a. Israel & E. Raechel (Eds.) seaweeds and their role in globally changing environments, cellular origin, life in extreme habitats and Astrobiology: 251–283

Jagadeesan L, Jyothibabu R, Anjusha A, Mohan AP, Madhu NV, Muraleedharan KR, Sudheesh K (2013) Ocean currents structuring the mesozooplankton in the Gulf of Mannar and the Palk Bay, southeast coast of India. Prog Oceanogr 110:27–48

James PSBR (1972) On a bloom of Trichodesmium thiebautii Gomont in the Gulf of Mannar at Mandapam. Indian J Fish 19(1&2):205–207

Jayaraman R (1954) Seasonal variations in salinity, dissolved oxygen and nutrient salts in the inshore waters of the Gulf of Mannar and Palk Bay near Mandapam (S. India). Indian J Fish 1:345–364

Jayasankar R (2009) Seaweed cultivation in India. Winter School on Recent Advances in breeding and larviculture of marine finfish and shellfish, CMFRI, Cochin

Johnson B, Gopakumar G (2011) Farming of the seaweed Kappaphycus alvarezii in Tamil Nadu coast - status and constraints. Marine Fisheries Information Service 208:1–5

Jyothibabu R, Arya PM, Jagadeesan L, Anjusha A, Muraleedharan KR, Lallu KR, Kiran K, Ullas N (2013) Ecology and trophic importance of picoplankton and nanoplankton in the Gulf of Mannar and Palk Bay, southeast coast of India. J Mar Syst 111:29–44

Kaliaperumal N, Kalimuthu S (1997) Seaweed potential and its exploitation in India. Seaweed Research and Utilization 19(1&2):33–40

Kalimuthu S, Kaliaperumal N (1994) Commercial exploitation of seaweeds in India and need for their large scale cultivation. Proceedings of the National Symposium on Aquaculture for 2000 AD. (pp. 215–219) Palani Paramount Publications, Palani, India

Kumaraguru AK, Edwin JV, Rajee M, Balasubramanian T (2008) Palk Bay - information and bibliography, CAS in marine biology, Annamalai University, Parangipettai & Centre for marine and coastal studies, Madurai Kamaraj University, India

Mairh OP, Zodape ST, Tewar A, Rajaguru MR (1995) Culture of marine red alga Kappaphycus striatum (Schmitz) Doty on the Saurashtra region, west coast of India. Indian J Mar Sci 24:24–31

Mairh OP, Reddy CRK, Kumar GRK (1998) The Seaweed Resources of India. In: Critchley AT, Ohno M (eds) Seaweed Resources of the World. Japan International Cooperation Agency, Yokosuka, pp 110–126

Mallea AJA, Villanueva FCA, Bernardi J, Cabrera R (2014) Ecological risk assessment of the introduction of exotic carrageenophytes in the tropical Western Atlantic. J Appl Phycol 26:2055–2063

Mandal SK, Vaibhav A, Soumya H, Karuppan E, Meenakshisundaram G (2010) Invasion potential of Kappaphycus alvarezii on corals at Kurusadai Island, gulf of Mannar, India. Algae 25(4):205–216

Mantri VA, Eswaran K, Shanmugam M, Ganesan M, Veeragurunathan V, Thiruppathi S, Reddy CRK, Seth A (2017) An appraisal on commercial farming of Kappaphycus alvarezii in India: success in the diversification of livelihood and prospects. J Appl Phycol 29:335–357

McHugh DJ (2003) A guide to the seaweed industry. FAO Fisheries Technical Paper. Food and Agriculture Organization of the United Nations, Rome

Olafsson E, Johnstonea RW, Ndaro SGM (1995) Effects of intensive seaweed farming on the Meiobenthos in a tropical lagoon. J Exp Mar Biol Ecol 191:101–117

Phillips MJ (1990) Environmental aspects of seaweed culture. In: Proceedings of the Regional Workshop on the culture and utilization of seaweeds. Cebu city, Philippines: 51–62

Porse H, Ladenburg S (2015) Seaweed value chain final report. Report submitted to smart-fish Indonesia under the UNIDO seaweed value chain Programme. Jakarta, Indonesia

Prasad RR (1957) Seasonal variations in the surface temperature of sea water at Mandapam from January 1950 to December 1954. Indian J Fish 4(1):20–31

Rand MC, Greenberg AE, Taras MJ (1976) Standard methods for the examination of water and wastewater. Prepared and published jointly by American Public Health Association, American Water Works Association, and Water Pollution Control Federation

Rao SDV, Rao SK, Iyer CSP, Chittibabu P (2008) Possible ecological consequences from the Sethu Samudram Canal project, India. Mar Pollut Bull 56:170–186

Shankar D, Vinayachandran PN, Unnikrishnan AS (2002) The monsoon currents in the North Indian Ocean. Prog Oceanogr 52:63–120

Shetye SR, Gouveia AD, Shenoi SSC, Sundar D, Michael GS, Nampoothiri G (1993) The Western boundary current of the seasonal subtropical gyre in the Bay of Bengal. J Geophys Res 98(C1):945–954

Song Q, Jiang P, Tseng C (2005) Transforming kelp into a marine bioreactor. Trends Biotechnol 23(5):264–268

Sridhar R, Thangaradjou T, Kannan L (2010) Spatial and temporal variations in phytoplankton in coral reef and seagrass ecosystems of the Palk Bay, southeast coast of India. J Environ Biol 31(5):765–777

Strickland JDH, Parsons TR (1972) Determination of dissolved oxygen. In a practical handbook of seawater analysis no 167. Fish Res Board Can 71–75

Tewari A, Basha S, Trivedi RH, Raghunathan C, Kumar VGS, Khambhaty Y, Joshi HV, Kotiwar OS (2006) Environmental impact assessment (EIA) of Kappaphycus alvarezii cultivation in India contest to global scenario. In Tewari, A., (Ed) Recent advances on applied aspects of Indian marine algae with reference to global Scenario-1. CSMCRI, Bhavnagar: 262–287

Thirumaran G, Anantharaman P (2009) Daily growth rate of field farming seaweed Kappaphycus alvarezii (Doty) Doty ex P. Silva in Vellar estuary. World Journal of Fish and Marine Science 1(3):144–153

TIFAC (2018) Seaweeds cultivation and utilisation: prospects in India. Technology information. Forecasting & Assessment Council, New Delhi, p 44

UNDP/FAO (1989) Culture of kelp (Laminaria japonica) in China. Prepared for the Laminaria polyculture with mollusc training course conducted by the Yellow Sea fisheries research Institute in Qingdao, China and organized by the regional Seafarming development and demonstration project (RAS/86/024)

Vinayachandran PN, Masumoto Y, Mikawa T, Yamagata T (1999) Intrusion of the southwest monsoon current into the bay of Bengal. Journal of Geophysical Research: Oceans 104(C5):11077-11085

Winkler LW (1888) Die bestimmung des im wasser gelösten sauerstoffes. Ber Dtsch Chem Ges 21(2):2843–2854

Zemke-White WL, Smith JE (2006) Environmental impacts of seaweed farming in the tropics. World seaweed resources – an authorative reference system. ETI information services, Workingham, UK
Acknowledgements
This study was undertaken as part of the in-house research on "Impact of large scale cultivation of seaweeds along the coastal environment of India" of NCSCM, MoEF&CC. The authors acknowledge the financial support of the Ministry of Environment, Forest and Climate Change, Government of India, under World Bank India assisted ICZM Project (Rel. Proj. ID: India-Integrated Coastal Zone Management-P097985). The authors also express their gratitude to Dr. Vaibhav Mantri, CSIR-Central Salt and Marine Chemicals Research Institute, Mandapam and Prof. A. Srinivasan, Fisheries College and Research Institute, Thoothukkudi, for facilitating the field works. This is NCSCM contribution number NCSCM/PUB/2018/0014.
Ethics declarations
Conflict of interest
The authors declare that they have no conflict of interest.
Additional information
Publisher's Note
Springer Nature remains neutral with regard to jurisdictional claims in published maps and institutional affiliations.
About this article
Cite this article
Abhilash, K.R., Sankar, R., Purvaja, R. et al. Impact of long-term seaweed farming on water quality: a case study from Palk Bay, India. J Coast Conserv 23, 485–499 (2019). https://doi.org/10.1007/s11852-018-00678-4
Received:

Revised:

Accepted:

Published:

Issue Date:

DOI: https://doi.org/10.1007/s11852-018-00678-4
Keywords
Kappaphycus

Palk Bay

Seaweed cultivation

Environmental impact

Water quality