Abstract
Fox River is the main source of land-based pollutants that flows into the southern Green Bay of Lake Michigan. Evaluation of water quality is normally based on time consuming and expensive in situ measurements. Remotely sensed data is an efficient alternative for field monitoring because of its spatial and temporal coverage. In this study, remote sensing imagery combined with in situ measurements of water quality were used to estimate an empirical relationship between water surface reflectance and water quality parameters including water turbidity and Total Suspended Sediment (TSS). Surface reflectance values is obtained from MODerate Resolution Imaging Spectroradiometer (MODIS) aboard the Aqua satellite. The empirical equations were derived from data over summers 2011–13 and show high correlation coefficients of equal to 0.83 and 0.87 for TSS and turbidity respectively. The validity of the proposed equations was tested for summer 2014 data. The NRMSE for prediction of measured data by the proposed equations are 0.36 and 0.3 for TSS and turbidity. Remotely sensed data was also used to produce water quality maps to improve our understanding of the spatiotemporal variations of Fox River turbid plume. The proposed approach can be extended to other coastal regions of Great Lakes and provide a framework to study pollution transportation in coastal areas.
Access options
Buy single article
Instant access to the full article PDF.
USD 39.95
Price excludes VAT (USA)
Tax calculation will be finalised during checkout.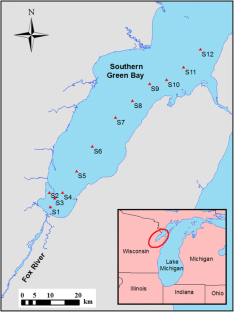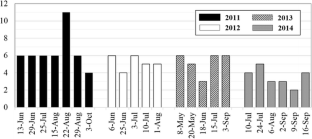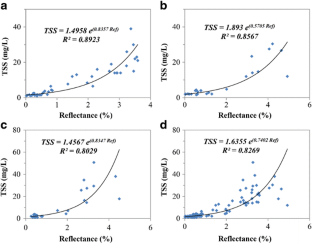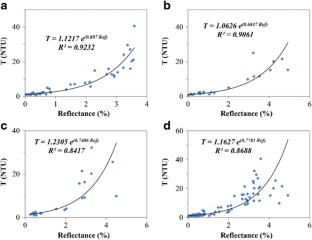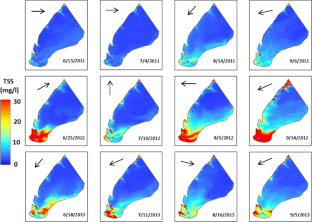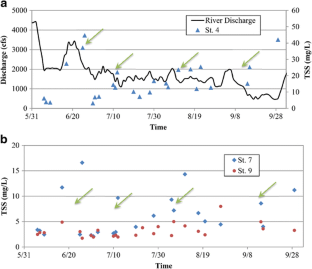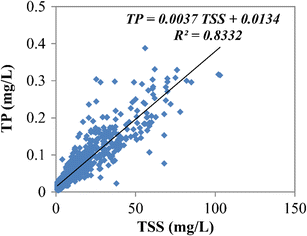 References
Alam QA, Benson BC, Visser JM, Gang DD (2016) Response of estuarine phytoplankton to nutrient and spatio-temporal pattern of physico-chemical water quality parameters in Little Vermilion Bay, Louisiana. Ecological Informatics 32:79–90

Bertrand G, Lang J, Ross J (1976) The Green Bay Watershed-Past/Present/Future. REPORT WIS-SG-76-229

Bilottaa GS, Brazier RE (2008) Understanding the influence of suspended solids on water quality and aquatic biota. Water Res 42(12):2849–2861

Bowers DG, Binding CE, Ellis KM (2007) Satellite remote sensing of the geographical distribution of suspended particle size in an energetic shelf sea. Estuar Coast Shelf Sci 73(3):457–466

Bozec YM, Acosta-González G, Núñez-Lara N, Arias-González JE (2008). In Proceedings: 11th International Coral Reef Symposium, Florida (pp. 7–11)

Bravo HR, Hamidi SA, Klump JV, Waples JT (2015) Currents and Heat Fluxes Induce Stratification Leading to Hypoxia in Green Bay, Lake Michigan, E-proceedings of the 36th IAHR World Congress 28 June – 3 July, 2015, The Hague, the Netherlands

Brekke C, Solberg AH (2005) Oil spill detection by satellite remote sensing. Remote Sens Environ 95:1–13

Chen S, Han L, Chen X, Li D, Sun L, Li Y (2015) Estimating wide range Total Suspended Solids concentrations from MODIS 250-m imageries: An improved method. ISPRS J Photogramm Remote Sens 99:58–69

Corbari C, Lassini F, Mancini M (2016) Effect of intense short rainfall events on coastal water quality parameters from remote sensing data. Cont Shelf Res 123(15):18–28

Curran PJ, Novo EMM (1988) The relationship between suspended sediment concentration and remotely sensed spectral radiance: a review. J Coast Res 4:351–368

Danz NP, Niemi GJ, Regal RR, Hollenhorst T, Johnson LB, Hanowski JM, Axler RP, Ciborowski JJH, Hrabik T, Brady VJ, Kelly JR, Morrice JA, Brazner JC, Howe RW, Johnston CA, Host GE (2007) Integrated measures of anthropogenic stress in the U.S. Great Lakes basin. Environ Manag 39:631–647

De Juan S, Gelcich S, Fernandez M (2017) Integrating stakeholder perceptions and preferences on ecosystem services in the management of coastal areas. Ocean Coast Manag 136:38–48

Derek R (2010) Implementing landscape indices to predict stream water quality in an agricultural setting: an assessment of the Lake and River Enhancement (LARE) protocol in the Mississinewa River watershed, East-Central Indiana. Ecol Indic 10:1102–1110

Dillon PJ, Rigler FH (1974) The phosphorus-chlorophyll relationship in lakes1, 2. Limnol Oceanogr 19(5):767–773

Dogliotti AI, Ruddick KG, Nechad B, Doxaran D, Knaeps E (2015) A single algorithm to retrieve turbidity from remotely-sensed data in all coastal and estuarine waters. Remote Sens Environ 156:157–168

Dolan DM, Chapra SC (2012) Great Lakes total phosphorus revisited: 1. Loading analysis and update (1994-2008). J Great Lakes Res 38(4):730–740

Doxaran D, Froidefond JM, Castaing P, Babin M (2009) Dynamics of the turbidity maximum zone in a macrotidal estuary (the Gironde, France): Observations from field and MODIS satellite data. Estuar Coast Shelf Sci 81:321–332

Edition F (2011) Guidelines for drinking-water quality. WHO Chron 38:104–108

Fraser RN (1998) Hyperspectral remote sensing of turbidity and chlorophyll-a among Nebraska Sand Hills lakes. Int J Remote Sens 19(8):1579–1589

Gao Y, Gao J, Yin H, Liu C, Xia T, Wang J, Huang Q (2015) Remote sensing estimation of the total phosphorus concentration in a large lake using band combinations and regional multivariate statistical modeling techniques. J Environ Manag 151:33–43

Garabaa SP, Zielinski O (2015) An assessment of water quality monitoring tools in an estuarine system. Remote Sens Appl Soc Environ 2:1–10

García Nieto PJ, García-Gonzaloa E, Alonso Fernándezb JR, Díaz Muñizb C (2014) Hybrid PSO–SVM-based method for long-term forecasting of turbidity in the Nalón river basin: A case study in Northern. Ecol Eng 73:192–200

Hamidi SA, Bravo HR, Klump JV, Beletsky D, Schwab DJ (2012) Hydrodynamic model for green bay, Lake Michigan. In: World environmental and water resources congress 2012: crossing boundaries. pp 1438–1446

Hamidi SA, Bravo HR, Klump JV (2013). Evidence of Multiple Physical Drivers on the Circulation and Thermal Regime in the Green Bay of Lake Michigan. In World Environmental and Water Resources Congress (pp. 1719–1726)

Hamidi SA, Bravo HR, Klump JV, Waples JT (2015) The role of circulation and heat fluxes in the formation of stratification leading to hypoxia in Green Bay, Lake Michigan. J Great Lakes Res 41(4):1024–1036

Haule K, Freda W, Darecki M, Toczek H (2016). Possibilities of optical remote sensing of dispersed oil in coastal waters. Estuarine, Coastal and Shelf Science, In press

He W, Chen S, Liu X, Chen J (2008) Water quality monitoring in slightly-polluted inland water body through remote sensing-a case study in Guanting Reservoir, Beijing, China. Front Environ Sci Eng China 2(2):163–171

Hou X, Feng L, Duan H, Chen X, Sun D, Shi K (2017) Fifteen-year monitoring of the turbidity dynamics in large lakes and reservoirs in the middle and lower basin of the Yangtze River, China. Remote Sens Environ 190:107–121

Johnson RW (1975) Quantitative suspended sediment mapping using aircraft multispectral data. In: Proceedings of NASA Earth Resources Survey Symposium. NASA, Houston, Texas, pp 2981–2998

Jupp DLP, Kirk JTO, Harris GP (1994) Detection, identification and mapping of cyanobacteria-Using remote sensing to measure the optical quality of turbid inland waters. Aust J Mar Freshwat Res 45(5):801–828

Klemas V, Otley M, Philpot W, Wethe C, Rogers R, Shah N (1974) Correlation of coastal water turbidity and current circulation with ERTS-1 and Skylab imagery. In: Proceedings of the 9th International Symposium on Remote Sensing of Environment. University of Michigan, Ann Arbor, pp 1289–1317

Klump JV, Edgington DN, Sager PE, Robertson DM (1997) Sedimentary phosphorus cycling and a phosphorus mass balance for the Green Bay (Lake Michigan) ecosystem. Can J Fish Aquat Sci 54(1):10–26

Klump JV, Fitzgerald SA, Waples JT (2009) Benthic biogeochemical cycling, nutrient stoichiometry, and carbon and nitrogen mass balances in a eutrophic freshwater bay. Limnol Oceanogr 54(3):692–712

Klump JV, Waples JT, Valenta T, Anderson P, Weckerly K, Szmania D, Thomzik E (2010 December) Hypoxia and Climate in Green Bay, Lake Michigan. In AGU Fall Meeting Abstracts

Lathrop RG, Castle JRV, Lillesand TM (1990) Monitoring river plume transport and mesoscale circulation in Green Bay, Lake Michigan, through satellite remote sensing. J Great Lakes Res 16(3):471–484

Lillesand TM. (2002). Combining satellite remote sensing and volunteer Secchi disk measurement for lake transparency monitoring. In Proceedings: National Monitoring Conference, National Water Quality Monitoring Council (pp. 1–11)

Manchester-Neesvig JB, Andren AW, Edgington DN (1996) Patterns of mass sedimentation and of deposition of sediment contaminated by PCBs in Green Bay. J Great Lakes Res 22(2):444–462

Miller GS, Saylor JH (1993) Low-frequency water volume transport through the midsection of Green Bay, Lake Michigan, calculated from current and temperature observations. J Great Lakes Res 19(2):361–367

Moore ML (1989) NALMS management guide for lakes and reservoirs. North American Lake Management Society, P.O. Box 5443, Madison, WI, 53705–5443, USA (http://www.nalms.org)

Moreno-Madrinan MJ, Al-Hamdan MZ, Rickman DL, Muller-Karger FE (2010) Using the surface reflectance MODIS Terra product to estimate turbidity in Tampa Bay, Florida. Remote Sens 2(12):2713–2728

Mortimer CH (1979) Water movement, mixing and transport in Green Bay, Lake Michigan. Univ. Wisconsin Sea Grant Institute No. WI-SG-78-234

Munday JC, Alfoldi TT (1979) Landsat test of diffuse reflectance models for aquatic suspended solid measurement. Remote Sens Environ 8:169–183

Nekouee N, Hamidi SA, Roberts PJ, Schwab DJ (2015a) Assessment of a 3D Hydrostatic Model (POM) in the Near Field of a Buoyant River Plume in Lake Michigan. Water Air Soil Pollut 226(7):1–12

Nekouee N, Hamidi SA, Roberts PJ, Schwab DJ (2015b) A coupled empirical-numerical model for a buoyant river plume in Lake Michigan. Water Air Soil Pollut 226(12):412

Petus C, Chust G, Gohin F, Doxaran D, Froidefond J-M, Sagarminaga Y (2010) Estimating turbidity and total suspended matter in the Adour River plume (South Bay of Biscay) using MODIS 250-m imagery. Cont Shelf Res 30:379–392

Petus C, Marieu V, Novoa S, Chust G, Bruneau N, Froidefond JM (2014) Monitoring spatio-temporal variability of the Adour River turbid plume (Bay of Biscay, France) with MODIS 250-m imagery. Cont Shelf Res 74:35–49

Rostom NG, Shalaby AA, Issa YM, Afifi AA (2016). Evaluation of Mariut Lake water quality using Hyperspectral Remote Sensing and laboratory works. The Egyptian Journal of Remote Sensing and Space Science, In press

Seker DZ, Goksel C, Kabdasli S, Musaoglu N, Kaya S (2003) Investigation of coastal morphological changes due to river basin characteristics by means of remote sensing and GIS techniques. Water Sci Technol 48(10):135–142

Shoghli B, Lim YH, Alikhani J (2016). Evaluating the Effect of Climate Change on the Design Parameters of Embankment Dams: Case Studies Using Remote Sensing Data. In World Environmental and Water Resources Congress 2016 (pp. 575–585)

Sima S, Ahmadalipour A, Tajrishy M (2013) Mapping surface temperature in a hyper-saline lake and investigating the effect of temperature distribution on the lake evaporation. Remote Sens Environ 136:374–385

Tafti AP, Kirkpatrick AB, Owen HA, Yu Z (2014) 3D microscopy vision using multiple view geometry and differential evolutionary approaches. In: International symposium on visual computing. Springer, Cham, pp 141–152

Tchounwou PB, Yedjou CG, Patlolla AK, Sutton DJ (2012) Heavy metal toxicity and the environment. In: Molecular, clinical and environmental toxicology. Springer, Basel, pp 133–164

Wang YP, Xia H, Fu JM, Sheng GY (2004) Water quality change in reservoirs of Shenzhen, China: detection using LANDSAT/TM data. Sci Total Environ 328(1–3):195–206

Wang L, Robertson DM, Garrison PJ (2007) Linkages between nutrients and assemblages of macroinvertebrates and fish in wadeable Streams: Implication to nutrient criteria development. Environ Manag 39:194–212

Wood PJ, Armitage PD (1997) Biological Effects of Fine Sediment in the Lotic Environment. Environ Manag 21:203–217

Wu C, Wu J, Qi J, Zhang L, Huang H, Lou L, Chen Y (2010) Empirical estimation of total phosphorus concentration in the mainstream of the Qiantang River in China using Landsat TM data. Int J Remote Sens 31(9):2309–2324

Xie H, Tong XH, Qiu YL, Zhang HE, Zhang YL, Zhao JF (2007) Monitoring model and temporal-spatial changes of dissolved oxygen based on remote sensing: a case study in Huangpu River. Spectrosc Spectr Anal 27(18):1574–1579

Yan SQ, Fan JZ, Gong CL, Yun CY (2005) Application of remote sensing and grid chart technology in Jiulongjiang estuary and Xiamen Bay Design. Act Passive Remote Sens Oceans 5656:178–187

Yang B, Liu YP, Ou FP, Yuan MH (2011) Temporal and spatial analysis of COD concentration in east Dongting lake by using of remotely sensed data. Procedia Environ Sci 10:2703–2708

Yildirim Y, Oruc M, Komurcu M (2007) An investigation of industrial solid waste pollution in marine environment using remote sensing in Zonguldak costs, Turkey. 27th EARSeL Symposium, 7–9 June 2007. Bolzano, Italy

Yu Y, Zhang H, Lemckert C (2014) Salinity and turbidity distributions in the Brisbane River estuary, Australia. J Hydrol 519:3338–3352
Acknowledgements
The authors gratefully acknowledge the assistance of Erin Wilcox at NEW Water GBMSD for providing in situ water quality data.
About this article
Cite this article
Hamidi, S.A., Hosseiny, H., Ekhtari, N. et al. Using MODIS remote sensing data for mapping the spatio-temporal variability of water quality and river turbid plume. J Coast Conserv 21, 939–950 (2017). https://doi.org/10.1007/s11852-017-0564-y
Received:

Revised:

Accepted:

Published:

Issue Date:

DOI: https://doi.org/10.1007/s11852-017-0564-y
Keywords