Abstract
Here, we report the results of a camera-trapping survey of mid-sized (1–50 kg) mammals on an oceanic Atlantic forest island in Brazil. Despite 80% of the island being formally reserved for conservation, the island's northern areas support a small, but rapidly growing human population that we expected would disturb the mammals and their foraging and movement behaviors. Hunting activities are also more frequent and severe on the north side of the island, closer to the villages. We tested the following hypothesis: the probability of occupancy, detectability, and abundance of mid-sized mammals will be higher in less-disturbed areas on southern parts of the island than in more-disturbed areas to the north. Ordination using multi-dimensional scaling (MDS) highlighted that mammal assemblages were differentiated between the northern and southern slope areas, and regression analyses showed MDS scores to be associated strongly with an index of human population density. Occupancy models for Didelphis aurita, Dasypus novemcinctus, Dasyprocta leporina, and Cuniculus paca showed no effect of habitat covariates, but there were marked effects of human activity impact on the detection probability of all species, except D. aurita. Species detections and local abundances were higher in the less disturbed southern parts of the island. Our results support the notion that mid-sized mammals will change their movement and foraging behaviors as a function of human activities, even inside reserved, protected areas.
Access options
Buy single article
Instant access to the full article PDF.
US$ 39.95
Tax calculation will be finalised during checkout.
Subscribe to journal
Immediate online access to all issues from 2019. Subscription will auto renew annually.
US$ 79
Tax calculation will be finalised during checkout.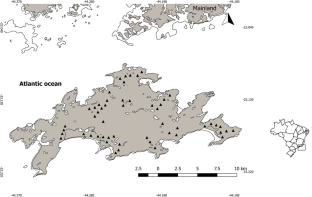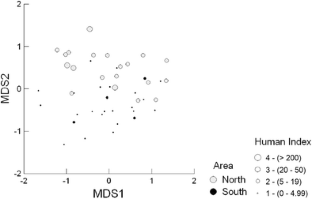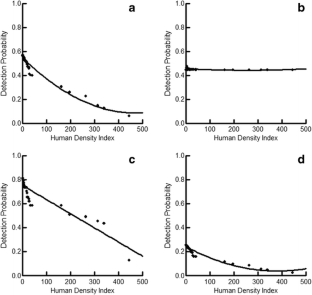 References
Akaike H (1973) Information theory and an extension of the maximum likelihood principle. In: Petrov BN, Csaki F (eds) 2nd international symposium on information theory. Akademia Kiado, Budapest, pp 267–281

Alho CJR, Schneider M, Vasconcellos LA (2002) Degree of threat to the biological diversity in the Ilha Grande State Park (RJ) and guidelines for conservation. Braz J Biol 62:375–385

Almeida-Neto M, Campassi F, Galetti M, Jordano P, Oliveira-Filho A (2008) Vertebrate dispersal syndromes along the Atlantic forest: broad-scale patterns and macroecological correlates. Glob Ecol Biogeogr 17:503–513

Bergallo HG, Rocha CFD, Alves MAS, Van Sluys M (2000) (ed). A fauna ameaçada de extinção do Estado do Rio de Janeiro. 1. ed. Rio de Janeiro: EdUERJ, v. 1. 166p

Bray RJ, Curtis JT (1957) An ordination of the upland forest communities of southern Wisconsin. Ecol Monogr 27:325–349

Bruner AG, Gullison RE, Rice RE, Da Fonseca GAB (2001) Effectiveness of park in protecting tropical biodiversity. Science 291:125–128

Cáceres NC, Monteiro-Filho ELA (2001) Food habits, home range and activity of Didelphis aurita (Mammalia, Marsupialia) in a forest fragment of southern Brazil. Stud Neotropical Fauna Environ 36:85–92

Canale GR, Peres CA, Guidorizzi CE, Gatto CAF, Kierulff MCM (2012) Pervasive defaunation of forest remnants in a tropical biodiversity hotspot. PLoS One 7:e41671

Chiarello, AG (1999) Effects of fragmentation of the Atlantic forest on mammal communities in south-eastern Brazil biol Conserv. 89: 71-82

Chiarello AG (2000) Density and population size of mammals in remnants of Brazilian Atlantic forest. Conserv Biol 14:1649–1657

Cullen L Jr, Bodmer RE, Valladares Pádua C (2000) Effects of hunting in habitat fragments of the Atlantic forest. Braz Biol Conserv 95:49–56

DeFries R, Hansen A, Newton AC, Hansen MC (2005) Increasing isolation of protected areas in tropical forests over the past 20 years. Ecol Appl 15:19–26

Ferreguetti AC, Tomas WM, Bergallo HG (2015) Density, occupancy, and activity pattern of two sympatric deer (Mazama) in the Atlantic Forest, Brazil. J Mammal 96:1245–1254

Ferreguetti AC, Tomas WM, Bergallo HG (2016) Density and niche segregation of two armadillo species (Xenarthra: Dasypodidae) in the Vale Natural Reserve, Brazil. Mamm Biol 81:138–145

Ferreguetti AC, Tomas WM, Bergallo HG (2017) Density, occupancy, and detectability of lowland tapirs, Tapirus terrestris, in Vale Natural Reserve, southeastern Brazil. J Mammal 98:114–123

Galetti M, Dirzo R (2013) Ecological and evolutionary consequences of living in a defaunated world. Biol Conserv 163:1–6

Galetti M, Fernandez JC (1998) Palm heart harvesting in the Brazilian Atlantic forest changes in industry structure and the illegal trade. Ecol Appl 35:294–301

Galetti M, Keuroghlian A, Hanada L, Morato MI (2001) Frugivory and seed dispersal by the lowland tapir (Tapirus terrestris) in southeast Brazil. Biotropica 33:723–726

Hines JE (2006) PRESENCE – software to estimate patch occupancy and related parameters. USGS-PWRC Available: http://www.mbr-pwrc.usgs.gov/software/presence.html

Howe HF, Smallwood J (1982) Ecology of seed dispersal. Annu Rev Ecol Syst 13:201–223

IBGE – Instituto Brasileiro de Geografia e Estatística (2010). Atlas do censo demográfico 2010. IBGE, Rio de Janeiro 2013; pp 156

INEA – Instituto Estadual do Ambiente (2010) Plano de Manejo do Parque Estadual da Ilha Grande. INEA, Rio de Janeiro, pp 585

Jenkins, C.N., Pimm, S.L. (2006) Definindo prioridades de conservação em um hotspot de biodiversidade global (Defining conservation priorities in a global biodiversity hotspot). Chapter in Biologia da Conservação: Essências. Rocha, C.F.D.; H.G. Bergallo; M. Van Sluys & M.A.S. Alves. (eds.). RiMa Editora, São Carlos

Laurance WF et al (2012) Averting biodiversity collapse in tropical forest protected areas. Nature 489:290–294

Lessa ICM, Bergallo HG (2012) Modelling the population control of the domestic cat: an example from an island in Brazil. Braz J Biol 72:445–452

Lomolino MV, Riddle BR, Brown JH (2006) Biogeography, third edn. Sinauer, Sunderland

Lynam AJ et al (2013) Terrestrial activity patterns of wild cats from camera-trapping. Raffles Bull Zool 61:407–415

Machado ABM, Drummond GM, Paglia AP (2008) Livro Vermelho da fauna brasileira ameaçada de extinção. MMA, Brasília, 1420 p

MacKenzie DI, Nichols JD, Lachman GB, Droege S, Royle JA, Langtimm CA (2002) Estimating site occupancy rates when detection probabilities are less than one. Ecology 83:2248–2255

Mittermeier RA, Myers N, Thomsen JB, Da Fonseca GAB, Olivieri S (1998) Biodiversity hotspots and major tropical wilderness areas: approaches to setting conservation priorities. Conserv Biol 12:516–520

Myers N, Mittermeier RA, Mittermeier CG, Da Fonseca GAB, Kent J (2000) Biodiversity hotspots for conservation priorities. Nature 403:853–858

Oksanen J, Blanchet, FG, Kindt R, Legendre P, Minchin PR, O'Hara RB, Simpson GL, Solymos P, Stevens MHH, Wagner H (2013) Vegan: community ecology package. R package version 2.0–4

Oliveira RR (2002) Ação antrópica e resultantes sobre a estrutura da vegetação e composição da Mata Atlântica na Ilha Grande-RJ. Rodriguésia 53:33–58

Prugh LR, Hodges KE, Sinclair ARE, Brashares JS (2008) Effect of habitat area and isolation on fragmented animal populations. Proc Natl Acad Sci U S A 105:20770–20775

Reis NR, Peracchi AL, Pedro WA, Lima IP (2011) Mamíferos do Brasil. Universidade Estadual de Londrina, Londrina

Ribeiro MC, Metzger JP, Martensen AC, Ponzoni FJ, Hirota MM (2009) The Brazilian Atlantic Forest: how much is left, and how is the remaining forest distributed? Implications for conservation. Biol Conserv 142:1141–1153

Royle JA, Nichols JD (2003) Estimating abundance from repeated presence-absence data or point counts. Ecology 84:777–790

Sastre C (1982) Notion de clímax em régions neótropicales. Compte rendu des Seances Soc Biogeog 58:117–123

Schupp EW, Milleron T, Russo SE, Levey DJ, Silva WR, Galetti M (2000) Dissemination limitation and the origin and maintenance of species-rich tropical forests. In: Levey, D.J., Silva, W.R., Galetti, M. (Eds). Seed dispersal and Frugivory: ecology, evolution and conservation. Third International Symposium-Workshop on frugivores and seed dispersal, São Pedro, Brazil, 6-11 august 2000. CABI publishing, pp 19-33. doi: 10.1079/9780851995250.0019

TEAM Network (2011) Terrestrial vertebrate protocol: implementation manual, v. 3.1. Tropical ecology, assessment and monitoring network. Center for Applied Biodiversity Science, Conservation International, Arlington

Urquiza-Haas T, Peres CA, Dolman PM (2009) Regional scale effects of human density and forest disturbance on large-bodied vertebrates throughout the Yucatán Peninsula, Mexico. Biol Conserv 142:134–148

Vine SJ, Crowther MS, Lapidge SJ, Dickman CR, Mooney N, Piggott MP, English AW (2009) Comparison of methods to detect rare and cryptic species: a case study using the red fox (Vulpes vulpes). Wildl Res 36:436–446

Wallace AR (1869) The Malay archipelago. MacMillan, London

Wetzel RM, Mondolfi E (1979) The subgenera and species of long-nosed armadillos, genus Dasypus L. In: Eisenberg JF (ed) Vertebrate ecology in the Northern Neotropics. Smithsonian Institution Press, Washington, D.C, pp 43–63

Wright SJ, Sanchez-Azofeifa G, Portillo-Quintero C, Davies D (2007) Poverty and corruption compromise tropical forest reserves. Ecol Appl 17:1259–1266
Acknowledgments
We thank FAPERJ (E-26/103.016/2011 to HGB), and CNPq (307715/2009-4 to HGB) for financing the study. I. Lessa thanks the Brazilian Ministry of Education (CAPES) for a MSc scholarship to the Post-Graduate Program of Ecology and Evolution of the University of Rio de Janeiro State. We are also thankful to the managers of PEIG, INEA and all researchers that contributed to this work, especially José Mello, Mariana Soares and Rodrigo Salles.
About this article
Cite this article
Lessa, I.C.M., Ferreguetti, Á.C., Kajin, M. et al. You can't run but you can hide: the negative influence of human presence on mid-sized mammals on an Atlantic island. J Coast Conserv 21, 829–836 (2017). https://doi.org/10.1007/s11852-017-0544-2
Received:

Revised:

Accepted:

Published:

Issue Date:
Keywords
Atlantic forest

Camera-trapping

Detectability

Environmental factors

Human impact

Mammal assemblages