Abstract
Markgrafenheide-Hütelmoor covers a total area of 1000 ha (about 490 ha are coastal moor) and a coastline of about 6 km. This touristy area belongs to the city of Rostock in Germany. As response to sea level rise and heavy coastal erosion, the small seaside resort Markgrafenheide received a comprehensive storm surge protection until 2006. Subsequently, the adjacent Hütelmoor was flooded with the aim to restore it as a brackish coastal moor. Coastal protection measures at the Baltic Sea coastline were abandoned to enable natural dynamics, a coastal realignment and salt water intrusions. The entire process until full implementation took 14 years and was associated with very problematic public participation and a strong local polarization. Based on a literature and media review, two surveys, and expert interviews we retrospectively document and analyse the planning process with focus on public information, perception and participation. The local population and holidaymakers did not perceive coastal changes and if, did not associate them with climate change. Interviewees remembered single storm surges, but felt save from it and sea level rise was not perceived as a threat. 89% said that they feel insufficiently informed about the combined coastal protection wetland restoration measure, but did not use the offered information possibilities. 81% had their information from newspapers and freely distributed advertisers. It seems that insufficient information was the major reason for the problems with local acceptance and public participation. The media played a dominating role. The decline of traditional newspapers and the growths of free advertisers seemed to have a negative impact on quality of information and favoured a polarization. Additionally, we discuss local specifics like the cultural background (GDR history), traditions, frustration and the relatively old population and their role in public participation. We strongly promote a pro-active and long-term information and public relation strategy.
This is a preview of subscription content, log in to check access.
Access options
Buy single article
Instant access to the full article PDF.
US$ 39.95
Price includes VAT for USA
Subscribe to journal
Immediate online access to all issues from 2019. Subscription will auto renew annually.
US$ 99
This is the net price. Taxes to be calculated in checkout.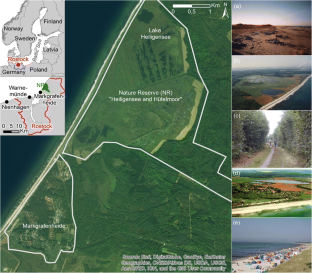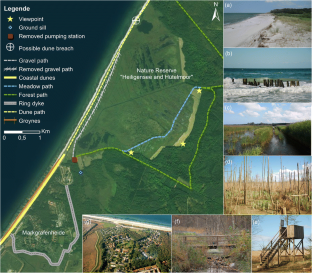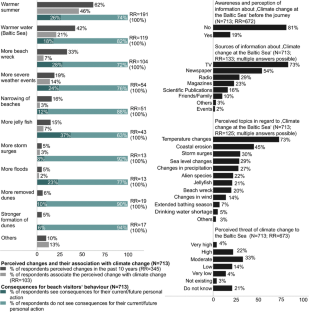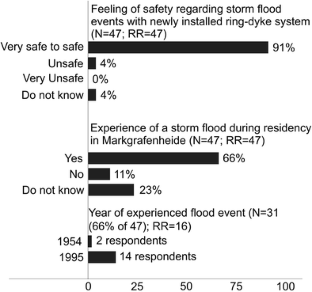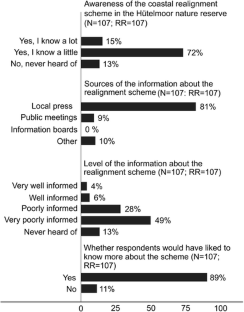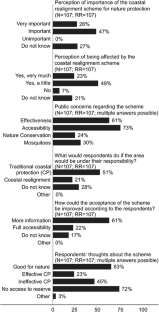 References
Bencard J (1996) Der Küstenschutz an der Ostseeküste Mecklenburg-Vorpommerns 1945 bis 1990. Band 1. Die Außenküste der öffentlichen Ämter für Umwelt und Natur Schwerin und Rostock. Küstenabschnitt Pötenitz bis Graal-Müritz

Church JA, White NJ (2011) Sea level rise from the late 19th to the early 21st century. Surv Geophys 32:585–602

Esteves LS (2013) Is managed realignment a sustainable long-term coastal management approach? J Coast Res SI 65:933–938

Esteves LS, Thomas K (2014) Managed realignment in practice in the UK: results from two independent surveys. J Coast Res SI 70:407–413

Gudowsky N, Bechtold U (2013) The role of information in public participation. Journal of Public Deliberation 9(1):1–35

Gumiero B, Mant J, Hein T, Elso J, Boz B (2013) Linking the restoration of rivers and riparian zones/wetlands in Europe: sharing knowledge through case studies. Ecol Eng 56:36–50

Hahn J, Köhler S, Glatzel S, Jurasinski G (2015) Methane exchange in a coastal fen in the first year after flooding - a systems shift. PLoS One 10(10):e0140657. doi:10.1371/journal.pone.0140657

Hansestadt Rostock (2016) Statistisches Jahrbuch 2016, http://rathaus.rostock.de/sixcms/media.php/594/HRO_Jahrbuch%202016.pdf

Hofstede J, Schernewski G (2005) Two coastal management and public participation case studies in Germany. Proceedings of the International Conference on Coastal Conservation and Management in the Atlantic and Mediterranean. https://www.researchgate.net/profile/Gerald_Schernewski/publication/267851042_Two_coastal_management_and_public_participation_case_studies_in_Germany/links/547f40000cf22ca9d34f61ec.pdf

Hopkins TS, Bailly D, Elmgren R, Glegg G, Sandberg A, Støttrup JG (2012) A systems approach framework for the transition to sustainable development: potential value based on coastal experiments. Ecol Soc 1,73: 39. doi:10.5751/ES-05266-170339

Innes JE, Booher DE (2004) Reframing public participation: strategies for the 21st century. Plan Theor Pract 5(4):419–436

Klotzli F, Grootjans AP (2001) Restoration of natural and semi-natural wetland Systems in Central Europe: progress and predictability of developments. Restor Ecol 9(2):209–219

Köbsch F, Glatzel S, Hofmann J, Forbrich I, Jurasinski G (2013) CO2 exchange of a temperate fen during the conversion from moderately rewetting to flooding. J Geophys Res Biogeosci 118:940–950. doi:10.1002/jgrg.20069

Kolp O (1957) Die nordoestliche Heide Mecklenburg. Rostocker Heide, Gelbensander Forst, Alte Heide, Ribnitzer Forst. Deutscher Verlag der Wissenschaften, Berlin, Germany

Machill M, Zenker M (2006) Anzeigenblätter und Gratiszeitungen : Die Konkurrenten der Lokalzeitungen. Friedrich-Ebert-Stiftung, 12p. http://library.fes.de/pdf-files/stabsabteilung/04573.pdf

Miegel K, Graeff T, Selle B, Salzmann T, Franck C, Bronstert A (2016) Untersuchung eines renaturierten Niedermoores an der mecklenburgischen Ostseeküste – Teil I: Systembeschreibung und hydrologische Grundcharakterisierung. HyWa. doi:10.5675/HyWa_2016,4_1

Milligan J, O'Riordan T (2007) Governance for sustainable coastal futures. Coast Manag 35(4):499–509

MLUV – Ministerium für Landwirtschaft, Umwelt und Verbraucherschutz Mecklenburg-Vorpommern (2009) Regelwerk Küstenschutz Mecklenburg Vorpommern, Übersichtsheft, Grundlagen, Grundgesätze, Standortbestimmungen und Ausblick, Schwerin. http://service.mvnet.de/_php/download.php?datei_id=10879

Myatt LB, Scrimshaw MD, Lester JN (2003) Public perceptions and attitudes towards an established managed realignment scheme: Orplands, Essex, UK. J Environ Manag 68(2):173–181

O'Faircheallaigh C (2010) Public participation and environmental impact assessment: purposes, implications, and lessons for public policy making. Environ Impact Assess Rev 30(1):19–27

Pendle M (2013) Estuarine and coastal managed realignment sites in England a comparison of predictions with monitoring results for selected case studies. HR Wallingford, Wallingford, 36p http://eprints.hrwallingford.co.uk/664/1/HRPP627-Managed_realignment.pdf

Piwowarczyk J, Hansson A, Hjerpe M, Chubarenko B, Karmanov K (2012) Climate change in the Baltic Sea region: a cross-country analysis of institutional stakeholder perceptions. Ambio 41:645–655. doi:10.1007/s13280-012-0327-9

Reed MS, Graves A, Dandy N, Posthumus H, Hubacek K, Morris J, Prell C, Quinn CH, Stringer LC (2009) Who's in and why? A typology of stakeholder analysis methods for natural resource management. J Environ Manag 90:1933–1949

Richter A, Groh A, Dietrich R (2011) Geodetic observation of sea level change and crustal deformation in the Baltic Sea region. Phys Chem Earth 53-54:43–53

Roca E, Villares M (2012) Public perceptions of managed realignment strategies: the case study of the Ebro Delta in the Mediterranean basin. Ocean Coast Manag 60:38–47

Rouillard JJ, Reeves AD, Heal KV, Ball T (2014) The role of public participation in encouraging changes in rural land use to reduce flood risk. Land Use Policy 38:637–645

Rupp-Armstrong S, Nicholls RJ (2007) Coastal and estuarine retreat: a comparison of the application of managed realignment in England and Germany. J Coast Res 23:1418–1430

Schernewski G, Bartel C, Kobarg N, Karnauskaite D (2017) Retrospective assessment of a managed coastal realignment and lagoon restoration measure: The Geltinger Birk, Germany. J Coastal Conservation, 1–11

Turner RK, Burgess D, Hadley D, Coombes E, Jackson N (2007) A cost–benefit appraisal of coastal managed realignment policy. Glob Environ Chang 17(3–4):397–407

Upham P, Whitmarsch L, Poortinga W, Purdam K, Darnton A, McLachlan C, Devine-Wright P (2009) Public attitudes to environmental change: a selective review of theory and practice. Report for ESRC/LWEC, Manchester, 143 pp

Wachinger G, Renn O, Begg C, Kuhlicke C (2013) The risk perception paradox-implications for governance and communication of natural hazards. Risk Anal 33:1049–1065. doi:10.1111/j.1539-6924.2012.01942.x

Weber EU (2010) What shapes perceptions of climate change? WIREs Clim Change 1:332–342. doi:10.1002/wcc.41

Weisner E, Schernewski G (2013) Adaptation to climate change: a combined coastal protection and re-alignment scheme in a Baltic tourism region. J Coast Res SI 65:1963–1968
Acknowledgements
The work was part-funded by the BONUS BaltCoast project. BONUS BaltCoast has received funding from BONUS (Art 185) funded jointly from the European Union's Seventh Programme for research, technological development and demonstration, and from Baltic Sea national funding institutions. We would also like to express special thanks to the StALU MM (Staatliches Amt für Landwirtschaft und Umwelt Mittleres Mecklenburg), especially Dr. Sonja Leipe, for providing background information, documents and expertise as well as to all interview partners and survey respondents.
About this article
Cite this article
Schernewski, G., Schumacher, J., Weisner, E. et al. A combined coastal protection, realignment and wetland restoration scheme in the southern Baltic: planning process, public information and participation. J Coast Conserv 22, 533–547 (2018). https://doi.org/10.1007/s11852-017-0542-4
Received:

Revised:

Accepted:

Published:

Issue Date:
Keywords
Hütelmoor

Climate change adaptation

Public perception

Systems approach framework

Integrated coastal zone management

Sea level rise

Erosion

Brackish moors