Abstract
To fight ongoing eutrophication of the Baltic Sea, major international directives and agreements, like the EU Water Framework Directive or the Helcom Baltic Sea Action Plan, aim at a reduction of nutrient loads to the Baltic Sea. These external nutrient load reductions interact with retention and removal processes (ecosystem services) in coastal and marine waters. Beside sedimentation, denitrification is the most important regulation ecosystem service provided by the sea, because it removes nitrogen (N) to the atmosphere and controls eutrophication. Denitrification is a spatially and temporally highly variable process and largely depends on temperature and N concentrations in the water. Climate change will have strong effects on denitrification. Increasing temperatures favour denitrification and changes in precipitation and discharge will alter the availability of N, with strong differences between river basins. We combine a 3D–ecosystem model of the Baltic Sea with economic marginal cost functions for three major Baltic river basins: Odra, Vistula and Neva. Objective is to calculate the monetary consequences of climate change (scenario A1B) for the implementation of water quality objectives, taking into account both, spatial changes in N loads and denitrification. In all regions over 90% of the entering N loads are subject to denitrification mainly in coastal waters. For the climate change scenario (A1B), our approach suggests reduced riverine N-loads of 7690 t/a (Odra), 6410 t/a (Vistula) and increased loads of 3200 t/a for the Neva. At the same time our model results suggest an increased denitrification of N-loads by 9.1% (Odra) and 9.9% (Neva) and minor changes with respect to the Vistula loads. In combination, in all three regions climate change helps to reach policy targets (lower N concentrations in the sea) at lower costs. The monetary benefit of load reduction measures that do not have to be implemented because of climate change are 11,270 million €/a (Odra), 2000 million €/a (Vistula) and 92 million €/a (Neva). The valuations strongly depend on the assumed climate change scenario and the economic approach, but indicate that climate change effects differ much between river basins and should be taken into account in nutrient load reduction management plans.
This is a preview of subscription content, log in to check access.
Access options
Buy single article
Instant access to the full article PDF.
US$ 39.95
Price includes VAT for USA
Subscribe to journal
Immediate online access to all issues from 2019. Subscription will auto renew annually.
US$ 99
This is the net price. Taxes to be calculated in checkout.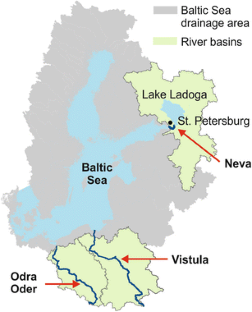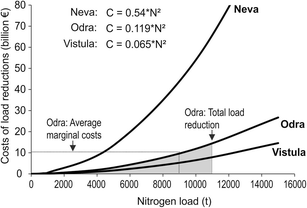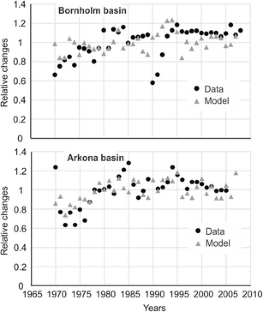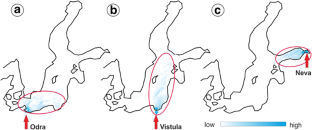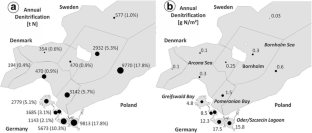 References
CLM (2008) Community climate limited-area modelling community http://www.clm-community.eu/. Accessed 12 Mar 2013

European Communities (2009) Common implementation strategy for the water framework Directive (2000/60/EC). River basin management in a changing climate. Guidance document No 24

Costanza R, d'Arge R, de Groot RS, Farber S, Grasso M, Hannon B, Limburg K, Naeem S, O'Neill RV, Paruelo J, Raskin RG, Sutton P, van den Belt M (1997) The value of the world's ecosystem services and natural capital. Nature 387:253–260

Dahl K, Josefson AB, Göke CACJP, Hansen J, Markager S, Rasmussen M (2012) Climate Change Impacts on Marine Biodiversity and Habitats in the Baltic Sea – and Possible Human Adaptations. Baltadapt Report # 3. www.baltadapt.eu

Dahlke S, Wolff C, Bange HW (1998) Mikrobieller N-, S-, und C-Umsatz und die Emission von N2O und CH4 im Greifswalder Bodden und im westlichen Teil des Oderästuars. Greifswalder Bodden und Oderästuar-Austauschprozesse. GOAP Abschlussbericht. Greifswalder Geographische Arbeiten 16: 370–402

Deutsch B, Forster S, Wilhelm M, Dippner JW, Voss M (2010) Denitrification in sediments as a major nitrogen sink in the Baltic Sea: an extrapolation using sediment characteristics. Biogeosciences 7:3259–3271. doi:10.5194/bg-7-3259-2010

Eiola K, Stigebrandt A (1999) On the seasonal nitrogen dynamics of the Baltic proper biogeochemical reactor. J Mar Res 57(4):693–713

Friedland R, Neumann T, Schernewski G (2012) Climate change and the Baltic Sea Action Plan: model simulations on the future of the western Baltic Sea. J Marine Syst 105-107:175–186

Gren I (2008) Costs and benefits from nutrient reductions to the Baltic Sea http://www.naturvardsverket.se/Documents/publikationer/978-91-620-5877-7.pdf

Gren I (2009) A numerical model for dynamic cost effective mitigation of eutrophication with spatial heterogeneity in the Baltic Sea. Technical Report. Sveriges lantbruksuniversitet Uppsala. Working paper series / Swedish University of Agricultural Sciences, Department of Economics

Gren I, Elofsson K, Jannke P (1997) Cost-effective nutrient reductions to the Baltic Sea. Environ Resour Econ 10:341–362. doi:10.1023/A:1026497515871

Gren I, Jonzon Y, Lindqvist M (2008) Costs of nutrient reductions to the Baltic Sea-technical report. Sveriges lantbruksuniversitet Uppsala. Working paper series / Swedish University of Agricultural Sciences, Department of Economics

HELCOM (2004) The fourth Baltic Sea pollution load compilation (PLC-4). Baltic Sea Environment Proceedings, 93, Helsinki

HELCOM (2007a) Climate change in the Baltic Sea area – HELCOM thematic assessment in 2007. Baltic Sea Environment Proceedings, 111, Helsinki

HELCOM (2007b) Baltic Sea Action Plan www.helcom.fi/BSAP/ActionPlan/en_GB/ActionPlan/. Accessed 14 Jun 2012

HELCOM (2009) Eutrophication in the Baltic Sea. An integrated thematic assessment of the effects of nutrient enrichment in the Baltic Sea region. Baltic Sea Environment Proceedings, 115, Helsinki

HELCOM (2010) Ecosystem health of the Baltic Sea: HELCOM initial holistic assessment. Baltic Sea Environment Proceedings no. 122, Helsinki

HELCOM (2011) The fifth Baltic Sea pollution load compilation (PLC-5). Baltic Sea Environment Proceedings, 128, Helsinki

Hietanen S, Kuparinen J (2008) Seasonal and short-term variation in denitrification and anammox at a coastal station on the Gulf of Finland, Baltic Sea. Hydrobiologia 596:67–77

Hirt U, Mahnkopf J, Gadegast M, Czudowski L, Mischke U, Heidecke C, Schernewski G, Venohr M (2014) Reference conditions for rivers of the German Baltic Sea catchment: reconstructing nutrient regimes using the model MONERIS. Reg Environ Chang 14:1123

IPCC - Intergovernmental Panel on Climate Change (2007) Klimaänderung 2007: Zusammenfassungen für politische Entscheidungsträger. Vierter Sachstandsbericht des IPCC (AR4); I. Wissenschaftliche Grundlagen, II. Auswirkungen, Anpassung, Verwundbarkeiten, III. Verminderung des Klimawandels. ProClim, Bern

Jäntti H, Stange F, Leskinen E, Hietanen S (2011) Seasonal variation in nitrification and nitrate-reduction pathways in coastal sediments in the Gulf of Finland, Baltic Sea. Aquat Microb Ecol 63:171–181

Maes J, Liquete C, Teller A et al (2016) An indicator framework for assessing ecosystem services in support of the EU biodiversity strategy to 2020. Ecosyst Serv 17:14–23

Meier HEM (2006) Baltic Sea climate in the late twenty-first century: a dynamical downscaling approach using two global models and two emission scenarios. Clim Dynam 27:39–68

Meier HEM, Müller-Karulis B, Andersson HC et al (2012) Impact of climate change on ecological quality indicators and biogeochemical fluxes in the Baltic Sea: a multi-model ensemble study. Ambio 41:558–573

MSFD (2008): Directive 2008/56/EC of the European Parliament and the council of 17 June 2008 establishing a framework for community Action in the field of marine environmental policy (marine strategy framework Directive)

Neumann T (2000) Towards a 3D-ecosystem model of the Baltic Sea. J Marine Syst 25:405–419

Neumann T (2010) Climate-change effects on the Baltic Sea ecosystem: a model study. J Marine Syst 81:213–224

Neumann T, Schernewski G (2005) An ecological model evaluation of two nutrient reduction strategies for the Baltic Sea. J Marine Syst 56:195–206

Neumann T, Schernewski G (2008) Eutrophication in the Baltic Sea and shifts in nitrogen fixation analyzed with a 3D ecosystem model. J Marine Syst 74:592–602

Neumann T, Fennel W, Kremp C (2002) Experimental simulations with an ecosystem model of the Baltic Sea: a nutrient load reduction experiment. Global Biogeochem Cy 16:7–19

Nielsen K, Risgaard-Petersen N, Sømod B, Rysgaard S, Bergø T (2001) Nitrogen and phosphorus retention estimated independently by flux measurements and dynamic modelling in the estuary, Randers Fjord, Denmark. Mar Ecol Prog Ser 219:25–40

Nowicki BL (1994) The effect of temperature, oxygen, salinity and nutrient enrichment on estuarine denitrification rates measured with modified nitrogen gas flux technique. Estuar Coast Shelf Sci 38:137–156

Pacanowski, R., Griffies S (1998) mom 3.0 manual, Geophys. Fluid, Dyn. Lab., NOAA, Princeton, N. J

Radtke H, Neumann T, Voss M, Fennel W (2012) Modeling pathways of riverine nitrogen and phosphorus in the Baltic Sea. J Geophys Res 117:C09024. doi:10.1029/2012JC008119

Schernewski G, Behrendt H, Neumann T (2008) An integrated river basin-coast-sea modelling scenario for nitrogen management in coastal waters. J Coast Conserv 12:53–66

Silvennoinen H, Liikanen A, Torssonen J, Stange CF, Martikainen PJ (2008) Denitrification and N2O effluxes in the Bothnian Bay (northern Baltic Sea) river sediments as affected by temperature under different oxygen concentrations. Biogeochemistry 88:63–72. doi:10.1007/s10533-008-9194-7

Söderqvist T (2000) The benefits of a less eutrophicated Baltic Sea. In: Gren I-M, Turner RK, Wulff F (eds) Managing a sea: the ecological economics of the Baltic. Earthscan, London

Stockenberg A, Johnstone RW (1997) Benthic denitrification in the Gulf of Bothnia. Estuar Coast Shelf Sci 45:835–843

Sundbäck K, Miles A (2002) Role of microphytobenthos and denitrification for nutrient turnover in embayments with floating macroalgal mats: a spring situation. Aquat Microb Ecol 30(1):91–101

Tuominen L, Heinaenen A, Kuparinen J, Nielsen LP (1998) Spatial and temporal variability of denitrification in the sediments of the northern Baltic proper. Mar Ecol Prog Ser 172:13–24

Zilius M (2011) Oxygen and nutrient exchange at the sediment-water interface in the eutrophic boreal lagoon (Baltic Sea). PhD dissertation, Klaipėda University, Klaipėda. http://gmk.lt/wp-content/uploads/2017/01/MZilius2011.pdf
Acknowledgements
The work has been supported by the German Federal Ministry for Education and Research (BMBF) within the projects SECOS (03F0666A) and MOSSCO (03F0367B). Additional funding was provided by the BONUS BaltCoast project. BONUS BaltCoast has received funding from BONUS (Art 185) funded jointly from the European Union's Seventh Programme for research, technological development and demonstration, and from Baltic Sea national funding institutions (BMBF 03F0717A). Super-computing power has been provided by HLRN (Norddeutscher Verbund für Hoch- und Höchstleistungsrechnen).
About this article
Cite this article
Allin, A., Schernewski, G., Friedland, R. et al. Climate change effects on denitrification and associated avoidance costs in three Baltic river basin - coastal sea systems. J Coast Conserv 21, 561–569 (2017). https://doi.org/10.1007/s11852-017-0530-8
Received:

Revised:

Accepted:

Published:

Issue Date:
Keywords
Ecosystem services

Water framework Directive

Baltic Sea

Szczecin lagoon

Odra

Neva

Vistula