Abstract
There is mounting evidence that fire size and severity have been growing on the central and southern California coastal landscape over the past several decades. Landsat satellite data was analyzed for the 20 largest fires on the Central California coast since 1984 to determine the relationships between climate/weather conditions at the time of ignition and the size of high burn severity (HBS) areas. The study also examined the relationship between area burned and landscape patterns of HBS coverage, including patch size, edge complexity, perimeter-to-area ratio, and aggregation metrics. Results showed that climate conditions at the time of ignitions have been significant controllers of the total area of HBS and the complexity of HBS patches on the fire landscape. As maximum air temperatures for the month of ignition approached 40o C, the percentage of HBS to total area burned frequently exceeded 20%. The percentage of HBS to total area burned also exceed 20% when the precipitation total recorded during the previous 12 months was less than 25% of the annual average precipitation. Landscape analysis results showed that, as the total area burned in fires on the Central California coast grows, the edge lengths and areas of HBS patches also grows at a rapid rate. At the same time, the perimeter-to-area ratio of HBS patches decreases gradually and the HBS patches become more aggregated as total burned area grows.
This is a preview of subscription content, log in to check access.
Access options
Buy single article
Instant access to the full article PDF.
US$ 39.95
Price includes VAT for USA
Subscribe to journal
Immediate online access to all issues from 2019. Subscription will auto renew annually.
US$ 99
This is the net price. Taxes to be calculated in checkout.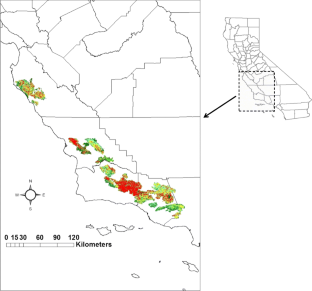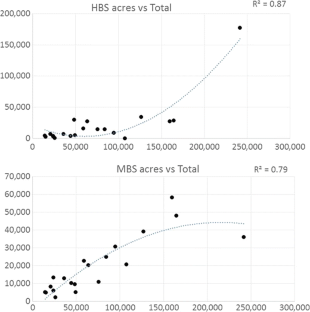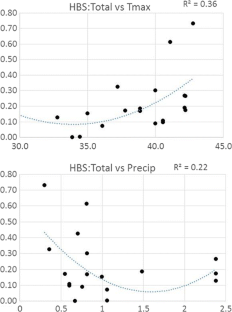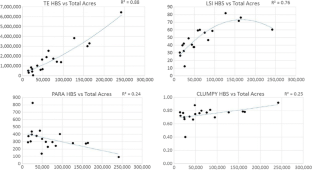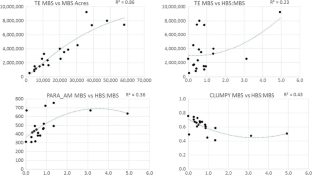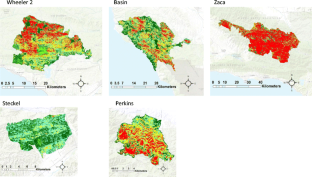 References
Abatzoglou JT, Kolden CA (2013) Relationships between climate and macroscale area burned in the western United States. Int J Wildland Fire 22:1003–1020

Abatzoglou JT, Redmond KT, Edwards LM (2009) Classification of regional climate variability in the state of California. J Appl Meteorol Climatol 48: 1527–1541

Bickford C, Rich P (1984) Vegetation and Flora of the Landels-Hill Big Creek Reserve, Monterey County, California, M. Brown (Ed.), publication no. 15, environmental field program University of California, Santa Cruz

Borchert M, Segotta D, Purser MD (1988) Coast redwood ecological types of southern Monterey County, California. Gen. Tech. Rep. PSW-107. Berkeley: Pacific Southwest Forest and range Experiment Station, Forest Service, U.S. Department of Agriculture; 27 pp

Cansler CA, McKenzie D (2014) Climate, fire size, and biophysical setting control fire severity and spatial pattern in the northern Cascade range, USA. Ecol Appl 24(5):1037–1056

Davis FW, Borchert MI (2006) Central coast bioregion, chapter 14. In Fire in California's Ecosystems, University of California Press. 612 pp, doi:10.1525/california/9780520246058.001.0001

Eidenshenk J, Schwind B, Brewer K, Zhu Z, Quayle B, Howard S (2007) A project for monitoring trends in burn severity. Fire Ecology Special Issue 3:3–21

Faivre NR, Jin Y, Goulden ML, Randerson JT (2016) Spatial patterns and controls on burned area for two contrasting fire regimes in Southern California. Ecosphere 7:e01210

Flint LE, Flint AL 2014, California basin characterization model: a dataset of historical and future hydrologic response to climate change, U.S. Geological Survey Data Release, doi:10.5066/F76T0JPB.

George M, Bartolome JW, McDougald N, Connor M, Vaughn C, Markegard G (2001) Annual range forage production. University of California, Division of Agriculture and Natural Resources, Publication 8018

Greenlee JM, Langenheim JH (1990) Historic fire regimes and their relation to vegetation patterns in the Monterey Bay area of California. Am Midl Nat 124(2):239–253

Hammer RB, Radeloff VC, Fried JS, Stewart SI (2007) Wildland-urban interface housing growth during the 1990s in California, Oregon, and Washington. Int J Wildland Fire 16:255–265

Harris S, Veraverbeke S, Hook S (2011) Evaluating spectral indices for assessing fire severity in chaparral ecosystems (Southern California) using MODIS/ASTER (MASTER) airborne simulator data. Remote Sens 3:2403–2419

Harvey BJ, Donato DC, Turner MG (2015) Drivers and trends in landscape patterns of stand-replacing fire in forests of the US northern Rocky Mountains (1984–2010). Landscape Ecol. doi:10.1007/s10980-016-0408-4

Henson P, Usner DJ (1996) The natural history of big Sur. University of California Press, Berkeley

Hiatt C, Fernandez D, Potter C (2012) Measurements of fog water deposition on the California central coast. Atmospheric and Climate Sciences 2:525–531

Hickman JC (ed) (1993) The Jepson manual: higher plants of California. University of California Press, Berkeley

Jin Y, Goulden ML, Faivre N, Veraverbeke S, Sun F, Hall A, Hand MS, Hook S, Randerson JT (2015) Identification of two distinct fire regimes in Southern California: implications for economic impact and future change. Environ Res Lett 10:094005

Keeley J (2002) Fire management of California shrubland landscapes. Environ Manag 29:395–408

Keeley J, Brennan T, Pfaff A (2008) Fire severity and ecosystem responses following fires in California shrublands. Ecol Appl 18:1530–1546

Keitt TH, Urban DL, Milne BT (1997) Detecting critical scales in fragmented landscapes. Conserv Ecol 1:4

Lombardo KJ, Swetnam TW, Baisan CH, Borchert MI (2009) Using big cone Douglas-fir fire scars and tree rings to reconstruct interior chaparral fire history. Fire Ecology 5:35–56

Mann ME, Gleick PH (2015) Climate change and California drought in the 21st century. Proceedings of the National Academy of Sciences of the United States of America, 112(13), 3858–3859

McGarigal K, Cushman SA, Neel MC and Ene E (2002) FRAGSTATS: spatial pattern analysis program for categorical maps. Amherst: University of Massachusetts. www.umass.edu/landeco/research/fragstats/fragstats.html

Meng R, Dennison PE, D'Antonio CM, Moritz MA (2014) Remote sensing analysis of vegetation recovery following short-interval fires in southern California shrublands. PLoS One 9(10):e110637

Miller JD, Thode AE (2007) Quantifying burn severity in a heterogeneous landscape with a relative version of the delta normalized burn ratio (dNBR). Remote Sens Environ 109:66–80

Molinari N, Sawyer S, Safford H (2015) A summary of current trends and probable future trends in climate and climate-driven processes in the Los Padres National Forest and neighboring lands, USDA Forest Service, Pacific Southwest Region, Report fseprd497638, Available online at www.fs.usda.gov/Internet/FSE_DOCUMENTS/fseprd497638.pdf

Morgan P, Heyerdahl EK, Gibson CE (2008) Multi-season climate synchronized forest fires throughout the 20th century, northern Rockies, USA. Ecology 89:717–728

Moritz M (2003) Spatiotemporal analysis of controls on shrubland fire regimes: age dependency and fire hazard. Ecology 84:351–361

Potter C (2014) Understanding climate change on the California coast: accounting for extreme daily events among long-term trends. Climate 2:18–27

Safford HD (2007) Man and fire in Southern California: doing the math. Fremontia 35:25–29

Safford HD, Van de Water KM (2014) Using fire return interval departure (FRID) analysis to map spatial and temporal changes in fire frequency on national forest lands in California, in U. F. Service, ed., Research paper PSW-RP-266, Pacific Southwest Research Station, Albany

Shreve F (1927) The vegetation of a coastal mountain range. Ecology 8:27–44

Sokal RR, Rohlf FJ (1995) Biometry: the principles and practice of statistics in biological research, 3rd edn. W.H. Freeman, New York

Spracklen DV, Mickley LJ, Logan JA, Hudman RC, Yevich R, Flannigan MD, Westerling AL (2009) Impacts of climate change from 2000 to 2050 on wildfire activity and carbonaceous aerosol concentrations in the western United States: J Geophys Res: Atmos 114. Issue D20. doi:10.1029/2008JD010966

Steel ZL, Safford HD, Viers JH (2015) The fire frequency-severity relationship and the legacy of fire suppression in California forests. Ecosphere 6(1):8

United States Forest Service (USFS) (2015) The rising costs of wildfire operations. Available online at http://www.fs.fed.us/sites/default/files/2015-Rising-Cost-Wildfire-Operations.pdf

Van de Water KM, Safford HD (2011) A summary of fire frequency estimates for California vegetation before euro-American settlement. Fire Ecology 7:26–58

Warrick JA, Melack JM, Goodridge BM (2015) Sediment yields from small, steep coastal watersheds of California. Journal of Hydrology: Regional Studies 4:516–534
Acknowledgements
The author is grateful to the U. S. Forest Service, Los Padres National Forest for information on Central Coast ecology and management.
About this article
Cite this article
Potter, C. Fire-climate history and landscape patterns of high burn severity areas on the California southern and central coast. J Coast Conserv 21, 393–404 (2017). https://doi.org/10.1007/s11852-017-0519-3
Received:

Revised:

Accepted:

Published:

Issue Date:
Keywords
Central coast

California

Fires

Burn severity

NBR

Landsat