Abstract
We document and analyse the implementation process of a large combined coastal protection realignment and nature protection rewetting scheme, covering about 1000 ha at the German Baltic coast. The assessment reviews local planning documents, includes a media analysis, a tourist survey, stakeholder interviews and we provide criteria for measuring success, derived from the Systems Approach Framework (SAF) concept. The full process in the Geltinger Birk took over 25 years and was finished in 2013. The early years were characterised by strong local opposition, a polarization of the local society, misinformation and negative media coverage. Land purchase, the establishment of a local information centre with an environmental manager, improved public participation, a more pro-active media strategy and the readiness to accept compromises finally enabled a successful implementation. Today, a comprehensive tourism information and guidance system exists and the area became a popular tourist place. 80% of all visitors point out the outstanding nature experience and 87% are positive about the combined coastal protection and restoration measure. Parallel, major stakeholders changed their attitude and today are positive about the situation. However, the long timespan between initiation of the process and implementation of the measure, calls for a systematic, guided management approach, like the SAF. Especially, because climate change, sea level rise and increasing pressures on the coasts require a much faster implementation of adaptation measures in future.
This is a preview of subscription content, log in to check access.
Access options
Buy single article
Instant access to the full article PDF.
US$ 39.95
Price includes VAT for USA
Subscribe to journal
Immediate online access to all issues from 2019. Subscription will auto renew annually.
US$ 99
This is the net price. Taxes to be calculated in checkout.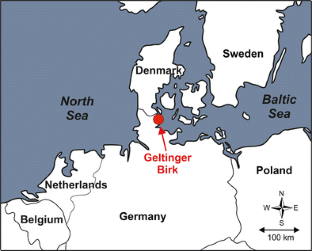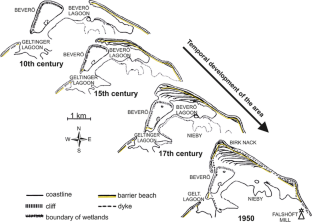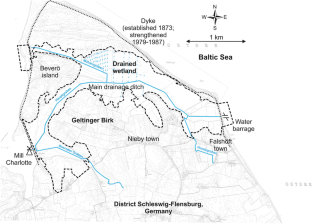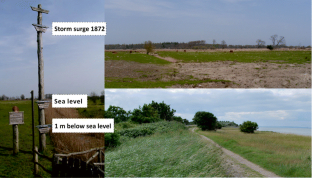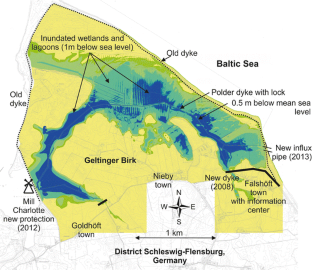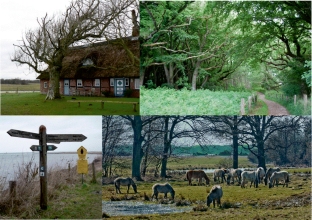 References
Doody PJ (2013) Coastal squeeze and managed realignment in Southeast England, does it tell us anything about the future? Ocean Coast Manag 79:34–41

Esteves LS (2013) Is managed realignment a sustainable long-term coastal management approach? J Coast Res 1(SI 65):933–938

Esteves LS, Thomas K (2014) Managed realignment in practice in the UK: results from two independent surveys. J Coast Res 70:407–413

French PW (2006) Managed realignment – the developing story of a comparatively new approach to soft engineering. Estuar Coast Shelf Sci 67:409–423

Hopkins TS, Bailly D, Elmgren R, Glegg G, Sandberg A, Støttrup JG (2012) A systems approach framework for the transition to sustainable development: potential value based on coastal experiments. Ecol Soc 17(3):39. doi:10.5751/ES-05266-170339

MELUR-SH (2012) Generalplan Küstenschutz des Landes Schleswig-Holstein – Fortschreibung https://www.schleswig-holstein.de/DE/Fachinhalte/K/kuestenschutz/Downloads/Generalplan.pdf?__blob=publicationFile&v=1

MELUR-SH (2014) Fachplan Küstenschutz Ostseeküste SH http://www.schleswig-holstein.de/DE/Fachinhalte/K/kuestenschutz_fachplaene/Dossier/_functions/teaser_tabelle_Ostsee.html

MLR - Ministerium für ländliche Räume, Landesplanung, Landwirtschaft und Tourismus des Landes Schleswig-Holstein (2001) Generalplan Küstenschutz - integriertes Küstenschutzmanagement in Schleswig-Holstein. Kiel, p 76

MLUR-SH Ministerium für Landwirtschaft, Umwelt und ländliche Räume des Landes Schleswig-Holstein (2007) Safe Coast: Excursion to Geltinger Birk http://geltinger-birk.de/

MLUR-SH Ministerium für Landwirtschaft, Umwelt und ländliche Räume des Landes Schleswig-Holstein (2011) Moorschutzprogramm für Schleswig-Holstein Drucksache 16/2272. https://www.schleswig-holstein.de/DE/Fachinhalte/N/naturschutz/Downloads/Drucksache_17_1490.pdf?__blob=publicationFile&v=2

Morris RK (2012) Managed realignment: a sediment management perspective. Ocean Coast Manag 65:59–66

Nordstrom KF, Lampe R, Jackson N (2007) Increasing the dynamism of coastal landforms by modifying shore protection methods: examples from the eastern German Baltic Sea coast. Environ Conserv 34:205–214

Pendle M (2013) Estuarine and coastal managed realignment sites in England a comparison of predictions with monitoring results for selected case studies. HR Wallingford, Howbery Park, p 36 http://eprints.hrwallingford.co.uk/664/1/HRPP627-Managed_realignment.pdf

Prati G, Albanesi C, Pietrantoni L, Airoldi L (2016) Public perceptions of beach nourishment and conflict management strategies: a case study of Portonovo Bay in the Adriatic Italian coast. Land Use Policy 50:422–428

Roca E, Villares M (2012) Public perceptions of managed realignment strategies: the case study of the Ebro Delta in the Mediterranean basin. Ocean Coast Manag 60:38–47

Rupp-Armstrong S, Nicholls RJ (2007) Coastal and estuarine retreat: a comparison of the application of managed realignment in England and Germany. J Coast Res 23:1418–1430

Spencer KL, Harvey GL (2012) Understanding system disturbance and ecosystem services in restored saltmarshes: integrating physical and biogeochemical processes. Estuar Coast Shelf Sci 106:23–32

Turner RK, Burgess D, Hadley D, Coombes E, Jackson N (2007) A cost-benefit appraisal of coastal management realignment policy. Glob Environ Chang 17:397–407

Weisner E, Schernewski G (2013) Adaptation to climate change: A combined coastal protection and re-alignment scheme in a southern Baltic tourism region. J Coast Res 2(SI 65):1963–1968
Acknowledgements
We thank Dr. J. Hofstede, Ministerium für Energiewende, Landwirtschaft, Umwelt und ländliche Räume des Landes Schleswig-Holstein, for giving access to the ministry archive and Prof. Dr. F. Saathoff for supervision of and helpful comments on the master thesis by C. Barthel.
Ethics declarations
Funding
The work was part-funded by the BONUS-BaltCoast project. BONUS-BaltCoast has received funding from BONUS (Art 185) funded jointly from the European Union's Seventh Programme for research, technological development and demonstration, and from Baltic Sea national funding institutions (BMBF 03F0717A).
Appendix
Appendix
About this article
Cite this article
Schernewski, G., Bartel, C., Kobarg, N. et al. Retrospective assessment of a managed coastal realignment and lagoon restoration measure: the Geltinger Birk, Germany. J Coast Conserv 22, 157–167 (2018). https://doi.org/10.1007/s11852-017-0496-6
Received:

Revised:

Accepted:

Published:

Issue Date:
Keywords
Public perception

Public participation

Rewetting

Coastal wetlands

Coastal development

Tourist survey