Abstract
The Coastal Conservation and Education Foundation (CCEF), a Philippine environmental organization, in collaboration with Region 7 municipality leaders from Cebu, Leyte, and Bohol, as well as various financial donors, is striving to improve the marine resource management of the Outer Danajon Bank in the Philippines. One of the goals is to develop scuba dive tourism along the Outer Bank, beginning with the municipality of Bien Unido on Bohol Island. Despite previous efforts to attract investors and tourists by the Bien Unido mayor, dive tourism is currently absent from the municipality. During the summer of 2011, the mayor, the CCEF, and a private real estate developer, agreed to invest in infrastructure and livelihood training in Bien Unido for the purpose of developing a scuba dive tourism industry. This study analyzes current community viewpoints on the development of dive tourism in Bien Unido and four selected dive tourist cites. The study consists of thirty-four qualitative interviews conducted in Bien Unido and four other dive tourist sites as well as 1117 quantitative surveys conducted with community members throughout the central portion of the Philippines (Region 7). This study complements the Danajon Bank Marine Park Project of the CCEF and makes recommendations to improve the management of the Danajon Bank Double Barrier coral reef with protected areas and alternative livelihood projects linked to tourism development. The interviews served to define tourism and to document the specific needs of each barangay, or community, for tourism development. The qualitative survey revealed generally positive attitudes regarding scuba dive tourism development. Nintey-one percent of respondents believe tourism will help the barangay and most would participate in selling food/drink or being a recreational tour guide for tourists. Interview and survey respondents expectations that economic benefits will outweigh any social or environmental challenges, primarily alternative livelihoods and increased revenue for the municipality. Overall, Bien Unido and Region 7 community members will likely welcome visitors to their communities due to the expected benefits regardless of other negative environmental and social externalities such as increases in resource pressures and losses of tradition. Four additional municipalities were selected as "tourism developed sites" to further explore the negative and positive impacts of dive tourism, as perceived by the barangay captains or council, over a range of five to thirty years. These findings revealed challenges that were not mentioned in Bien Unido interviews or in the Region 7 qualitative surveys including changes in the price of living, increases in drug trafficking and sex trade, and private investors controlling community decisions.
"As long as tourists like to come, then we want them all. If they will come, we will welcome them all."

Bien Unido interviewee, July 19, 2011
This is a preview of subscription content, log in to check access.
Access options
Buy single article
Instant access to the full article PDF.
US$ 39.95
Price includes VAT for USA
Subscribe to journal
Immediate online access to all issues from 2019. Subscription will auto renew annually.
US$ 99
This is the net price. Taxes to be calculated in checkout.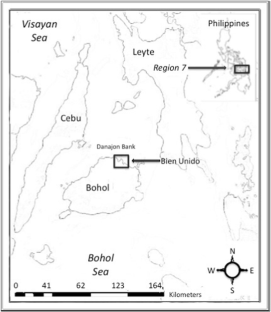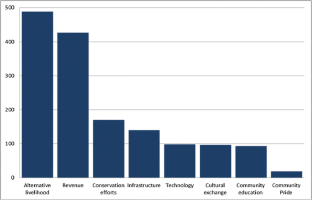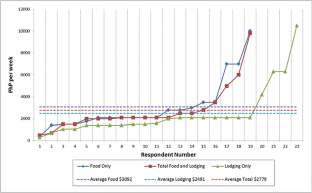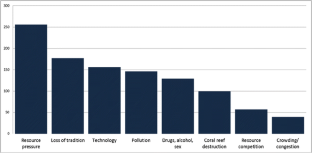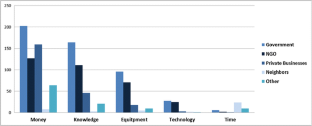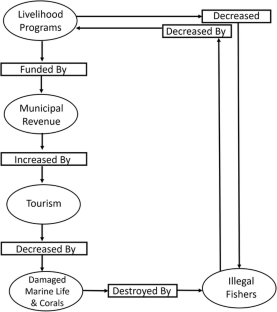 Notes
1.

2.

3.

4.

108 respondents claimed they would be willing to participate in lodging opportunities for tourists, while only 36 respondents claimed that in the first question. The second question targeted housing and indroduced a fee, further exploring acceptable levels of community member participation in tourism opportunities.

5.

Total responses reflect multiple answers for one question per respondent and therefore do not reflect the total number of surveys administered.
References
Armada N, White AT, Christie P (2009) Managing fisheries resources in Danajon Bank, Bohol, Philippines: an ecosystem-based approach. Coast Manag 37:308–330

Butler RW (1993) Tourism, an evolutionary perspective. In: Nelson JG, Butler R, Wall G (eds) Tourism and sustainable development: monitoring, planning, managing. University of Waterloo, Canada, pp 27–43

Christie P, Fluharty D, White A, Eisma-Osorio L, Jatulan W (2006) Assessing the feasibility of ecosystem-based fisheries management in tropical contexts. Mar Policy 31:239–250

Coastal Conservation and Education Foundation (CCEF) website. Available from http://www.coast.ph/ (accessed April 2011)

CRMP (2003) Modeling the way: lessons in developing capacities for coastal management in the Philippines. Special Report (1996-2004), Coastal Resource Management Project, Cebu City, Philippines, 111pp

CRMP (2004) Directory of CRM Learning Destinations in the Philippines. Coastal Resource Management Project. Cebu City, Philippines. 147pp

Department of Business, Economic Development and Tourism (2002) Progress on the Study: Planning for Sustainable Tourism in Hawaii. Report to the Legislature. Jan. 2002. 14 pp

Department of Tourism (DOT) (1998) Philippine Statistical Report on Tourism for 1997

Dubinsky ZVY, Stambler N (1996) Marine pollution and coral reefs. Glob Chang Biol 2:511–526

Elman N, Baculad L, Cavero J, Orevillo V, Calumpong H, Galon W, Ratera P (1999) Biodiversity Conservation and Management of the Bohol Islands Marine Triangle Funded by UNDP-Global Environmental Facility through Foundation for the Philippine Environment Participatory Coastal Resource Assessment of the Bohol Marine Triangle

FISH (Fisheries Improved for Sustainable Harvest) Project (2004) FISH document 04-FISH 2004 target area profiles. Tetra Tech EM, Inc., Mandaluyong City

FISH (Fisheries Improved for Sustainable Harvest) Project (2010) 7 years & 4 seas: our quest for sustainable fisheries. Cebu City, Philippines

Gossling S (2003) Tourism and development in tropical Islands. political ecology perspectives. Edward Elgar Publishing, Inc, Northampton

Green S (2002) Marine ecotourism & community participation: cast studies from Bohol, Philippines. Presented at World Ecotourism Colloquim, Sarawak, Malaysia. Coastal Resource Management Project of the Department of Environment and Natural Resources

Green S, White A, Flores J, Carreon III M, Sia A (2003) Philippines fisheries in crisis: a framework for management. Coastal Resource Management Project of the Department of Environment and Natural Resources, Cebu City, Philippines. 77pp

Grimble R, Wellard K (1997) Stakeholder methodologies in natural resource management: a review of principles, contexts, experiences and opportunities. Agric Syst 55:173–193

Huttche CM, White A, Flores M (2002) Sustainable coastal tourism handbook for the Philippines. Coastal Resource Management Project of the Department of Environment and Natural Resources and the Department of Tourism, Cebu City, Philippines, 144p

ILO (2002) Hotels, catering, and tourism. January 22. http://www.ilo.org/public/english/dialogue/sector/sectors/tourism.htm

Kvale S (1996) Interviews: an introduction to qualitative research interviewing. Sage Publications, Inc. 187–207

McLeod K, Leslie H (2009) Ecosystem based management for the oceans. Island Press, Washington D.C

National Statistics Office (NSO) (2007) Census of population: population and annual growth rates by Province, City and Municipality: Central Visayas: 1995, 2000 and 2007. http://www.census.gov.ph/data/census2007/index.html

Ong PE, Afuang LE, Rosell-Ambal RG, Editors (2002) Philippine biodiversity conservation priorities: A second iteration of the National Biodiversity Strategy and Action Plan. Department of Environment and Natural Resources-Protected Areas and Wildlife Bureau, Conservation International Philippines, Biodiversity Conservation Program-University of the Philippines Center for Integrative and Development Studies, and the Foundation for the Philippine Environment, Quezon City, Philippines

Sautter ET, Leisen B (1999) Managing stakeholders a tourism planning model. Ann Tour Res 26:312–328

Sipapu Institute (1973) A report on tourism development on behalf of the Northern Pueblos Enterprises. San Francisco

Trousdale W (1999) Governance in context. Boracay Island, Philippines. Ann Tour Res 26(4):840–867

Vincent A, Meeuwig J, Pajaro M, Perante N (2007) Characterizing a small-scale, datapoor, artisanal fishery: seahorses in the central Philippines. Fish Res 86:207–215

Weeks R, Russ G, Alcala A, White A (2009) Effectiveness of marine protected areas in the Philippines for biodiversity conservation. Conserv Biol. Published online Oct 16, 2009

White AT, Rosales R (2003) Community-oriented Marine Tourism in the Philippines: Role in Economic Development Conservation. In: Gossling S (ed) Tourism and development in Tropical Islands: political ecology perspectives, 2003. Edward Elgar Publishing, Cheltenham, pp 237–263

White AT, Vogt HP, Arin T (2000) The economic losses caused by reef destruction. Mar Pollut Bull 40:598–605

White AT, Ross M, Flores M (2009) Benefits and costs of coral reef and wetland management, Olango Island, Philippines. In: Lasmarias NC, Sumalde ZM, Tongson EE (eds) Readings on the economics of climate change and natural resource management. REAP-REECS-EEPSEA, Manila, pp 179–197, 247p

World Vision (2009) Sanctuaries that bring security in a changing climate: Integrated Coastal Resource Management in the Philippines. Clim Change Case Stud
Acknowledgments
I would like to sincerely thank all of my financial, academic, and emotional supporters especially Dr. Patrick Christie of the School of Marine and Environmental Affairs and Jackson School of International Studies in the University of Washington. I would also like to thank my committee member Alan White, President of Coastal Conservation and Education Foundation and Senior Scientist for the Asia Pacific Program of the Nature Conservancy for guidance and inspiration during the writing process.
Additionally I would like to thank Giselle Samonte-Tan of Conservation International and staff members of CCEF including Liza, Romel, Raffi, Dean, Analeh, Merilyn, and Bing. Special thanks to Jun Amolo for enthusiasm, support, and many encouraging conversations during data development and collection.
My gratitude for the academic support that was freely given from key members of the coastal management community including Richard Pollnac of the University of Rhode Island, Stanley Asha, and Marc Miller of the University of Washington. Also to my editorial board with Michael Gier, Constance Sullivan, Adam Whiting and my travel colleagues Audrey Kuklok, Kimberly Sparks, and Cherie Wagner, and all of the Bien Unido community and interview respondents. .
I would not have been able to complete this research without the financial support of the Marc Hershman Fellowship and the School of Marine Affairs Wendy Graham travel grant.
About this article
Cite this article
Gier, L., Christie, P. & Amolo, R. Community perceptions of scuba dive tourism development in Bien Unido, Bohol Island, Philippines. J Coast Conserv 21, 153–166 (2017). https://doi.org/10.1007/s11852-016-0484-2
Received:

Revised:

Accepted:

Published:

Issue Date:
Keywords
Scuba dive tourism

Tourism

Philippines

Diving

Bien Unido

Bohol Island

Development

Coastal development