Abstract
Anthropogenic climate change constitutes a main challenge for the Wadden Sea. Accelerated sea level rise, increasing temperatures and changing wind climate may strongly alter present structures and functions of the ecosystem with negative consequences both for nature conservation and for coastal risk management. Being aware of these challenges, Schleswig-Holstein State Government decided to establish an integrated climate change adaptation strategy for the Schleswig-Holstein sector of the Wadden Sea. The strategy was adopted in June 2015. It aims at the long-term maintenance of present functions and structures as well as the integrity of the Wadden Sea ecosystem in a changing climate. The strategy was prepared by a project group consisting of representatives from State authorities as well as from nature conservation organisations and local institutions. First outcome of the strategy is that extra adaptation measures will not be necessary in the coming decades. However, pending on the future rate of sea level rise, shoreline erosion and sediment deficits in the Wadden Sea will increase and sooner or later drowning of tidal flats and terrestrial habitats like beaches, primary dunes and salt marshes will start. At the time when management measures to counteract the negative developments become expedient from a nature conservation viewpoint as well as for coastal risk management, adequate actions with minimized ecological interferences are possible. It is assumed that balancing the sediment deficits as the main adaptation measure may be implemented most efficiently by concentrating sediment suppletion at locations where natural forces organize redistribution in the Wadden Sea. Local technical coastal risk management measures like the strengthening of sea defences will, nevertheless, remain necessary as well.
Access options
Buy single article
Instant access to the full article PDF.
US$ 39.95
Tax calculation will be finalised during checkout.
Subscribe to journal
Immediate online access to all issues from 2019. Subscription will auto renew annually.
US$ 79
Tax calculation will be finalised during checkout.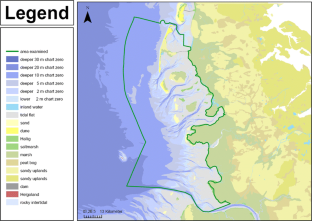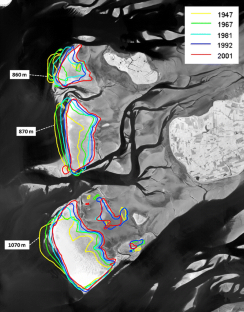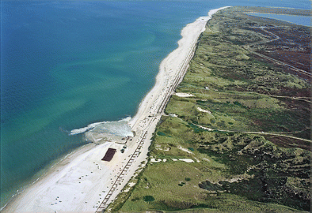 Abbreviations
SLR:

Sea level rise

SW2100:

Strategy for the Schleswig-Holstein sector of the Wadden Sea 2100

CRM:

Coastal risk management
References
Becherer J, Graewe U, Purkiani K, Schulz E, Burchard H (2015) Simulation der morphologischen Entwicklung in tidalen Systemen der Westküste von Schleswig-Holstein. Endbericht Juni 2015, Leibniz-Institut für Ostseeforschung, Deutschland

Bruun P (1962) Sea level rise as a cause of shore erosion. Journal of the Waterways and Harbour Division 88:117–130

Church JA, Clark PU, Cazenave A, Gregory JM, Jevrejeva S, Levermann A, Merrifield MA, Milne GA, Nerem RS, Nunn PD, Payne AJ, Pfeffer WT, Stammer D, Unnikrishnan AS (2013) Sea Level Change. In: Climate Change 2013: The physical science basis. Contribution of Working Group I to the Fifth Assessment Report of the Intergovernmental Panel on Climate Change. Cambridge University Press, Cambridge

Colijn F, Fanger HU (2011) Klimabedingte Änderungen in aquatischen Ökosystemen: Elbe, Wattenmeer und Nordsee. In: von Storch H, Claussen M (eds.) Klimabericht für die Metropolregion Hamburg. Heidelberg, pp 177–194

CPSL (2010) CPSL third report - the role of spatial planning and sediment in coastal risk management. Wadden Sea Ecosystem 28:1–51

CWSS (2010) Wadden Sea plan 2010. Eleventh Trilateral Governmental Conference on the Protection of the Wadden Sea. Common Wadden Sea Secretariat, Wilhelmshaven, pp. 1–105

CWSS and World Heritage Nomination Project Group (2008) Nomination of the Dutch-German Wadden Sea as world heritage site. Wadden Sea Ecosystem 24:1–200

Dissanayake DMPK, Ranasinghe R, Roelvink JA, Wang ZB (2011) Process-based and semi-empirical modelling approaches on tidal inlet evolution. J Coast Res 64:1013–1017

Dissanayake DMPK, Ranasinghe R, Roelvink JA (2012) The morphological response of large tidal inlet/basin systems to relative sea level rise. Clim Chang 113:253–276

Gaslikova L, Grabemann I, Groll N (2013) Changes in North Sea storm surge conditions for four transient future climate realizations. Nat Hazards Earth Syst Sci 66(3):1501–1518

Grabemann I, Weisse R (2008) Climate change impact on extreme wave conditions in the North Sea: an ensemble study. Ocean Dyn 58:199–212

Hein H, Mai S, Barjenbruch U (2014) Long-term Changes of the Tidal Amplitudes and Phases in the Elbe Estuary. In: Lehfeldt R, Kopmann p (eds.) Proc. of the ICHE, Hamburg, pp 783–790

Hofstede JLA (2005) Danish-German-Dutch wadden environments. In: Koster EA (ed) The physical geography of Western Europe. Oxford University Press, Oxford Regional Environment Series, pp. 185–205

Hofstede JLA (2011) Climate change and the need for integrated coastal risk management in the Baltic Sea. In: Schernewski G, Hofstede J, Neumann T (eds) Global change and Baltic coastal zones. Coastal Research Library-Series, Springer, Dordrecht, pp. 93–102

Hofstede JLA (2015) Theoretical considerations on how Wadden Sea tidal basins may react to accelerated sea level rise. Z Geomorphol 59(3):377–391

IPCC (2013) Summary for Policymakers. In: Climate Change 2013: The physical science basis. Contribution of Working Group I to the Fifth Assessment Report of the Intergovernmental Panel on Climate Change. Cambridge University Press, Cambridge

Jensen K, Härdtle W, Meyer-Grünefeldt M, Pfeifer EM, Reisdorff C, Schmidt K, Schmidt S, Schrautzer J, von Oheimb J (2011) Klimabedingte Änderungen in terrestrischen und semi-terrestrischen Ökosystemen. In: von Storch H, Claussen M (eds.) Klimabericht für die Metropolregion Hamburg. Heidelberg pp 143–176

MELUR (2013) Generalplan Küstenschutz des Landes Schleswig-Holstein – Fortschreibung 2012. Ministerium für Energiewende, Landwirtschaft, Umwelt und ländliche Räume des Landes Schleswig-Holstein, Kiel

MELUR (2015) Strategie für das Wattenmeer 2100. Ministerium für Energiewende, Landwirtschaft, Umwelt und ländliche Räume des Landes Schleswig-Holstein, Kiel

Möller I, Kudella M, Rupprecht F, Spencer T, Paul M, van Wesenbeeck BK, Wolters G, Jensen K, Bouma TJ, Miranda-Lange M (2014) Wave attenuation over coastal salt marshes under storm surge conditions. Nat Geosci 7:727–731

Oost AP (1995) Dynamics and sedimentary development of the Dutch Wadden Sea with emphasis on the Frisian inlet. Geol Ultraiect 126:1–454

Philippart K, Epping E (2009) Quality status report - climate change and ecology. Wadden Sea Ecosystem 25:3–8

Reise K, Baptist M, Burbridge P, Dankers N, Fischer L, Flemming BW, Oost AP, Smit C (2010) The Wadden Sea - a universally outstanding tidal wetland. Wadden Sea Ecosystem 29:7–24

Stock M (2011) Patterns in surface elevation change across a temperate salt marsh platform in relation to sea-level rise. Coastline Reports 17:33–48

Stock M, Eskildsen K, Gätje C, Kellermann A (1999) Evaluation procedure for nature conservation in a national park - a proposal for the protection of ecological processes. Z Ökol Naturschutz 8:81–95

Suchrow S, Pohlmann N, Stock M, Jensen K (2012) Long-term surface elevation changes in German North Sea salt marshes. Estuar Coast Shelf Sci 98:71–83

Van Beusekom J, Brockmann U, Hesse KJ, Hickel W, Poremba K, Tillmann U (1999) The importance of sediments in the transformation and turnover of nutrients and organic matter in the Wadden Sea and German bight. Deutsche Hydrografische Zeitschrift 51:245–266

Van Vuuren DP, Edmonds J, Kainuma M, Riahi K, Thomson A, Hibbard K, Hurtt GC, Kram T, Krey V, Lamarque JF, Masui T, Meinshausen M, Nakicenovic N, Smith SJ, Rose SK (2011) The representative concentration pathways: an overview. Clim Chang 109:5–31

Wahl T, Haigh ID, Woodworth PL, Albrecht F, Dillingh D, Jensen J, Nicholls RJ, Weisse R, Wöppelmann G (2013) Observed mean sea level changes around the North Sea coastline from 1800 to present. Earth-Sci Rev 124:51–67

Woth K, Weisse R, von Storch H (2006) Climate change and North Sea storm surge extremes: an ensemble study of storm surge extremes expected in a changed climate projected by four different regional climate models. Ocean Dyn 56:3–15

WWF Deutschland (2015) Klimaanpassung an weichen Küsten: Fallbeispiele aus Europa und den USA für das Schleswig-holsteinische Wattenmeer. WWF Deutschland, Berlin

WWF Netherlands (1997) Growing with the sea. WWF Nederland, ISBN 90–74595-09-X
About this article
Cite this article
Hofstede, J.L.A., Stock, M. Climate change adaptation in the Schleswig-Holstein sector of the Wadden Sea: an integrated state governmental strategy. J Coast Conserv 22, 199–207 (2018). https://doi.org/10.1007/s11852-016-0433-0
Received:

Accepted:

Published:

Issue Date:
Keywords
Wadden Sea

Sea level rise

Climate change adaptation

Integrated coastal management

National Park

Nature conservation