Abstract
The Holderness coast is composed largely of 'soft' Quaternary sediments, mainly glacial till, which form cliffs up to 38 m high. Cliff erosion rates have shown a complex pattern of spatial and temporal variation over the past 160 years which reflects interaction of natural processes and human interventions, notably building of coastal defences at Bridlington, Hornsea, Withernsea, Mappleton, and Easington. A former single coastal cell, extending between Flamborough Head and the Spurn Peninsula, is breaking down into a series of separate sub-cells defined by sections of defended coast. Between these 'hard points' the shoreline is developing as a series of shallow bays which are deepest immediately to the south (downdrift) of the defences. Superimposed on this pattern are smaller-scale variations which reflect the effects of dynamic beach features on wave energy exposure at the cliff toe. Cliff recession rates can exceed 4 m a−1 when beach troughs lie in front of the cliff toe but may fall close to zero as a sand wave passes. Erosion rates on the undefended coast showed an increase in the period 1989–2013 compared with earlier epochs and further increases can be anticipated due to sea level rise over the course of the next century. The effects of climate change on storminess remain uncertain but any increase would further enhance the erosional trend. The implications are future increased rates of cliff top recession and increased risk to infrastructure close to the coast in the medium to longer term. Increased erosion rates will increase the rate of sediment supply to the nearshore system, but it is unclear how much of the fine sediment released will be transported into the Humber estuary to maintain tidal flats and saltmarshes, and how much of the sand and gravel will travel along the beach system to sustain the Spurn Peninsula.
Access options
Buy single article
Instant access to the full article PDF.
US$ 39.95
Tax calculation will be finalised during checkout.
Subscribe to journal
Immediate online access to all issues from 2019. Subscription will auto renew annually.
US$ 79
Tax calculation will be finalised during checkout.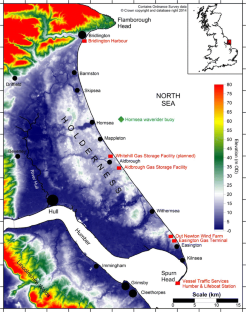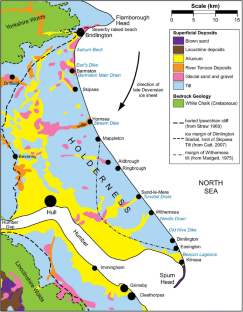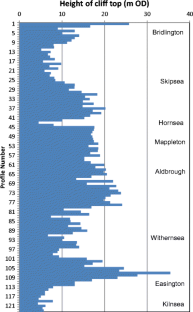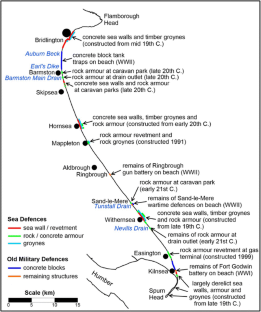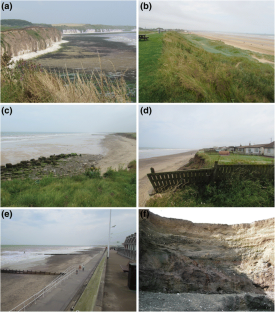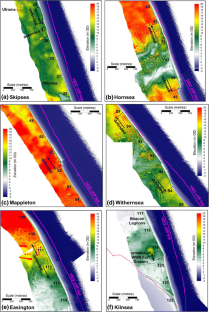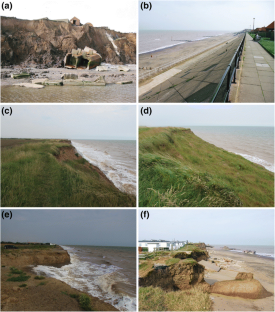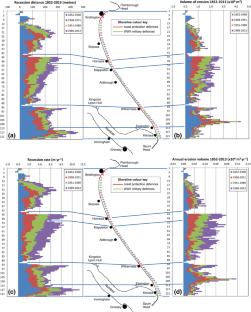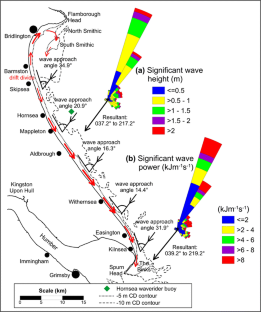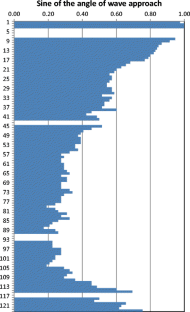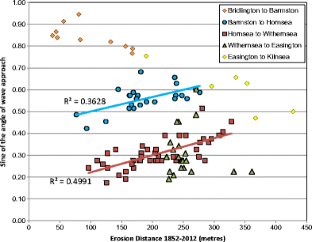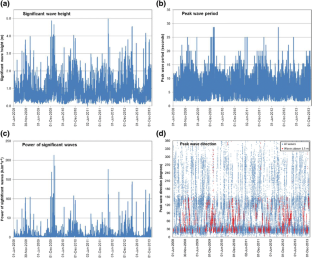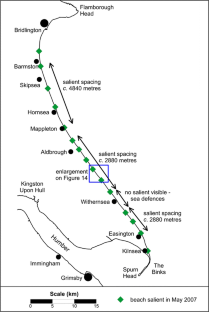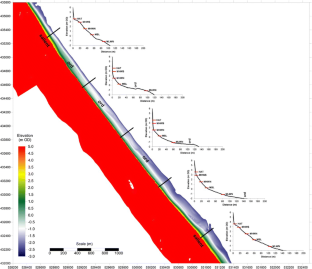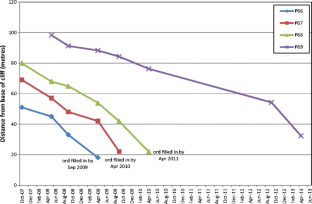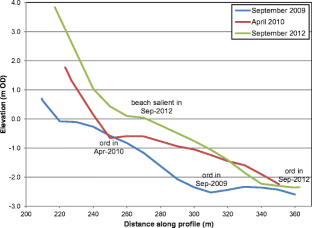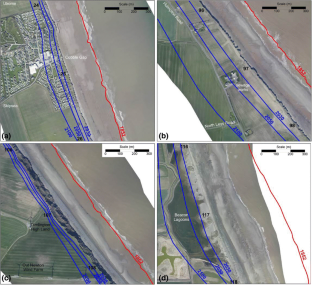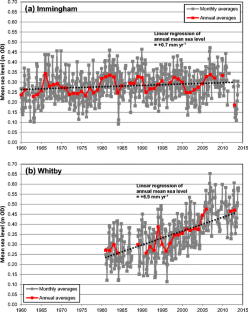 References
Balson PS, Philpott SL (2004) Sediment sources, sinks and pathways at the Mouth of the Humber Estuary. British Geological Survey Report CR/04/159

Balson PS, Tragheim DG, Dennis AM, Waldram D, Smith MJ (1996) A photographic technique to determine the potential sediment yield from recession of the Holderness coast, UK. In: Taussik J, Mitchell J (eds) Partnership in coastal zone management. Samara Publishing Ltd, Cardigan, pp 507–514

Balson PS, Tragheim DG, Newsham R (1998) Determination and prediction of sediment yields from recession on the Holderness coast. Proceedings of the 33rd MAFF Conference of River and Coastal Engineers, Keele University, 1–5 July 1998, 4.5.1–4.5.11

Bell FG, Forster A (1991) The geotechnical characteristics of the till deposits of Holderness. In Forster A, Culshaw MG, Cripps JC, Little JA, Moon CF (eds.) Quaternary engineering geology. Engineering Geology Special Publication No. 7, Geological Society, London, 111–118

Berridge NG, Pattison J (1994) Geology of the country around Grimsby and Patrington. Memoir for 1:50000 Geological Sheets 90 and 91 and 80 and 82 (England and Wales). Her Majesty's Stationery Office, London

Bisat WS (1940) Older and newer drift in East Yorkshire. Proc Yorks Geol Soc 24:137–151

Blewett J, Huntley D (1999) Measurement of suspended sediment transport processes in shallow water off the Holderness coast, UK. Mar Pollut Bull 37:134–143

Blott SJ, Pye K (2001) Gradistat: a grain size distribution of statistics package for the analysis of unconsolidated sediments. Earth Surf Process Landf 26:1237–1248

Brown S (2008) Soft Cliff retreat adjacent to coastal defences, with particular reference to Holderness and Christchurch Bay, UK. PhD Thesis, University of Southampton. 312pp

Brown J, Barton M, Nicholls RJ (2012) The effect of coastal defences on cliff top retreat along the Holderness coastline. Proc Yorks Geol Soc 59:1–13

Catt JA (2007) The Pleistocene glaciations of East Yorkshire: a review. Proc Yorks Geol Soc 56:177–207

Catt JA, Madgett PA (1981) The work of W.S. Bisat F.R.S. on the Yorkshire Coast. In: Neale J, Flenley J (eds) The Quaternary in Britain. Pergamon Press, Oxford, pp 119–136

Catt JA, Penny LF (1966) The Pleistocene deposits of Holderness, East Yorkshire. Proc Yorks Geol Soc 35:375–420

Ciavola P (1997) Coastal dynamics and impact of coastal protection works on the Spurn Head spit (UK). Catena 30:369–389

Dosser J (1955) The coast of Holderness: the problem of erosion. Proc Yorks Geol Soc 30:133–145

ERYC (2014) East Riding of Yorkshire Council Coastal Explorer. Available at: http://eastriding.gov.uk/coastalexplorer/homepage.html. Accessed 25 Feb 15

HR Wallingford, CEFAS, UEA, Posford Haskoning, D'Olier B (2002) Southern North Sea sediment transport study. Phase 2. Sediment Transport Report. Main Report and Appendices. Report produced for Great Yarmouth Borough Council, Report EX 4526, HR Wallingford, Wallingford

IECS (1991) Holderness Coastal Erosion Study Interim Report, 1990–1991. Institute of Estuarine and Coastal Studies, University of Hull

IECS (1994) Holderness Coastal Defence. Report to Joint Advisory Committee for Holderness Coastal Defence. Institute of Estuarine and Coastal Studies, University of Hull

Lamplugh GW (1879) On the divisions of the glacial beds in Filey Bay. Proc Yorkshire Geol Polytechnic Soc 7:167–177

Madgett PA (1975) Re-interpretation of Devensian till stratigraphy in eastern England. Nature 253:105–107

Madgett PA, Catt JA (1978) Petrography, stratigraphy and weathering of Late Pleistocene tills in east Yorkshire, Lincolnshire and North Norfolk. Proc Yorks Geol Soc 42:55–108

Mason SJ, Hansom JB (1988) Cliff erosion and its contribution to a sediment budget for part of the Holderness coast. Shore and Beach 56:30–38

Mathews ER (1905) Erosion on the Holderness coast of Yorkshire. Min Proc Inst Civil Eng 159:58–78

Natural England (2013) Natural Character Area Profile 40: Holderness (NE437). Available at: http://publications.naturalengland.org.uk/publications8569014, last accessed 7 Jul 2014

Newsham R, Balson PS, Tragheim DG, Denniss AM (2002) Determination and prediction of sediment yields from recession of the Holderness Coast, NE England. J Coast Conserv 8:49–54

Pethick JS (1994) Humber estuary and coast: management issues. Institute of Estuarine and Coastal Studies, University of Hull, and Humberside County Council, 19pp

Pethick JS (1996) Coastal slope development: temporal and spatial periodicity in the Holderness Cliff recession. In: Anderson MG, Brooks SM (eds) Advances in Hillslope Processes, vol 2. Wiley-Blackwell, Chichester, pp 897–917

Phillips AW (1962) Some aspects of the coastal geomorphology of Spurn Head, Yorkshire. PhD Thesis, University of Hull

Phillips AW (1964) Some observations on coastal erosion: studies at south Holderness and Spurn Head. Dock Harbour Authority 45:64–66

Pickwell R (1878) The encroachments of the sea from Spurn Point to Flamboro' Head, and the works executed to prevent the loss of land. Min Proc Inst Civ Eng 51:191–212

Posford Duvivier (1993) Easington coast protection, environmental statement. Posford Duvivier, Peterborough

Prandle D, Lane A, Wolf J (2001) Holderness coastal erosion - offshore movement by tides and waves. In: Huntley DA, Leeks GJL, Walling DE (eds) Land - ocean interaction: measuring and modelling fluxes from River Basins to Coastal Seas. IWA Publishing, London, pp 209–240

Pringle AW (1981) Beach development and coastal erosion in Holderness, North Humberside. In: Flenley J (ed) The Quaternary in Britain. Pergamon Press, Oxford, pp 194–205

Pringle AW (1985) Holderness coast erosion and the significance of ords. Earth Surf Process Landf 10:107–124

Redman JB (1869) On the outfall of the River Humber. Discussion of a paper by W Shelford. Min Proc Inst Civ Eng 28:493–497

Reid C (1885) The geology of Holderness and the adjoining parts of Yorkshire and Lincolnshire. Memoir of the Geological Survey of England and Wales, HMSO, London, 180pp

Royal Commission on Coast Erosion and Afforestation (1911) Volume III (Part I). Third (and Final) Report of the Royal Commission Appointed to inquire into and to report on certain Questions affecting Coast Erosion, the Reclamation of Tidal Lands, and Afforestation in the United Kingdom. His Majesty's Stationery Office, London, 292pp

Scott Wilson (2009) Flamborough head to Gibraltar point shoreline management plan. Appendix C - assessment of coastal behaviour and baseline scenarios. Scott Wilson, Basingstoke

Sheppard T (1909) Changes on the East Coast of England within the historical period. 1. Yorkshire. Geogr J 34:500–513

Sheppard T (1912) The lost Towns of the Yorkshire Coast and other chapters bearing on the geography of the district. A.A. Brown & Sons, London, xviii + 328pp

Straw A (1969) Pleistocene events in Lincolnshire: a survey and revised nomenclature. Trans Lincolnshire Nat Union 17:85–98

Thompson C (1923) The erosion of the Holderness coast. Proc Yorks Geol Soc 20:32–39

Townend I, Whitehead P (2003) A preliminary net sediment budget for the Humber Estuary. Science Total Environ 314–316:755–767

UK Hydrographic Office (2013) Admiralty Tide Tables 2015 Volume 1: United Kingdom and Ireland. United Kingdom Hydrographic Office, Taunton

Valentin H (1953) Young morainic topography in Holderness. Nature 72:919–920

Valentin H (1954) Der Landverlust in Holderness, Ostengland, von 1852 bis 1952. Erde 6:296–315

Valentin H (1971) Land loss at Holderness. In: Steers JA (ed) Applied coastal geomorphology. Macmillan, London, pp 116–137

Wood SV, Rome JL (1868) On the glacial and postglacial structure of Lincolnshire and south-east Yorkshire. J Geol Soc Lond 24:146–184
About this article
Cite this article
Pye, K., Blott, S.J. Spatial and temporal variations in soft-cliff erosion along the Holderness coast, East Riding of Yorkshire, UK. J Coast Conserv 19, 785–808 (2015). https://doi.org/10.1007/s11852-015-0378-8
Received:

Accepted:

Published:

Issue Date:
Keywords
Holderness

East Riding

Yorkshire

Soft cliffs

Erosion