Abstract
The article attempts to develop a five dimensional community resilience assessment framework and a composite resilience index against climate related disasters with special applications to the coastal rural communities' in the developing world. Consequently, it narrates the case study of Indian Sundarbans, which serves as a typical example of a complex & dynamic 'socio-ecological' system characterized by dense mangrove forests, high population density and recurrent climate related disasters. In the present study, 'community resilience' of 19 coastal administrative blocks of Indian Sundarbans were assessed through a systematic questionnaire survey of administrative officials and the composite resilience scores were found to vary between 2.51 and 3.63 in a five point scale. Out of the 19 coastal blocks only one could be classified as high resilient block and the rest were found to be in low to moderate resilience categories. In general, the extreme coastal blocks were found to be less resilient due to their high exposure & developmental deficit, however, at the same time, the study finds strong correlation of institutional interventions & effective coastal zone management in enhancing the overall resilience scores. The study concludes with broad recommendation of integrated planning for disaster & climate resilience in this eco-fragile region where low impact economic development remains at the central.
Access options
Buy single article
Instant access to the full article PDF.
US$ 39.95
Tax calculation will be finalised during checkout.
Subscribe to journal
Immediate online access to all issues from 2019. Subscription will auto renew annually.
US$ 79
Tax calculation will be finalised during checkout.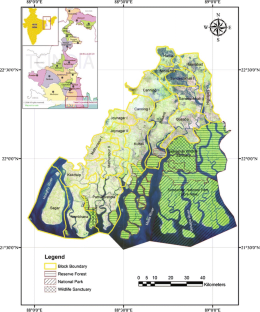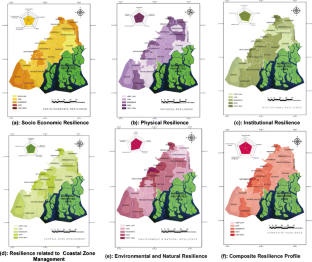 References
Adger WN (2000) Social and ecological resilience: are they related? Prog Hum Geogr 24(3):347–364

Adger WN, Hughes TP, Folke C, Carpenter SR, Rockström J (2005) Social-ecological resilience to coastal disasters. Science 309(5737):1036–1039

Auld H (2008) Disaster Risk Reduction under Current and Changing Climate Conditions. WMO Bull 57(2):118–125

Bandyopadhyay S (1997) Natural environmental hazards and their management: a case study of Sagar Island, India. Singap J Trop Geogr 18(1):20–45

Banerjee A (1998) Environmental Population and Human Settlements of Sundarban Delta. Concept Publishing Company, New Delhi

Béné C, Wood RG, Newsham A, Davies M (2012) Resilience: new utopia or new tyranny? Reflection about the potentials and limits of the concept of resilience in relation to vulnerability reduction programmes. IDS Work Pap 2012(405):1–61

Costanza R, Farley J (2007) Ecological economics of coastal disasters: Introduction to the special issue. Ecol Econ 63(2):249–253

Cutter S (2008) A framework for measuring coastal hazard resilience in New Jersey communities-White Paper for the Urban Coast Institute

Cutter SL, Barnes L, Berry M, Burton C, Evans E, Tate E, Webb J (2008) A place-based model for understanding community resilience to natural disasters. Glob Environ Chang 18(4):598–606

Cutter SL, Burton CG, Emrich CT (2010) Disaster resilience indicators for benchmarking baseline conditions. J Homel Secur Emerg Manag 7(1)

Danielsen F, Sørensen MK, Olwig MF, Selvam V, Parish F, Burgess ND, Suryadiputra N (2005) The Asian tsunami: a protective role for coastal vegetation. Science (Washington) 310(5748):643

DasGupta R, Shaw R (2013) Changing perspectives of mangrove management in India–An analytical overview. Ocean Coast Manag 80:107–118

De Bruijn KM (2004) Resilience indicators for flood risk management systems of lowland rivers. Int J River Basin Manag 2(3):199–210

Edward JP, Lakshmi SA (2010) Coastal Issues and Management Strategy for Sagar Island in Bay of Bengal. Recent Res Sci Technol 2(5)

Folke C (2006) Resilience: The emergence of a perspective for social–ecological systems analyses. Glob Environ Chang 16(3):253–267

Forest Survey of India (2011) State Forest Report-2011

Gopal B, Chauhan M (2006) Biodiversity and its conservation in the Sundarban Mangrove Ecosystem. Aquat Sci 68(3):338–354

Gopinath G (2010) Critical coastal issues of Sagar Island, east coast of India. Environ Monit Assess 160(1–4):555–561

Gopinath G, Seralathan P (2005) Rapid erosion of the coast of Sagar island, West Bengal-India. Environ Geol 48(8):1058–1067

INCCA (2010) Climate change and india; A 4 × 4 Assessment, available online at http://www.moef.nic.in/downloads/public-information/fin-rpt-incca.pdf

IPCC (2012) Summary for Policymakers. In: Managing the Risks of Extreme Events and Disasters to Advance Climate Change Adaptation. In: Field CB, Barros V, Stocker TF, Qin D, Dokken DJ, Ebi KL, Mastrandrea MD, Mach KJ, Plattner G-K, Allen SK, Tignor M, Midgley PM (eds) A Special Report of Working Groups I and II of the Intergovernmental Panel on Climate Change. Cambridge University Press, Cambridge and New York, pp 1–19

Joerin J, Shaw R (2011) Mapping climate and disaster resilience in cities in Community, Environment and Disaster Risk Management, Emerald Publications, UK, 6, 47–61

Joerin J, Shaw R, Takeuchi Y, Krishnamurthy R (2012) Action-oriented resilience assessment of communities in Chennai, India. Environ Hazards 11(3):226–241

Kathiresan K, Rajendran N (2005) Coastal mangrove forests mitigated tsunami. Estuar Coast Shelf Sci 65(3):601–606

Klein RJ, Smit MJ, Goosen H, Hulsbergen CH (1998) Resilience and vulnerability: Coastal dynamics or Dutch dikes? Geogr J. 259–268

Knutson TR, Mcbride JL, Chan J, Emanuel K, Holland G, Landsea C, Held I, Kossin JP, Srivastava AK, Sugi M (2010) Tropical Cyclones and Climate Change. Nat Geosci 3:157–163

Mandal RN, Das CS, Naskar KR (2010) Dwindling Indian Sundarban mangrove: the way out. Sci Cult 76(7–8):275–282

McDaniels T, Chang S, Cole D, Mikawoz J, Longstaff H (2008) Fostering resilience to extreme events within infrastructure systems: characterizing decision contexts for mitigation and adaptation. Glob Environ Chang 18(2):310–318

McGranahan G, Balk D, Anderson B (2007) The rising tide: assessing the risks of climate change and human settlements in low elevation coastal zones. Environ Urban 19(1):17–37

Miller F, Osbahr H, Boyd E, Thomalla F, Bharwani S, Ziervogel G, Nelson D (2010) Resilience and vulnerability: complementary or conflicting concepts? Ecol Soc 15(3):11

Mimura N, Nurse L, McLean RF, Agard J, Briguglio L, Lefale P, Payet R, Sem G (2007) Small islands. Climate Change 2007: Impacts, Adaptation and Vulnerability. In: Parry ML, Canziani OF, Palutikof JP, van der Linden PJ, Hanson CE (eds) Contribution of Working Group II to the Fourth Assessment Report of the Intergovernmental Panel on Climate Change. Cambridge University Press, Cambridge, pp 687–716

Mitra A, Gangopadhyay A, Dube A, Schmidt AC, Banerjee K (2009) Observed changes in water mass properties in the Indian Sundarbans (northwestern Bay of Bengal) during 1980–2007. Curr Sci 97(10):1445–1452

Mukhopadhyay A (2009) Cyclone Aila and the Sundarbans: An Enquiry into the Disaster and Politics of Aid and Relief (http://www.mcrg.ac.in/pp26.pdf)

Murphy BL (2007) Locating social capital in resilient community-level emergency management. Nat Hazards 41(2):297–315

Nakagawa Y, Shaw R (2004) Social Capital: A Missing Link to Disaster Recovery, Int J Mass Emergencies Disasters, 5–34

Nicholls RJ, Branson J (1998) Coastal resilience and planning for an uncertain future: an introduction. Geogr J 164(3):255–258

Nicholls RJ, Cazenave A (2010) Sea-Level Rise and Its Impact on Coastal Zones. Science 328:1517–1520

Nicholls RJ, Wong PP, Burkett VR, Codignotto JO, Hay JE, McLean RF, Ragoonaden S, Woodroffe CD (2007) Coastal systems and low-lying areas. Climate Change 2007. In: Parry ML, Canziani OF, Palutikof JP, van der Linden PJ, Hanson CE (eds) Impacts, Adaptation and Vulnerability. Contribution of Working Group II to the Fourth Assessment Report of the Intergovernmental Panel on Climate Change. Cambridge University Press, Cambridge, pp 315–356

Norris FH, Stevens SP, Pfefferbaum B, Wyche KF, Pfefferbaum RL (2008) Community resilience as a metaphor, theory, set of capacities, and strategy for disaster readiness. Am J Community Psychol 41(1–2):127–150

Peacock WG, Brody SD, Seitz WA, Merrell WJ, Vedlitz A, Zahran S, Harris C, Stickney R (2010) Advancing resilience of coastal localities: developing, implementing, and sustaining the use of coastal resilience indicators: A final report. Hazard reduction and recovery center. final report for NOAA CSC grant no. NA07NOS4730147

Small C, Nicholls RJ (2003) A global analysis of human settlement in coastal zones. J Coast Res 584–599

Stanley DJ, Hait AK (2000) Holocene depositional patterns, neotectonics and Sundarban mangroves in the western Ganges-Brahmaputra delta. J Coast Res 26–39

Teo M, Goonetilleke A, Ziyath AM (2013) An integrated framework for assessing community resilience in disaster management. In Proceedings of the 9th Annual International Conference of the International Institute for Infrastructure Renewal and Reconstruction, Risk-informed Disaster Management: Planning for Response, Recovery and Resilience

Thomalla F, Downing T, Spanger‐Siegfried E, Han G, Rockström J (2006) Reducing hazard vulnerability: towards a common approach between disaster risk reduction and climate adaptation. Disasters 30(1):39–48

U.S. Indian Ocean Tsunami Warning System Program (USIOTWSP) (2007) How Resilient is Your Coastal Community? A Guide for evaluating coastal community resilience to tsunamis and other coastal hazards. U.S. Indian Ocean Tsunami Warning System Program supported by the United States Agency for International Development and partners, Bangkok, Thailand

Uy N, Takeuchi Y, Shaw R (2011) Local adaptation for livelihood resilience in Albay, Philippines. Environ Hazards 10(2):139–153

Vandermeulen H (1998) The development of marine indicators for coastal zone management. Ocean Coast Manag 39(1):63–71
Acknowledgments
The first author greatly acknowledges the MEXT (MONBUKAGAKUSHO) scholarship provided by the Japanese Government for conducting research in the Graduate School of Global Environmental Studies of Kyoto University. The authors would also like to thank the district administrative officials for their administrative support during the field survey at Indian Sundarbans. In this regard, the continuous support of GCOE-ARS program and CoHHO program (Studies on the Connectivity of Hilltop, Human and Ocean) of Kyoto University is thankfully acknowledged.
About this article
Cite this article
DasGupta, R., Shaw, R. An indicator based approach to assess coastal communities' resilience against climate related disasters in Indian Sundarbans. J Coast Conserv 19, 85–101 (2015). https://doi.org/10.1007/s11852-014-0369-1
Received:

Revised:

Accepted:

Published:

Issue Date:
Keywords
Community resilience

Climate related disasters

Resilience indicators

Indian Sundarbans