Abstract
Coastal zones are comprised of a great variety of natural ecosystems and resources and for this reason they are highly attractive for many human activities including settlement and recreational tourism. This great societal interest has resulted in rapid development and even urbanization of the coasts. Coastal tourism is still a rapidly growing part of the economy in many nations including countries along the Black Sea like Bulgaria. Increasingly, coastal areas and ecosystems are pressured by population, tourism, pollution, habitat degradation and loss, overfishing and increased hazards. This study assesses the population changes during 1934–2011 and tourist growth over 1999–2011 in the coastal zone of Bulgaria as an example of human pressure on today's shorelines. The tourist boom over the last decade has resulted in substantial coastal population growth in Bulgaria. Results based on 2011 Census data show that population density in the zone within 10 km of the coast is 223 people per square km, while in 10–30 km and 30–60 km zones from the coast, the density is much less: 27 and 33 people per square km. Tourism has substantially increased over the recent years and it is expected to continue to grow despite the effects of global financial crisis after 2008. Coastal municipalities are also subject to major population influxes during peak vacation periods. Coastal population in summer can typically increase 20 %, but at some municipalities over 320 %. The existing facilities and infrastructure in these most crowded coastal municipalities are unable to meet this additional pressure. These peak periods often overwhelm local treatment capacity resulting in heavy impacts on natural geosystems and natural resources. Obviously, this tourism is critical to many local economies, but in order to preserve the economic benefits, we must also preserve the coastal environment that the tourists so desire. This is the challenge for coastal managers in the 21st Century.
Access options
Buy single article
Instant access to the full article PDF.
USD 39.95
Price excludes VAT (USA)
Tax calculation will be finalised during checkout.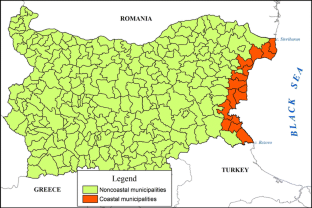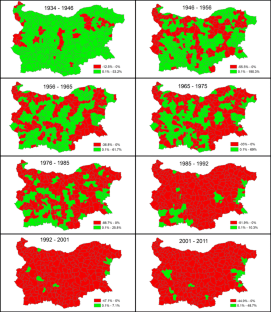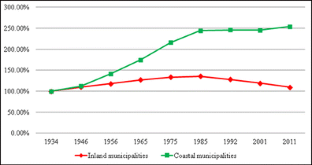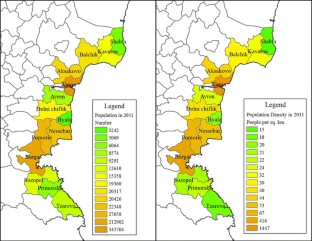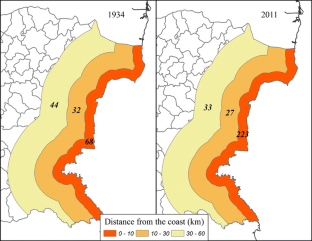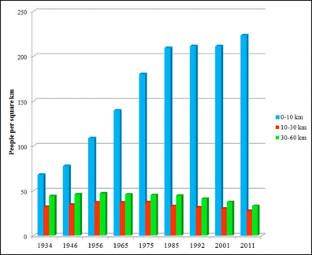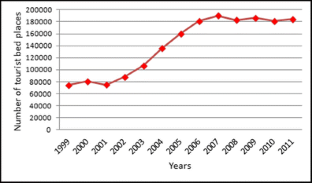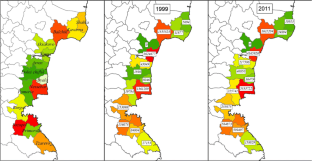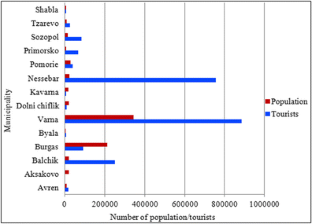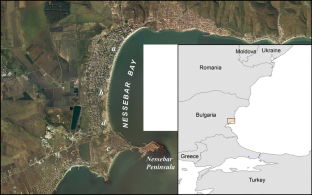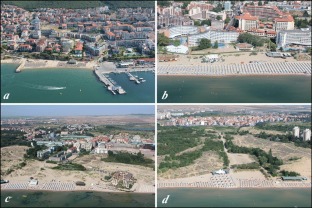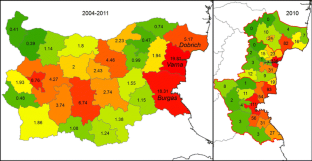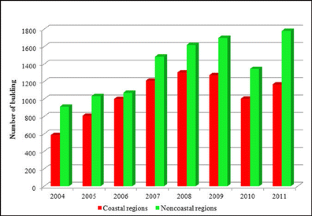 References
Black Sea Coast Development Act (2008) Promulgated, State Gazette No. 48/15.06.2007, effective 1.01.2008, with last changes emended in State Gazette No. 66/26.07.2013.

Carrasco AR, Ferreira Ó, Matias A (2013) Managing flood risk in fetch-limited environments. In: Conley DC, Masselink G, Russell PE, O'Hare TJ(eds.). Proceedings 12th International Coastal Symposium (Plymouth, England), J Coast Res 65: 892–897

Cooper A, McKenna J (2009) Economic Recession: Good News for the Coast? Proceedings of the 1st Annual Beaufort Marine Socio-Economic Workshop. 4–6. Retrieved from: http://www.nuigalway.ie/semru/documents/beaufortworkshop.pdf. Last accessed on 10.08.2014.

Crossett KM, Culliton TJ, Wiley PC, Goodspeed TR (2004) Population trends along the Coastal United States: 1980–2008. National Oceanic and Atmospheric Administration NOAA's National Ocean Service Management and Budget Office Special Projects. Retrieved in pdf from: http://oceanservice.noaa.gov/programs/mb/pdfs/coastal_pop_trends_complete.pdf, last Accessed on 13 Oct 2014

Crossett K, Ache B, Pacheco P, Haber K (2013) National coastal population report, population trends from 1970 to 2020. National Oceanic and Atmospheric Administration, Department of Commerce, developed in partnership with the U.S. Census Bureau. Retrieved in pdf from: http://stateofthecoast.noaa.gov/features/coastal-population-report.pdf, last Accessed on 10 Oct 2014

Culliton TJ (1998) National Oceanic and Atmospheric Administration (NOAA. Population: Distribution, Density and Growth NOAA's State of the Coast Report. Silver Spring, MD: NOAA. Retrieved from: http://oceanservice.noaa.gov/websites/retiredsites/sotc_pdf/POP.PDF; last Accessed 01 Sept 2014

EEA (2006) The changing faces of Europe's coastal areas, (Report № 6), Copenhagen: 107. Retrieved in pdf from: http://www.eea.europa.eu/publications/eea_report_2006_6; last Accessed on 10 Sept 2014

EEA (2013) Balancing the future of Europe's coasts — knowledge base for integrated management, (Report № 12), Copenhagen: 64. Retrieved in pdf from: http://www.eea.europa.eu/publications/balancing-the-future-of-europes. Last accessed on 01 Nov 2014

EuroStat (2010) Statistics in focus. Agriculture and fisheries, 38/2010. Retrieved in pdf from: http://epp.eurostat.ec.europa.eu/cache/ITY_OFFPUB/KS-SF-10-038/EN/KS-SF-10-038-EN.PDF, Last Accessed on 07 Sept 2014

Houston JR (2008) The economic value of beaches - a 2008 update. Shore and Beach 76(3):22–26

International Tourism Bulgaria (2010) Retrieved in pdf from: http://www.mi.government.bg/files/useruploads/files/turism_-_statistika_i_analizi/internationaltourism_bg_jan-dec_2010.pdf (in Bulgarian). Last Accessed on 06 Jun 2014

International Tourism Bulgaria (2012) Retrieved in pdf from: http://www.mi.government.bg/files/useruploads/files/turism_-_statistika_i_analizi/bgtourismjan-dec2012_balancedec.pdf (in Bulgarian). Last Accessed on 06 Jun 2014

Marinski J, Droumeva G, Stancheva, M (2008) Legislation and Integrated Coastal zone Management. 1st PoCoast Seminar on Coastal Research FEUP, Porto, Portugal May 26–28, 2008

National Strategy for Sustainable Development of Tourism in Bulgaria 2009–2013 (2009) Ministry of Economy, Energy and Tourism, Republic of Bulgaria: http://www.mi.government.bg/en/themes/national-strategy-for-sustainable-development-of-tourism-in-bulgaria-2009-2013-286-0.html, last Accessed on 06 Jun 2014

NSI (2012a). Regions, Districts and Municipalities in the Republic of Bulgaria 2010 (in Bulgarian), ISSN 1312–8515, retrieved from: www.nsi.bg/; last Accessed on 12 Sept 2014

NSI (2012b) Population, Volume 1, Part 3: Populations According to the Censuses by Districts, Municipalities and Settlements, Sofia., p 523

Palazov A., Stanchev H (2006) Evolution of human population pressure along the Bulgarian Black Sea coast. Proceeding of 1st Biannual Scientific Conference "Black Sea Ecosystem 2005 and Beyond" (Istanbul, Turkey): 158–160

Pilkey O, Neal WN, Kelley JK, Cooper JAG (2011). The World's Beaches: A Global Guide to the Science of the Shoreline. University of California Press, p. 283, ISBN 978–0520268722

Policy Department B: Structural and Cohesion Policies (2008) The impact of tourism on coastal areas: regional development aspects. Retrieved in pdf from www.europarl.europa.eu/activities/expert/estudies.do?language=en; last Accessed on 08 Feb 2014

Popov V, Mishev K (1974) Geomorphology of the Bulgarian Black Sea coast and shelf Publishing house of the Bulgarian Academy of Sciences, 267pp

Rangel-Buitrago N, Correa ID, Anfuso G, Ergin A, Williams AT (2013) Assessing and managing scenery of the Caribbean Coast of Colombia. Tourism Manage 35:41–58

Sherbinin A, Levy M, Adamo S, MacManu K, Yetman G, Mara V, Razafindrazay L, Goodrich B, Srebotnjak T, Aichele C, Pistolesi L (2012) Migration and risk: net migration in marginal ecosystems and hazardous areas. Environ Res Lett 7:045602: 14, doi:10.1088/1748-9326/7/4/045602

Stamski R, 2005. The impacts of coastal protection structures in California's Monterey Bay National Marine Sanctuary. Marine Sanctuaries Conservation Series MSD-05-3. U.S. Department of Commerce, National Oceanic and Atmospheric Administration, Marine Sanctuaries Division, Silver Spring, MD. 18pp. Retrieved in pdf from: http://sanctuaries.noaa.gov/science/conservation/coast_study.html. Last Accessed on 05 Oct 2014

Stanchev H, Palazov A, Stancheva M (2009) 3D GIS Model for flood risk assessment of varna bay due to extreme sea level rise. J Coast Res (Special Issue 56), ICS2009 (Proceedings): 1597–1601

Stanchev H, Young R, Stancheva M (2013) Integrating GIS and high resolution orthophoto images for the development of a geomorphic shoreline classification and risk assessment—a case study of cliff/bluff erosion along the Bulgarian coast. J Coast Conserv 17:719–728. doi:10.1007/s11852-013-0271-2

Stancheva M (2010) Human-Induced Impacts along the Coastal Zone of Bulgaria. A Pressure Boom versus Environment. Compt Rend Acad Bulg Sci 63(1):137–146

Stancheva M, Ratas U, Orviku K, Palazov A, Rivis R, Kont A, Peychev V, Tõnisson H, Stanchev H (2011) Sand dune destruction due to increased human impacts along the Bulgraian Black Sea and Estonian Baltic Sea coasts. J Coast Res 64:324–328

Tourism Sector, Bulgaria (2012) Ministry of Foreign Affairs of Denmark: Retrieved in pdf from: http://bulgarien.um.dk/da/~/media/Bulgarien/Documents/Sector%20reports%20May%202012/Sectoranalyses_Tourism.ashx) on 12.09.2013; Last Accessed on 28 Oct 2014

UNEP (2009a) Sustainable Coastal Tourism: An integrated planning and management approach, United Nations Environment Program, Priority Actions Program. Retrieved on 13.10.2014 from: http://www.unep.fr/shared/publications/pdf/DTIx1091xPA-SustainableCoastalTourism-Planning.pdf

UNEP (2009b) Marine Litter: A Global Challenge. Nairobi: UNEP. 232pp. Retrieved in pdf from: http://www.unep.org/pdf/unep_marine_litter-a_global_challenge.pdf; last Accessed on 13 Oct 2014

UNWTO (2013) UNWTO tourism highlights. Retrieved on 10.10.2014 from: http://mkt.unwto.org/publication/unwto-tourism-highlights-2013-edition. Last accessed on 10 Oct 2014

Williams AT, Micallef A (2009) Beach management: principles and practices, 445pp. Earthscan, London

Young R, Stancheva M, Stanchev H, Palazov A (2013) Global lessons or future development along the Black Sea coast of Bulgaria. Geological Society of America Annual Meeting, Denver, USA, 27–30 October 2013
About this article
Cite this article
Stanchev, H., Stancheva, M. & Young, R. Implications of population and tourism development growth for Bulgarian coastal zone. J Coast Conserv 19, 59–72 (2015). https://doi.org/10.1007/s11852-014-0360-x
Received:

Revised:

Accepted:

Published:

Issue Date:

DOI: https://doi.org/10.1007/s11852-014-0360-x
Keywords