Abstract
A novel technique of aerial photography was examined using parasailing for mapping the coral reefs located in the coastal waters of Kish Island (central north of the Persian Gulf). A total number of 11 overall and 96 overlapped aerial photos were taken (6 overall and 67 overlapped were selected to use) and then were mosaicked and geo-corrected using ENVI® 5.1 image processing software by considering 8 pre-located diving buoys as ground control points. Afterwards, the corrected overall photos were stitched and used to produce a schematic map while the mosaic was digitized by applying a manual on-screen digitizing method in AutoCAD® raster design software, and a GIS-based topological thematic map was generated as output. The final results revealed that the method is applicable to map the coral reefs, while the ability to distinguish coral types by visual interpretation is the most advantageous factor for the proposed technique. Particularly in the studied area, an area ~4,500 m2 comprising Porites and Acropora spp. as dominant coral genus could be mapped. Additionally, the low cost, quick and easy to manage and implementation, as well as producing precise thematic maps are considered as advantages of applying the proposed technique, in comparison with other alternative methods such as satellite imagery and field observations. In contrast, the limitation of this method is to use it in remote regions or areas with high turbid waters where it is not possible to interpret the coral types visually on the photos.
This is a preview of subscription content,
to check access.
Access this article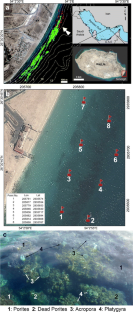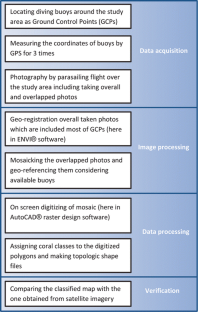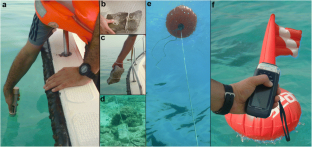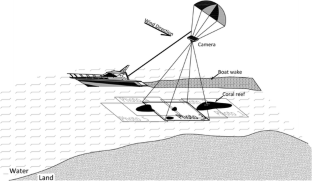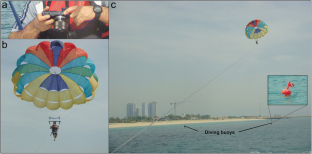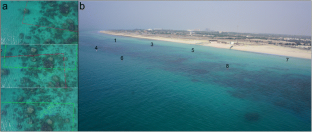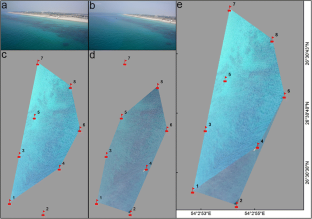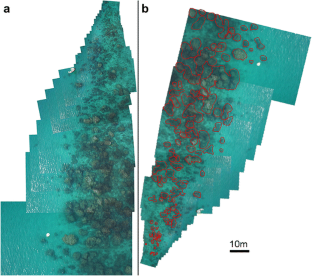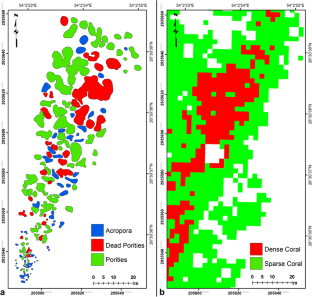 Similar content being viewed by others
References
Allen YC, Wilson CA, Roberts HH, Supan J (2005) High resolution mapping and classification of oyster habitats in nearshore Louisiana using sidescan sonar. Estuaries 28:435–446

Andréfouët S (2008) Coral reef habitat mapping using remote sensing: a user vs producer perspective. Implications for research, management and capacity building. J Spat Sci 53:113–129

Añonuevo (2013) How kites are being used to save PHL coral reefs. GMA news nline. http://www.gmanetwork.com/news/story/337627/scitech/science/how-kites-are-being-used-to-save-phl-coral-reefs

Austin R (2010) Unmanned air systems: UAV design development and deployment. Wiley, Wiltshire

Cuevas-Jiménez A, Ardisson P-L, Condal A (2002) Mapping of shallow coral reefs by colour aerial photography. Int J Remote Sens 23:3697–3712

Fleur (2013) Charting the world's reefs using drones. Monterey herald news. http://www.montereyherald.com/news/ci_24429361/charting-worlds-reefs-using-drones

Foster G, Walker BK, Riegl BM (2009) Interpretation of single-beam acoustic backscatter using lidar-derived topographic complexity and benthic habitat classifications in a coral reef environment. J Coast Res 53:16–26

Freiwald A, Wilson JB, Henrich R (1999) Grounding Pleistocene icebergs shape recent deep-water coral reefs. Sediment Geol 125:1–8

Greene LE, Alevizon WS (1989) Comparative accuracies of visual assessment methods for coral reef fishes. Bull Mar Sci 44:899–912

Holden H, LeDrew E (2002) Measuring and modeling water column effects on hyperspectral reflectance in a coral reef environment. Remote Sens Environ 81:300–308

Huvenne V, Blondel P, Henriet J-P (2002) Textural analyses of sidescan sonar imagery from two mound provinces in the. Porcupine Seabight Mar Geol 189:323–341

Kabiri K, Pradhan B, Rezai H, Ghobadi Y, Moradi M (2012) Fluctuation of sea surface temperature in the Persian Gulf and its impact on coral reef communities around Kish Island. In: Humanities, Science and Engineering (CHUSER), 2012 I.E. Colloquium on. IEEE, pp 164–167

Kabiri K, Pradhan B, Samimi-Namin K, Moradi M (2013a) Detecting coral bleaching, using QuickBird multi-temporal data: a feasibility study at Kish Island, the Persian Gulf. Estuar Coast Shelf Sci 117:273–281

Kabiri K, Pradhan B, Shafri HZM, Mansor SB, Samimi-Namin K (2013b) A novel approach to estimate diffuse attenuation coefficients for QuickBird satellite images: a case study at Kish Island, the Persian Gulf. J Indian Soc Remote Sens 41:797–806

Lewis J (2002) Evidence from aerial photography of structural loss of coral reefs at Barbados, West Indies. Coral Reefs 21:49–56

Lirman D, Gracias NR, Gintert BE, Gleason ACR, Reid RP, Negahdaripour S, Kramer P (2007) Development and application of a video-mosaic survey technology to document the status of coral reef communities. Environ Monit Assess 125:59–73

Manessa MDM, Kanno A, Sekine M, Ampou EE, Widagti N, As-syakur AR (2014) Shallow-water benthic identification using multispectral satellite imagery: investigation on the effects of improving noise correction method and spectral cover. Remote Sens 6:4454–4472

Mishra D, Narumalani S, Rundquist D, Lawson M (2006) Benthic habitat mapping in tropical marine environments using QuickBird multispectral data. Photogramm Eng Remote Sens 72:1037–1048

Mumby P, Green E, Edwards A, Clark C (1997) Coral reef habitat mapping: how much detail can remote sensing provide? Mar Biol 130:193–202

Palandro D, Andréfouët S, Dustan P, Muller-Karger F (2003) Change detection in coral reef communities using Ikonos satellite sensor imagery and historic aerial photographs. Int J Remote Sens 24:873–878

Prada M, Appeldoorn R, Rivera J (2008) The effects of minimum map unit in coral reefs maps generated from high resolution side scan sonar mosaics. Coral Reefs 27:297–310

Purkis S, Pasterkamp R (2004) Integrating in situ reef-top reflectance spectra with Landsat TM imagery to aid shallow-tropical benthic habitat mapping. Coral Reefs 23:5–20

Rezai H, Wilson S, Claereboudt M, Riegl B (2004) Coral reef status in the ROPME sea area: Arabian/Persian Gulf, Gulf of Oman and Arabian Sea. Status Coral Reefs World 1:155–170

Rezai H, Samimi K, Kabiri K, Kamrani E, Jalili M, Mokhtari M (2010) Distribution and abundance of the corals around Hengam and Farurgan islands, the Persian Gulf. J Persian Gulf 1:7–16

Riegl B (1999) Corals in a non-reef setting in the southern Arabian Gulf (Dubai, UAE): fauna and community structure in response to recurring mass mortality. Coral Reefs 18:63–73

Riegl BM, Purkis SJ (2005) Detection of shallow subtidal corals from IKONOS satellite and QTC View (50, 200 kHz) single-beam sonar data (Arabian Gulf; Dubai, UAE). Remote Sens Environ 95:96–114

Rützler K (1978) Photogrammetry of reef environments by helium balloon Coral reefs: research methods UNESCO, Paris

Scoffin T (1982) Reef aerial photography from a kite. Coral Reefs 1:67–69

Sheppard C, Matheson K, Bythell J, Murphy P, Myers CB, Blake B (1995) Habitat mapping in the Caribbean for management and conservation: use and assessment of aerial photography. Aquat Conserv Mar Freshwat Ecosyst 5:277–298

Singh H, Armstrong R, Gilbes F, Eustice R, Roman C, Pizarro O, Torres J (2004) Imaging coral I: imaging coral habitats with the SeaBED AUV. Subsurf Sens Technol Appl 5:25–42

Walker BK, Riegl B, Dodge RE (2008) Mapping coral reef habitats in southeast Florida using a combined technique approach. J Coast Res 24:1138–1150

Yamano H, Tamura M (2004) Detection limits of coral reef bleaching by satellite remote sensing: simulation and data analysis. Remote Sens Environ 90:86–103
Acknowledgments
Authors wish to thank Mr. Mirshahidi and his colleagues in Kish Island for their kind cooperation for performing field observations and parasailing flight. Mrs. Mohammadai and her coworkers in Kish Free Zone Organization are acknowledged for their contribution in the field observations in Kish Island. The authors also would like to thank anonymous reviewers for their constructive suggestions.
About this article
Cite this article
Kabiri, K., Rezai, H., Moradi, M. et al. Coral reefs mapping using parasailing aerial photography- feasibility study: Kish Island, Persian Gulf. J Coast Conserv 18, 691–699 (2014). https://doi.org/10.1007/s11852-014-0345-9
Received:

Revised:

Accepted:

Published:

Issue Date:

DOI: https://doi.org/10.1007/s11852-014-0345-9
Keywords