Abstract
Sea level changes are caused by several natural phenomena, including mainly ocean thermal expansion, glacial melt from Greenland and Antarctica. It was estimated, in this respect, that global average sea level rose, during the 20th Century, by at least 10 cm. This trend is expected to continue and most likely accelerated during the 21st Century due to human-induced global warming. Global average sea level is expected to rise, by the year 2100, due to global warming between 0.18 and 0.59 cm. Such a rise in sea-level will significantly impact coastal areas due to the high concentration of natural and socioeconomic activities and assets located along the coast. The northern coastal zone of the Nile Delta is generally low land, and is consequently vulnerable to direct and indirect impacts of sea level rise (SLR) due to climate changes, particularly inundation. Despite the uncertainty associated with developed scenarios for climate change and expected SLR, there is a need, according to precautionary approach, to assess and analyze the impacts of SLR. Such an assessment, on one hand, can assist in formulating effective adaptation options to specific, sometimes localized, impacts of SLR. On the other hand, such an analysis can contribute significantly to the development of integrated approach to deal with the impacts of SLR. The objective of this paper is to assess and spatially analyze the risks of expected sea level rise (SLR), in particular inundation, and its implications up to the year 2100 in Kafr El Sheikh Governorate, Egypt, using GIS techniques. For that purpose, a GIS was developed for the study area and then utilized to identify the spatial extent of those areas that would be vulnerable to inundation by SLR. Moreover, various land uses/land covers susceptible to such inundation were identified. Results indicate that more than 22.59 % and 24.50 % of the total area of Kafr El Sheikh Governorate would be vulnerable to inundation under B1 and A1FI (IPCC most optimistic and pessimistic scenarios), respectively. No significant difference was noticed between the two scenarios in terms of spatial extent of SLR impacts. It was also found that a significant proportion of these areas were found to be currently either undeveloped or wetlands. Moreover, it was found that about 90.13 % of the vulnerable areas are actually less exposed to the risks of SLR due to the existence of a number of man-made features, not intended as protection measures, e.g. International Coastal Highway, that can be used to limit the areas vulnerable to inundations by SLR.
Access options
Buy single article
Instant access to the full article PDF.
US$ 39.95
Tax calculation will be finalised during checkout.
Subscribe to journal
Immediate online access to all issues from 2019. Subscription will auto renew annually.
US$ 79
Tax calculation will be finalised during checkout.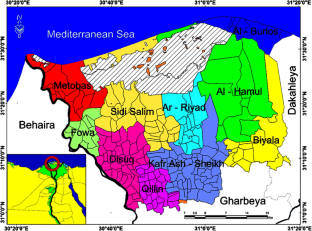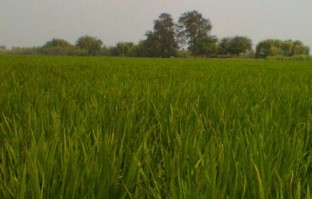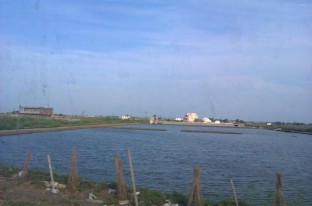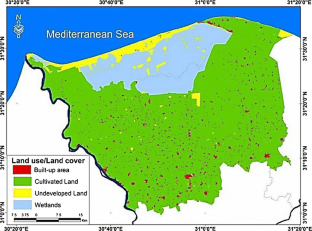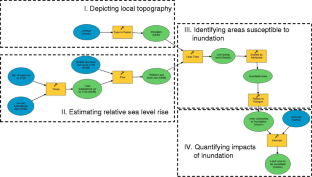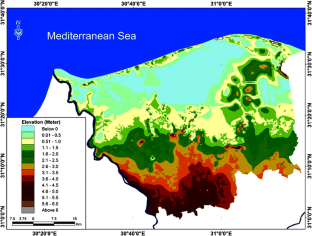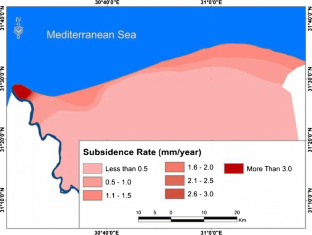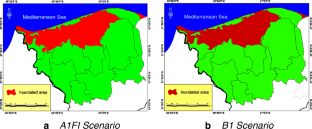 References
Becker RH, Sultan M (2009) Land subsidence in the Nile Delta: interference from radar interferometry, 19, No. 6, 949–954

CAPMAS (2012) Egypt in Figures: Central Agency for Public Mobilization and Statistics (CAPMAS), Cairo, March, 2012

Coastal Research Institute (CoRI) and Drainage Research Institute (DRI) (2010) Vulnerability of Drainage System Infrastructures and Soil Salinity to Expected Sea Level Rise, Unpublished Technical Report, Coastal research institute, Alexandria

Egyptian Environmental Affaires Agency (EEAA), unpublished report, Cairo, undated

El Nahry AH, Doluschitz R (2010) Climate change and its impacts on the coastal zone of the Nile Delta. Environ Earth Sci 59:1497–1506

El Raey M (1997) Vulnerability assessment of the coastal zone of the Nile Delta of Egypt to the impacts of sea level rise. Ocean Coast Manag 37(1):29–40

El Raey M, Nasr S, Frihy O, Desouk S, Dowidar K (1995) Potential impacts of accelerated sea-level rise on Alexandria Governorate, Egypt. J Coastal Res 51:190–204

El Raey M, Fouda Y, Nasr S (1997) GIS assessment of the vulnerability of the Rosetta area, Egypt. Environ Monit Assess 47:59–77

El Raey M, Dewidar K, El Hattab M (1999) Adaptation to the impact of sea level rise in Egypt. J Climate Res 12:117–128

El Raey M, Fouda Y, El-Iskandrani E (2006) Potential impacts of sea level rise on Marina El-Alamin tourist resort, Egypt, A paper presented at the 1st international Conference on Environmental Change of Lake s, Lagoons, and Wetlands of the Southern Mediterranean Region, 3-7 January 2006, Cairo, Egypt, ECOLLAW

Ericson JP, Vörösmarty CJ, Dingman SL, Ward LG, Meybeck M (2006) Effective sea-level rise and deltas: Causes of change and human dimension implications. Global Planet Chang 50:63–82

Frihy OE (1996) Some proposals for the coastal management of the Nile Delta coast. Ocean Coast Manag 30(1):43–59

Frihy OE (2003) The Nile Delta-Alexandria coast: vulnerability to sea level rise, consequences and adaptation. Mitig Adapt Strateg Glob Chang 8:115–138

IPCC (2000) Emission Scenarios, Nebojsa Nakicenovic and Rob Swart (Eds.), Cambridge University Press, UK

IPCC (2007) Climate Change 2007: Impacts, Adaptation and Vulnerability. Contribution of Working Group II to the Fourth Assessment Report of the Intergovernmental Panel on Climate Change, M.L. Parry, O.F. Canziani, J.P. Palutikof, P.J. van der Linden and C.E. Hanson, Eds., Cambridge University Press, Cambridge, UK

Milliman John D, Broadus JM, Frank G (1989) Environmental and economic implications of rising sea level and subsiding deltas: the Nile and Bengal examples. Ambio 18(6):340–345

Ministry of State for Environmental Affairs (MSEA) (2001) National Environmental Action Plan (NEAP) 2002-2017. MSEA, Cairo

Nicholls JR (2003) Case study on sea-level rise impacts. OECD Workshop on the Benefits of Climate Policy, pp. 1–32

Nicholls RJ (2004) Coastal flooding and wetland loss in the 21st century: changes under the SRES climate and socio-economic scenarios. Glob Environ Chang 14:69–86

Sahin O, Mohamed S (2010) Sea-level rise and adaptation response for coastal construction: A spatial-temporal decision making tool, Second Internaltional Conference on Construction in Developing Countries (ICCIDS-II), (pp 437–446). Cairo

Stanley DJ (1997) Mediterranean deltas: subsidence as a major control of relative sea-level rise, Bulletin de I'lnslilul occanographique, Monaco, n special 18, ClESM Science Series n 3, pp. 35–62

Stanley DJ, Warne AG (1993) Nile Delta: Recent geological evolution and human impact. Science 260:628–634

Suarez, Pablo, William Anderson, Vijay Mahal, Lakshmanan TR (2005) Impacts of flooding and climate change on urban transportation: A system wide performance assessment of the Boston Metro Area, Transportation Research Part D 10 (2005) pp 231–244

UNDP-RBAS, UNDP Regional Bureau of Arab States, Impacts of sea level rise on Arab region, http://www.arabclimateinitiative.org/Countries/egypt/ElRaey_Impact_of_Sea_Level_Rise_on_the_Arab_Region.pdf accessed on 10/05/2012
Acknowledgment
This research work is part of a research project sponsored by the IDRC-Canada for establishing Alexandria Research Center for Adaptation to Climate Change (ARCA) at the University of Alexandria, Egypt.
About this article
Cite this article
Hassaan, M.A. GIS-based risk assessment for the Nile Delta coastal zone under different sea level rise scenarios case study: Kafr EL Sheikh Governorate, Egypt. J Coast Conserv 17, 743–754 (2013). https://doi.org/10.1007/s11852-013-0273-0
Received:

Revised:

Accepted:

Published:

Issue Date:
Keywords
Inundation

Sea level rise

GIS