Abstract
This paper demonstrates the effectiveness of integrating GIS and modern spatial data for the development of a detailed geomorphic classification of the Bulgarian Black Sea coast. This classification is important for the precise measurement of various natural and technogenous (engineered) coastline types and serves as a basis for identification of the areas with high exposure to different coastal hazards. To illustrate potential uses of this simple methodology, a map of the potential coastal erosion/cliff retreat hazard for the Bulgarian coast was produced from this GIS database. Several types of data were used: high resolution orthophoto, topographical maps in 1:5,000 scale and geological maps. Geomorphic classification utilized both geomorphological and engineering criteria. A total of 867 segments were delineated along the coast. Four hundred sixty five were classified as natural landforms (cliffs, beaches, river mouths) with a total length of 362,62 km and 402 were indicated as technogenous segments (port and coast-protection structures, artificial beaches) with a total length of 70 km. Based on the geologic materials present at each segment and cliff height, the cliffed portions of the Bulgarian coast were classified for expected erosion rates, and therefore, hazard vulnerability: low hazard (volcanic type cliff); moderate hazard (limestone type cliff) and high hazard (loess and clayey types cliff). This "predictive model" was then compared to a previously published field study of coastal erosion rates to validate the model. As a result, a new high quality, but qualitative data for Bulgarian coastal bluff/cliff erosion were obtained, incorporated and analyzed in GIS.
Access options
Buy single article
Instant access to the full article PDF.
USD 39.95
Price excludes VAT (USA)
Tax calculation will be finalised during checkout.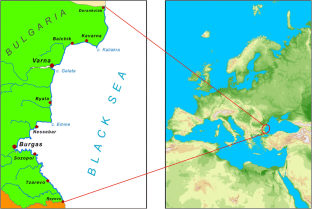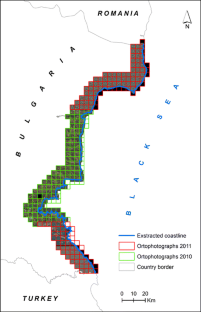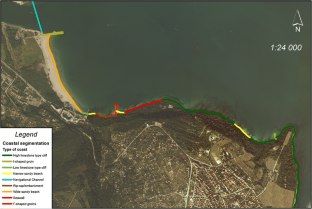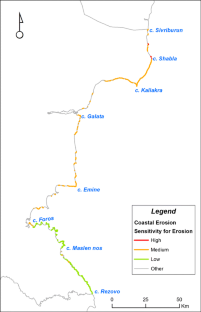 References
Anfuso G, Martinez del Pozo JA (2005) Towards management of coastal erosion problems and human structures impacts using GIS tools: case study in Ragusa Province, Southern Sicily, Italy. Environ Geol 48:646–659

Boak EH, Turner IL (2005) Shoreline definition and detection: a review. J Coast Res 21(4):688–703

Buddemeier RW, Smith SV, Swaney DP, Crossland CJ, Maxwell BA (2008) Coastal typology: an integrative "neutral" technique for coastal zone characterization and analysis. Estuar Coast Shelf Sci 77(2):197–205

Chen S, Chen L-f, Liua Q, Li X, Tan Q (2005) Remote sensing and GIS-based integrated analysis of coastal changes and their environmental impacts in Lingding Bay, Pearl River Estuary, South China. Ocean Coast Manag 48:65–83

DEDUCE consortium (2007) Indicators guidelines: to adopt an indicators-based approach to evaluate coastal sustainable development; Department of the Environment and Housing, Government of Catalonia, Barcelona (http://www.im.gda.pl/images/ksiazki/2007_indicators_guidelines.pdf). Accessed 02 June 2013

EUROSION Project (2004a) Living with coastal erosion in Europe: Sediment and Space for Sustainability. PART I - Major findings and Policy Recommendations of the EUROSION project (http://www.eurosion.org/reports-online/part1.pdf). Accessed 05 July 2013

EUROSION Project (2004b) Living with coastal erosion in Europe: sediment and space for sustainability. PART II—maps and statistics (http://www.eurosion.org/reports-online/part2.pdf). Accessed 05 July 2013

Gens R (2011) Remote sensing of coastlines: detection, extraction and monitoring. Int J Remote Sens 31(7):1819–1836

Goodchild MF (2009) Geographic information systems and science: today and tomorrow. Ann GIS 15(1):3–9

Griggs G (2005) The impacts of coastal armouring. Shore Beach 73(1):13–22

Liu H, Wang L, Sherman D, Wu Q, Su H (2011) Algorithmic foundation and software tools for extracting shoreline features from remote sensing imagery and LiDAR data. Int J Geogr Inf Syst 3:99–119

Morton RA, Peterson RL (2005) U.S. coastal classification atlas. Geological Survey. Open File Report 2005–1003: 32 p., http://pubs.usgs.gov/of/2005/1003/index.html. Accessed 15 December 2012

Palazov A, Stanchev H, Stancheva M (2007) Coastal population hazards due to extremal sea level rise—Sunny beach resort case study. In Proceedings of the 4th International Conference: Global Changes and Problems—Theory and Practice, Sofia, Bulgaria: 93–97

Pan PSY (2005) Monitoring coastal environments using remote sensing and GIS. In: Bartlett D, Smith J (eds) GIS for coastal zone management. CRC Press, Boca Raton, pp 62–75, ISBN 0-415-31972-2

Parlichev D (1986) Method for investigation of coast and shallow bottom area dynamic. Oceanology 15:58–65 (In Bulgarian)

Pashova L, Jovev I (2007) Geoid modelling for the Black Sea and future prospects. In: Guedes Soares, Kolev (eds) Maritime industry, ocean engineering and coastal resources. Taylor & Francis Group, London, pp 761–768

Peychev V, Stancheva M (2009) Changes of sediment balance at the Bulgarian Black Sea coastal zone influenced by anthropogenic impacts. Compt Rend Acad Bulg Sci 62(2):277–285

Puissant A, Lefevre S, Weber J (2008) Coastline extraction in VHR imagery using mathematical morphology with spatial and spectral knowledge. In: International Archives of the Photogrammetry, Remote Sensing and Spatial Information Sciences, Vol. XXXVII. Part B8. Beijing 2008: 1305–1310

Sharples C (2006) Indicative mapping of tasmanian coastal vulnerability to climate change and sea-level rise: explanatory report, 2nd Edition; Report to Department of Primary Industries & Water, Tasmania: 173 http://www.dpiw.tas.gov.au/inter.nsf/WebPages/PMAS-6B56BV?open. Accessed 30 October 2012

Sharples C (2007) National Shoreline Geomorphic and Stability Mapping Project. http://www.walis.wa.gov.au/projects/WALIS_Marine_Group/images/wmg-rojects/acvgeo_projectintro.pdf. Accessed 30 October 2012

Southeast regional coastal monitoring programme - Digital Aerial Photos http://www.channelcoast.org/southeast/survey_techniques/airborne_remote_sensing_topographic_surveys/ Accessed 30 October 2012

Stanchev H (2009) Studying coastline length through GIS techniques approach: a case of the Bulgarian Black Sea coast. Compt Rend Acad Bulg Sci 62(4):507–514

Stanchev H, Palazov A, Stancheva M (2009) 3D GIS model for flood risk assessment of Varna bay due to extreme sea level rise. J Coast Res Special Issue 56:1597–1601, ICS2009 (Proceedings) Portugal

Stancheva M (2009) Indicative GIS-based segmentation of the Bulgarian Black Sea coastline for risk assessment. Compt Rend Acad Bulg Sci 62(10):1311–1318

Stancheva M (2010) Human-induced impacts along the Coastal Zone of Bulgaria. A pressure boom versus environment. Compt Rend Acad Bulg Sci 63(1):137–146

Stancheva M, Marinski J (2007) Coastal defence activities along the Bulgarian Black Sea coast: methods for protection or degradation? In: Franco L, Tomasicchio G, Lamberti A (eds) Coastal structures 2007: Proc. of the 5th International Conference, Venice, Italy, 2–4 July 2007:480–489

Vafeidis AT, Nicholls RJ, McFadden L, Tol RS, Hinkel J, Spencer T, Grashoff PS, Boot G, Klein RJT (2008) A new global coastal database for impact and vulnerability analysis to sea-level rise. J Coast Res 24(4):917–924
Acknowledgments
The present study has been supported by National Science Fund – Ministry of Education, Youth and Science, Republic of Bulgaria, Contract No: DNTS 02/11 from 29.09.2010 in the frame of a Joint Research Project between Bulgaria and Romania (2010–2012). The Ministry of Agriculture and Food (Republic of Bulgaria) is deeply acknowledged for providing the modern orthophoto and satellite image data needed and useful also for implementation of the project activities.
About this article
Cite this article
Stanchev, H., Young, R. & Stancheva, M. Integrating GIS and high resolution orthophoto images for the development of a geomorphic shoreline classification and risk assessment—a case study of cliff/bluff erosion along the Bulgarian coast. J Coast Conserv 17, 719–728 (2013). https://doi.org/10.1007/s11852-013-0271-2
Received:

Revised:

Accepted:

Published:

Issue Date:

DOI: https://doi.org/10.1007/s11852-013-0271-2
Keywords