Abstract
Barrier islands and coastal beach systems provide nesting habitat for marine and estuarine turtles. Densely settled coastal areas may subsidize nest predators. Our purpose was to inform conservation by providing a greater understanding of habitat-based risk factors for nest predation, for an estuarine turtle. We expected that habitat conditions at predated nests would differ from random locations at two spatial extents. We developed and validated an island-wide model for the distribution of predated Diamondback terrapin nests using locations of 198 predated nests collected during exhaustive searches at Fisherman Island National Wildlife Refuge, USA. We used aerial photographs to identify all areas of possible nesting habitat and searched each and surrounding environments for nests, collecting location and random-point microhabitat data. We built models for the probability of finding a predated nest using an equal number of random points and validated them with a reserve set (N = 67). Five variables in 9 a priori models were used and the best selected model (AIC weight 0.98) reflected positive associations with sand patches near marshes and roadways. Model validation had an average capture rate of predated nests of 84.14 % (26.17–97.38 %, Q1 77.53 %, median 88.07 %, Q3 95.08 %). Microhabitat selection results suggest that nests placed at the edges of sand patches adjacent to upland shrub/forest and marsh systems are vulnerable to predation. Forests and marshes provide cover and alternative resources for predators and roadways provide access; a suggestion is to focus nest protection efforts on the edges of dunes, near dense vegetation and roads.
Access options
Buy single article
Instant access to the full article PDF.
USD 39.95
Price excludes VAT (USA)
Tax calculation will be finalised during checkout.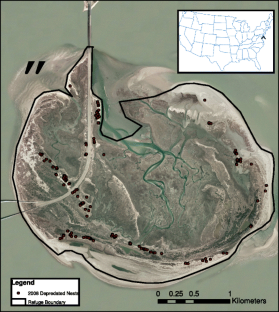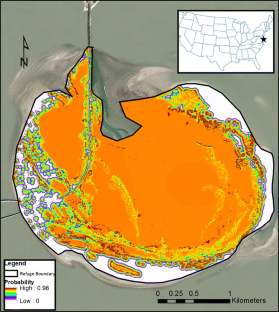 References
Bagstad KJ, Stapleton K, D'Agostino JR (2007) Taxes, subsidies, and insurance as drivers of United States coastal development. Ecol Econ 285–298

Beaudry F, deMaynadier PG, Hunter ML (2008) Identifying road mortality threat at multiple spatial scales for semi-aquatic turtles. Biol Cons 141:2550–2563

Boarman WI (2003) Managing a subsidized predator population: Reducing common raven predation on desert tortoises. Env Man 32:205–217

Browne CL, Hecnar SJ (2007) Species loss and shifting population structure of freshwater turtles despite habitat protection. Biol Cons 138:421–429

Burger J (1977) Determinants of hatchling success in diamondback terrapin, Malaclemys terrapin. Amer Mid Nat 97:444–464

Burger J, Montevecchi WA (1975) Nest site selection in the terrapin Malaclemys terrapin. Copeia 1975:113–119

Burke RL, Felice SM, Sobel SG (2009) Changes in raccoon (Procyon lotor) predation behavior affects turtle (Malaclemys terrapin) nest census. Chel Consv Biol 8:208–211

Burnham KP, Anderson DR (2002) Model selection and multimodel inference: A practical information-theoretic approach. Springer-Verlag, Inc., New York

Butler JA, Broadhurst C, Green M, Mullin Z (2004) Nesting, nest predation and hatchling emergence of the Carolina diamondback terrapin, Malaclemys terrapin centrata, in northeastern Florida. Amer Mid Nat 152:145–155

Congdon JD, Dunham AE, Van Loben Sels RC (1993) Delayed sexual maturity and demographics of Blanding's turtles (Emydoidea blandingii): Implications for conservation and management of long-lived organisms. Conserv Biol 7:826–833

Congdon JD, Tinkle DW, Breitenbach GL, van Loben Sels RC (1983) Nesting ecology and hatching success in the turtle Emydoidea blandingii. Herpetologica 39:417–429

Crooks KR, Soule ME (1999) Mesopredator release and avifaunal extinctions in a fragmented system. Nature 400:563–566

Dijak WD, Thompson FR (2000) Landscape and edge effects on the distribution of mammalian predators in Missouri. J Wildl Man 64:209–216

Ernst CH, Lovich JE (2009) Turtles of the United States and Canada. John Hopkins University Press, Baltimore

Feinburg JA, Burke RL (2003) Nesting ecology and predation of diamondback terrapins, Malaclemys terrapin, at Gateway National Recreation Area, New York. J Herp 37:517–526

Garrott RA, White PJ, Vanderbilt White CA (1993) Overabundance: An issue for conservation biologists? Conserv Biol 7:946–949

Gehring TM, Swihart RG (2003) Body size, niche breadth, and ecologically scaled responses to habitat fragmentation: Mammalian predators in an agricultural landscape. Biol Conserv 109:283–295

Gibbons JW, Lovich JE, Tucker AD, Fitzsimmons NN, Greene JL (2001) Demographic and ecological factors affecting conservation and management of the diamondback terrapin (Malaclemys terrapin) in South Carolina. Chel Consv Biol 4:66–74

Gibbons JW, Scott DE, Ryan TJ, Buhlmann KA, Tuberville TD, Metts BS, Greene JL, Mills T, Leiden Y, Poppy S, Winne CT (2000) The global decline of reptiles, deja vu amphibians. BioScience 50:653–666

Hackney AD (2010) Conservation biology of the diamondback terrapin in North America: Policy status, nest predation and managing island populations. MS Thesis, Clemson University

Hackney AD, Denmon P (2008) Monitoring of northern diamondback terrapin (Malaclemys terrapin terrapin) on fisherman island national wildlife refuge in cape charles. VA. USFWS, Cape Charles

Hampton SE (2004) Habitat overlap of enemies: Temporal patterns and the role of spatial complexity. Oecologia 138:475–484

Kolbe J, Janzen F (2002) Spatial and temporal dynamics of turtle nest predation: Edge effects. Oikos 99:538–544

Leighton PA, Horrocks JA, Krueger BH, Beggs JA, Kramer DL (2008) Predicting species interactions from edge responses: mongoose predation on hawksbill sea turtle nests in fragmented beach habitat. Proc Roy Soc Biol Sci 275:2465–2472

Lovich JE, Gibbons JW (1990) Age at maturity influences adult sex ratio in the turtle Malaclemys terrapin. Oikos 59:126–134

Marchand MN, Litvaitis JA (2004) Effects of landscape composition, habitat features, and nest distribution on predation rates of simulated turtle nests. Biol Conserv 117:243–251

Marchand MN, Litvaitis JA, Maier TJ, DeGraaf RM (2002) Use of artificial nests to investigate predation on freshwater turtle nests. Wildl Soc Bull 30:1092–1098

Martin J, O'Connell A, Kendall WL, Runge MC, Simons TR, Waldstein AH, Schulte SA, Converse SJ, Smith GW, Pinion T, Rikard M, Zipkin EF (2010) Optimal control of native predators. Biol Conserv 143:1751–1758

Martin TE (1993) Nest predation and nest sites: New perspectives on old patterns. BioScience 43:523–532

Martin TE, Scott J, Menge C (2000) Nest predation increases with parental activity: Separating nest site and parental activity effects. Proc Roy Soc Biol Sci 267:2287–2293

Phillips ML, Clark WR, Sovada MA, Horn DJ, Koford RR, Greenwood RJ (2003) Predator selection of prairie landscape features and its relation to duck nest success. J Wild Man 67:104–114

Ratnaswamy MJ, Warren RJ (1998) Removing raccoons to protect sea turtle nests: Are there implications for ecosystem management? Wildl Soc Bull 26:846–850

Rodgers JA (1987) On the antipredator advantages of coloniality: A word of caution. Wils Bull 99:269–271

Roosenburg WM (1990) The diamondback terrapin: Population dynamics, habitat requirements and opportunities for conservation. In new perspectives in the chesapeake system: A research and management partnership pp. 227–234. Chesapeake Research Consortium, Baltimore

Roosenburg WM (1994) Nesting habitat requirements of the diamondback terrapin: A geographic comparison. Wetlands J 6:9–12

Roosenburg WM (1996) Maternal condition and nest site choice: An alternative for the maintenance of environmental sex determination? Amer Zool 36:157–168

Rose MD, Polis GA (1998) The distribution and abundance of coyotes: The effects of allochthonous food subsidies from the sea. Ecology 79:998–1007

Ross DA, Anderson RK (1990) Habitat use, movements, and nesting of Emydoidea blandingi in Central Wisconsin. J Herp 24:6–12

Seigel RA (1980) Predation by racoons on Diamondback terrapins, Malaclemys terrapin tequesta. J Herp 14:87–89

Spencer R-J, Thompson MB (2003) The significance of predation in nest site selection of turtles: An experimental consideration of macro- and microhabitat preferences. Oikos 102:592–600

Spencer R (2002) Experimentally testing nest site selection: Fitness trade-offs and predation risk in turtles. Ecology 83:2136–2144

Steen DA, Gibbs JP (2004) Effects of roads on the structure of freshwater turtle populations. Conserv Biol 18:1523–1739

Temple SA (1987) Predation on turtle nests increases near ecological edges. Copeia 1987:250–252
Acknowledgments
We thank the U.S. Fish and Wildlife Service STEP program, P. Denmon, and the staff of the Eastern Shore of Virginia NWR. We appreciate thoughtful input from D. Guynn, C. Post, S. Esswein and A. Pitt, and manuscript comments from J. Lovich, C. Loftin, and 2 anonymous reviewers.
About this article
Cite this article
Hackney, A.D., Baldwin, R.F. & Jodice, P.G.R. Mapping risk for nest predation on a barrier island. J Coast Conserv 17, 615–621 (2013). https://doi.org/10.1007/s11852-013-0260-5
Received:

Revised:

Accepted:

Published:

Issue Date:

DOI: https://doi.org/10.1007/s11852-013-0260-5
Keywords