Abstract
This article addresses two related themes: the response of coastal communities to the impact of environmental processes and human actions as reflected in archaeology, and threats to the archaeological record emanating from current natural and human agencies. The geographical context is the entire east coast of Africa, although emphasis is placed on Swahili settlements in the light of their long-standing dependence upon maritime resources and trading opportunities. Evidence is derived from documentary sources and field studies with detailed data from Kilwa, Tanzania. Physical conditions are relatively benign, but threats are identified in adverse weather events, erosion, and sedimentation processes. Knowledge of past climatic impacts upon shipping is restricted by limited research of the off-shore environment. On-shore, the archaeological record provides evidence of protective construction work, possibly where erosion precipitated by removal of mangroves. However, unless significant port investments required safeguarding, relocation of landing area and settlement was principal response to erosion and sedimentation. Current threats to archaeology are far more significant both from natural processes of marine erosion and vegetation growth encouraged by urban decline and neglect. Limited legislation and resources are seen as the greatest impediments to investigation and protection of heritage from urban and tourism inspired development in future.
Access options
Buy single article
Instant access to the full article PDF.
US$ 39.95
Tax calculation will be finalised during checkout.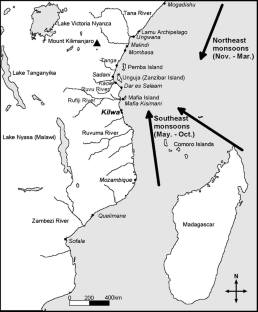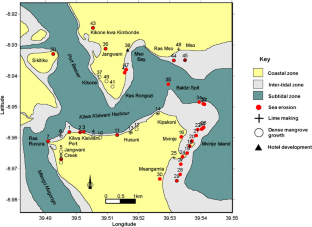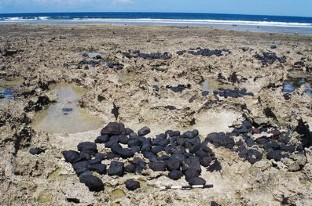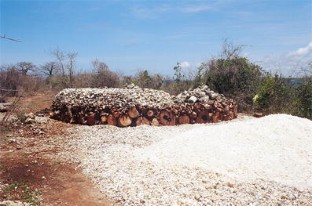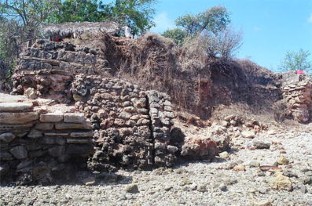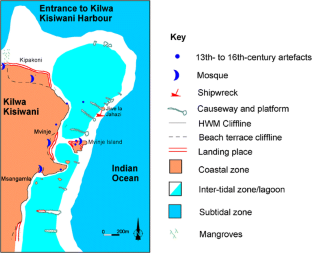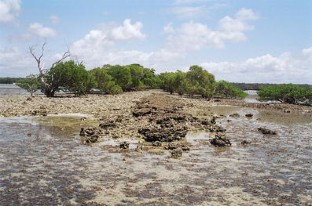 References
Alexander C (1968) The marine terraces of the northeast coast of Tanzania. Z für Geomorphol Suppl 7:133–154

ARDA (1960) Annual report of the department of antiquities for 1959. The Government Printer, Dar es Salaam

Ǻse L-E (1987) Sea level changes on the East Coast of Africa during the Holocene and late Pleistocene. In: Tooley MJ, Shannon I (eds) Sea-level changes. Blackwell, Oxford, pp 276–295

Behre R (2011) End of archaeological surveys hides history, some say. Post and Courier 11 December 2011. Available via http://www.postandcourier.com/news/2011/dec/11/how-much-is-still-out-there/. Accessed 25 February 2012

Breen C, Lane P (2003) Archaeological approaches to East Africa's changing seascape. World Archaeol 35:469–489

Breen C, Forsythe W, Lane P, McErlean T, McConkey R, Omar AL, Quinn R, Williams B (2001) Recent maritime archaeological research on the East African coast. Afr Archaeol Today 75:797–798

Casson L (1989) The Periplus Maris Erythraei. Princeton University Press, Princeton

Chami F (2004) Chapter 13: Graeco-Roman Documents about Azania: A New Look at Some Controversial Issues. In: Oestigaard T, Anifinset N, Saetersdal T (eds) Combining the Past and the Present: Archaeological perspectives on society: Proceedings from the conference 'Pre-history in a global perspective' held in Bergen, August 31 st – September 2 nd 2001 in honour of Professor Randi Haaland's 60 th anniversary. Archaeopress, Oxford, pp 137–41

Chami FA (2003) Climate change on the East African Coast since 3000BC: archaeological indications. Stud Afr Past 3:1–20

Chittick N (1969) An archaeological reconnaissance of the southern Somali coast. Azania 4:115–130

Chittick N (1974) Kilwa: an Islamic trading city on the East African coast. The British Institute in Eastern Africa, Nairobi

Chittick N (1977) News items: British Institute in Eastern Africa. Nyame Akuma 10:5–6

Chittick N (1979) Early ports in the Horn of Africa. Int J Nautical Archaeol Underw Explor 8:273–277

Chittick N (1984) Manda: excavations at an island port on the Kenya coast. The British Institute in Eastern Africa, Nairobi

Communities and Local Government (2011) Draft national planning framework: impact assessment. Dept for Communities and Local Government, London

Datoo BA (1970) Rhapta: the location and importance of East Africa's first port. Azania 5:165–176

Davidson A (2002) The coastal archaeology of Wales. Council for British Archaeology

Dharani N (2002) Field guide to common trees and shrubs of East Africa. Struik Publishers, Cape Town

Fitzpatrick SM (2010) On the shoals of giants: natural catastrophes and the overall destruction of the Caribbean's archaeological record. J Coast Conserv. doi:10.1007/s11852-010-0109-0

Francis J, Mahongo S, Semesi A (2001) Part 1 The coastal environment. In: Eastern Africa atlas of coastal resources Tanzania, United Nations Environment Programme, Nairobi

Freeman-Grenville GSP (1962) The East African coast: select documents from the first to the earlier nineteenth century. Clarendon, Oxford

Geological Survey of Denmark and Greenland (2006) Environmental sensitivity atlas for coastal area of Kenya. GEUS, Copenhagen

Heyworth M (2011) Campaigns, comments and communications from the CBA. British Archaeology 120

Horton M (1996) Shanga: the archaeology of a Muslim trading community on the coast of East Africa. The British Institute in Eastern Africa, London

Horton M, Clark C (1985) Ras Mkumbuu and Mtambwe Mkuu. Azania 20:167–171

Horton M, Middleton J (2000) The Swahili: the social landscape of a mercantile society. Blackwell, Oxford

Horton MC, Brown HM, Oddy WA (1986) The Mtambwe hoard. Azania 21:115–123

Kairu K, Nyandwi N (eds) (2000) Guidelines for the study of shoreline change in the Western Indian Ocean. Region Intergovernmental Manuals and Guides Oceanographic Commission 40, UNESCO

Kankpeyeng BW, DeCorse CR (2004) Ghana's vanishing past: development, antiquities and the destruction of the archaeological record. Afr Archaeol Rev 21:89–128

Kessy ET (1997) Archaeological sites survey from Kisiju to Dar es Salaam. Nyame Akuma 48:57–69

Kileo OS (2004) State of rescue archaeology in Tanzania mainland. In: ICCROM et al. (eds) Africa 2009 conservation of immovable cultural heritage, report on the 5th regional thematic seminar on sustainable tourism and immovable cultural heritage 26–30 October 2004. http://africa2009.net/common/reports/nigeria04.pdf. Accessed 23 October 2009

Kirkman J (1966) Ungwana on the Tana. Mouton, Paris

Kusimba CM (1999) The rise and fall of the Swahili states. Sage Publications, London

Kwekason A (2002) Geo-environmental aspects of the Dar es Salaam area. Stud Afr Past 2:15–24

Lane PJ (2005) Tanzania's maritime heritage: archaeological perspectives on past, present and future research. In: Mapunda BBB, Msemwa P (eds) Salvaging the cultural heritage of Tanzania. University Press, Dar es Salaam

LaViolette A (1996) Report on excavations at the Swahili site of Pujini, Pemba Island, Tanzania. Nyame Akuma 46:72–83

LaViolette A, Fawcett WB, Karoma NJ, Schmidt PR (1999) New Africa hotel site. Nyame Akuma 52:74–78

Lawyers' Environmental Action Team (LEAT) (2009) EIA in Tanzania's environmental law and planning. Available via http://www.leat.or.tz. Accessed 23 October 2009

Mabulla AZ (1996) Endangered sites. Afr Rev 13

Manek M (2001)The implementation of biodiversity related convention: a Kenya case study. UNEP

Mapunda BB (2002) Iron metallurgy along the Tanzanian coast: Southern Africa in the Swahili world. Stud Afr Past 2:76–88

Météo France à La Réunion (2009). http://www.meteofrance/temps/domtom/ La_Reunion/TGPR/saison20072008. Accessed 8 August 2009

Mörner N-A (1993) Global change—the last millennia. Glob Planet Chang 7:211–217

Mörner N-A (1995) Sea level and climate—the decadal-to-century signals. J Coast Res 17:261–268

Mörner N-A (2000) Sea level changes and coastal dynamics in the Indian Ocean. Integr Coast Zone Manag, Launch Edition 17–21

Newitt M (1978) The southern Swahili coast in the first century of European expansion. Azania 13:111–126

Peacock D, Blue L (eds) (2006) Myros Hormos—Quseir al-Qadim, Roman and Islamic ports on the Red Sea, volume 1: survey and excavations 1999–2003. Oxbow Books, Oxford

Peltier R, Fairbanks RG (2006) Global glacial ice volume and last glacial maximum duration from an extended Barbados sea level record. Quaternary Sci Rev 25:3322–3337

Phillipson DW (1977) The later prehistory of eastern and southern Africa. Heinemann, London

Piercy RCM (1977) Mombasa wreck excavation, preliminary report. Int J Nautical Archaeol 6:331–347

Pollard E (2008a) The archaeology of Tanzanian coastal landscapes in the 6th to 15th Centuries AD. Archaeo press, Oxford

Pollard E (2008b) Inter-tidal causeways and platforms of the 13th- to 16th-century city-state of Kilwa Kisiwani, Tanzania. Int J Nautical Archaeol 37:98–114

Pollard E (2009) Settlement adaptation to a changing coastline: archaeological evidence from Tanzania, during the first and second Millennia AD. J Isl Coast Archaeol 4(1):82–107

Pollard E (2011) Safeguarding Swahili Trade in the 14th and 15th Centuries: a unique navigational complex in South-East Tanzania. World Archaeol 43(3):458–477

Radimilahy C (1998) Mahilaka: an archaeological investigation of an early town in north-western Madagascar. Dissertation, University of Uppsala

Ramsay PJ, Cooper JAG (2002) Late Quaternary sea-level change in South Africa. Quat Res 57:82–90

Richmond MD (ed) (1997) A guide to the seashores of eastern Africa and the western Indian Ocean islands. Sida/Department for Research Cooperation, SAREC

Russom R (2004) Sustainable tourism and conservation of immovable cultural heritage in Eritrea. In: ICCROM et al. (eds) Africa 2009 conservation of immovable cultural heritage, report on the 5th regional thematic seminar on sustainable tourism and immovable cultural heritage 26–30 October 2004. http://africa2009.net/common/reports/nigeria04.pdf. Accessed 23 October 2009

Sanseverino HC (1987) Survey of the Southern Somali coast. Nyame Akuma 28:37–38

Shalaan IM (2005) Sustainable tourism development in the Red Sea: threats and opportunities. J Clean Prod 13:83–87

Smith AB (1986) Excavations at Plettenberg Bay, South Africa of the camp-site of the survivors of the wreck of the São Gonçalo, 1630. Int J Nautical Archaeol Underw Explor 15:53–63

Sutton JEG (1998) Archaeological sites of East Africa. Azania Special Volume 33

Temple PH (1970) Aspects of the geomorphology of the Dar es Salaam area. TNR 71:21–57

UNEP (1998) Eastern African atlas of coastal resources, Kenya. Available via http://www.unep.org/eafatlas/tbke.htm. Accessed 23 October 2009

UNESCO (2009) World Heritage Sites. http://whc.unesco.org/en/list. Accessed 23 October 2009

USAID (2006) Kenya forest and coastal management programs, mid-term evaluation 2004-7. http://pdf.usaid.gov/pdf_docs/PDACJ160.pdf. Accessed 23 October 2009

Wilson TH (1982) Spatial analysis and settlement patterns of the East African coast. Paideuma 28:201–219
Acknowledgment
The author would like to thank Colin Breen and Rory Quinn from the University of Ulster, Felix Chami and Bertram Mapunda from the University of Dar es Salaam for their support and guidance. Paul Lane, former Director of the British Institute in Eastern Africa, provided financial and logistical help in facilitating the completion of fieldwork. I should also like to express my appreciation to Torben Rick (Smithsonian Institution) and Scott Fitzpatrick (North Carolina State University) for the invite to write this paper, and for comments from an anonymous reviewer.
About this article
Cite this article
Pollard, E. Present and past threats and response on the east coast of Africa: an archaeological perspective. J Coast Conserv 16, 143–158 (2012). https://doi.org/10.1007/s11852-012-0204-5
Received:

Revised:

Accepted:

Published:

Issue Date:
Keywords
East Africa

Swahili

Kilwa

Archaeology

Heritage loss