Abstract
This paper aims to present some results of the project "Celebração da Cultura Costeira" ("Celebration of Coastal Culture") (CCC), financed by the European Economic Area (EEA) Grants and the Sines municipality. It is this project's purpose to identify, catalogue and permanently make available on the Internet information concerning local and regional maritime-fluvial cultural heritage, thus creating a "Patrimonial" Geographic Information System (GIS) – compiling information gathered through the use of Global Positioning System (GPS) and in-depth interviews with local actors – to be accessible by the targeted coastal communities and the relevant political and social institutions. The conceptual broadening of this GIS into a Web-GIS platform – by means of making it accessible to the general public – is believed to have a great potential in what concerns the creation of coherent and well-organized touristic offer about the fishing communities cultural heritage thus promoting these communities social and economic development and the fulfilment of their conservational role in their coastal dwelling and fishing areas.
This is a preview of subscription content, log in to check access.
Access options
Buy single article
Instant access to the full article PDF.
US$ 39.95
Price includes VAT for USA
Subscribe to journal
Immediate online access to all issues from 2019. Subscription will auto renew annually.
US$ 99
This is the net price. Taxes to be calculated in checkout.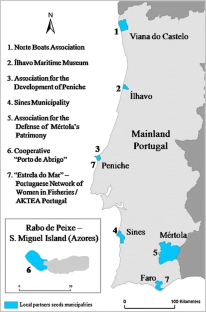 References
Amin A, Thrift N (eds) (1994) Globalization, institutions and regional development in Europe. Oxford University Press, Oxford, p 270, ISBN 0-19-828916-2

Benko G, Lipietz A (dir.) (2000) La richesse des régions. La nouvelle géographie socio-économique. Paris, PUF (Collection «Économie en liberté»), 564 p (ISBN 2-13-050461-2)

Longley P, Goodchild M, Maguire D, Rhind D (2005) Geographical information systems and science, 2nd edn. Wiley, New York, p 536, ISBN 978-0-470-87001-3

Maier L, Shobayashi M (2001) Multifunctionality: towards an analytical framework. Organization for Economic Co-operation and Development (OECD), Paris, p 159, ISBN 9789264186255

Martins L, Souto H (2005) Preservação e exploração nas pescas: olhar o presente pelas experiências do passado. GeoINova – Revista do Departamento de Geografia e Planeamento Regional 11:125–138

OECD (2001) Valuing rural amenities. Organization for Economic Co-operation and Development (OECD), Paris, p 184, ISBN 9264185313

Okabe A (ed) (2005) Studies in the human and social sciences with GIS. Taylor & Francis, USA

Souto H (1991) A pesca em Portugal no novo contexto comunitário – o caso de Peniche. Centro de Estudos de Geografia e Planeamento Regional (INIC), Lisboa, p 213

Souto H (1998) Comunidades de pesca artesanal na costa Portuguesa – estudo geográfico. PhD thesis dissertation. New University of Lisbon

Steinberg SJ, Steinberg SL (2006) Geographic information systems for the social sciences: investigating space and place. Sage, USA, p 253, ISBN 0-7619-2673-1

Stöhr W (1981) Development from below: the bottom-up and inward development paradigm. In: Stöhr W, Taylor D (eds) Development from above or below? Wiley, Chichester, pp 39–72
Acknowledgments
The authors would like to express their gratitude to Luis Martins, PhD for all the help and support in the development of this paper and of the project itself.
About this article
Cite this article
Souto, H., Gomes, N. & Carvalho, R. Development of a GIS for the "Celebration of Coastal Culture". J Coast Conserv 16, 431–437 (2012). https://doi.org/10.1007/s11852-012-0188-1
Received:

Revised:

Accepted:

Published:

Issue Date:
Keywords
Coastal fishing communities

Fisheries multifunctionality

Coastal sustainable tourism

Patrimonial GIS

Fluvial-maritime heritage, Portugal