Abstract
On the German island Norderney rabbit grazing effects on vegetation, soil and microclimate were investigated with exclosures in different dune vegetation. Differences in species composition between grazed and ungrazed plots increased with grazing activity. A decline in growth height resulted in higher light availability and temperature on the grazed sites. One of the most visible effects was the decline in flowering plants. Most grazing effects varied between habitat types. Grey dunes were distinctly affected by rabbit grazing. In relation to the habitat type, life forms were differently affected: in closed vegetation, rabbit activities further open patches, resulting in more therophytes. In contrast, in open vegetation rabbit activities were too strong and following sand dynamics too high for many therophytes. In general, grazing diversified habitats, slightly supported the total species-richness, and enhanced the heterogeneity of species composition. Highest species-richness in total and of herbs was reached at intermediate levels of grazing pressure. The study is in line that highest species-diversity will be found at intermediate levels of disturbance and environmental stress and that grazing effects vary with the habitat type.
Access options
Buy single article
Instant access to the full article PDF.
USD 39.95
Price excludes VAT (USA)
Tax calculation will be finalised during checkout.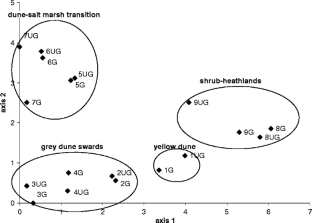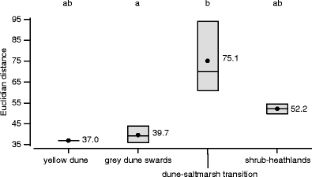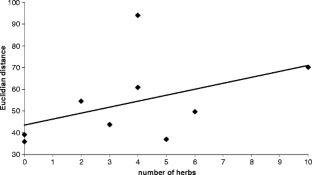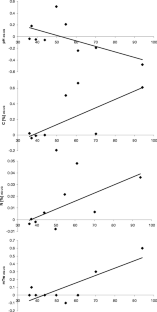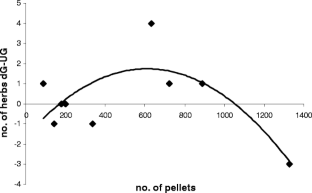 References
Allen RB, Wilson JB, Mason CR (1995) Vegetation change following exclusion of grazing animals in depleted grassland, Central Otago, New Zealand. J Veg Sci 6:615–626. doi:10.2307/3236432

Ampe C, Ngugi NM, Langohr R (2002) Impact of recently introduced large herbivores on soil proberties of coastal dune soils of the "Westhoek" Nature Reserve, Belgium. In: EUROCOAST (ed) Littoral 2002. The Changing Coast. EUROCOAST, EUCC, Porto, Portugal, pp 433–438

Angerbjörn A (1983) Reliability of pellet counts as density estimates of mountain hares. Finn Game Res 41:13–20

Bakker ES, Olff H (2003) Impact of different-sized herbivores on recruitment opportunities for subordinate herbs in grasslands. J Veg Sci 14:465–474

Bakker JP, Gálvez Bravo L, Mouissie AM (2008) Dispersal by cattle of salt-marsh and dune species into salt-marsh and dune communities. Plant Ecol 197:43–54. doi:10.1007/s11258-007-9358-x

Benton TG, Rushton SP, Hassall M, Tufton JE, Sanderson RA (1998) Estimation of leaf-litter production by dicotyledonous plants in grasslands. Eur J Soil Biol 34:11–24. doi:10.1016/S1164-5563(99)80002-8

Bhadresa R (1977) Food preferences of rabbits Oryctolagus cuniculus L. at Holkam sand dunes, Norfolk. J Appl Ecol 14:287–291. doi:10.2307/2401845

Bokdam J (2001) Effects of browsing and grazing on cyclic succession in nutrient-limited ecosystems. J Veg Sci 12:875–886. doi:10.2307/3236876

Boorman LA (1989) The grazing of British sand dune vegetation. Proc Royal Soc Edinburgh 96B:75–88

Boorman LA (2004) The use of grazing animals in maintaining and increasing the biodiversity of sand dunes. In: Green DR (ed) Delivering sustainable coasts: connecting science and policy. Cambridge, Univ. Press, pp 65–70

Boorman LA, Fuller RM (1982) Effects of added nutrients on dune swards grazed by rabbits. J Ecol 70:345–355. doi:10.2307/2259883

Boorman LA, Van der Maarel E (1997) Dune Grasslands. In: Van der Maarel E (ed) Ecosystems of the world 2c. Dry coastal ecosystems. General aspects. Elsevier, Amsterdam, pp 323–344

Bos D, Bakker JP, De Vries Y, Van Lieshout S (2002) Long-term vegetation changes in experimentally grazed and ungrazed back-barrier marshes in the Wadden Sea. Appl Veg Sci 5:45–54

Burggraaf-Van Nierop YD, Van der Meijden E (1984) The influence of rabbit scarpes on dune vegetation. Biol Conserv 30:133–146. doi:10.1016/0006-3207(84)90062-4

Connell JH (1978) Diversity in tropical rain forests and coral reefs. Science 199:1302–1310. doi:10.1126/science.199.4335.1302

Council of the European Commission (1992) Council directive 92/43/EEC of 21 May 1992 on the conservation of natural habitats and of wild fauna and flora. Official J Eur Communities. Ser L 206:7–49

Crawley MJ (1990) Rabbit grazing, plant competition and seedling recruitment in acid grassland. J Appl Ecol 27:803–820. doi:10.2307/2404378

Davy AJ, Bishop GF (1984) Response of Hieracium pilosella in Breckland grass-heath to inorganic nutrients. J Ecol 72:319–330. doi:10.2307/2260024

Doody JP (2001) Coastal conservation and management: an ecological perspective. Conserv Biol, vol 13. Kluwer Academic Publishers, Boston

Drees M (2004) Epidemieën onder wilde konijnen en de gevolgen. Vakblad natuur bos landschap 1:9–11

Drees M (2007) Komt het nog goed met het konijn? Vakblad natuur bos landschap 4:7–10

Duffy SG, Fairley JS, O'Donnell G (1996) Food of rabbits Oryctolagus cuniculus on upland grasslands in Connemara. Biol Environ 96:69–75

During HJ, Willems JH (1986) The impoverishment of the bryophyte and lichen flora of the Dutch chalk grasslands in the thirty years 1953–1983. Biol Conserv 36:143–158. doi:10.1016/0006-3207(86)90003-0

Ellenberg H, Weber HE, Düll R, Wirth V, Werner W, Paulißen D (1991) Zeigerwerte von Pflanzen in Mitteleuropa. Scripta Geobotanica 8, Verlag Erich Goltze KG, Göttingen

Farrow EP (1917) On the ecology of the vegetation of Breckland. III. General effects of rabbits on the vegetation. J Ecol 5:1–18. doi:10.2307/2255634

Garson PJ (1985) Rabbit grazing and dune slack flora of Holy Island, Lindisfarne N. N. R. In: Doody JP (ed) Sand dunes and their management. Focus on nature Conservation 13. Nature Conservation Council, Peterborough, pp 205–216

Gibson DJ (1988a) The relationship of sheep grazing and soil heterogeneity to plant spatial patterns in dune grassland. J Ecol 76:233–252. doi:10.2307/2260466

Gibson DJ (1988b) The maintanence of plant and soil heterogeneity in dune grassland. J Ecol 76:497–508. doi:10.2307/2260608

Gibson CWD, Brown VK (1991) The effects of grazing on local colonisation and extinction during early succession. J Veg Sci 2:291–300. doi:10.2307/3235919

Gillham ME (1955) Ecology of the Pembrokeshire islands III. The effect of grazing on the vegetation. J Ecol 43:172–206. doi:10.2307/2257129

Grime JP (1973) Competitive exclusion in herbaceous vegetation. Nature 242:344–347. doi:10.1038/242344a0

Hewett DG (1985) Grazing and moving as management tools in dunes. Vegetatio 62:441–447. doi:10.1007/BF00044772

Hobbs RH, Grace J (1981) A study of pattern and process in coastal vegetation using principal components analysis. Vegetatio 44:137–153. doi:10.1007/BF00156624

Isermann M (2005) Soil pH and species-diversity in coastal dunes. Plant Ecol 178:111–120. doi:10.1007/s11258-004-2558-8

Isermann M, Cordes H (1992) Changes in dune vegetation on Spiekeroog (East Friesian Islands) over a 30 year period. In: Carter RWG, Curtis TGF, Sheehy-Skeffington MJ (eds) Coastal Dunes. Balkema, Rotterdam, pp 201–209

Isermann M, Diekmann M, Heemann S (2007) Effects of the expansion by Hippophaë rhamnoides on plant species-richness in coastal dunes. Appl Veg Sci 10:33–42

Klapp E, Von Boberfeld O (1995) Kräuterbestimmungsschlüssel für die häufigsten Grünland- und Rasenkräuter. Blackwell Wissenschafts-Verlag, Berlin

Kooijman AM, Van der Meulen F (1996) Grazing as a control "grass-enchroachment" in dry dune grasslands in the Netherlands. Landsc Urban Plan 34:323–333. doi:10.1016/0169-2046(95)00225-1

Kuijper DPJ, Bakker JP (2005) Top-down control of small herbivores on salt-marsh vegetation along a productivity gradient. Ecology 86:914–923. doi:10.1890/04-0693

Leach SJ (1985) The problem of setting grazing levels on dune-heath Earlshall Muir: Fife. In: Doody JP (ed) Sand dunes and their management. Focus on nature Conservation 13. Nature Conservation Council, Peterborough, pp 135–143

Magurran AE (2006) Measuring biological diversity. Blackwell, Oxford

McIntosh PD, Allen RB, Scott N (1997) Effects of exclosure and management on biomass and soil nutrient pools in seasonally dry high country, New Zealand. J Environ Manag 51:169–186. doi:10.1006/jema.1997.0143

Mühl M (1994) Zum Einfluß des Wildkaninchens (Oryctolagus cuniculus L.) auf die Verbreitung von Krähenbeerheiden (Carici arenariae-Empetretum) auf den Ostfriesischen Inseln. Ber Reinhold-Tuxen-Ges 6:165–177

Mühl M (1999) The influence of rabbits (Oryctolagus corniculus L.) on the vegetation of coastal dunes: preliminary results of exclosure experiments. Senckenb Marit Suppl 29:95–97

Olff H, Ritchie ME (1998) Effects of herbivores on grassland plant diversity. Trends Ecol Evol 13:261–265. doi:10.1016/S0169-5347(98)01364-0

Oliver FW (1913) Some remarks on Blakeney Point, Norfolk. J Ecol 1:4–15. doi:10.2307/2255455

Olofsson J, De Mazancourt C, Crawley MJ (2007) Contrasting effects of rabbit exclusion on nutrient availability and primary production in grasslands at different time scales. Oecologia 150:582–589. doi:10.1007/s00442-006-0555-4

Provoost S, Ampe C, Bonte D, Cosyns E, Hoffmann M (2002) Ecology, management and monitoring of dune grassland in Flanders, Belgium. In: EUROCOAST (ed) Littoral 2002. The Changing Coast. EUROCOAST, EUCC, Porto, Portugal, pp 11–19

Pucheta E, Cabido M, Díaz S, Funes G (1998) Floristic composition, biomass, and aboveground net plant production in grazed and protected sites in a mountain grassland of central Argentina. Acta Oecol 19:97–105. doi:10.1016/S1146-609X(98)80013-1

Ranwell D (1960) Newborough Warren, Anglesey. III. Changes in the vegetation on parts of the dune system after the loss of rabbits by myxomatosis. J Ecol 48:385–395. doi:10.2307/2257524

Remke E, Brouwer E, Kooijman A, Blindow I, Esselink H, Roelofs JGM (2009) Even low to medium nitrogen deposition impacts vegetation of dry, coastal dunes around the Baltic Sea. Environ Pollut 157:792–800. doi:10.1016/j.envpol.2008.11.020

Rowan W (1913) Note on the food plants of rabbits on Blakeney Point, Norfolk. J Ecol 1:273–274. doi:10.2307/2255570

Steubing L, Fangmeyer A (1992) Pflanzenökologisches Praktikum. Ulmer Verlag, Stuttgart

Tansley AG (1939) The British Islands and their vegetation. Univ. Press, Cambridge

Taylor RH, Williams RM (1956) The use of pellet counts for estimating the density of populations of the wild rabbit, Oryctolagus cuniculus (L.). N Z J Sci Technol Sect B 38:236–256

Ten Harkel MJ, Van der Meulen F (1996) Impact of grazing and atmospheric nitrogen deposition on the vegetation of dry coastal dune grasslands. J Veg Sci 7:445–452. doi:10.2307/3236288

Ten Harkel MJ, Van-Boxel JH, Verstraten JM (1998) Water and solute fluxes in dry coastal dune grasslands: the effects of grazing and increased nitrogen deposition. Plant Soil 202:1–13. doi:10.1023/A:1004336520844

Tilman D (1999) The ecological consequences of changes in biodiversity: a search for general principles. Ecology 80:1455–1474

Van der Maarel E (1971) Plant species-diversity in relation to management. In: Duffey E, Watt AS (eds) The scientific management of animal and plant communities for conservation. Blackwell, Oxford, London, Edinburgh, pp 45–63

Van Dijk HWJ (1992) Grazing domestic livestock in Dutch coastal dunes: Experiments, experiences and perspectives. In: Carter RWG, Curtis TGF, Sheehy-Skeffington MJ (eds) coastal dunes. Balkema, Rotterdam, pp 235–248

Van Leeuwen CC (1956) The after-effects on the flora and vegetation of myxomatosis in the Netherlands. Terre Vie 3:243–247

Van Leeuwen CG, Van der Maarel E (1971) Pattern and process in coastal dune vegetations. Acta Bot Neerl 20:191–198

Wallage-Drees JM (1986) Seasonal changes in the condition of rabbits, Oryctolagus cuniculus (L.), in a coastal sand dune habitat. Z Saugetierkunde 51:26–36

Watt AS (1962) The effect of excluding rabbits from grassland A (Xerobrometum) in breckland, 1936–60. J Ecol 50:181–198. doi:10.2307/2257203

Whatmough JA (1995) Grazing on sand dunes: the re-introduction of the rabbit Oryctolagus cuniculus L. to Murlough NNR, Co. Down. Biol J Linn Soc Lond 56(Suppl):39–43. doi:10.1111/j.1095-8312.1995.tb01116.x

Williams OB, Wells TCE, Wells DA (1974) Grazing management of Woodwalton Fen: seasonal changes in the diet of cattle and rabbits. J Appl Ecol 11:499–516. doi:10.2307/2402204

Willis AJ (1963) Braunton Burrows: the effects on the vegetation of the addition of mineral nutrients to the dune soils. J Ecol 51:353–374. doi:10.2307/2257690

Wisskirchen R, Haeupler H (1998) Standardliste der Farn- und Blütenpflanzen Deutschlands. Verlag Eugen Ulmer, Stuttgart

Wood DH (1988) Estimating rabbit density by counting dung pellets. Aust Wildl Res 15:665–671. doi:10.1071/WR9880665

Zeevalking HJ, Fresco LFM (1977) Rabbit grazing and species-diversity in a dune area. Vegetatio 35:193–196. doi:10.1007/BF02097070
Acknowledgements
The authors express their thanks to Anja Gericke, Tede Lorenzen and Anja Schulenberg for field work, and to Marijke Drees and one anonymous reviewer for critical comments on an earlier draft of the manuscript. We thank furthermore the National Park Lower Saxony for permission of the study, the NLWKN (Niedersächsischer Landesbetrieb für Wasserwirtschaft, Küsten- und Naturschutz) on Norderney for assistance in fencing the plots, and the Landkreis Aurich for information about hunted rabbits.
About this article
Cite this article
Isermann, M., Koehler, H. & Mühl, M. Interactive effects of rabbit grazing and environmental factors on plant species-richness on dunes of Norderney. J Coast Conserv 14, 103–114 (2010). https://doi.org/10.1007/s11852-009-0056-9
Received:

Revised:

Accepted:

Published:

Issue Date:

DOI: https://doi.org/10.1007/s11852-009-0056-9
Keywords