Abstract
Linked river basin and coastal water models were applied to analyse the effects of an optimal nitrogen management scenario in the Oder/Odra river basin on water quality in the Oder (Szczecin) Lagoon and the Pomeranian Bay (Baltic Sea). This scenario would reduce nitrogen loads into the coastal waters by about 35%, a level which is similar to the load of the late 1960's. During summer the primary production and algae biomass in the Oder estuary is limited by nitrogen, which makes a nitrogen management reasonable. The comparison of the late 1960's and the mid 1990's shows that an optimal nitrogen management has positive effects on coastal water quality and algae biomass. However, this realistic nitrogen reduction scenario would not ensure a good coastal water quality according to the European Water Framework Directive. A good water quality in the river will not be sufficient to ensure a good water quality in the lagoon. Nitrogen load reductions bear the risk of increased potentially toxic, blue-green algae blooms, especially in the Baltic coastal sea. However, to reach water quality improvements in lagoons and inner coastal waters, nitrogen cuts are necessary. A mere focus on phosphorus is not sufficient.
This is a preview of subscription content, log in to check access.
Access options
Buy single article
Instant access to the full article PDF.
US$ 39.95
Price includes VAT for USA
Subscribe to journal
Immediate online access to all issues from 2019. Subscription will auto renew annually.
US$ 99
This is the net price. Taxes to be calculated in checkout.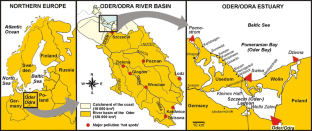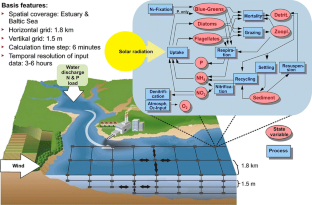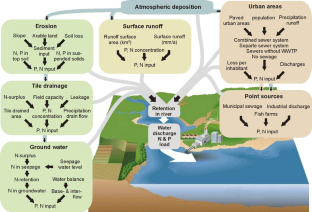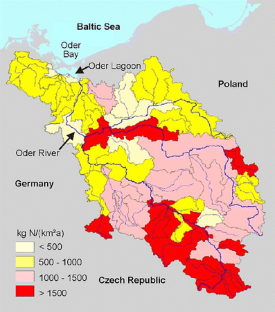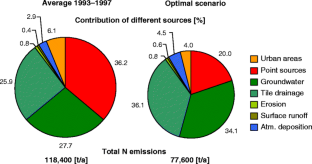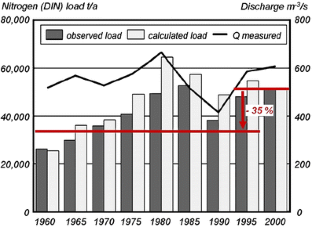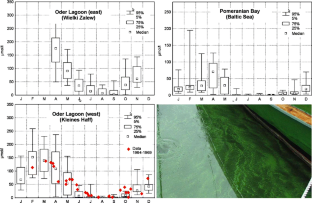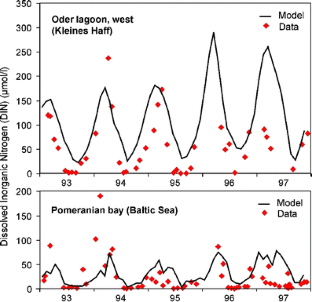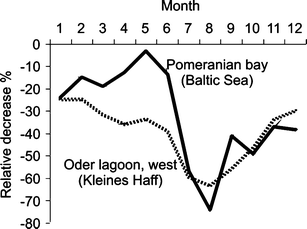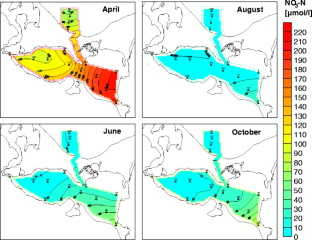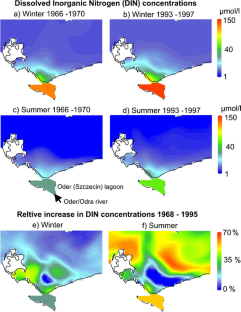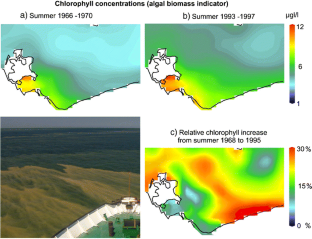 References
Bachor A (2005) Nährstoff-und Schwermetallbilanzen der Küstengewässer Mecklenburg-Vorpommerns unter besonderer Berücksichtigung ihrer Sedimente. Schriftenreihe des Landesamtes für Umwelt Naturschutz und Geologie Mecklenburg-Vorpommern 2/2005

Bangel H, Schernewski G, Bachor A, Landsberg-Uczciwek M (2004) Spatial pattern and long-term development of water quality in the oder estuary. In: Schernewski G, Dolch T (eds) The Oder Lagoon—against the background of the European Water Framework Directive, Meereswissenschftliche Berichte 57:17–65

Behrendt H, Dannowski R, Deumlich D, Dolezal F, Kajewski I, Kornmilch M, Korol R, Mioduszewski W, Opitz D, Steidl J, Stronska M (2005) Summary of the scenario results. In: Behrendt H, Dannowski R (eds) Nutrients and heavy metals in the Odra river system. Weißensee Verlag, Berlin, pp 286–292

Behrendt H, Dannowski R (eds) (2005) Nutrients and heavy metals in the Odra river system. Weißensee Verlag, Berlin

Behrendt H, Schreiber H, van Gils J, Zessner M (2005) Point and diffuse nutrient emissions and loads in the transboundary Danube river basin. II. Long term changes. Arch Hydrobiol Suppl 158(Large Rivers 16):221–247

BLMP (2007) Eutrophierung in deutschen Küstengewässern von Nord-und Ostsee Handlungsempfehlungen zur Reduzierung der Belastung der Küstengewässer durch Eutrophierung im Kontext zur europäischen Wasserpolitik, Jan. 2007

Boesch D, Hecky R, O'Melia C, Schindler D, Seitzinger S (2006) Eutrophication of swedish seas. Swedish environmental protection agency. Naturvårdsverket, Stockholm, Sweden ISBN 91-620-5509-7

Brockmann U, Topcu D, Schütt M (2005) Referenz-und Schwellenwerte für die Küsten-und Übergangsgewässer an der deutschen Nord-und Ostseeküste, Bericht BLM-AG:19pp.

Elmgren R, Larsson U (2001) Nitrogen and the Baltic Sea: managing nitrogen in relation to phosphorus. Sci World 1(S2):371–377

Neumann T (2000) Towards a 3D-ecosystem model of the Baltic Sea. J Mar Syst 25(3–4):405–419 doi:10.1016/S0924-7963(00)00030-0

Helsinki Commission (Helcom) (2002) Environment of the Baltic Sea area 1994-1998. Baltic Sea Environment Proceedings No. 82B pp 215 http://www.helcom.fi/

Helsinki Commission (Helcom) (2005) Airborne nitrogen loads to the Baltic Sea. Report, pp 24 http://www.helcom.fi/

Leipe T, Eidam J, Lampe R, Meyer H, Neumann T, Odsadczuk A, Janke W, Puff T, Blanz T, Gingele FX, Dannenberger D, Witt G (1998) Das Oderhaff-Beiträge zur Rekonstruktion der holozänen geologischen und anthropogenen Beeinflussung des Oder-Ästuares. Meereswissenschftliche Ber No. 28:61. S.

Neumann T, Fennel W, Kremp C (2002) Experimental simulations with an ecosystem model of the Baltic Sea: a nutrient load reduction experiment, Global Biogeochem. Cycles 16(7-1):7–19

Neumann T, Schernewski G (2005) An ecological model evaluation of two nutrient abatement strategies for the Baltic Sea. J Mar Syst 56:195–206 doi:10.1016/j.jmarsys.2004.10.002

Neumann T (2007) The fate of river-borne nitrogen in the Baltic Sea: an example for the river Oder. Estuar Coast Shelf Sci 73(1):1–7 doi:10.1016/j.ecss.2006.12.005

OECD (1982) Eutrophication of waters. Monitoring, assessment and control. Organisation for Economic Cooperation and Development (OECD), Paris

Pacanowski RC, Griffies SM (2000) MOM 3.0 manual, Technical Report, Geophysical Fluid Dynamics Laboratory

Schernewski G, Wielgat M (2001) Eutrophication of the shallow Szczecion lagoon (Baltic Sea): modeling, management and the impact of weather. In: Brebbia CA (ed) Coastal engineering: Computer modelling of seas and coastal regions. Witpress, Southampton, pp 87–98

Schernewski G, Neumann T (2005) The trophic state of the Baltic Sea a century ago? A model simulation study. J Mar Syst 53:109–124 doi:10.1016/j.jmarsys.2004.03.007

Schernewski G, Neumann T, Wielgat M (2006) Referenzwerte für Hydrochemie und Chlorophyll-a in deutschen Küstengewässern der Ostsee. Rostocker Meeresbiologische Beitr 15:7–23

Turner RK, Adger WN, Lorenzoni I (1998) Towards integrated modelling and analysis in coastal zones: principles and practices. LOICZ Reports & Studies No.11, 122 p, http://www.loicz.org/imperia/md/content/loicz/print/rsreports/report11.pdf

Wasmund N (2002) Harmful algal blooms in coastal waters of the south-eastern Baltic Sea. In: Schernewski G, Schiewer U (eds) Baltic coastal ecosystems, CEEDES-Series. Springer, Berlin, pp 93–116
Acknowledgements
The work has been supported by several projects during the last years: IKZM-Oder I, II & III (Federal Ministry for Education and Research; 03F0403A & 03F0465A), SPICOSA (European Commission, Integrated Project) and "Investigation on the quantity of diffuse entries in the rivers of the catchment area of the Odra and the Pomeranian Bay to develop decision facilities for an integrated approach on waters protection—Phase III" (UBA; 298 28 299). Data has kindly been supplied by the State Agency of Environment, Protection of Nature and Geology Mecklenburg-Vorpommern (LUNG) and the West Pomeranian Voivodeship Inspectorate in Szczecin (WIOS). Super-computing power has been provided by HLRN (Norddeutscher Verbund für Hoch-und Höchstleistungsrechnen). We thank the modelling group of the Baltic Sea Research Institute for providing support on the circulation model.
About this article
Cite this article
Schernewski, G., Behrendt, H. & Neumann, T. An integrated river basin-coast-sea modelling scenario for nitrogen management in coastal waters. J Coast Conserv 12, 53–66 (2008). https://doi.org/10.1007/s11852-008-0035-6
Received:

Revised:

Accepted:

Published:

Issue Date:
Keywords
Odra estuary

Szczecin lagoon

Baltic sea

Eutrophication

River load

Water quality

Nitrogen limitation

Reference conditions

Water framework directive