Abstract
Various brainstorming techniques have been proposed to facilitate and enhance creativity during idea generation (ideation) sessions. A review of previous studies on brainstorming has been conducted, focusing on electronic brainstorming (EBS) as a seemingly suitable and prevalent platform in the twenty-first century. Based on the review, we propose an integrative model for EBS sessions, which includes guidelines and suggested improvements. Insights gained from this review can be used to guide decision-makers and managers in organizations on how to conduct EBS sessions efficiently and effectively. Additionally, this review maps existing research on EBS and outlines lacunas and gaps future research should investigate.
This is a preview of subscription content, log in to check access.
Access options
Buy single article
Instant access to the full article PDF.
US$ 39.95
Price includes VAT for USA
Subscribe to journal
Immediate online access to all issues from 2019. Subscription will auto renew annually.
US$ 99
This is the net price. Taxes to be calculated in checkout.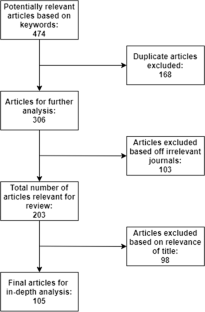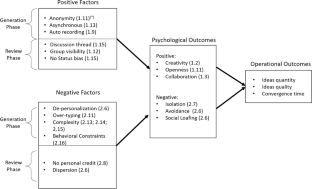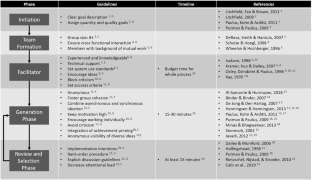 References
Aiken M, Daeryong K, Hwang C, Lu L (1995) A Korean group decision support system. Inf Manag 28(5):303–310

Alnuaimi OA, Robert LP, Maruping LM (2010) Team size, dispersion, and social loafing in technology-supported teams: a perspective on the theory of moral disengagement. J Manag Inf Syst 27(1):203–230

Al-Samarraie H, Hurmuzan S (2018) A review of brainstorming techniques in higher education. Think Skills Creat 27:78–91

Alves J, Marques MJ, Saur I, Marques P (2007) Creativity and innovation through multidisciplinary and multisectoral cooperation. Creat Innov Manag 16(1):27–34

Amabile TM (1988) A model of creativity and innovation in organizations. Res Organ Behav 10(1):123–167

Antoszkiewicz JD (1992) Brainstorming—experiences from two thousand teams. Organ Dev J 10:33–38

Argyris C (1993) Knowledge for action: a guide to overcoming barriers to organizational change. Jossey-Bass Inc., Publishers, San Francisco, CA

Barki H, Pinsonneault A (2001) Small group brainstorming and idea quality: is electronic brainstorming the most effective approach? Small Group Res 32(2):158–205

Baruah J, Paulus PB (2008) Effects of training on idea generation in groups. Small Group Res 39(5):523–541

Baruah J, Paulus PB (2016) The role of time and category relatedness in electronic brainstorming. Small Group Res 47(3):333–342

Binder JC, Binder J (2007) Global project management: communication, collaboration and management across borders. Gower Publishing Ltd, Aldershot, pp 118–120

Boddy C (2012) The nominal group technique: an aid to brainstorming ideas in research. Qual Mark Res: Int J 15(1):6–18

Bordia P, Irmer BE, Abusah D (2006) Differences in sharing knowledge interpersonally and via databases: the role of evaluation apprehension and perceived benefits. Eur J Work Organ Psychol 15(3):262–280

Boukis A (2016) Managing innovation within organizations. In: Goel AK (ed) Product innovation through knowledge management and social media strategies. IGI Global, Hershey, pp 266–290

Bouncken RB, Komorek M, Kraus S (2015) Crowdfunding: the current state of research. Int Bus Econ Res J (IBER) 14(3):407–416

Bouncken RB, Kraus S, Roig-Tierno N (2019) Knowledge-and innovation-based business models for future growth: digitalized business models and portfolio considerations. Rev Manag Sci 1–14. https://doi.org/10.1007/s11846-019-00366-z

Brown V, Paulus PB (1996) A simple dynamic model of social factors in group brainstorming. Small Group Res 27(1):91–114

Brown VR, Paulus PB (2002) Making group brainstorming more effective: recommendations from an associative memory perspective. Curr Dir Psychol Sci 11:208–212

Calic G, El Shamy N, Hassanein K, Watter S (2019) Paying attention doesn't always pay off: the effects of high attention load on evaluations of ideas. In: Davis F, Riedl R, vom Brocke J, Léger PM, Randolph A (eds) Information systems and neuroscience. Springer, Cham, pp 65–72

Carroll JS, Rudolph JW, Hatakenaka S (2002) The difficult hand-over from incident investigation to implementation: a challenge for rganizational learning. In: Wilpert B, Fahlbrnch B (eds) System safety: challenges and pitfalls of intervention. Pergamon, Boston, pp 189–206

Chae S, Seo Y, Lee KC (2015) Effects of task complexity on individual creativity through knowledge interaction: a comparison of temporary and permanent teams. Comput Hum Behav 42:138–148

Clark PB, Wilson JQ (1961) Incentive systems: a theory of organizations. Adm Sci Q 6:129–166

Connolly T, Jessup LM, Valacich JS (1990) Effects of anonymity and evaluative tone on idea generation in computer-mediated groups. Manag Sci 36(6):689–703

Crossan MM, Apaydin M (2010) A multi-dimensional framework of organizational innovation: a systematic review of the literature. J Manag Stud 47(6):1154–1191

Culnan MJ, McHugh PJ, Zubillaga JI (2010) How large US companies can use Twitter and other social media to gain business value. MIS Q Executive 9(4):243–259

Dailey L, Mumford MD (2006) Evaluative aspects of creative thought: errors in appraising the implications of new ideas. Creat Res J 18:367–384

Damanpour F (1991) Organizational innovation: a meta-analysis of effects of determinants and moderators. Acad Manag J 34(3):555–590

Davila T, Epstein MJ, Shelton RD (2006) Making innovation work: how to manage it, measure it, and profit from it. Wharton School Pub, Upper Saddle River, NJ

Davis J, Zaner M, Farnham S, Marcjan C, McCarthy BP (2003) Wireless brainstorming: overcoming status effects in small group decisions. In: Proceedings of the 36th annual Hawaii international conference on system sciences, 2003, 10pp

De Bono E (1995) Serious creativity. J Qual Particip 18(5):12

De Jong JP, Den Hartog DN (2007) How leaders influence employees' innovative behaviour. Eur J Innov Manag 10(1):41–64

Dearing BM, Daugherty MK (2004) Delivering engineering content in technology education. Technol Eng Teach 64(3):8

Denison GL (1995) Storyboarding: a brief description of the process. Paper presented at the Annual International Convention of the Council for Exceptional Children, Indianapolis (ERIC ED 384171)

Dennis AR, Garfield MJ (2003) The adoption and use of GSS in project teams: toward more participative processes and outcomes. MIS Q 27(2):289–323

Dennis AR, Reinicke BA (2004) Beta versus VHS and the acceptance of electronic brainstorming technology. MIS Q:1–20

Dennis AR, Valacich JS (1993) Computer brainstorms: more heads are better than one. J Appl Psychol 78(4):531–537

Dennis AR, Valacich JS (1994) Group, sub-group, and nominal group idea generation: new rules for a new media? J Manag 20(4):723–736

Dennis AR, Williams ML (2003) Electronic brainstorming: theory, research, and future directions. In: Paulus P (ed) Group creativity. Oxford University Press, Oxford

Dennis AR, Wixom BH (2002) Investigating the moderators of the group support systems use with meta-analysis. J Manag Inf Syst 18(3):235–257

Dennis AR, Wixom BH, Vandenberg RJ (2001) Understanding fit and appropriation effects in group support systems via meta-analysis. MIS Q 25(2):167–193

Dennis AR, Pinsonneault A, Hilmer KM, Barki H, Galupe B, Huber M, Bellavance F (2005) Patterns in electronic brainstorming. Int J e-Collab (IJeC) 1(4):38–57

DeRosa DM, Smith CL, Hantula DA (2007) The medium matters: mining the long-promised merit of group interaction in creative idea generation tasks in a meta-analysis of the electronic group brainstorming literature. Comput Hum Behav 23(3):1549–1581

Di Gangi PM, Wasko MM, Hooker RE (2010) Getting customers' ideas to work for you: learning from Dell how to succeed with online users innovation communities. MIS Q Executive 9(4):163–178

Diehl M, Stroebe W (1987) Productivity loss in brainstorming groups: toward the solution of a riddle. J Pers Soc Psychol 53(3):497

Doerner D, Schaub H (1994) Errors in planning and decision-making and the nature of human information processing. Appl Psychol: Int Rev 43:433–453

Doyle M, Straus D (1982) How to make meetings work. Berkley, New York

Dugosh KL, Paulus PB (2005) Cognitive and social comparison processes in brainstorming. J Exp Soc Psychol 41:313–320

Dzindolet MT, Paulus PB, Glazer C (2012) Brainstorming in virtual teams. In: Silva CN (ed) Online research methods in urban and planning studies: design and outcomes. IGI Global, Hershey, pp 138–156

Eisenberger R, Cameron J (1996) Detrimental effects of reward: reality or myth? Am Psychol 51:1153–1166

Feist GJ (1997) Quantity, quality, and depth of research as influences on scientific eminence: is quantity most important? Creat Res J 10(4):325–335

Fichman RG (2000) The diffusion and assimilation of information technology innovations. In: Zmud RW (ed) Framing the domains of IT management: projecting the future through the past, vol 105127. Pinnaflex Educational Resources Inc, Cincinnati, OH, pp 105–128

Gallupe RB, Bastianutti LM, Cooper WH (1991) Unblocking brainstorms. J Appl Psychol 76(1):137

Gallupe RB, Dennis AR, Cooper WH, Valacich JS, Bastianutti LM, Nunamaker JF Jr (1992) Electronic brainstorming and group size. Acad Manag J 35(2):350–369

Gallupe RB, Cooper WH, Grisé ML, Bastianutti LM (1994) Blocking electronic brainstorms. J Appl Psychol 79(1):77

García-Sánchez E, García-Morales VJ, Bolívar-Ramos MT (2017) The influence of top management support for ICTs on organisational performance through knowledge acquisition, transfer, and utilisation. RMS 11(1):19–51

Garfield MJ, Taylor NJ, Dennis AR, Satzinger JW (2001) Modifying paradigms—individual differences, creativity techniques, and exposure to ideas in group idea generation. Inf Syst Res 12(3):322–333

Garud R, Gehman J, Kumaraswamy A (2011) Complexity arrangements for sustained innovation: lessons from 3 M Corporation. Organ Stud 32(6):737–767

Goldenberg O, Wiley J (2011) Quality, conformity, and conflict: questioning the assumptions of Osborn's brainstorming technique. J Probl Solving 3(2):5

Gupta AK, Smith KG, Shalley CE (2006) The interplay between exploration and exploitation. Acad Manag J 49(4):693–706

Hackman JR (1987) The design of work teams. In: Lorsh JW (ed) Handbook of organizational behavior. Prentice Hall, New York, pp 315–342

Haley JW (2014) Determining the efficiency of ideation tools. Doctoral dissertation, Capella University

Henningsen DD, Henningsen MLM (2013) Generating ideas about the uses of brainstorming: reconsidering the losses and gains of brainstorming groups relative to nominal groups. Southern Commun J 78(1):42–55

Heywood J, In Sharman J (1972) The proverbs of John Heywood: being the "Proverbes" of that author printed 1546. Folcroft Library Editions, Folcroft, PA

Higgins JM (1996) Innovate or evaporate: creative techniques for strategists. Long Range Plan 29(3):370–380

Hinsz VB, Tindale RS, Vollrath DA (1997) The emerging conceptualization of groups as information processors. Psychol Bull 121(1):43

Hirokawa RY (1990) The role of communication and group decision-making efficacy: a task contingency perspective. Small Group Res 21:190–204

Hollingshead AB (1996) The rank-order effect in group decision making. Organ Behav Hum Decis Process 68(3):181–193

Isaksen SG (1998) A review of brainstorming research: six critical issues for inquiry. Creative Research Unit, Creative Problem Solving Group-Buffalo, Buffalo, NY

Itzin C, Newman J (eds) (1995) Gender, culture and organizational change: putting theory into practice. Psychology Press, London

Jablin FM, Seibold DR (1978) Implications for problem solving groups of empirical research on "brainstorming": a critical review of the literature. Southern Speech Com J 43:327–356

Jablin FM, Seibold DR, Sorenson RL (1977) Potential inhibitory effects of group participation on brainstorming performance. Central States Speech J 28:113–121

Jackson SE (1992) Team composition in organizational settings: issues in managing an increasingly diverse work force. In: Worchel S, Wood W, Simpson JA (eds) Group process and productivity. Sage, Newbury Park, pp 138–173

Janis IL (1972) Victims of groupthink: a psychological study of foreign-policy decisions and fiascoes. Houghton Mifflin, Oxford

Jarvenpaa SL, Ives B (1994) The global network organization of the future: information management opportunities and challenges. J Manag Inf Syst 10(4):25–57

Javadi E (2012) The impact of user interface design on idea integration in electronic brainstorming: an attention-based view. Doctoral dissertation, University of Illinois at Urbana-Champaign

Johannessen JA, Olsen B, Lumpkin GT (2001) Innovation as newness: what is new, how new, and new to whom? Eur J Innov Manag 4(1):20–31

Katz R, Allen TJ (1982) Investigating the Not Invented Here (NIH) syndrome: a look at the performance, tenure, and communication patterns of 50 R & D Project Groups. R&D Manag 12(1):7–20

Katzenbach JR, Smith DK (1993) The wisdom of teams: creating the high performance organization. Harvard Business School Press, Boston, MA

Kay G (1995) Effective meetings through electronic brainstorming. J Manag Dev 14(6):4–25

Kim KH (2006) Can we trust creativity tests? A review of the Torrance Tests of Creative Thinking (TTCT). Creat Res J 18(1):3–14

Kohli R, Melville NP (2019) Digital innovation: a review and synthesis. Inf Syst J 29(1):200–223

Kohn NW, Smith SM (2011) Collaborative fixation: effects of others' ideas on brainstorming. Appl Cogn Psychol 25(3):359–371

Kozlowski SW, Bell BS (2003) Work groups and teams in organizations. In: Borman WC, Ilgen DR, Klimoski RJ (eds) Handbook of psychology. Cornell University, Ithaca, pp 333–375

Kramer MW, Kuo CL, Dailey JC (1997) The impact of brainstorming techniques on subsequent group processes: beyond generating ideas. Small Group Res 28(2):218–242

Kramer TJ, Fleming GP, Mannis SM (2001) Improving face-to-face brainstorming through modeling and facilitation. Small Group Res 32(5):533–557

Kraus S, Roig-Tierno N, Bouncken RB (2019) Digital innovation and venturing: an introduction into the digitalization of entrepreneurship. Rev Manag Sci 13(3):519–528. https://doi.org/10.1007/s11846-019-00333-8

Kraus S, Breier M, Dasí-Rodríguez S (2020) The art of crafting a systematic literature review in entrepreneurship research. Int Entrepren Manag J. https://doi.org/10.1007/s11365

Lamm H, Trommsdorff G (1973) Group versus individual performance on tasks requiring ideational proficiency (brainstorming): a review. Eur J Soc Psychol 3(4):361–388

Langholtz H, Gettys C, Foote B (1995) Are resource fluctuations anticipated on resource allocation tasks? Organ Behav Hum Decis Process 64:274–282

Lanzolla G, Lorenz A, Miron-Spektor E, Schilling M, Solinas G, Tucci C (2018) Digital transformation: what is new if anything? Acad Manag Discov 4(3):378–387

Larey TS, Paulus PB (1999) Group preference and convergent tendencies in small groups: a content analysis of group brainstorming performance. Creat Res J 12:175–184

Laughlin PR, Vanderstoep SW, Hollingshead AB (1991) Collective versus individual induction: recognition of truth, rejection of error, and collective information processing. J Pers Soc Psychol 61:50–67

Lin CP, Chiu CK, Liu NT (2019) Developing virtual team performance: an integrated perspective of social exchange and social cognitive theories. RMS 13(4):671–688

Lindner JR (1998) Understanding employee motivation. J Ext 36(3):1–8

Litchfield RC (2009) Brainstorming rules as assigned goals: does brainstorming really improve idea quantity? Motiv Emot 33(1):25–31

Litchfield RC, Fan J, Brown VR (2011) Directing idea generation using brainstorming with specific novelty goals. Motiv Emot 35(2):135–143

Locke EA, Latham GP (1990) A theory of goal setting & task performance. Prentice-Hall Inc, Upper Saddle River

Majaro S (1988) The creative gap: managing ideas for profit. Longman, London

Mannix E, Neale MA (2005) What differences make a difference? The promise and reality of diverse teams in organizations. Psychol Sci Public Interest 6(2):31–55

March JG (1991) Exploration and exploitation in organizational learning. Organ Sci 2(1):71–87

Martínez-Román JA, Romero I (2017) Determinants of innovativeness in SMEs: disentangling core innovation and technology adoption capabilities. RMS 11(3):543–569

Matt C, Hess T, Benlian A (2015) Digital transformation strategies. Bus Inf Syst Eng 57(5):339–343

Michinov N (2012) Is electronic brainstorming or brainwriting the best way to improve creative performance in groups? An overlooked comparison of two idea generation techniques. J Appl Soc Psychol 42:E222–E243

Michinov N, Jamet E, Métayer N, Le Hénaff B (2015) The eyes of creativity: impact of social comparison and individual creativity on performance and attention to others' ideas during electronic brainstorming. Comput Hum Behav 42:57–67

Morkunas VJ, Paschen J, Boon E (2019) How blockchain technologies impact your business model. Bus Horiz 62(3):295–306

Mueller SL, Thomas AS (2001) Culture and entrepreneurial potential: a nine country study of locus of control and innovativeness. J Bus Ventur 16(1):51–75

Mumford MD, Lonergan DC, Scott G (2002) Evaluating creative ideas: processes, standards, and context. Inq: Crit Think Across Discip 22(1):21–30

Mumford MD, Blair CS, Marcy RT (2006) Alternative knowledge structures in creative thought: schema, associations, and cases. In: Kaufman JC, Baer J (eds) Creativity and reason in cognitive development. Cambridge University Press, New York, pp 117–136

Myers KK, Sadaghiani K (2010) Millennials in the workplace: a communication perspective on millennials' organizational relationships and performance. J Bus Psychol 25(2):225–238

Nijstad BA, Stroebe W (2006) How the group affects the mind: a cognitive model of idea generation in groups. Personal Soc Psychol Rev 10:186–213

Nijstad BA, Stroebe W, Lodewijkx HF (2003) Production blocking and idea generation: does blocking interfere with cognitive processes? J Exp Soc Psychol 39(6):531–548

Nonaka I (2008) The knowledge-creating company. Harvard Business Review Press, Brighton

Nunamaker JF, Dennis AR, Valacich JS, Vogel DR, George JF (1991) Electronic meeting systems to support group work. Commun ACM 34(7):40–61

Ocasio W (1997) Towards an attention-based view of the firm. Strateg Manag J 18(S1):187–206

O'Leary DE (2013) Artificial intelligence and big data. IEEE Intell Syst 28(2):96–99

Osborn AF (1953) Applied imagination: principles and procedures of creative writing, 1st edn. Charles Scribner's Sons, New York, NY, pp 1–317

Osborn AF (1957) Applied imagination. Scribner, New York

Oxley NL, Dzindolet MT, Paulus PB (1996) The effects of facilitators on the performance of brainstorming groups. J Soc Behav Personal 11(4):633–646

Parent M, Gallupe RB, Salisbury WD, Handelman JM (2000) Knowledge creation in focus groups: can group technologies help? Inf Manag 38(1):47–58

Park-Gates SL (2001) Effects of group interactive brainstorming on creativity (Doctoral dissertation, Virginia Tech)

Paulus PB, Baruah J (2018) Enhancing creativity in e-planning: recommendations from a collaborative creativity perspective. In: Nunes Silva C (ed) New approaches, methods, and tools in urban e-planning. IGI Global, Hershey, pp 192–222

Paulus PB, Brown VR (2007) Toward more creative and innovative group idea generation: a cognitive-social-motivational perspective of brainstorming. Soc Pers Psychol Compass 1:248–265

Paulus PB, Dzindolet MT (1993) Social influence processes in group brainstorming. J Pers Soc Psychol 64:575–586

Paulus PB, Kenworthy JB (2019) Effective brainstorming. In: Paulus PB, Nijstad BA (eds) Handbook of group creativity: innovation through collaboration. Oxford University Press, Oxford, pp 287–386

Paulus PB, Nijstad BA (eds) (2003) Group creativity: innovation through collaboration. Oxford University Press, Oxford

Paulus PB, Larey TS, Ortega AH (1995) Performance and perceptions of brainstormers in an organizational setting. Basic Appl Soc Psychol 17(1–2):249–265

Paulus PB, Nakui T, Putman VL, Brown VR (2006) Effects of task instructions and brief breaks on brainstorming. Group Dyn: Theory Res Pract 10(3):206

Paulus PB, Kohn NW, Arditti LE (2011) Effects of quantity and quality instructions on brainstorming. J Creat Behav 45(1):38–46

Paulus PB, Dzindolet M, Kohn NW (2012) Collaborative creativity—group creativity and team innovation. In: Mumford MD (ed) Handbook of organizational creativity. Academic Press, Cambridge, pp 327–357

Paulus PB, Kohn NW, Arditti LE, Korde RM (2013) Understanding the group size effect in electronic brainstorming. Small Group Res 44(3):332–352

Proctor T (1999) Creative problem solving for managers. Routledge, Abingdon, pp 124–126

Putman VL, Paulus PB (2009) Brainstorming, brainstorming rules and decision making. J Creat Behav 43(1):29–40

Reinig BA, Briggs RO (2008) On the relationship between idea-quantity and idea-quality during ideation. Group Decis Negot 17(5):403–420

Reinig BA, Briggs RO, Nunamaker JF Jr (2007) On the measurement of ideation quality. J Manag Inf Syst 23:143–161

Rietzschel EF, Nijstad BA, Stroebe W (2010) The selection of creative ideas after individual idea generation: choosing between creativity and impact. Br J Psychol 101(1):47–68

Rosenberg MJ, Foshay R (2002) E-learning: strategies for delivering knowledge in the digital age. Perform Improv 41(5):50–51

Runco MA, Acar S (2012) Divergent thinking as an indicator of creative potential. Creat Res J 24(1):66–75

Sawyer RK (2011) Explaining creativity: the science of human innovation. Oxford University Press, Oxford

Schulz-Hardt S, Jochims M, Frey D (2002) Productive conflict in group decision-making: genuine and contrived dissent as strategies to counteract biased information seeking. Organ Behav Hum Decis Process 88:563–586

Shen Z, Lyytinen K, Yoo Y (2015) Time and information technology in teams: a review of empirical research and future research directions. Eur J Inf Syst 24(5):492–518

Shepherd MM, Briggs RO, Reinig BA, Yen J, Nunamaker JF Jr (1995) Invoking social comparison to improve electronic brainstorming: beyond anonymity. J Manag Inf Syst 12(3):155–170

Singh J, Fleming L (2010) Lone inventors as sources of breakthroughs: myth or reality? Manag Sci 56(1):41–56

Smith GF (1998) Idea-generation techniques: a formulary of active ingredients. J Creat Behav 32(2):107–134

Spears R, Lea M, Lee S (1990) De-individuation and group polarization in computer-mediated communication. Br J Soc Psychol 29(2):121–134

Stalk G Jr, Hout TM (1990) Competing against time. Res-Technol Manag 33(2):19–24

Stasser G (1992) Information salience and the discovery of hidden profiles by decision-making groups: a "thought experiment". Organ Behav Hum Decis Process 52(1):156–181

Stenmark D (2002) Group cohesiveness and extrinsic motivation in virtual groups: lessons from an action case study of electronic brainstorming. In: Proceedings of the 35th annual Hawaii international conference on system sciences. IEEE., pp 160–169

Tan CY, Wei K, Watson RT (1999) The equalizing impact of a group support system on status differentials. ACM Trans Inf Syst 17:77–100

Tidd J, Bessant J, Pavitt K (2005) Managing innovation integrating technological, market and organizational change. Wiley, Hoboken

Todd P, Benbasat I (1999) Evaluating the impact of DSS, cognitive effort, and incentives on strategy selection. Inf Syst Res 10(4):356–374

Valacich JS, Dennis AR, Nunamaker JF Jr (1992) Group size and anonymity effects on computer-mediated idea generation. Small Group Res 23(1):49–73

Valacich JS, Dennis AR, Connolly T (1994) Idea generation in computer-based groups: a new ending to an old story. Organ Behav Hum Decis Process 57(3):448–467

VanGundy AB (1988) Techniques of structured problem solving. Springer, Berlin

Vicenzi R (2000) Creating conditions for creativity and innovation in organizations. In: Proceedings of the 2000 IEEE international conference on management of innovation and technology, 2000. ICMIT 2000, vol 1. IEEE, pp 276–282

White C, Wood K, Jensen D (2012) From brainstorming to C-sketch to principles of historical innovators: ideation techniques to enhance student creativity. J STEM Educ: Innov Res 13(5):12–25

Williams KD, Karau SJ (1991) Social loafing and social compensation: the effects of expectations of co-worker performance. J Pers Soc Psychol 61(4):570

Wilson C (2013) Brainstorming and beyond: a user-centered design method. Newnes, Boston

Zairi M (ed) (1999) Best practice: process innovation management. Routledge, Abingdon

Ziegler R, Diehl M, Zijlstra G (2000) Idea production in nominal and virtual groups: does computer-mediated communication improve group brainstorming? Group Processes & Intergroup Relations 3(2):141–158
Acknowledgements
The authors would like to thank Bank Leumi's innovation unit for their generous support and sponsorship of this research.
Additional information
Publisher's Note
Springer Nature remains neutral with regard to jurisdictional claims in published maps and institutional affiliations.
About this article
Cite this article
Maaravi, Y., Heller, B., Shoham, Y. et al. Ideation in the digital age: literature review and integrative model for electronic brainstorming. Rev Manag Sci (2020). https://doi.org/10.1007/s11846-020-00400-5
Received:

Accepted:

Published:
Keywords
Brainstorming

Electronic brainstorming

Digital brainstorming

EBS

Ideation

Creativity
Mathematics Subject Classification
62P25 Applications of statistics to social sciences