Abstract
Practitioners are currently engaged in a debate over the impact of salespersons' education and experience on sales outcomes. This study provides empirical evidence that contributes to this discussion by examining whether and how higher education background and work experience are associated with salesperson on-the-job capability, sales performance, and salespeople turnover. Using a sample that consists of 282 salespeople from the Chinese life insurance industry, we obtain several interesting findings. While college graduates tend to have lower on-the-job capability and poorer performance than non-college graduates, their capability and sales performance improve more rapidly with job tenure. Interestingly, college graduates are less likely to quit during the initial stage of their tenure, after which their turnover likelihood increases sharply. In general, work experience (job tenure and prior experience with another employer) is significantly associated with capability and performance enhancement. However, job tenure and prior experience are substitutes for each other in the production of sales. Furthermore, long-tenured salespeople with extensive prior experience are less likely to quit. The results also show that salespeople with a college degree have lower customer attrition. Overall, this study has important implications for sales force recruitment and management.
Access options
Buy single article
Instant access to the full article PDF.
USD 39.95
Price excludes VAT (USA)
Tax calculation will be finalised during checkout.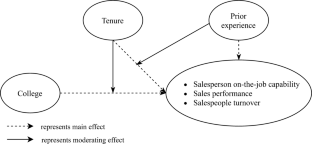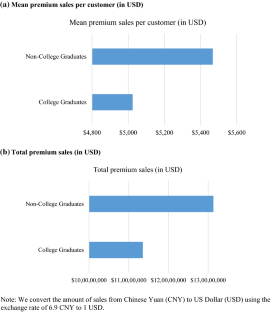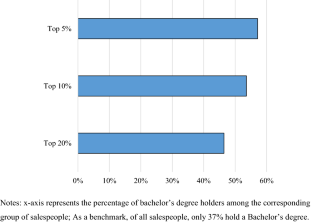 Notes
Several major recruiting platforms have recently published articles questioning the value of higher education in the sales profession (Kosinski 2015; Usher 2015). News channels (e.g., CNBC) have also suggested that a college degree is not necessary to build a well-compensated career in several job categories, most notably as an insurance sales agent or as a manufacturing sales representative (Ward 2017).

However, it should be acknowledged that less resiliency is only one of several factors that could play a role in driving the inverse relationship between education and sales performance.

We note that a third possibility is prior, but irrelevant, experience. Data limitations prevent us from fully assessing the effects of this type of work experience. However, as presented later, our empirical model controls for salesperson age, which partially reflects salespeople's irrelevant prior experience.

Potentially, we could divide salespeople's education background into three instead of two sub-groups, namely, bachelor's degree holders, junior/technical college graduates, and secondary/high school graduates. However, secondary/high school graduates represent less than 2% of all observations. We also conduct additional empirical analysis to access whether our current classification of using two groups (i.e., college and non-college graduates) is appropriate and do not find any evidence in support of further classification. Specifically, when adding an indicator variable for secondary school graduates, our main findings remain unchanged (i.e., the coefficients of both College and College × Tenure are still significant under this new specification), but there is no statistical difference between the remaining two groups (as indicated by the insignificant coefficients of both Secondary and Secondary × Tenure). Results are presented in Table 5. Thus, we use the two-group classification system (i.e., college graduates and non-college graduates) for our main analysis.

During our communications with industrial practitioners and students in the U.S., we also observed that job turnover has become a major problem for U.S. companies of various sizes in different industries and that many millennials tend to switch jobs on a regular basis. Foreman (2019) reports that up to 74 percent of millennial workers plan to quit their current jobs within the next three years.

Results of the stochastic frontier estimation are available from the authors upon request.

In Appendix 1: Table 6 and Appendix 2, we explore a series of permutations of our sales performance model to ensure the robustness of our results. Our empirical results remain unchanged in each of these robustness tests. Further, to visualize the interaction effects documented in this study, we present simple slope plots in Figs. 4, 5, 6, 7, 8 and 9.

According to Blackwell et al. (2009, page 524), this is "a new method for improving the estimation of causal effects by reducing imbalance in covariates between treated and control groups.".
References
Akhtar A (2019) Apple, Google, and Netflix don't require employees to have 4-year degrees, and this could soon become an industry norm. Retrieved November 2, 2019. https://www.businessinsider.com/top-companies-are-hiring-more-candidates-without-a-4-year-degree-2019-4?utm_content=buffere60ee&utm_medium=social&utm_source=facebook.com&utm_campaign=buffer-bi&fbclid=IwAR1g-kn9PvFOwrpiZY0iswpdaY2r3eDL292NLbO6UW-XyQCBnd09PXof-G0

Alda M (2019) Managers beyond borders: side-by-side management in mutual funds and pension funds. Rev Manag Sci 1:1–38

Altbach PG (2009) One-third of the globe: the future of higher education in China and India. Prospects 39(1):11

Ang S, Slaughter S, Ng KY (2002) Human capital and institutional determinants of information technology compensation: Modeling multilevel and cross-level interactions. Manage Sci 48(11):1427–1445

Arnett DB, Badrinarayanan V (2005) Enhancing customer-needs-driven CRM strategies: core selling teams, knowledge management competence, and relationship marketing competence. J Pers Selling Sales Manag 25(4):329–343

Arrow KJ (1962) The economic implications of learning by doing. Rev Econ Stud 29(3):155–173

Bacon DR (2017) Revisiting the relationship between marketing education and marketing career success. J Mark Educ 39(2):109–123

Becker GS (1962) Investment in human capital: a theoretical analysis. J Polit Econ 70(5):9–49

Becker GS (1964) Human capital: a theoretical and empirical analysis with special reference to education. Columbia University Press, Columbia

Bellou V (2009) Profiling the desirable psychological contract for different groups of employees: evidence from Greece. Int J Hum Resour Manag 20(4):810–830

Benson GS, Finegold D, Mohrman SA (2004) You paid for the skills, now keep them: tuition reimbursement and voluntary turnover. Acad Manag J 47(3):315–331

Bentein K, Vandenberghe C, Vandenberg R, Stinglhamber F (2005) The role of change in the relationship between commitment and turnover: a latent growth modeling approach. J Appl Psychol 90(3):468

Beyer JM, Hannah DR (2002) Building on the past: enacting established personal identities in a new work setting. Organ Sci 13(6):636–652

Billett S (2004) Workplace participatory practices: Conceptualising workplaces as learning environments. J Workplace Learn 16(6):312–324

Blackwell M, Iacus S, King G, Porro G (2009) cem: Coarsened exact matching in Stata. Stat J 9(4):524–546

Bolander W, Bonney L, Satornino C (2014) Sales education efficacy examining the relationship between sales education and sales success. J Mark Educ 36(2):169–181

Boles JS, Dudley GW, Onyemah V, Rouziès D, Weeks WA (2012) Sales force turnover and retention: a research agenda. J Pers Selling Sales Manag 32(1):131–140

Bonanno GA, Galea S, Bucciarelli A, Vlahov D (2007) What predicts psychological resilience after disaster? The role of demographics, resources, and life stress. J Consult Clin Psychol 75(5):671

Brown JN (1989) Why do wages increase with tenure? On-the-job training and. Am Econ Rev 79(5):971

Bruk-Lee V, Spector PE (2006) The social stressors-counterproductive work behaviors link: are conflicts with supervisors and coworkers the same? J Occup Health Psychol 11(2):145

Business Roundtable (2014) Closing America's skills gap: a business roundtable vision and action plan. Retrieved March 12, 2017. https://businessroundtable.org/sites/default/files/reports/BRT-SkillGap.pdf

Cheng YC (2006) New paradigm for re-engineering education: Globalization, localization and individualization. Springer, Berlin

Churchill GA, Ford NM, Hartley SW, Walker OC Jr (1985) The determinants of salesperson performance: a meta-analysis. J Mark Res 22(2):103–118

Corbett AC (2005) Experiential learning within the process of opportunity identification and exploitation. Entrep Theory Pract 29(4):473–491

Cotton JL, Tuttle JM (1986) Employee turnover: a meta-analysis and review with implications for research. Acad Manag Rev 11(1):55–70

Coyle-Shapiro J, Kessler I (2000) Consequences of the psychological contract for the employment relationship: a large scale survey. J Manage Stud 37(7):903–930

Craig-Smith SJ, Ding P (2007) Tourism degree education in Australia and its relevance to China. J Teach Travel Tour 7(1):45–61

Dokko G, Wilk SL, Rothbard NP (2009) Unpacking prior experience: how career history affects job performance. Organ Sci 20(1):51–68

Dutta S, Narasimhan O, Rajiv S (2005) Conceptualizing and measuring capabilities: methodology and empirical application. Strateg Manag J 26(3):277–285

Earley CP, Mosakowski E (2000) Creating hybrid team cultures: an empirical test of transnational team functioning. Acad Manag J 43(1):26–49

Eckardt R, Skaggs BC, Youndt M (2014) Turnover and knowledge loss: an examination of the differential impact of production manager and worker turnover in service and manufacturing firms. J Manage Stud 51(7):1025–1057

Ernst D, Kim L (2002) Global production networks, knowledge diffusion, and local capability formation. Res Policy 31(8–9):1417–1429

Feng C, Fay SA (2016) Inferring salesperson capability using stochastic frontier analysis. J Pers Sell Sales Manag 36(3):294–306

Feng H, Morgan NA, Rego LL (2017) Firm capabilities and growth: the moderating role of market conditions. J Acad Mark Sci 45(1):76–92

Flett GL, Blankstein KR, Hewitt PL, Koledin S (1992) Components of perfectionism and procrastination in college students. Soc Behav Person Int J 20(2):85–94

Foreman K (2019) Millennials keep quitting their jobs—but they don't want to. Retrieved Oct. 25, 2019. https://www.utahbusiness.com/millennials-jobs/

George WR (1990) Internal marketing and organizational behavior: a partnership in developing customer-conscious employees at every level. J Bus Res 20(1):63–70

Grant RM (1996) Toward a knowledge-based theory of the firm. Strateg Manag J 17(S2):109–122

Greenhalgh J, Flynn R, Long AF, Tyson S (2008) Tacit and encoded knowledge in the use of standardised outcome measures in multidisciplinary team decision making: a case study of in-patient neurorehabilitation. Soc Sci Med 67(1):183–194

Haas MR, Hansen MT (2007) Different knowledge, different benefits: toward a productivity perspective on knowledge sharing in organizations. Strateg Manag J 28(11):1133–1153

Hackman JR, Oldham GR (1980) Work redesign. Addison-Wesley, Boston

Hausman CS, Crow GM, Sperry DJ (2000) Portrait of the" ideal principal": context and self. NASSP Bull 84(617):5

Hershcovis MS (2011) "Incivility, social undermining, bullying… oh my!": a call to reconcile constructs within workplace aggression research. J Org Behav 32(3):499–519

Hirunyawipada T, Xiong G (2018) Corporate environmental commitment and financial performance: Moderating effects of marketing and operations capabilities. J Bus Res 86:22–31

Hitt MA, Bierman L, Shimizu K, Kochhar R (2001) Direct and moderating effects of human capital on strategy and performance in professional service firms: a resource-based perspective. Acad Manag J 44(1):13–28

Howard A, Liu L, Wellins RS, Williams S (2007) Employee retention in China 2006–2007: the flight of human talent. Retrieved March 15, 2018. https://www.ddiworld.com/ddi/media/trend-research/employee-retention-in-china-2007_fullreport_ddi.pdf

Huang H-T, Lin C-P (2019) Assessing ethical efficacy, workplace incivility, and turnover intention: a moderated-mediation model. RMS 13(1):33–56

Hutchens RM (1989) Seniority, wages and productivity: a turbulent decade. J Econ Perspect 3(4):49–64

Islam N (1995) Growth empirics: a panel data approach. Quart J Econ 110(4):1127–1170

Jeong E, Jang SS (2011) Restaurant experiences triggering positive electronic word-of-mouth (eWOM) motivations. Int J Hosp Manag 30(2):356–366

Johnson JS, Friend SB, Rutherford BN, Hamwi GA (2016) Absolute versus relative sales failure. J Bus Res 69(2):596–603

Johnson RS (2002) Using data to close the achievement gap: how to measure equity in our schools. Corwin Press, Thousand Oaks

Joseph K, Kalwani MU (1992) Do bonus payments help enhance salesforce retention? Mark Lett 3(4):331–341

Judge TA (1994) Person–organization fit and the theory of work adjustment: implications for satisfaction, tenure, and career success. J Vocat Behav 44(1):32–54

Kelley CA, Gaedeke RM (1990) Student and employer evaluation of hiring criteria for entry-level marketing positions. J Mark Educ 12(3):64–71

Kessler RC, Greenberg PE, Mickelson KD, Meneades LM, Wang PS (2001) The effects of chronic medical conditions on work loss and work cutback. J Occup Environ Med 43(3):218–225

Ko D-G, Dennis AR (2004) Sales force automation and sales performance: do experience and expertise matter? J Pers Sell Sales Manag 24(4):311–322

Kosinski M (2015) Ask away: does college matter anymore? Retrieved August 23, 2017. https://www.recruiter.com/i/ask-away-does-college-matter-anymore/

Lam A (2000) Tacit knowledge, organizational learning and societal institutions: an integrated framework. Organ Stud 21(3):487–513

Lance CE, Vandenberg RJ, Self RM (2000) Latent growth models of individual change: the case of newcomer adjustment. Organ Behav Hum Decis Process 83(1):107–140

Levy M, Sharma A (1994) Adaptive selling: the role of gender, age, sales experience, and education. J Bus Res 31(1):39–47

Liu CM, Chiu CK (2018) Modeling turnover intention and job performance: the moderation of perceived benevolent climate. Rev Manag Sci 1:1–21

Liu M-L, Hsieh M-W, Hsiao C, Lin C-P, Yang C (2018) Modeling knowledge sharing and team performance in technology industry: the main and moderating effects of happiness. Rev Manag Sci 1:1–24

Lu S, Bonfrer A, Voola R (2015) Retaining talented salespeople. Custom Needs Solut 2(2):148–164

Lucas GH, Parasuraman A, Davis RA, Enis BM (1987) An empirical study of salesforce turnover. J Mark 51(3):34–59

Lussier B, Hartmann NN (2017) How psychological resourcefulness increases salesperson's sales performance and the satisfaction of their customers: exploring the mediating role of customer-oriented behaviors. Ind Mark Manage 62:160–170

Mahy B, Rycx F, Vermeylen G (2015) Educational mismatch and firm productivity: do skills, technology and uncertainty matter? De Econ 163(2):233–262

Maletta MJ, Anderson BH, Angelini JP (1999) Experience, instruction and knowledge acquisition: a study in taxation. J Account Educ 17(4):351–366

Mathieu JE, Tannenbaum SI, Donsbach JS, Alliger GM (2014) A review and integration of team composition models: Moving toward a dynamic and temporal framework. J Manag 40(1):130–160

McCall MW (2004) Leadership development through experience. Acad Manag Exec 18(3):127–130

McDaniel MA, Schmidt FL, Hunter JE (1988) Job experience correlates of job performance. J Appl Psychol 73(2):327

Minniti M, Bygrave W (2001) A dynamic model of entrepreneurial learning. Entrep Theory Pract 25(3):5–16

Mintz S (2019) Are today's college students more psychologically fragile than in the past? Retrieved November 3, 2019. https://www.insidehighered.com/blogs/higher-ed-gamma/are-today%E2%80%99s-college-students-more-psychologically-fragile-past

Misko J, Yufeng L, He O, Li J, Phan O (2002) Linkages between secondary and post-secondary vocational education and training in China and Australia. National Centre for Vocational Education Research

Mobley WH (1977) Intermediate linkages in the relationship between job satisfaction and employee turnover. J Appl Psychol 62(2):237–240

Moon L (2018) Inside Asia's pressure-cooker exam system, which region has it the worst? Retrieved Oct 25, 2019. https://www.scmp.com/news/china/society/article/2149978/inside-asias-pressure-cooker-exam-sytem-which-region-has-it-worst

Muehler G, Beckmann M, Schauenberg B (2007) The returns to continuous training in Germany: new evidence from propensity score matching estimators. RMS 1(3):209–235

Mueller J (2012) The interactive relationship of corporate culture and knowledge management: a review. RMS 6(2):183–201

Ng TW, Feldman DC (2007) Organizational embeddedness and occupational embeddedness across career stages. J Vocat Behav 70(2):336–351

Ng TW, Feldman DC (2009a) How broadly does education contribute to job performance? Pers Psychol 62(1):89–134

Ng TW, Feldman DC (2009b) Re-examining the relationship between age and voluntary turnover. J Vocat Behav 74(3):283–294

Ng TW, Feldman DC (2010) Organizational tenure and job performance. J Manag 36(5):1220–1250

Ng TW, Feldman DC (2013) Does longer job tenure help or hinder job performance? J Vocat Behav 83(3):305–314

Nielsen I, Smyth R (2008) Job satisfaction and response to incentives among China's urban workforce. J Socio-Econ 37(5):1921–1936

Nowlin EL, Walker D, Anaza NA (2018) How does salesperson connectedness impact performance? It depends upon the level of internal volatility. Ind Mark Manage 68:106–113

Owen J, Burstein F, Mitchell S (2004) Knowledge reuse and transfer in a project management environment. J Inf Technol Case Appl Res 6(4):21–35

Papen MC, Niemand T, Siems FU, Kraus S (2017) The effect of stress on customer perception of the frontline employee: an experimental study. Rev Manag Sci 1:1–23

Parasuraman A, Futrell CM (1983) Demographics, job satisfaction, and propensity to leave of industrial salesmen. J Bus Res 11(1):33–48

Patnayakuni R, Ruppel CP (2006) Managing the complementarity of knowledge integration and process formalization for systems development performance. J Assoc Inf Syst 7(1):21

Plouffe CR, Sridharan S, Barclay DW (2010) Exploratory navigation and salesperson performance: Investigating selected antecedents and boundary conditions in high-technology and financial services contexts. Ind Mark Manage 39(4):538–550

Podsakoff PM, MacKenzie SB, Lee J-Y, Podsakoff NP (2003) Common method biases in behavioral research: a critical review of the literature and recommended remedies. J Appl Psychol 88(5):879

Price A (2007) Human resource management in a business context. Cengage Learning EMEA

Pritchett L (2001) Where has all the education gone? World Bank Econ Rev 15(3):367–391

Rajab T, Kraus F, Wieseke J (2013) Resolving conflict over salespeople's brand adoption in franchised channels of distribution. RMS 7(4):443–473

Ramasamy B, Goh K, Yeung MC (2006) Is Guanxi (relationship) a bridge to knowledge transfer? J Bus Res 59(1):130–139

Ren S, Zhu Y, Warner M (2011) Human resources, higher education reform and employment opportunities for university graduates in the People's Republic of China. Int J Hum Resour Manag 22(16):3429–3446

Schmidt FL, Hunter J (2004) General mental ability in the world of work: occupational attainment and job performance. J Pers Soc Psychol 86(1):162–173

Scott J (2014) A dictionary of sociology. Oxford University Press, Oxford

Senge P, Kleiner A, Roberts C, Ross R, Roth G, Smith B, Guman EC (1999) The dance of change: the challenges to sustaining momentum in learning organizations. Perform Improv 38(5):55–58

Sharma A, Levy M, Kumar A (2000) Knowledge structures and retail sales performance: an empirical examination. J Retail 76(1):53–69

Sicherman N, Galor O (1990) A theory of career mobility. J Polit Econ 98(1):169–192

Steers RM (1977) Antecedents and outcomes of organizational commitment. Admin Sci Q 1:46–56

Sujan H, Sujan M, Bettman JR (1988) Knowledge structure differences between more effective and less effective salespeople. J Mark Res 25(1):81–86

Sunder S, Kumar V, Goreczny A, Maurer T (2017) Why do salespeople quit? An empirical examination of own and peer effects on salesperson turnover behavior. J Mark Res 54(3):381–397

Svensson L, Randle H (2005) How to 'bridge the gap'—experiences in connecting the educational and work system: learning, working and living. Springer, Berlin, pp 102–118

Taylor MS, Audia G, Gupta AK (1996) The effect of lengthening job tenure on managers' organizational commitment and turnover. Organ Sci 7(6):632–648

Teixeira AA, Forte RP (2017) Prior education and entrepreneurial intentions: the differential impact of a wide range of fields of study. RMS 11(2):353–394

Uppal N, Mishra SK (2014) Moderation effects of personality and organizational support on the relationship between prior job experience and academic performance of management students. Stud Higher Educ 39(6):1022–1038

Usher H (2015) Are you "born a salesperson" or do you need a degree to work in sales? Retrieved August 23, 2017. https://www.linkedin.com/pulse/you-born-salesperson-do-need-degree-work-sales-hannah-farney/

Verbeke W, Dietz B, Verwaal E (2011) Drivers of sales performance: a contemporary meta-analysis: have salespeople become knowledge brokers? J Acad Mark Sci 39(3):407–428

Ward M (2017) 8 promising industries for workers without a college degree. Retrieved August 23, 2017. https://www.cnbc.com/2017/07/28/8-promising-industries-for-workers-without-a-college-degree.html

Weiss A (1984) Determinants of quit behavior. J Labor Econ 2(3):371–387

Wynen J, Kleizen B (2019) Improving dynamics or destroying human capital? The nexus between excess turnover and performance. RMS 13(2):303–325

Xinhua (2019) Chinese university graduates rise exponentially, have diverse career options. Retrieved Oct 20 2019. https://www.xinhuanet.com/english/2019-06/24/c_138169311.htm
Acknowledgements
We would like to thank the editor and the anonymous reviewers for their constructive suggestions and comments. We want to express special gratitude to the anonymous life insurance company that provided the data set used in this study.
Additional information
Publisher's Note
Springer Nature remains neutral with regard to jurisdictional claims in published maps and institutional affiliations.
Appendices
Appendix 1
See Tables 5, 6 and Figs. 4, 5, 6, 7, 8, 9.
Appendix 2
This appendix provides details regarding the robustness tests reported in Table 6 (Appendix 1). First, we use the original premium sales per customer instead of using finalized premium sales per customer as the dependent variable. Results are presented in Column 1 of Table 6.
Second, we exclude inactive salespeople who sell no more than 50 life insurance products within the data period. Results are presented in Column 2 of Table 6.
Third, we exclude secondary/high school graduates from our sample and re-estimate the model. Results are presented in Column 3 of Table 6.
Fourth, performance may decline for salespeople who plan to quit their job, regardless of their education level (Liu and Chiu 2018). We exclude salespeople who quit their job within the data period and re-run the analysis. Results are presented in Column 4 of Table 6.
Fifth, we also construct a matched sample to ensure balance between the group of college and non-college graduates. We employ the coarsened exact matching algorithmFootnote 8 that Blackwell et al. (2009) propose and use salesperson age, application year, and application month as matching criteria. Column 5 of Table 6 reports the results.
Lastly, to mitigate concerns that our measure of prior experience misrepresents the actual amount of prior experience, we reconstruct this variable by adopting three more conservative calculations. In particular, we recalculate a salesperson's prior experience by using the number of days between when a salesperson obtained her/his sales certificate and when s/he joined the firm minus 90 days (i.e., 3 months), 183 days (i.e., half a year), and 365 days (i.e., 1 year), respectively. Results using the newly measured prior experience are presented in Columns 6, 7, and 8, respectively.
About this article
Cite this article
Feng, C., Fay, S. & Xiang, K. When do we need higher educated salespeople? The role of work experience. Rev Manag Sci 15, 1391–1429 (2021). https://doi.org/10.1007/s11846-020-00388-y
Received:

Accepted:

Published:

Issue Date:

DOI: https://doi.org/10.1007/s11846-020-00388-y
Keywords
Education

Work experience

Tenure

On-the-job capability

Sales performance

Turnover
JEL