Abstract
Our article contributes to the recurring debate on whether and how firms in competitive markets should pursue objectives other than purely financial ones. Two competing approaches dominate this debate: one favors profit maximization as a single objective; the other favors multiple, partly social objectives. This debate has been going on for decades without approaching consensus. Our article offers an explanation for this intellectual stalemate and proposes a constitutional perspective that reconciles and improves the two seemingly antagonistic approaches. At the core of our proposed solution lies the distinction between the sub-constitutional level of action (choices within constraints) and the constitutional level of rules (choices among constraints). Using this distinction, we argue that both single-objective and multi-objective theories of the firm play equally important, but categorically different roles.
Access options
Buy single article
Instant access to the full article PDF.
US$ 39.95
Tax calculation will be finalised during checkout.
Subscribe to journal
Immediate online access to all issues from 2019. Subscription will auto renew annually.
US$ 79
Tax calculation will be finalised during checkout.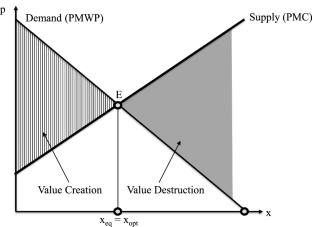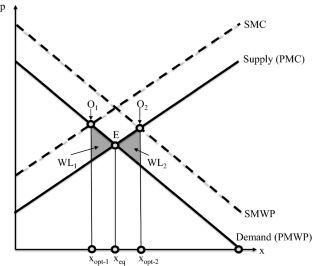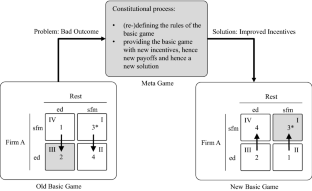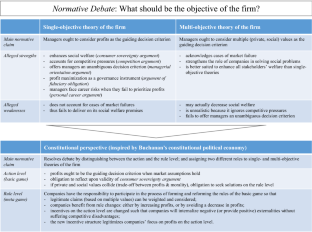 Notes
1.

2.

In fact, individual profit maximization does not always maximize social welfare, of course. But—in terms of our framework—this is the result of imperfect markets which we will discuss in greater detail below.

3.

To be sure, the fiduciary argument has been widely criticized on various grounds (Hart and Zingales 2017; Stout 2012). Note, however, that the aim of this section is neither to criticize nor to defend single-objective or multi-objective theories. The aim of this section is to analyze each perspective's arguments and background assumptions in order to explore opportunities to resolve the debate between them.

4.

To quote Manne once more: "Without this feature as a starting point we are left with nothing significantly different from Adam Smith's unseen hand, which, by virtue of selfish individual behavior, guides all economic resources to their socially optimal use." (Manne and Wallich 1972: 4).

5.

Since our understanding of "general welfare" and "social optimum" rests on both economic and non-economic reasons, our analysis assumes a broad conceptualization of externalities in the sense of positive or negative (material and immaterial) effects on human flourishing.

6.

Sometimes, it is not the quantity but the quality of products that meets ethical criticism. A graphic analysis of such problems would require a different model and hence a different diagram. However, the logic of our argument would remain the same: It would (1) demonstrate a gap between market equilibrium and social optimum, and it would (2) raise the crucial question how to bridge this gap. Hence we think it is appropriate to settle for the analytically most simple exposition of imperfect markets.—In likewise fashion, it is possible to handle another limitation of our model. Here, we concentrate on the firms' output markets. With regard to input markets, e.g. for labor, our analysis could be applied accordingly. The moral reorientation of priorities, proposed by multi-objective theories of the firm, would then not refer to the supply curve but to the demand curve.

7.

"Ordo" is the Latin word for institutional order, the framework of rules, and thus captures nicely the crucial distinction we want to draw between the action level of a game (choices among moves with given rules) and the constitutional level (choices among rules for improving the game). For the concept of "ordo responsibility", see Beckmann and Pies (2016). For a discussion of a classic precursor, see Pies (2017).

8.

We would like to reiterate that our assumption of profits as the overriding corporate goal is a methodological ascription, not an ontological statement. We neither claim that companies have motives in an empirical sense; nor that all companies, let alone founders and managers, are predominantly driven by the desire to make money. What we argue is that for the sake of theoretical consistency, it is legitimate and useful to make this assumption (cf. also Schreck et al. 2019).

9.

10.

11.

We thank an anonymous reviewer for pointing out limits that refer to all kinds of contracts, including endogenously set rules in the market. Ex ante defined rules are systematically incomplete and cannot account for all ex post contingencies. Hence, ordo-responsibility entails the responsibility to continuously reflect on the rules' adequateness and seek reform where necessary. Sometimes, the incompleteness of rules even justifies the call for companies to compensate for regulatory deficits (Homann 1995: 17–25).
References
Alchian AA (1950) Uncertainty, evolution, and economic theory. J Polit Econ 58:211–221

Ambec S, Lanoie P (2008) Does it pay to be green? A systematic overview. Acad Manag Perspect 22:45–62

Ashraf N, Ahmadsimab A, Pinkse J (2017) From animosity to affinity: the interplay of competing logics and interdependence in cross-sector partnerships. J Manag Stud 54:793–822. https://doi.org/10.1111/joms.12273

Barnett ML, Salomon RM (2012) Does it pay to be really good? Addressing the shape of the relationship between social and financial performance. Strateg Manag J 33:1304–1320. https://doi.org/10.1002/smj.1980

Beckmann M, Pies I (2016) The constitution of responsibility: toward an ordonomic framework for interpreting (corporate social) responsibility in different social settings. In: Lütge C, Mukerji N (eds) Order ethics: an ethical framework for the social market economy. Springer, Berlin, pp 221–250

Boatright JR (1999) Does business ethics rest on a mistake? Bus Ethics Q 9:583–591

Bosse DA, Coughlan R (2016) Stakeholder relationship bonds. J Manag Stud 53:1197–1222. https://doi.org/10.1111/joms.12182

Boulding KE (1969) Economics as a moral science. Am Econ Rev 59:1–12

Brammer S, Millington A (2008) Does it pay to be different? An analysis of the relationship between corporate social and financial performance. Strateg Manag J 29:1325–1343

Brenkert GG, Beauchamp TL (eds) (2010) The oxford handbook of business ethics. Oxford University Press, Oxford

Brennan G, Buchanan JM (1985) The reason of rules: constitutional political economy. Cambridge University Press, Cambridge

Broome J (1999) Ethics out of Economics. Cambridge University Press, Cambridge

Brown ME, Treviño LK, Harrison DA (2005) Ethical leadership: a social learning perspective for construct development and testing. Organ Behav Hum Decis Process 97:117–134

Buchanan JM (1987) The constitution of economic policy. Am Econ Rev 77:243–250

Buchanan JM (1990) The domain of constitutional economics. Const Polit Econ 1:1–18

Buchanan JM (1991) The economics and the ethics of constitutional order. The University of Michigan Press, Ann Arbor

Buchanan JM (2003) The constitutional way of thinking. Supreme Court Econ Rev 10:143–155

Caldwell ND, Roehrich JK, George G (2017) Social value creation and relational coordination in public-private collaborations. J Manag Stud 54:906–928. https://doi.org/10.1111/joms.12268

Coase RH (1937) The nature of the firm. Economica 4:386–405

de los Reyes G, Scholz M, Smith NC (2017) Beyond the 'win–win': creating shared value requires ethical frameworks. Calif Manag Rev 59:142–167

den Hond F, Rehbein KA, de Bakker FGA, Lankveld HKV (2014) Playing on two chessboards: reputation effects between corporate social responsibility (CSR) and corporate political activity (CPA). J Manag Stud 51:790–813. https://doi.org/10.1111/joms.12063

Donaldson T, Dunfee TW (1994) Toward a unified conception of business ethics: integrative social contracts theory. Acad Manag Rev 19:252–284

Donaldson T, Dunfee TW (1999) Ties that bind. A social contracts approach to business ethics. Harvard Business School Press, Boston

Donaldson T, Preston LL (1995) The stakeholder theory of the corporation: concepts, evidence, and implications. Acad Manag Rev 20:65–91

Donaldson T, Walsh JP (2015) Toward a theory of business. Res Organ Behav 35:181–207. https://doi.org/10.1016/j.riob.2015.10.002

Donaldson T, Werhane PH, Cording M (2007) Ethical issues in business: a philosophical approach, 8th edn.

Driver C, Thompson G (2002) Corporate governance and democracy: the stakeholder debate revisited. J Manag Gov 6:111–130

Dyllick T, Hockerts K (2002) Beyond the business case for corporate sustainability. Bus Stratergy Environ 11:130–141

Elkington J (1997) Cannibals with forks. The triple bottom line of 21st century. Capstone, Oxford

Feldman R (1998) Principle of charity. In: Klein P, Foley R (eds) Routledge encyclopedia of philosophy. Routledge, Abingdon. https://doi.org/10.4324/9780415249126-P006-1

Friedman M (1962) Capitalism and freedom. University of Chicago Press, Chicago

Friedman M (1970) The social responsibility of business is to increase its profits. New York Times Mag 13:32

Frumhoff PC, Heede R, Oreskes N (2015) The climate responsibilities of industrial carbon producers. Clim Change 132:157–171. https://doi.org/10.1007/s10584-015-1472-5

Gauthier D (1986) Morals by agreement. Clarendon Press, Oxford

Gomez P-Y, Korine H (2008) Entrepreneurs and democracy: a political theory of corporate governance. Cambridge University Press, Cambridge

Hahn T, Figge F, Pinkse J, Preuss L (2010) Trade-offs in corporate sustainability: you can't have your cake and eat it. Bus Strategy Environ 19:217–229

Hall M, Millo Y, Barman E (2015) Who and what really counts? Stakeholder prioritization and accounting for social value. J Manag Stud 52:907–934. https://doi.org/10.1111/joms.12146

Hart O, Zingales L (2017) Companies should maximize shareholder welfare not market value. J Law Finance Account 2:247

Heath J (2014) Morality, competition, and the firm: the market failures approach to business ethics. Oxford University Press, Oxford

Hegel GWF (1807/2010) Phenomenology of spirit, translated by Terry Pinkward. https://www.marxists.org/reference/archive/hegel/works/ph/pinkard-translation-of-phenomenology.pdf. Accessed 19 Dec 2019

Hielscher S, Beckmann M, Pies I (2014) Participation versus consent: should corporations be run according to democratic principles? Bus Ethics Q 24:533–563

Hillman AJ, Keim GD, Schuler D (2004) Corporate political activity: a review and research agenda. J Manag 30:837–857

Hirschman AO (1970) Exit, voice, and loyalty: responses to decline in firms, organizations, and states. Harvard University Press, Boston

Homann K (1994) Ethik und Ökonomik Zur Theoriestrategie der Wirtschaftsethik. In: Homann K (ed) Wirtschaftsethische Perspektiven I: Theorie-Ordnungsfragen-Internationale Institutionen. Duncker & Humblot, Berlin, pp 9–30

Homann K (1995) Gewinnmaximierung und Kooperation—Eine ordnungsethische Reflexion

Homann K (2002) Wettbewerb und Moral. In: Lütge C (ed) Vorteile und Anreize. Zur Grundlegung einer Ethik der Zukunft, Mohr Siebeck, Tübingen, pp 23–44

Husted BW, De Jesus Salazar J (2006) Taking friedman seriously: maximizing profits and social performance. J Manag Stud 43:75–91

Isaac RM, Norton D (2013) Endogenous institutions and the possibility of reverse crowding out. Public Choice 156:253–284

Jensen MC (2002) Value maximization, stakeholder theory, and the corporate objective function. Bus Ethics Q 12:235–256

Jones TM, Felps W (2013) Shareholder wealth maximization and social welfare: a utilitarian critique. Bus Ethics Q 23:207–238

Kant I (1784/1999) An answer to the question: what is enlightenment? In: Gregor MJ (ed) Practical philosophy. Cambridge University Press, Cambridge, pp 11–12

Kitzmueller M, Shimshack J (2012) Economic perspectives on corporate social responsibility. J Econ Lit 50:51–84

Kosfeld M, Okada A, Riedl A (2009) Institution formation in public goods games. Am Econ Rev 99:1335–1355

Linden BVD, Freeman RE (2017) Profit and other values: thick evaluation in decision making. Bus Ethics Q 27:353–379

Lindenberg S (2014) Sustainable cooperation needs tinkering with both rules and social motivation. J Bioecon 16:71–81. https://doi.org/10.1007/s10818-013-9172-6

Lock I, Seele P (2016) Deliberative lobbying? Toward a noncontradiction of corporate political activities and corporate social responsibility? J Manag Inquiry 25:415–430

Lyon TP, Maxwell JW (2008) Corporate social responsibility and the environment: a theoretical perspective. Rev Environ Econ Policy 2:240–260. https://doi.org/10.1093/reep/ren004

Manne HG, Wallich HC (1972) The modern corporation and social responsibility. American Enterprise Institute for Public Policy Research, Washington, D.C.

Matten D, Crane A (2005) Corporate citizenship: toward an extended theoretical conceptualization. Acad Manag Rev 30:166–179

McWilliams A, Siegel D (2001) Corporate social responsibility: a theory of the firm perspective. Acad Manag Rev 26:117–127

Mena S, Waeger D (2014) Activism for corporate responsibility: conceptualizing private regulation opportunity structures. J Manag Stud 51:1091–1117. https://doi.org/10.1111/joms.12092

Mises LV (1996/1949) Human action. Foundation for economic education, Irvington

Mitchell R, Weaver G, Agle B, Bailey A, Carlson J (2016) Stakeholder agency and social welfare: pluralism and decision making in the multi-objective corporation. Acad Manag Rev 41:252–275. https://doi.org/10.5465/amr.2013.0486

Moon J, Crane A, Matten D (2005) Can corporations be citizens? Corporate citizenship as a metaphor for business participation in society. Bus Ethics Q 15:429–453

Neuman M, Bitton A, Glantz S (2002) Tobacco industry strategies for influencing European Community tobacco advertising legislation. Lancet 359:1323–1330

Newbert SL (2017) Achieving social and economic equality by unifying business and ethics: Adam Smith as the cause and cure for the separation thesis. J Manag Stud. https://doi.org/10.1111/joms.12322

Ostrom E (1990) Governing the commons: the evolution of institutions for collective action. Cambridge University Press, Cambridge

Parker C (2002) The open corporation: effective self-regulation and democracy. Cambridge University Press, Cambridge

Pies I (2017) John Maurice Clark: an early classic of ordo responsibility. In: Haase M (ed) Economic responsibility. John Maurice Clark—a classic on economic responsibility. Springer, New York, pp 25–45

Pies I, Hielscher S, Beckmann M (2009) Moral commitments and the societal role of business: an ordonomic approach to corporate citizenship. Bus Ethics Q 19:375–401

Pies I, Beckmann M, Hielscher S (2010) Value creation, management competencies, and global corporate citizenship: an ordonomic approach to business ethics in the age of globalization. J Bus Ethics 94:265–278

Quélin BV, Kivleniece I, Lazzarini S (2017) Public-private collaboration, hybridity and social value: towards new theoretical perspectives. J Manag Stud 54:763–792. https://doi.org/10.1111/joms.12274

Rappaport A (1986) Creating shareholder value: the new standard for business performance. Free Press, New York

Rivera-Santos M, Rufín C, Wassmer U (2017) Alliances between firms and non-profits: a multiple and behavioural agency approach. J Manag Stud 54:854–875. https://doi.org/10.1111/joms.12271

Sabadoz C, Singer A (2017) Talk Ain't cheap: political CSR and the challenges of corporate deliberation. Bus Ethics Q 27:183–211. https://doi.org/10.1017/beq.2016.73

Saloojee Y, Dagli E (2000) Tobacco industry tactics for resisting public policy on health. Bull World Health Organ 78:902–910

Scherer AG, Palazzo G (2007) Toward a political conception of corporate responsibility: business and society seen from a Habermasian perspective. Acad Manag Rev 32:1096–1120

Scherer AG, Palazzo G (2011) The new political role of business in a globalized world—a review of a new perspective on CSR and its implications for the firm, governance, and democracy. J Manag Stud 48:899–931

Scherer AG, Rasche A, Palazzo G, Spicer A (2016) Managing for political corporate social responsibility: new challenges and directions for PCSR 2.0. J Manag Stud 53:273–298. https://doi.org/10.1111/joms.12203

Schreck P, van Aaken D, Homann K (2019) 'There's life in the old dog yet': the Homo economicus model and its value for behavioral ethics. J Bus Econ. https://doi.org/10.1007/s11573-019-00964-z

Shevchenko A, Lévesque M, Pagell M (2016) Why firms delay reaching true sustainability. J Manag Stud 53:911–935

Siegel DS (2009) Green management matters only if it yields more green: an economic/strategic perspective. Acad Manag Perspect 23:5–16

Smith A (1776) Inquiry into the nature and causes of the wealth of nations. University of Chicago Press, Chicaco

Stout L (2012) The shareholder value myth. How putting shareholders first harms investors, corporations, and the public. Berrett Koehler Publishers, San Francisco

Sundaram AK, Inkpen AC (2004) The corporate objective revisited. Organ Sci 15:350–363

Sutter M, Haigner S, Kocher MG (2010) Choosing the carrot or the stick? Endogenous institutional choice in social dilemma situations. Rev Econ Stud 77:1540–1566

Ulrich P (2009) Integrative economic ethics. Foundations of a civilized market economy. Cambridge University Press, Cambridge

Vanberg VJ (1986) Individual choice and institutional constraints—the normative element in classical and contractarian liberalism. Anal Kritik 8:113–149

Vanberg VJ (2007) Corporate social responsibility and the 'game of catallaxy': the perspective of constitutional economics. Const Polit Econ 18:199–222

Velamuri SR, Venkataraman S, Harvey WS (2017) Seizing the ethical high ground: ethical reputation building in corrupt environments. J Manag Stud 54:647–675. https://doi.org/10.1111/joms.12248

Vogel DJ (2005) The market for virtue. The potential and limits of corporate social responsibility. Brookings Institution Press, Washington, D.C

Vogel DJ (2010) The private regulation of global corporate conduct: achievements and limitations. Bus Soc 49:68–87. https://doi.org/10.1177/0007650309343407

Weber M (1930/2002) The protestant ethic and the spirit of capitalism: and other writings. Penguin, New York

Windsor D (2012) A corporate social responsibility decision framework for managers and stakeholders. In: Lindgreen A, Kotler P, Vanhamme J, Maon F (eds) A stakeholder approach to corporate social responsibilty pressures, conflicts and reconciliation. Routledge, London, pp 387–412
Acknowledgements
We acknowledge comments from Juliane Reinicke, Andreas Suchanek, Dominik van Aaken, participants of the Strategic Management Society Annual Meeting 2016, and the 2017 Zicklin Center Normative Business Ethics Workshop at the Wharton School, and the Academy of Management Annual Meeting 2018. We would also like to thank two anonymous reviewers for their valuable suggestions and helpful criticisms that were very conducive to improving the form and substance of this article.
Additional information
Publisher's Note
Springer Nature remains neutral with regard to jurisdictional claims in published maps and institutional affiliations.
About this article
Cite this article
Pies, I., Schreck, P. & Homann, K. Single-objective versus multi-objective theories of the firm: using a constitutional perspective to resolve an old debate. Rev Manag Sci 15, 779–811 (2021). https://doi.org/10.1007/s11846-019-00376-x
Received:

Accepted:

Published:

Issue Date:
Keywords
Business ethics

Constitutional economics

Corporate political responsibility

Corporate social responsibility

Stakeholders

Strategic management
JEL Classification