Abstract
This paper investigates the impact of CEO excess compensation on corporate reputation. Past research has focused mainly on understanding how CEO overpayment is related to firm performance. As a consequence, we know relatively little about the implications of paying excess compensation for other important firm outcomes such as corporate reputation. By analyzing a sample of S&P 100 firms over the period 1995–2010, we show that overpayment in total compensation has a weak positive effect on a firm's reputation while overpayment in stock options has a significant and negative impact on corporate reputation. Moreover, we find that the negative impact of CEO excess compensation in stock options is augmented if there has been a CEO change during the previous year, whereas this effect is lessened by CEO tenure. These results demonstrate that the relationship between excessive CEO compensation and corporate reputation is complex. It is influenced by the type of compensation and by specific CEO characteristics that invite greater public attention and scrutiny.
This is a preview of subscription content, log in to check access.
Access options
Buy single article
Instant access to the full article PDF.
US$ 39.95
Price includes VAT for USA
Subscribe to journal
Immediate online access to all issues from 2019. Subscription will auto renew annually.
US$ 99
This is the net price. Taxes to be calculated in checkout.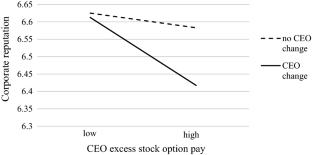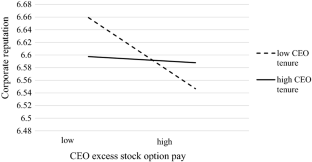 Notes
1.

Scholars have operationalized excess compensation in different ways, either by comparing a focal CEO's compensation level to industry and size-adjusted averages (e.g., Balafas and Florackis 2014), to the peer groups named by the firms in their annual reports (e.g., Bizjak et al. 2011; Faulkender and Yang 2010, 2013; Porac et al. 1999), or to different calculated levels of expected CEO pay based on firm performance, board, CEO and other organizational characteristics (e.g., Brick et al. 2006; Ezzamel and Watson 1998; Fong et al. 2010; Vergne et al. 2018; Wade et al. 2006a). In our study, we follow an understanding of CEO excess compensation as compensation that is above the median of industry peers (Balafas and Florackis 2014; Cooper et al. 2016).

2.

We also calculated a firm's idiosyncratic risk and included it as an alternative measure of firm risk in our models. Idiosyncratic risk is measured by estimating a market model in which the firm's monthly returns over the past five years are regressed on the S&P 500 monthly returns and by calculating the standard deviation of the residuals from that model (Bansal and Clelland 2004; Villalonga and Amit 2006). The firm's total risk is highly correlated to its idiosyncratic risk (σ = 0.97). The results of the regression analyses do not change.

3.

4.

We also split the sample into pre- and post-SOX periods. The results show that the impact of CEO excess stock option pay is negative for both periods, albeit weaker for the post-SOX period (2002–2010).
References
Abrahamson E (1996) Management fashion. Acad Manag Rev 21(1):254–285

Abrahamson E, Fairchild G (1999) Management fashion: lifecycles, triggers, and collective learning processes. Adm Sci Q 44(4):708–740

Aguilera RV, Filatotchev I, Gospel H, Jackson G (2008) An organizational approach to comparative corporate governance: costs, contingencies, and complementarities. Organ Sci 19(3):475–492

Aiken LS, West SG (1991) Multiple regression: testing and interpreting interactions. Sage, Newbury Park

Alchian AA, Demsetz H (1972) Production, information costs, and economic organization. Am Econ Rev 62(5):777–795

Ang AR, Hodrick RJ, Xing Y, Zhang X (2006) The cross-section of volatility and expected returns. J Fin 61(1):259–299

Balafas N, Florackis C (2014) CEO compensation and future shareholder returns: evidence from the London stock exchange. J Empir Fin 27:97–115

Bansal P, Clelland I (2004) Talking trash: legitimacy, impression management, and unsystematic risk in the context of the natural environment. Acad Manag J 47(1):93–103

Barkema HG, Gomez-Mejia LR (1998) Managerial compensation and firm performance: a general research framework. Acad Manag J 41(2):135–145

Barney JB (1991) Firm resources and sustained competitive advantage. J Manag 17(1):99–120

Basdeo DK, Smith KG, Grimm CM, Rindova VP, Derfus PJ (2006) The impact of market actions on firm reputation. Strateg Manag J 27(12):1205–1219

Beasley MS (1996) An empirical analysis of the relation between the board of director composition and financial statement fraud. Account Rev 71(4):443–465

Beasley MS, Carcello JV, Hermanson DR, Lapides PD (2000) Fraudulent financial reporting: consideration of industry traits and corporate governance mechanisms. Account Horiz 14(4):441–454

Bebchuk LA, Fried JM (2003) Executive compensation as an agency problem. J Econ Perspect 17(3):71–92

Bebchuk LA, Fried JM (2004) Pay without performance: the unfulfilled promise of executive compensation. Harvard University Press, Cambridge

Bebchuk LA, Fried JM (2006) Pay without performance: overview of the issues. Acad Manag Perspect 20(1):5–24

Bebchuk LA, Fried JM, Walker D (2002) Managerial power and rent extraction in the design of executive compensation. Univ Chicago Law Rev 69:751–846

Bednar MK, Love EG, Kraatz M (2015) Paying the price? The impact of controversial governance practices onmanagerial reputation. Acad Manag J 58(6):1740–1760

Belkaoui A, Pavlik E (1991) Asset management performance and reputation building for large US firms. Br J Manag 2(4):231–238

Benjamin BA, Podolny JM (1999) Status, quality, and social order in the California wine industry. Adm Sci Q 44(3):563–589

Bergh DD, Ketchen JDJ, Boyd BK, Bergh J (2010) New frontiers of the reputation–performance relationship: insights from multiple theories. J Manag 36(3):620–632

Bermiss YS, Zajac EJ, King BG (2014) Under construction: how commensuration and management fashion affect corporate reputation rankings. Organ Sci 25(2):591–608

Bizjak J, Lemmon M, Nguyen T (2011) Are all CEOs above average? An empirical analysis of compensation peer groups and pay design. J Financ Econ 100(3):538–555

Black F, Scholes M (1973) The pricing of options and corporate liabilities. J Polit Econ 81(3):637–654

Brammer S, Pavelin S (2006) Corporate reputation and social performance: the importance of fit. J Manage Stud 43(3):435–455

Brammer S, Millington A, Pavelin S (2009) Corporate reputation and women on the board. Br J Manag 20(1):17–29

Brick IE, Palmon O, Wald JK (2006) CEO compensation, director compensation, and firm performance: evidence of cronyism? J Corp Financ 12(3):403–423

Brown B, Perry S (1994) Removing the financial performance halo from Fortune's "most admired" companies. Acad Manag J 37(5):1347–1359

Burns N, Kedia S (2006) The impact of performance-based compensation on misreporting. J Financ Econ 79(1):35–67

Cadman B, Carter ME, Hillegeist S (2010) The incentives of compensation consultants and CEO pay. J Account Econ 49(3):263–280

Carberry EJ, King BG (2012) Defensive practice adoption in the face of organizational stigma: impression management and the diffusion of stock option expensing. J Manag Stud 49(7):1137–1167

Chatterjee A, Hambrick DC (2011) Executive personality, capability cues, and risk taking: how narcissistic CEOs react to their successes and stumbles. Adm Sci Q 56(2):202–237

Conyon MJ (2014) Executive compensation and board governance in US firms. Econ J 124(574):F60–F89

Conyon MJ, Murphy KJ (2000) The prince and the pauper? CEO pay in the United States and United Kingdom. Econ J 110(467):640–671

Conyon MJ, Gregg P, Machin SJ (1995) Taking care of business: executive compensation in the UK. Econ J 105(430):704–714

Cooper MJ, Gulen H, Rau PR (2016) Performance for pay? The relation between CEO incentive compensation and future stock price performance. Working paper available at SSRN: https://ssrn.com/abstract=1572085, Accessed 12 Nov 2016

Core JE, Guay W, Larcker DF (2008) The power of the pen and executive compensation. J Financ Econ 88(1):1–25

Daily CM, Dalton DR, Cannella AA Jr (2003) Corporate governance: decades of dialogue and data. Acad Manag Rev 28(3):371–382

Deephouse DL (2000) Media reputation as a strategic resource: an integration of mass communication and resource-based theories. J Manag 26(6):1091–1112

Demsetz H, Lehn K (1985) The structure of corporate ownership: causes and consequences. J Polit Econ 93(6):1155–1177

Desai VM (2014) The impact of media information on issue salience following other organizations' failures. J Manag 40(3):893–918

Desai VM (2016) The behavioral theory of the (governed) firm: corporate board influences on organizations' responses to performance shortfalls. Acad Manag J 59(3):860–879

Devers CE, Cannella AA Jr, Reilly GP, Yoder ME (2007) Executive compensation: a multidisciplinary review of recent developments. J Manag 33(6):1016–1072

Devers CE, McNamara G, Wiseman RM, Arrfelt M (2008) Moving closer to the action: examining compensation design effects on firm risk. Organ Sci 19(4):548–566

DiPrete TA, Eirich GM, Pittinsky M (2010) Compensation benchmarking, leapfrogs, and the surge in executive pay. Am J Sociol 115(6):1671–1712

Donoher WJ, Reed R, Storrud-Barnes SF (2007) Incentive alignment, control, and the issue of misleading financial disclosures. J Manag 33(4):547–569

Dowling GR (2016) Defining and measuring corporate reputation. Eur Manag Rev 13:207–223

Eberl M, Schwaiger M (2005) Corporate reputation: disentangling the effects on financial performance. Eur J Mark 39(7/8):838–854

Eisenhardt KM (1989) Agency theory: an assessment and review. Acad Manag Rev 14(1):57–74

Ezzamel M, Watson R (1998) Market comparison earnings and the bidding-up of executive cash compensation: evidence from the United Kingdom. Acad Manag J 41(2):221–231

Fama EF (1980) Agency problems and the theory of the firm. J Polit Econ 88(2):288–307

Fama EF, Jensen MC (1983) Separation of ownership and control. J Law Econ 26(2):301–326

Faulkender M, Yang J (2010) Inside the black box: the role and composition of compensation peer groups. J Financ Econ 96(2):257–270

Faulkender M, Yang J (2013) Is disclosure an effective cleansing mechanism? The dynamics of compensation peer benchmarking. Rev Financ Stud 26(3):806–839

Finkelstein S, Hambrick DC (1988) Chief executive compensation: a synthesis and reconciliation. Strateg Manag J 9(6):543–558

Finkelstein S, Hambrick DC (1989) Chief executive compensation: a study of the intersection of markets and political processes. Strateg Manag J 10(2):121–134

Flanagan DJ, O'Shaughnessy KC (2005) The effect of layoffs on firm reputation. J Manag 31(3):445–463

Focke F, Maug E, Niessen-Ruenzi A (2017) The impact of firm prestige on executive compensation. J Financ Econ 123(2):313–336

Fombrun CJ (1996) Reputation: realizing value from the corporate image. Harvard Business School, Boston

Fombrun C, Shanley M (1990) What's in a name? Reputation building and corporate strategy. Acad Manag J 33(2):233–258

Fong EA (2010) CEO pay fairness as a predictor of stakeholder management. J Bus Res 63(4):404–410

Fong EA, Misangyi VF, Tosi HL (2010) The effect of CEO pay deviations on CEO withdrawal, firm size, and firm profits. Strateg Manag J 31(6):629–651

Fong EA, Xing X, Orman WH, Mackenzie WI (2015) Consequences of deviating from predicted CEO labor market compensation on long-term firm value. J Bus Res 68(2):299–305

Fortune (2011) How can we address excessive CEO pay? Apr 13: http://fortune.com/2011/04/13/how-can-we-address-excessive-ceo-pay. Accessed 12 Nov 2016

Frooman J (1999) Stakeholder influence strategies. Acad Manag Rev 24(2):191–205

Goergen M, Renneboog L (2011) Managerial compensation. J Corp Financ 17(4):1068–1077

Gomez-Mejia L, Wiseman RM (1997) Reframing executive compensation: an assessment and outlook. J Manag 23(3):291–374

Graffin SD, Carpenter MA, Boivie S (2011) What's all that (strategic) noise? Anticipatory impression management in CEO succession. Strateg Manag J 32(7):748–770

Hammond SA, Slocum JW (1996) The impact of prior firm financial performance on subsequent corporate reputation. J Bus Ethics 15(2):159–165

Harris J, Bromiley P (2007) Incentives to cheat: the influence of executive compensation and firm performance on financial misrepresentation. Organ Sci 18(3):350–367

Hayes RM, Schaefer S (2009) CEO pay and the Lake Wobegon effect. J Financ Econ 94(2):280–290

Hayward MLA, Rindova VP, Pollock TG (2004) Believing one's own press: the causes and consequences of CEO celebrity. Strateg Manag J 25(7):637–653

Hill AD, Upadhyay AD, Beekun RI (2015) Do female and ethnically diverse executives endure inequity in the CEO position or do they benefit from their minority status? An empirical examination. Strateg Manag J 36(8):1115–1134

Holmstrom B (1979) Moral hazard and observability. Bell J Econ 10(1):74–91

Jensen MC, Meckling WH (1976) Theory of the firm: managerial behavior, agency costs and ownership structure. J Financ Econ 3(4):305–360

Jensen MC, Murphy KJ (1990) CEO incentives—it's not how much you pay, but how. Harvard Bus Rev 68(3):138–149

Johnson WC, Xie W, Yi S (2014) Corporate fraud and the value of reputations in the product market. J Corp Financ 25:16–39

Joutsenvirta M (2013) Executive pay and legitimacy: changing discursive battles over the morality of excessive manager compensation. J Bus Ethics 116(3):459–477

Kang E (2008) Director interlocks and spillover effects of reputational penalties from financial reporting fraud. Acad Manag J 51(3):537–555

Kaplan SN (2008) Are U.S. CEOs overpaid? Acad Manag Perspect 22(2):5–20

Karpoff JM, Lee DS, Martin GS (2008) The cost to firms of cooking the books. J Financ Quant Anal 43(3):581–612

Khurana R (2002) The curse of the superstar CEO. Harvard Bus Rev 80(9):60–66

Kuhnen CM, Niessen A (2012) Public opinion and executive compensation. Manag Sci 58(7):1249–2172

Lee GK, Paruchuri S (2008) Entry into emergent and uncertain product-markets: the role of associative rhetoric. Acad Manag J 51(6):1171–1188

Love EG, Kraatz M (2009) Character, conformity, or the bottom line? How and why downsizing affected corporate reputation. Acad Manag J 52(2):314–335

Lungeanu R, Zajac EJ (2016) Venture capital ownership as a contingent resource: how owner–firm fit influences IPO outcomes. Acad Manag J 59(3):930–955

Malmendier U, Tate G (2009) Superstar CEO's. Quart J Econ 124(4):1593–1638

Martin GP, Gomez-Mejia LR, Wiseman RM (2013) Executive stock options as mixed gambles: revisiting the behavioral agency model. Acad Manag J 56(2):451–472

McDonald ML, Khanna P, Westphal JD (2008) Getting them to think outside the circle: corporate governance, CEOs' external advice networks, and firm performance. Acad Manag J 51(3):453–475

McGuire JB, Schneeweis T, Branch B (1990) Perceptions of firm quality: a cause or result of firm performance. J Manag 16(1):167–180

Misangyi VF, Acharya AG (2014) Substitutes or complements? A configurational examination of corporate governance mechanisms. Acad Manag J 57(6):1681–1705

Mizruchi MS (1983) Who controls whom? An examination of the relation between management and boards of directors in large American corporations. Acad Manag Rev 8(3):426–435

Money (2016) Most Americans can't guess the average CEO's salary. Can you? Feb 5: http://time.com/money/4209388/average-ceo-salary-survey/. Accessed 12 Nov 2016

Monks RAG, Minow N (2011) Corporate Governance. Wiley, Chichester

Moriarty J (2009) How much compensation can CEOs permissibly accept? Bus Ethics Q 19(2):235–250

Murphy KJ (1986) Incentives, learning, and compensation: a theoretical and empirical investigation of managerial labor contracts. RAND J Econ 17(1):59–76

Murphy KJ (1999) Executive compensation. In: Ashenfelter O, Card D (eds) Handbook of labor economics. Elsevier, Amsterdam, pp 2485–2563

Murphy KJ (2002) Explaining executive compensation: managerial power versus the perceived cost of stock options. Univ Chic Law Rev 69(3):847–869

Murphy KJ (2013) Executive compensation: where we are and how we got there. In: Constantinides GM, Harris M, Stulz RM (eds) Handbook of the economics of finance 2a: Corporate finance. Elsevier Science, North Holland, pp 211–356

Murphy KJ, Zábojník J (2004) CEO pay and appointments: a market-based explanation for recent trends. Am Econ Rev 94(2):192–196

Musteen M, Datta DK, Kemmerer B (2010) Corporate reputation: do board characteristics matter? Br J Manag 21(2):498–510

O'Reilly CA III, Main BG (2010) Economic and psychological perspectives on CEO compensation: a review and synthesis. Ind Corp Change 19(3):675–712

O'Reilly CA III, Main BG, Crystal GS (1988) CEO compensation as tournament and social comparison: a tale of two theories. Adm Sci Q 33(2):257–274

Page B, Jacobs L (2009) Class war? What Americans really think about economic inequality. University of Chicago Press, Chicago

Pan Y, Wang TY, Weisbach MS (2015) Learning about CEO ability and stock return volatility. Rev Financ Stud 28(6):1623–1666

Pandher G, Currie R (2013) CEO compensation: a resource advantage and stakeholder-bargaining perspective. Strateg Manag J 34(1):22–41

Paywatch (2016) AFL-CIO Executive Paywatch. http://www.aflcio.org/Corporate-Watch/Paywatch-2016. Accessed 12 Nov 2016

Philippe D, Durand R (2011) The impact of norm-conforming behaviors on firm reputation. Strateg Manag J 32(9):969–993

Piketty T, Saez E (2013) Top incomes and the great recession: recent evolutions and policy implications. IMF Econ Rev 61(3):456–478

Pollock TG, Rindova VP (2003) Media legitimation effects in the market for initial public offerings. Acad Manag J 46(5):631–642

Porac JF, Wade JB, Pollock TG (1999) Industry categories and the politics of the comparable firm in CEO compensation. Adm Sci Q 44(1):112–144

Raithel S, Schwaiger M (2015) The effects of corporate reputation perceptions of the general public on shareholder value. Strateg Manag J 36(6):945–956

Rao H (1994) The social construction of reputation: certification contests, legitimation, and the survival of organizations in the American automobile industry: 1895–1912. Strateg Manag J 15(S1):29–44

Roberts PW, Dowling GR (2002) Corporate reputation and sustained superior financial performance. Strateg Manag J 23(12):1077–1093

Rodriguez-Ariza L, Martinez-Ferrero J, Bermejo-Sanchez M (2016) Consequences of earnings management for corporate reputation. Account Res J 29:457–474

Rose C, Thomsen S (2004) The impact of corporate reputation on performance: some Danish evidence. Eur Manag J 22(2):201–210

Rosen S (1981) The economics of superstars. Am Econ Rev 71(5):845–858

Sageder M, Mitter C, Feldbauer-Durstmüller B (2018) Image and reputation of family firms: a systematic literature review of the state of research. RMS 12(1):335–377

Sanders WG (2001) Incentive alignment, CEO pay level, and firm performance: a case of 'heads I win, tails you lose'? Hum Resour Manag 40(2):159–170

Sanders WG, Hambrick DC (2007) Swinging for the fences: the effects of CEO stock options on company risk taking and performance. Acad Manag J 50(5):1055–1078

Sarstedt M, Wilczynski P, Melewar TC (2013) Measuring reputation in global markets—A comparison of reputation measures' convergent and criterion validities. J World Bus 48(3):329–339

Schulz AC, Johann S (2018) Downsizing and the fragility of corporate reputation: an analysis of the impact of contextual factors. Scand J Manag 34:40–50

Scott WR (2001) Institutions and organizations, 2nd edn. Sage, Thousand Oaks

Seo J, Gamache DL, Devers CE, Carpenter MA (2015) The role of CEO relative standing in acquisition behavior and CEO pay. Strateg Manag J 36(12):1877–1894

Shapiro C (1982) Consumer information, product quality, and seller reputation. Bell J Econ 13(1):20–35

Shapiro C (1983) Premiums for high quality products as returns to reputations. Quart J Econ 98(4):659–679

Shleifer A, Vishny RW (1986) Large shareholders and corporate control. J Polit Econ 94(1):461–488

Shleifer A, Vishny RW (1997) A survey of corporate governance. J Financ 52(2):737–783

Staw BM, Epstein LD (2000) What bandwagons bring: effects of popular management techniques on corporate performance, reputation, and CEO pay. Adm Sci Q 45(3):523–556

Tadelis S (1999) What's in a name? Reputation as a tradeable asset. Am Econ Rev 89(3):548–563

Tosi HL, Werner S, Katz JP, Gomez-Mejia LR (2000) How much does performance matter? A meta-analysis of CEO pay studies. J Manag 26(2):301–339

Treadway DC, Adams GL, Ranft AL, Ferris GR (2009) A meso-level conceptualization of CEO celebrity effectiveness. Leadersh Quart 20(4):554–570

van Essen M, Otten J, Carberry EJ (2015) Assessing managerial power theory: a meta-analytic approach to understanding the determinants of CEO compensation. J Manag 41(1):164–202

Vergne JP, Wernicke G, Brenner S (2018) Signal incongruence and its consequences: a study of media disapproval and CEO overcompensation. Organ Sci. https://doi.org/10.1287/orsc.2018.1209

Villalonga B, Amit R (2006) How do family ownership, control and management affect firm value? J Financ Econ 80(2):385–417

Wade JB, O'Reilly CA III, Pollock TG (2006a) Overpaid CEOs and underpaid managers: fairness and executive compensation. Organ Sci 17(5):527–544

Wade JB, Porac JF, Pollock TG, Graffin SD (2006b) The burden of celebrity: the impact of CEO certification contests on CEO pay and performance. Acad Manag J 49(4):643–660

Walker K (2010) A systematic review of the corporate reputation literature: definition, measurement, and theory. Corp Reput Rev 12(4):357–387

Walsh JP (2008) CEO compensation and the responsibilities of the business scholar to society. Acad Manag Perspect 22(2):26–33

Wang M-S (2016) Idiosyncratic volatility, executive compensation and corporate governance: examination of the direct and moderate effects. RMS 10(2):213–244

Wright P, Kroll M, Krug JA, Pettus M (2007) Influences of top management team incentives on firm risk taking. Strateg Manag J 28(1):81–89

Xiaomeng Z, Bartol KM, Smith KG, Pfarrer MD, Khanin DM (2008) CEOs on the edge: earnings manipulation and stock-based incentive misalignment. Acad Manag J 51(2):241–258

Zyglidopoulos SC (2005) The impact of downsizing on corporate reputation. Br J Manag 16(3):253–259
About this article
Cite this article
Schulz, A., Flickinger, M. Does CEO (over)compensation influence corporate reputation?. Rev Manag Sci 14, 903–927 (2020). https://doi.org/10.1007/s11846-018-0305-0
Received:

Accepted:

Published:

Issue Date:
Keywords
Corporate reputation

CEO compensation

Excess compensation

Overpayment
JEL Classification