Abstract
Technologies like computer vision, advanced sensors, internet of things, 3D printing, big data, or artificial intelligence are penetrating all facets of the industrial value chains. Hence, industry is engaged in an accelerated automation race where industrial automation converts value chains into intelligent, data-driven systems. This generates new business models and spurs firm competitiveness in general. Companies thus pay attention to the development, acquisition, and incorporation of related technologies to profit from these developments in specific. For this, they must incorporate external flows of knowledge to succeed in innovation. Yet, there is a dearth of research that links open innovation to the incorporation of industrial automation, and to firm performance. Hence, this paper takes a knowledge-based view of the firm and sheds light on the moderating role of the processes of open innovation on the economic results of firms' subject to automation. In order to do so, we estimate the impact of the interaction of open innovation and automation on firm turnover using panel data for 5287 Spanish firms from a variety of manufacture and service industries. We separate the effects for different open-innovation partners and find that turnover is increased for those automating firms that engage in open innovation with suppliers. These results indicate that suppliers possess the knowledge required for successful automation, and firms that innovate together with suppliers fare better at leveraging investments in automation. In addition, automating firms should exercise caution when choosing collaboration partners from the same country.
Access options
Buy single article
Instant access to the full article PDF.
US$ 39.95
Tax calculation will be finalised during checkout.
Subscribe to journal
Immediate online access to all issues from 2019. Subscription will auto renew annually.
US$ 79
Tax calculation will be finalised during checkout.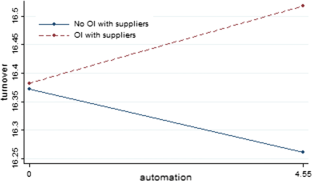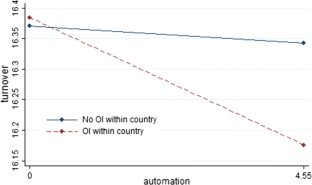 References
Acemoglu D, Dorn D, Hanson GH, Price B (2014) Return of the Solow paradox? IT, productivity, and employment in US manufacturing. Am Econ Rev 104(5):394–399

Afcha S, García-Quevedo J (2016) The impact of R&D subsidies on R&D employment composition. Ind Corp Change 25(6):955–975

Ahuja G (2000) Collaboration networks, structural holes, and innovation: a longitudinal study. Adm Sci Q 45:425–455

Almirall E, Casadesus-Masanell R (2010) Open versus closed innovation: a model of discovery and divergence. Acad Manag Rev 35:27–47

Andries P, Faems D (2013) Patenting activities and firm performance: does firm size matter? J Prod Innov Manag 30(6):1089–1098

Arrow KJ (1974) The limits of organization. Norton, New York

Autor DH, Levy F, Murnane RJ (2003) The skill content of recent technological change: an empirical exploration. Q J Econ 118(4):1279–1333

Baldwin CY, von Hippel E (2011) Modeling a paradigm shift: from producer innovation to user and open collaborative innovation. Organ Sci 22(6):1399–1441

Baltagi B (2008) Econometric analysis of panel data. Wiley, New York

Barney J (1991) Firm resources and sustained competitive advantage. J Manag 17:99–120

Baron RM, Kenny DA (1986) The moderator-mediator variable distinction in social psychological research: conceptual, strategic, and statistical considerations. J Pers Soc Psychol 51:1173–1182

Benzell SG, Kotlikoff LJ, LaGarda G, Sachs JD (2015) Robots are us: some economics of human replacement (No. w20941). National Bureau of Economic Research. Working Paper no 20941

Bogers M, Lhuillery S (2011) A functional perspective on learning and innovation: investigating the organization of absorptive capacity. Ind Innov 18(6):581–610

Bouncken RB, Plüschke BD, Pesch R, Kraus S (2016) Entrepreneurial orientation in vertical alliances: joint product innovation and learning from allies. Rev Manag Sci 10(2):381–409

Brem A, Tidd J (2012) Perspectives on supplier innovation: theories, concepts and empirical insights on open innovation and the integration of suppliers. World Scientific, Singapore

Brem A, Gerhard DA, Voigt KI (2014) Strategic technological sourcing decisions in the context of timing and market strategies: an empirical analysis. Int J Innov Technol Manag 11(03):1450016

Brem A, Nylund PA, Schuster G (2016) Innovation and de facto standardization: the influence of dominant design on innovative performance, radical innovation, and process innovation. Technovation 50:79–88

Brusoni S, Prencipe A, Pavitt K (2001) Knowledge specialization, organizational coupling, and the boundaries of the firm: Why do firms know more than they make? Admin Sci Q 46:597–621

Carnevale A, Jayasundera T, Gulish A (2016) America's divided recovery: college haves and haves-not. Georgetown University, Washington

Cassiman B, Veugelers R (2006) In search of complementarity in innovation strategy: internal R&D and external technology acquisition. Manag Sci 52(1):68–82

Castells M (2000) The rise of the network society, 2nd edn. Blackwell, Oxford

Chesbrough HW (2006) Open innovation: the new imperative for creating and profiting from technology. Harvard Business Press, Boston

Chesbrough HW (2007) Why companies should have open business models. MIT Sloan Manag Rev 48(2):22

Chesbrough H (2013) Open business models: how to thrive in the new innovation landscape. Harvard Business Press, Boston

Chesbrough H, Bogers M (2014) Explicating open innovation: clarifying an emerging paradigm for understanding innovation. In: Chesbrough H, Vanhaverbeke W, West J (eds) New frontiers in open innovation. Oxford University Press, Oxford, pp 3–28

Chui M, Manyika J, Miremadi M (2015) Four fundamentals of workplace automation. McKinsey Q 11:1–9

Coase RH (1937) The nature of the firm. Economica 4(16):386–405

Conner K, Prahalad CK (1996) A resource based theory of the firm: knowledge versus opportunism. Organ Sci 7:477–501

D'Este P, Rentocchini F, Vega-Jurado J (2014) The role of human capital in lowering the barriers to engaging in innovation: evidence from the Spanish innovation survey. Ind Innov 21(1):1–19

Davenport TH (1993) Process innovation: reengineering work through information technology. Harvard Business Press, Boston

Dodgson M, Gann D, Salter A (2006) The role of technology in the shift towards open innovation: the case of Procter & Gamble. R&D Manag 36(3):333–346

Dyer JH, Singh H (1998) The relational view: cooperative strategy and sources of interorganizational competitive advantage. Acad Manag Rev 23:660–679

Fosfuri A (2006) The licensing dilemma: understanding the determinants of the rate of technology licensing. Strateg Manag J 27(12):1141–1158

Frey CB, Osborne MA (2013) The future of employment: How susceptible are jobs to computerisation? Oxford University Working Paper

Funk K, Lyall B, Wilson J, Vint R, Niemczyk M, Suroteguh C, Owen G (1999) Flight deck automation issues. Int J Aviat Psychol 9:109–123

Gassmann O, Enkel E, Chesbrough H (2010) The future of open innovation. R&D Manag 40(3):213–221

Grant RM (1996) Toward a knowledge-based theory of the firm. Strateg Manag J 17:109–122

Greene WH (1993) Econometric analysis, 2nd edn. Macmillan, New York

Hagedoorn J (2002) Inter-firm R&D partnerships: an overview of major trends and patterns since 1960. Res Policy 31(4):477–492

Ho V (2016) Alibaba's new internet-connected car can pay for gas and control your home appliances. Mashable, 7 July 2016. http://mashable.com/2016/07/07/alibaba-smart-car/. Accessed 20 July 2016

Huddleston T (2016) Elon Musk confirms Tesla's Model 3 has nearly 400,000 orders. Fortune, 21 April 2016. http://fortune.com/2016/04/21/tesla-elon-musk-model-3-orders/. Accessed 20 July 2016

Huizingh EK (2011) Open innovation: state of the art and future perspectives. Technovation 31(1):2–9

Kafouros MI, Buckley PJ, Sharp JA, Wang C (2008) The role of internationalization in explaining innovation performance. Technovation 28(1):63–74

Knowles-Cutler A, Frey C, Osborne M (2014) Agiletown: the relentless March of technology and London's response. Deloitte. http://www2.deloitte.com/content/dam/Deloitte/uk/Documents/uk-futures/london-futures-agiletown.pdf. Accessed 20 July 2016

Kogut B, Zander U (1992) Knowledge of the firm, combinative capabilities, and the replication of technology. Organ Sci 3:383–397

Kogut B, Zander U (1996) What firms do? Coordination, identity, and learning. Organ Sci 7:502–518

Kokalitcheva K (2016) Here's why Uber is building its own driverless cars. Fortune, 14 June 2016. http://fortune.com/2016/06/14/uber-driverless-cars-holden/. Accessed 20 July 2016

Kutner MH, Nachtsheim CJ, Neter J (2004) Applied linear regression models. McGraw-Hill, New York

Laursen K, Salter AJ (2006) Open for innovation: the role of openness in explaining innovation performance among UK manufacturing firms. Strateg Manag J 27:131–150

Lechevalier S, Nishimura J, Storz C (2014) Diversity in patterns of industry evolution: how an intrapreneurial regime contributed to the emergence of the service robot industry. Res Policy 43(10):1716–1729

Leiponen A, Helfat CE (2010) Innovation objectives, knowledge sources, and the benefits of breadth. Strateg Manag J 31:224–236

Lippert J (2016) Toyota, Microsoft team up on connected-car technologies. Bloomberg, 4 April 2016. http://www.bloomberg.com/news/articles/2016-04-04/toyota-microsoft-form-joint-venture-for-connected-technologies. Accessed 20 July 2016

Love J (2016) Apple invests $1 billion in Chinese ride-hailing Didi Chuxing. Reuters, 13 May 2016. http://www.reuters.com/article/us-apple-china-idUSKCN0Y404W. Accessed 20 July 2016

McIntyre DA (2016) Can Tesla build 500,000 cars a year? 24/7 Wall St., 5 July 2016. http://247wallst.com/autos/2016/07/05/can-tesla-build-500000-cars-a-year/. Accessed 20 July 2016

Narla SRK (2013) The evolution of connected vehicle technology: from smart drivers to smart cars to… self-driving cars. Institute of Transportation Engineers. ITE J 83(7):22

Ngai EW, Jin C, Liang T (2008) A qualitative study of inter-organizational knowledge management in complex products and systems development. R&D Manag 38(4):421–440

Nonaka I (1994) A dynamic theory of organizational knowledge creation. Organ Sci 5:14–37

Penrose ET (1959) The theory of the growth of the firm. Wiley, New York

Ramsey M (2016) Panasonic ups ante in Tesla gigafactory investment. MarketWatch, 7 Jan 2016. http://www.marketwatch.com/story/panasonic-ups-ante-in-tesla-gigafactory-investment-2016-01-07. Accessed 20 July 2016

Ramsey M, Nagesh G (2016) GM, Lyft to test self-driving electric taxis. The Wall Street Journal, 5 May 2016. http://www.wsj.com/articles/gm-lyft-to-test-self-driving-electric-taxis-1462460094. Accessed 20 July 2016

Reichstein T, Salter A (2006) Investigating the sources of process innovation among UK manufacturing firms. Ind Corp Change 15(4):653–682

Remneland-Wikhamn B, Ljungberg JAN, Bergquist M, Kuschel J (2011) Open innovation, generativity and the supplier as peer: the case of iPhone and Android. Int J Innov Manag 15(01):205–230

Rumelt RP (1984) Towards a strategic theory of the firm. In: Lamb RB (ed) Competitive strategic management. Prentice-Hall, Englewood Cliffs

Sandulli FD, Fernandez-Menendez J, Rodriguez-Duarte A, Lopez-Sanchez JI (2012) Testing the Schumpeterian hypotheses on an open innovation framework. Manag Decis 50(7):1222–1232

Schuster G, Brem A (2015) How to benefit from open innovation? An empirical investigation of open innovation, external partnerships and firm capabilities in the automotive industry. Int J Technol Manag 69(1):54–76

Simon HA (1965) The shape of automation for men and management. Harper & Row, New York

Simon HA (1971) Designing organizations for an information-rich world. In: Greenberger M (ed) Computers, communication, and the public interest. The Johns Hopkins Press, Baltimore

Snyder B (2016) iPhone maker Foxconn has replaced 60,000 human jobs with robots. Fortune, 26 May 2016, http://fortune.com/2016/05/26/foxconn-factory-robot-workers/. Accessed 20 July 2016

Spithoven A, Vanhaverbeke W, Roijakkers N (2013) Open innovation practices in SMEs and large enterprises. Small Bus Econ 41(3):537–562

Stringham EP, Miller JK, Clark JR (2015) Overcoming barriers to entry in an established industry: Tesla motors. Cal Manag Rev 57(4):85–103

Teece DJ (1984) Economic analysis and strategic management. Cal Manag Rev 26(3):87–110

Teece DJ (1986) Profiting from technological innovation: implications for integration, collaboration, licensing and public policy. Res Policy 15(6):285–305

Trigo A, Vence X (2012) Scope and patterns of innovation cooperation in Spanish service enterprises. Res Policy 41(3):602–613

Voigt KI, Buliga O, Michl K (2017) Business model pioneers: how innovators successfully implement new business models. Springer, Berlin

Von Hippel E (1976) The dominant role of users in the scientific instrument innovation process. Res Policy 5(3):212–239

Wernerfelt B (1984) A resource-based view of the firm. Strateg Manag J 5:171–180

West J (2003) How open is open enough?: Melding proprietary and open source platform strategies. Res Policy 32(7):1259–1285

Whittaker J, Whitehead J, Somers M (2005) The neglog transformation and quantile regression for the analysis of a large credit scoring database. Appl Stat 54:863–878

Williamson O (1975) Markets and hierarchies: analysis and anti-trust implications. Free Press, New York

Williamson O (1981) The economics of organization: the transaction cost approach. Am J Soc 87:548–577

Young A (2014) Nike unloads contract factory workers, showing how automation is costing jobs of vulnerable emerging market laborers. IBT, 20 May 2014. http://www.ibtimes.com/nike-unloads-contract-factory-workers-showing-how-automation-costing-jobs-vulnerable-1587447. Accessed 20 July 2016
Acknowledgements
The authors would like to thank Aline Masuda and Nicholas Clarke for useful comments on earlier versions of this article.
About this article
Cite this article
Nylund, P.A., Ferras-Hernandez, X. & Brem, A. Automating profitably together: Is there an impact of open innovation and automation on firm turnover?. Rev Manag Sci 14, 269–285 (2020). https://doi.org/10.1007/s11846-018-0294-z
Received:

Accepted:

Published:

Issue Date:
Keywords
Open innovation

Knowledge

Automation

Process innovation

Supplier innovation

Community innovation survey
JEL Classification