Abstract
The sharing economy brings a new phenomenon—coworking-spaces. One aspect of coworking-spaces is the sharing of office space; another is the sharing of social spaces beside the office. Both give rise to social interactions and thus knowledge and idea exchanges which might provide more than a mere sharing of working-spaces but of entrepreneurship or of incubation. Coworking-spaces stimulate the finding of mates for teams, projects, and entrepreneurship. This paper introduces coworking-spaces into management research. We deliver an understanding of coworking-spaces and then identify key factors which lead to our conceptual model. Our model assumes that performance, especially entrepreneurial performance improves by the learning processes among coworking-users that take upon the individual efficacy, trust and community among coworking-users. All the concepts have a positive relation. Yet, opportunism, often as knowledge leakage, will directly and indirectly spoil learning processes and entrepreneurial performance as it reduces their antecedents trust and community building.
Access options
Buy single article
Instant access to the full article PDF.
US$ 39.95
Tax calculation will be finalised during checkout.
Subscribe to journal
Immediate online access to all issues from 2019. Subscription will auto renew annually.
US$ 79
Tax calculation will be finalised during checkout.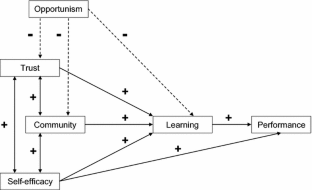 References
Arora P, Haynie JM, Laurence GA (2013) Counterfactual thinking and entrepreneurial self-efficacy: the moderating role of self-esteem and dispositional affect. Entrep Theory Pract 37:359–385. doi:10.1111/j.1540-6520.2011.00472.x

Bachmann R (2000) Trust-conceptual aspects of a complex phenomenon. In: Lane C, Bachmann R (eds) Trust within and between organizations. Oxford University Press, Oxford, pp 298–322

Baron RA, Mueller BA, Wolfe MT (2016) Self-efficacy and entrepreneurs' adoption of unattainable goals: the restraining effects of self-control. J Bus Ventur 31:55–71. doi:10.1016/j.jbusvent.2015.08.002

Becerra M, Lunnan R, Huemer L (2008) Trustworthiness, risk, and the transfer of tacit and explicit knowledge between alliance partners. J Manag Stud 45:691–713. doi:10.1111/j.1467-6486.2008.00766.x

Belk R (2014) You are what you can access: sharing and collaborative consumption online. J Bus Res 67:1595–1600. doi:10.1016/j.jbusres.2013.10.001

Berends H, Jelinek M, Reymen I, Stultiëns R (2014) Product innovation processes in small firms: combining entrepreneurial effectuation and managerial causation. J Prod Innovat Manag 31:616–635. doi:10.1111/jpim.12117

Bilandzic M, Foth M (2013) Libraries as coworking spaces: understanding user motivations and perceived barriers to social learning. Libr Hi Tech 31:254–273. doi:10.1108/07378831311329040

Bouncken RB (2016) University coworking-spaces: criteria, dimensions, and potentials of a new venture hub. Int J Technol Manag (forthcoming)

Bouncken RB, Fredrich V (2016) Good fences make good neighbors? Directions and safeguards in alliances on business model innovation. J Bus Res 69:5196–5202. doi:10.1016/j.jbusres.2016.04.112

Boyd NG, Vozikis GS (1994) The influence of self-efficacy on the development of entrepreneurial intentions and actions. Entrep Theory Pract 18:63–77. doi:10.1.1.477.4240

Bullough A, Renko M, Myatt T (2014) Danger zone entrepreneurs: the importance of resilience and self-efficacy for entrepreneurial intentions. Entrep Theory Pract 38:473–499. doi:10.1111/etap.12006

Capdevila I (2013) Knowledge dynamics in localized communities: coworking spaces as microclusters. SSRN. doi:10.2139/ssrn.2414121

Cardon MS, Kirk CP (2015) Entrepreneurial passion as mediator of the self-efficacy to persistence relationship. Entrep Theory Pract 39:1027–1050. doi:10.1111/etap.12089

Cesinger B, Hughes M, Mensching H, Bouncken R, Fredrich V, Kraus S (2016) A socioemotional wealth perspective on how collaboration intensity, trust, and international market knowledge affect family firms' multinationality. J World Bus 51:586–599. doi:10.1016/j.jwb.2016.02.004

Chesbrough HW, Teece DJ (1996) Organizing for innovation: when is virtual virtuous? Harvard Bus Rev 74:65–73

Clark J (2007) Coworkers of the world, unite! http://prospect.org/article/coworkers-world-unite. Accessed 15 Mar 2016

Cohen B, Kietzmann J (2014) Ride on! Mobility business models for the sharing economy. Organ Environ 27:279–296. doi:10.1177/1086026614546199

Dacin MT, Dacin PA, Tracey P (2011) Social entrepreneurship: a critique and future directions. Organ Sci 22:1203–1213. doi:10.1287/orsc.1100.0620

Das TK, Teng B-S (1998) Between trust and control: developing confidence in partner cooperation in alliances. Acad Manag Rev 23:491–512. doi:10.5465/AMR.1998.926623

Das TK, Teng B-S (2001) Trust, control, and risk in strategic alliances: an integrated framework. Organ Stud 22:251–283. doi:10.1177/0170840601222004

Estellés-Arolas E, González-Ladrón-de-Guevara F (2012) Towards an integrated crowdsourcing definition. J Inf Sci 38:189–200. doi:10.1177/0165551512437638

Felin T, Hesterly WS (2007) The knowledge-based view, nested heterogeneity, and new value creation: philosophical considerations on the locus of knowledge. Acad Manag Rev 32:195–218. doi:10.5465/amr.2007.23464020

Foertsch C (2011) The coworker's profile. http://www.deskmag.com/en/the-coworkers-global-coworking-survey-168. Accessed 09 Mar 2016

Franke N, Shah S (2003) How communities support innovative activities: an exploration of assistance and sharing among end-users. Res Policy 32:157–178. doi:10.1016/S0048-7333(02)00006-9

Frankenberger K, Weiblen T, Gassmann O (2013) Network configuration, customer centricity, and performance of open business models: a solution provider perspective. Ind Mark Manag 42:671–682. doi:10.1016/j.indmarman.2013.05.004

Gandini A (2015) The rise of coworking spaces: a literature review. Ephemer Theory Polit Organ 15:193–205

Garrett LE, Spreitzer GM, Bacevice P (2014) Co-constructing a sense of community at work: the emergence of community in coworking spaces. Acad Manag Proc. doi:10.5465/ambpp.2014.139

Gohmann SF (2012) Institutions, latent entrepreneurship, and self-employment: an international comparison. Entrep Theory Pract 36:295–321. doi:10.1111/j.1540-6520.2010.00406.x

Graebner ME (2004) Momentum and serendipity: how acquired leaders create value in the integration of technology firms. Strateg Manag J 25:751–777. doi:10.1002/smj.419

Guerra G, Patuelli R (2014) The role of job satisfaction in transitions into self-employment. Entrep Theory Pract 40:543–571. doi:10.1111/etap.12133

Hamari J, Sjöklint M, Ukkonen A (2015) The sharing economy: why people participate in collaborative consumption. J Assoc Inf Sci Technol. doi:10.1002/asi.23552

Hartl B, Hofmann E, Kirchler E (2016) Do we need rules for "what's mine is yours"? Governance in collaborative consumption communities. J Bus Res 69:2756–2763. doi:10.1016/j.jbusres.2015.11.011

Hite JM, Hesterly WS (2001) The evolution of firm networks: from emergence to early growth of the firm. Strateg Manag J 22:275–286. doi:10.1002/smj.156

Hsu DK, Wiklund J, Cotton RD (2015) Success, failure, and entrepreneurial reentry: an experimental assessment of the veracity of self-efficacy and prospect theory. Entrep Theory Pract. doi:10.1111/etap.12166

Hughes M, Ireland RD, Morgan RE (2007) Stimulating dynamic value: social capital and business incubation as a pathway to competitive success. Long Range Plann 40:154–177. doi:10.1016/j.lrp.2007.03.008

Hughes M, Morgan RE, Ireland RD, Hughes P (2011) Network behaviours, social capital, and organisational learning in high-growth entrepreneurial firms. Int J Entrep Small Bus 12:257–272. doi:10.1504/IJESB.2011.039006

Hughes M, Morgan RE, Ireland RD, Hughes P (2014) Social capital and learning advantages: a problem of absorptive capacity. Strat Entrep J 8:214–233. doi:10.1002/sej.1162

Johns T, Gratton L (2013) The third wave of virtual work. Harvard Bus Rev 91:66–73

Kambil A, Eselius ED, Monteiro KA (2000) Fast venturing: the quick way to start web businesses. MIT Sloan Manag Rev 41:55

Kickul J, Gundry LK, Barbosa SD, Whitcanack L (2009) Intuition versus analysis? Testing differential models of cognitive style on entrepreneurial self-efficacy and the new venture creation process. Entrep Theory Pract 33:439–453. doi:10.1111/j.1540-6520.2009.00298.x

Kolvereid L, Isaksen E (2006) New business start-up and subsequent entry into self-employment. J Bus Ventur 21:866–885. doi:10.1016/j.jbusvent.2005.06.008

Lamberton CP, Rose RL (2012) When is ours better than mine? A framework for understanding and altering participation in commercial sharing systems. J Mark 76:109–125. doi:10.1509/jm.10.0368

Lange B (2011) Re-scaling governance in Berlin's creative economy. Cult Unbound J Curr Cult Res 3:187–208. doi:10.3384/cu.2000.1525.113187

Langfield-Smith K (2008) The relations between transactional characteristics, trust and risk in the start-up phase of a collaborative alliance. Manag Acc Res 19:344–364. doi:10.1016/j.mar.2008.09.001

Lévesque M, Shepherd DA, Douglas EJ (2002) Employment or self-employment: a dynamic utility-maximizing model. J Bus Ventur 17:189–210. doi:10.1016/S0883-9026(00)00063-X

Lounsbury M, Glynn MA (2001) Cultural entrepreneurship: stories, legitimacy, and the acquisition of resources. Strateg Manag J 22:545–564. doi:10.1002/smj.188

McGee JE, Peterson M, Mueller SL, Sequeira JM (2009) Entrepreneurial self-efficacy: refining the measure. Entrep Theory Pract 33:965–988. doi:10.1111/j.1540-6520.2009.00304.x

Moehlmann M (2015) Collaborative consumption: determinants of satisfaction and the likelihood of using a sharing economy option again. J Consum Behav 14:193–207. doi:10.1002/cb.1512

Moriset B (2014) Building new places of the creative economy: the rise of coworking spaces. In: Paper presented at the 2nd Geography of Innovation Conference, Utrecht University, Utrecht

Noorderhaven N, Thurik R, Wennekers S, Av Stel (2004) The role of dissatisfaction and per capita income in explaining self-employment across 15 European countries. Entrep Theory Pract 28:447–466. doi:10.1111/j.1540-6520.2004.00057.x

Oldenburg R (1989) The great good place: Café, coffee shops, community centers, beauty parlors, general stores, bars, hangouts, and how they get you through the day. Paragon House Publishers, New York

Oldenburg R, Brissett D (1982) The third place. Qual Sociol 5:265–284. doi:10.1007/BF00986754

Oskam J, Boswijk A (2016) Airbnb: the future of networked hospitality businesses. J Tour Futur 2:22–42. doi:10.1108/JTF-11-2015-0048

Pawar KS, Sharifi S (1997) Physical or virtual team collocation: does it matter? Int J Prod Econ 52:283–290. doi:10.1016/S0925-5273(97)89241-9

Phelps CC (2010) A longitudinal study of the influence of alliance network structure and composition on firm exploratory innovation. Acad Manag J 53:890–913. doi:10.5465/AMJ.2010.52814627

Pohler N (2012) Neue Arbeitsräume für neue Arbeitsformen: coworking Spaces. Osterr Z Soziol 37:65–78. doi:10.1007/s11614-012-0021-y

Prahalad CK, Ramaswamy V (2004) Co-creation experiences: the next practice in value creation. J Interact Mark 18:5–14. doi:10.1002/dir.20015

Schopfel J, Roche J, Hubert G (2015) Co-working and innovation: new concepts for academic libraries and learning centres. New Libr World 116:67–78. doi:10.1108/NLW-06-2014-0072

Shane S, Venkataraman S (2000) The promise of entrepreneurship as a field of research. Acad Manag Rev 25:217–226. doi:10.5465/amr.2000.2791611

Spinuzzi C (2012) Working alone together: coworking as emergent collaborative activity. J Bus Tech Commun 26:399–441. doi:10.1177/1050651912444070

Thurik AR, Carree MA, van Stel A, Audretsch DB (2008) Does self-employment reduce unemployment? J Bus Ventur 23:673–686. doi:10.1016/j.jbusvent.2008.01.007

Utsch A, Rauch A (2000) Innovativeness and initiative as mediators between achievement orientation and venture performance. Eur J Work Organ Psy 9:45–62. doi:10.1080/135943200398058

Zhao X, Mattila AS, Eva Tao L-S (2008) The role of post-training self-efficacy in customers' use of self service technologies. Int J Serv Ind Manag 19:492–505. doi:10.1108/09564230810891923
About this article
Cite this article
Bouncken, R.B., Reuschl, A.J. Coworking-spaces: how a phenomenon of the sharing economy builds a novel trend for the workplace and for entrepreneurship. Rev Manag Sci 12, 317–334 (2018). https://doi.org/10.1007/s11846-016-0215-y
Received:

Accepted:

Published:

Issue Date:
Keywords
Coworking space

Entrepreneurship

Self-efficacy

Open innovation

Learning

Literature review
JEL Classification