Abstract
This paper clarifies how a firm's entrepreneurial orientation (EO) affects joint product innovation within a vertical alliance and how this is influenced by increasing technological uncertainty and the absorption of knowledge from the alliance partners. The results of a structural equation model with latent interactions on 171 firms in the manufacturing industry indicate that the focal firm's EO increases joint innovation, although this positive effect declines when a high level of uncertainty increases. On the other hand, the ability to absorb partners' knowledge increases joint product innovation. As such, this study's results contribute to research in the field of vertical alliances, EO, and the theoretical foundation of a dynamic capability perspective.
Access options
Buy single article
Instant access to the full article PDF.
US$ 39.95
Tax calculation will be finalised during checkout.
Subscribe to journal
Immediate online access to all issues from 2019. Subscription will auto renew annually.
US$ 79
Tax calculation will be finalised during checkout.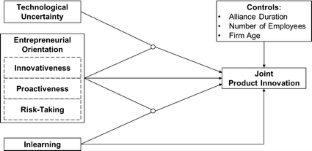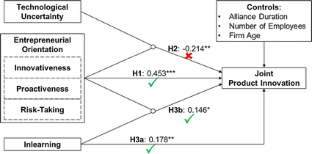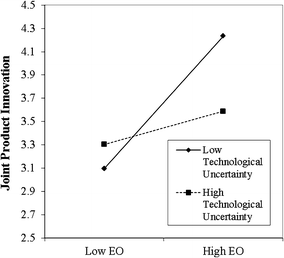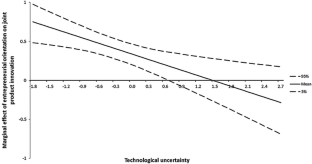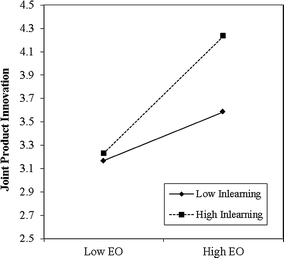 References
Agarwal R (1998) Small firm survival and technological activity. Small Bus Econ 11(3):215–224

Alvarez SA, Barney JB (2005) How do entrepreneurs organize firms under conditions of uncertainty? J Manag 31(5):776–793

Anderson JC, Narus JA (1990) A model of distributor firm and manufacturer firm working partnerships. J Mark 54(1):42–58

Anderson BS, Covin JG, Slevin DP (2009) Understanding the relationship between entrepreneurial orientation and strategic learning capability: an empirical investigation. Strateg Entrepreneurship J 3(3):218–240

Azadegan A (2011) Benefiting from supplier operational innovativeness: the influence of supplier evaluations and absorptive capacity. J Supply Chain Manag 47(2):49–64

Azadegan A, Dooley KJ, Carter PL, Carter JR (2008) Supplier innovativeness and the role of interorganizational learning in enhancing the manufacturer capabilities. J Supply Chain Manag 44(4):14–35

Bagozzi RP, Baumgartner H (1994) The evaluation of structural equation models and hypotheses testing. In: Bagozzi RP (ed) Principles of marketing research. Blackwell Publishers Ltd, Cambridge, pp 323–359

Baird IS, Thomas H (1985) Toward a contingency model of strategic risk taking. Acad Manag Rev 10(2):230–243

Balachandra R, Friar JH (1997) Factors for success in R&D projects and new product innovation : a contextual framework. IEEE Trans Eng Manag 44(3):276–287

Barreto I (2010) Dynamic capabilities: a review of past research and an agenda for the future. J Manag 36(1):256–280

Becerra M, Lunnan R, Huemer L (2008) Trustworthiness, risk, and the transfer of tacit and explicit knowledge between alliance partners. J Manag Stud 45(4):691–713

Berghman L, Matthyssens P, Vandenbempt K (2012) Value innovation, deliberate learning mechanisms and information from supply chain partners. Ind Mark Manag 41(1):27–39

Bernoulli D (1954) Exposition of a new theory on the measurement of risk. Econometrica 22(1):23–36

Bidault F, Despres C, Butler C (1998) The driver of cooperation between buyers and suppliers for product innovation. Res Policy 26(7):719–732

Bockmühl S, König A, Enders A, Hungenberg H, Puck J (2011) Intensity, timeliness, and success of incumbent response to technological discontinuities: a synthesis and empirical investigation. RMS 5(4):265–289

Bouncken RB (2011) Innovation by operating practices in project alliances—when size matters. Br J Manag 22(4):586–608

Bouncken RB, Kraus S (2013) Innovation in knowledge-intensive industries: the double-edged sword of coopetition. J Bus Res 66(10):2060–2070

Bouncken RB, Pesch R (2014) New product performance through channeling in supply chain innovation alliances. In: Das TK (ed) Strategic alliances for innovation and R&D. Charlotte, IAP, pp 85–111

Bouncken RB, Teichert T (2013) Co-poiesis: the joint birth of knowledge across organizational boundaries. Int J Innov Technol Manag 10(6):1–25

Brambor T, Clark WR, Golder M (2006) Understanding interaction models: improving empricial analyses. Polit Anal 14(1):63–82

Bruce M, Feverick F, Littler D, Wilson D (1995) Sucess factors for collaborative product development: a study of suppliers of information and communication technology. R&D Manag 25(1):33–44

Burns T, Stalker GM (1961) The management of innovations. Tavistock Publications, London

Busenitz LW, Barney JB (1997) Differences between entrepreneurs and managers in large organizations: biases and heuristics in strategic decision-making. J Bus Ventur 12(1):9–30

Byrne BM (2012) Structural equation modeling with Mplus. Routledge, New York

Campbell DT (1955) The informant in quantitative research. Am J Sociol 60(4):339–342

Chen C-J (2004) The effects of knowledge attribute, alliance characteristics, and absorptive capacity on knowledge transfer performance. R&D Manag 34(3):311–321

Chesbrough HW (2002) Making sense of corporate venture capital. Harv Bus Rev 80(3):90–99

Child J (1972) Organizational structure, environment and performance: the role of strategic choice. Sociology 6(1):1–22

Chin WW (1998) The partial least squares approach for structural equation modeling. In: Marcoulides GA (ed) Modern methods for business research. Lawrence Erlbaum Associates, Mahwah, pp 295–336

Christensen CM, Overdorf M (2000) Meeting the challenge of disruptive change. Harv Bus Rev 78(2):66–77

Christensen CM, Raynor ME (2003) The innovators solution: creating and sustaining successful growth. Harvard Business Press, Boston

Cohen WM, Levinthal DA (1990) Absorptive capacity: a new perspective on learning and innovation. Adm Sci Q 35(1):128–152

Cooper RG (1983) The new product process: an empirically based classification scheme. R&D Manag 12:243–256

Cousins PD, Lawson B, Petersen KJ, Handfield RB (2011) Breakthrough scanning, supplier knowledge exchange, and new product development performance. J Prod Innov Manag 28(6):930–942

Coviello NE, Joseph RM (2012) Creating major innovations with customers: insights from small and young technology firms. J Mark 76(6):87–104

Covin JG, Slevin DP (1989) Strategic management of small firms in hostile and benign environments. Strateg Manag J 10(1):75–87

Covin JG, Slevin DP (1991) A conceptual model of entrepreneurship as firm behavior. Entrepreneurship Theory Pract 16(1):7–25

Covin JG, Wales WJ (2012) The measurement of entrepreneurial orientation. Entrepreneurship Theory Pract 36(4):677–702

Cyert RM, March J (1963) A behavioral theory of the firm. Prentice-Hall, Englewood Cliffs

Damanpour F (1991) Organizational innovation: a meta-analysis of effects of determinants and moderators. Acad Manag J 34(3):555–590

Das TK, Teng B-S (1998) Between trust and control: developing confidence in partner cooperation in alliances. Acad Manag Rev 23(3):491–512

Das TK, Teng B-S (2000) A resource-based theory of strategic alliances. J Manag 26(1):31–61

Das TK, Teng B-S (2001) Trust, control, and risk in strategic alliances: an integrated framework. Organ Stud 22(2):251–283

De Carolis DM, Saparito P (2006) Social capital, cognition, and entrepreneurial opportunities: a theoretical framework. Entrepreneurship Theory Pract 30(1):41–56

de Faria P, Lima F, Santos R (2010) Cooperation in innovation activities: the importance of partners. Res Policy 39(8):1082–1092

Deeds DL, Hill CWL (1996) Strategic alliances and the rate of new product development: an empirical study of entrepreneurial biotechnology firms. J Bus Ventur 11(1):41–55

Dess GG, Lumpkin GT (2005) The role of entrepreneurial orientation in stimulating effective corporate entrepreneurship. Acad Manag Exec 19(1):147–156

Dewar RD, Dutton JE (1986) The adoption of radical and incremental innovations: an empirical analysis. Manag Sci 32(11):1422–1433

Dickson PH, Weaver KM (1997) Environmental determinants and individual-level moderators of alliance use. Acad Manag J 40(2):404–425

Downey HK, Hellriegel D, Slocum JW (1977) Individual characteristics as sources of perceived uncertainty variability. Hum Relat 30(2):161–174

Doz YL (1996) The evolution of cooperation in strategic alliances: initial conditions or learning processes? Strateg Manag J 17(S1):55–83

Dushnitsky G, Lenox MJ (2006) When does corporate venture capital investment create firm value? J Bus Ventur 21:753–772

Eggers F, Kraus S, Hughes M, Laraway S, Snycerski S (2013) Implications of customer and entrepreneurial orientations for SME growth. Manag Decis 51(3):524–546

Eggers F, Kraus S, Covin JG (2014) Traveling into unexplored territory: radical innovativeness and the role of networking, customers, and technologically turbulent environments. Ind Mark Manag. doi:10.1016/j.indmarman.2014.08.006

Eisenhardt KM, Bourgeois LJ (1990) Charting strategic decisions in the microcomputer industry: profile of an industry sector. In: Von Glinow MA, Mohrman SA (eds) Managing complexity in high technology organizations. University Press, Oxford

Eisenhardt KM, Martin JA (2000) Dynamic capabilities: what are they? Strateg Manag J 21(10–11):1105–1121

Eisenhardt KM, Tabrizi BN (1995) Accelerating adaptive processes—product innovation in the global computer industry. Adm Sci Q 40(1):84–110

Ernst H, Witt P, Brachtendorf G (2005) Corporate venture capital as a strategy for external innovation: an exploratory empirical study. R&D Manag 35(3):233–242

Ertek G, Griffin PM (2002) Supplier- and buyer-driven channels in a two-stage supply chain. IIE Trans 34(8):691–700

Faems D, Van Looy B, Debackere K (2005) Interorganizational collaboration and innovation: toward a portfolio approach. J Prod Innov Manage 22(3):238–250

Fawcett SE, Magnan GM (2001) Achieving world-class supply chain alignment: benefits, barriers, and bridges. Center for Advanced Purchasing Studies, Tempe

Fawcett SE, Magnan GM, McCarter MW (2008) Benefits, barriers, and bridges to effective supply chain management. Supply Chain Manag: Int J 13(1):35–48

Fornell C, Bookstein FL (1982) Two structural equation models: LISREL and PLS applied to consumer exit-voice theory. J Mark Res 19(4):440–452

Fornell C, Larcker DF (1981) Evaluating structural equation models with unobservable variables and measurement error. J Mark Res 18(1):39–50

Frank H, Kessler A, Fink M (2010) Entrepreneurial orientation and business performance—a replication study. Schmalenbach Bus Rev 62(2):175–198

Fynes B, De Búrca S, Marshall D (2004) Environmental uncertainty, supply chain relationship quality and performance. J Purch Supply Manag 10(4–5):179–190

Garcia R, Calantone R (2002) A critical look at technological innovation typology and innovativeness terminology: a literature review. J Prod Innov Manag 19(2):110–132

Gerwin D, Ferris JS (2004) Organizing new product development projects in strategic alliances. Organ Sci 15(1):22–37

Gil MJÁ, de la Fé PG (1999) Strategic alliances, organisational learning and new product development: the cases of Rover and Seat. R&D Manag 29(4):391–404

Gilbert CG (2005) Unbundling the structure of inertia: resource versus routine rigidity. Acad Manag J 48(5):741–763

Grant RM (1996) Toward a knowledge-based theory of the firm. Strateg Manag J 17(S2):109–122

Grant RM, Baden-Fuller C (1995) A knowledge-based theory of inter-firm collaboration. Acad Manag Proc 1:17–21

Grant RM, Baden-Fuller C (2004) A knowledge accessing theory of strategic alliances. J Manag Stud 41(1):61–84

Green SG, Gavin MB, Aiman-Smith L (1995) Assessing a multidimensional measure of radical technological innovation. IEEE Trans Eng Manag 42(3):203–214

Griffin A (1997) The effect of project and process characteristics on product development cycle time. J Mark Res 34(1):24–35

Gubbins C, Dooley L (2014) Exploring social network dynamics driving knowledge management for innovation. J Manag Inq 23(2):162–185

Hagedoorn J (1993) Understanding the rationale of strategic technology partnering: nterorganizational modes of cooperation and sectoral differences. Strateg Manag J 14(5):371–385

Hair JF, Ringle CM, Sarstedt M (2011) PLS-SEM: indeed a silver bullet. J Mark Theory Pract 19(2):139–152

Hair JF, Sarstedt M, Ringle CM, Mena JA (2012) An assessment of the use of partial least squares structural equation modeling in marketing research. J Acad Mark Sci 40(3):414–433

Hair JF, Hult GTM, Ringle CM, Sarstedt M (2014) A primer on partial least squares structural equation modeling. Sage, Thousand Oaks

Hannan MT, Freeman J (1984) Structural inertia and organizational change. Am Sociol Rev 49(2):149–164

Harms R, Reschke CH, Kraus S, Fink M (2010) Antecedents to innovation and growth: analyzing the impact of entrepreneurial orientation and goal-oriented management. Int J Technol Manag 52(1/2):135–152

Harrison JS, Hitt MA, Hoskisson RE, Ireland RD (2001) Resource complementarity in business combinations: extending the logic to organizational alliances. J Manag 27(6):679–690

Hatten TS, Coulter M (1997) Small business: entrepreneurship and beyond. Prentice Hall, New Jersey

Hauschildt J (1999) Zur Weiterentwicklung des Promotoren-Modells. In: Hauschildt J, Gemünden HG (eds) Promotoren. Champions der Innovation, 2nd edn. Gabler, Wiesbaden, pp 255–305

Haveman HA (1993) Organizational size and change: diversification in the savings and loan industry after deregulation. Adm Sci Q 38(1):20–50

Helfat CE (1997) Know-how and asset complementary and dynamic capability accumulation: the case of R&D. Strateg Manag J 18(5):339–360

Helfat CE, Finkelstein S, Mitchell W, Peteraf M, Singh H, Teece D, Winter SG (2007) Dynamic capabilities: understanding strategic change in organizations. Blackwell Publishing, Malden

Hong J, Song TH, Yoo S (2013) Paths to success: how do market orientation and entrepreneurship orientation produce new product success? J Prod Innov Manag 30(1):44–55

Hsu C-C, Tan KC, Laosirihongthong T, Leong GK (2011) Entrepreneurial SCM competence and performance of manufacturing SMEs. Int J Prod Res 49(22):6629–6649

Huber GP, O'Connell MJ, Cummings LL (1975) Perceived environmental uncertainty: effects of information and structure. Acad Manag J 18(4):725–740

Hult GTM, Hurley RF, Knight GA (2004) Innovativeness: its antecedents and impact on business performance. Ind Mark Manag 33(5):429–438

Inkpen AC, Tsang EWK (2007) Learning and strategic alliances. Acad Manag Ann 1(1):479–511

Jääskeläinen MA, Kortelainen S, Hinkkanen JJ (2013) Conceptualizing the co-creation of competitive advantage in technology-intensive B2B markets: agent-based modeling approach. Int J Innov Manag 17(03):1–17

Jiang X, Li Y (2009) An empirical investigation of knowledge management and innovative performance: the case of alliances. Res Policy 32(2):358–368

Kale P, Singh H, Perlmutter H (2000) Learning and protection of proprietary assets in strategic alliances: building relational capital. Strateg Manag J 21(3):217–237

Kessler EH, Chakrabarti AK (1996) Innovation speed: a conceptual model of context, antecedents, and outcomes. Acad Manag Rev 21:1143–1191

Khandwalla PN (1977) The design of organizations. Harcourt Brace Jovanovich, New York

Kim N, Atuahene-Gima K (2010) Using exploratory and exploitative market learning for new product development. J Prod Innov Manag 27(4):519–536

Koellinger P, Minniti M, Schade C (2007) "I think I can, I think I can": overconfidence and entrepreneurial behavior. J Econ Psychol 28(4):502–527

Kogut B (1988) Joint ventures: theoretical and empirical perspectives. Strateg Manag J 9(4):319–332

Kogut B, Zander U (1992) Knowledge of the firm, combinative capabilities, and the replication of technology. Organ Sci 3(3):383–397

Kraus S (2013) The role of entrepreneurial orientation in service firms: empirical evidence from Austria. Serv Ind J 33(5):427–444

Kraus S, Rigtering JPC, Hughes M, Hosman V (2012) Entrepreneurial orientation and the business performance of smes: a quantitative study from the Netherlands. RMS 6(2):161–182

Kumar N, Stern LW, Anderson JC (1993) Conducting interorganizational research using key informants. Acad Manag J 36(6):1633–1651

Kyrgidou LP, Spyropoulou S (2013) Drivers and performance outcomes of innovativeness: an empirical study. Br J Manag 24(3):281–298

Lam A (1997) Embedded firms, embedded knowledge: problems of collaboration and knowledge transfer in global cooperative ventures. Organ Stud 18(6):973–996

Lau AKW, Tang E, Yam RCM (2010) Effects of supplier and customer integration on product innovation and performance: empirical evidence in Hong Kong manufacturers. J Prod Innov Manag 27(5):761–777

Lee Y, Colarelli O'Connor G (2003) The impact of communication strategy on launching new products: the moderating role of product innovativeness. J Prod Innov Manag 20(1):4–21

Lee RP, Johnson JL (2010) Managing multiple facets of risk in new product alliances. Decis Sci 41(2):271–300

Lee C, Lee K, Pfennungs JM (2001) Internal capabilities, external networks and performance, a study on technology-based ventures. Strateg Manag J 22(6–7):615–640

Lewis MW, Welsh MA, Dehler GE, Green SG (2002) Product development tensions: exploring contrasting styles of project management. Acad Manag J 45(3):546–564

Liu SS (2009) The roles of competence trust, formal contract, and time horizon in interorganizational learning. Organ Stud 30(4):333–353

Liu SS, Luo X, Shi Y-Z (2002) Integrating customer orientation, corporate entrepreneurship, and learning orientation in organizations-in-transition: an empirical study. Int J Res Mark 19(4):367–382

Lumineau F, Henderson JE (2012) The influence of relational experience and contractual governance on the negotiation strategy in buyer-supplier disputes. J Oper Manag 30(5):382–395

Lumpkin GT, Dess GG (1996) Clarifying the entrepreneurial orientation construct and linking it to performance. Acad Manag Rev 21(1):135–172

Lumpkin GT, Dess GG (2001) Linking two dimensions of entrepreneurial orientation to firm performance: the moderating role of environment and industry life cycle. J Bus Ventur 16(5):429–451

Lyon DW, Lumpkin GT, Dess GD (2000) Enhancing entrepreneurial orientation research: operationalizing and measuring a key strategic decision making process. J Manag 26(5):1055–1085

March JG (1991) Exploration and exploitation in organizational learning. Organ Sci 2(1):71–87

Mesquita LF, Anand J, Brush TH (2008) Comparing the resource-based and relational views: knowledge transfer and spillover in vertical alliances. Strateg Manag J 29(9):913–941

Miller D (1983) The correlates of entrepreneurship in three types of firms. Manag Sci 29(7):770–791

Miller D, Friesen PH (1982) Innovation in conservative and entrepreneurial firms: two models of strategic momentum. Strateg Manag J 3(1):1–25

Moorman C, Zaltman G, Deshpande R (1992) Relationships between providers and users of market-research—the dynamics of trust within and between organizations. J Mark Res 29(3):314–328

Mowery DC, Oxley JE, Silverman BS (1996) Strategic alliances and interfirm knowledge transfer. Strateg Manag J 17(S2):77–91

Murphy KR, Davidshofer C (1988) Psychological testing: principles and applications. Prentice-Hall, Englewood Cliffs

Nelson RR, Winter SG (1982) An evolutionary theory of economic change. Harvard University Press, Boston

Nieto M, Quevedo P (2005) Absorptive capacity, technological opportunity, knowledge spillovers, and innovative effort. Technovation 25(10):1141–1157

Nunnally JC (1978) Psychometric theory, 2nd edn. McGraw-Hill, New York

Olson EM, Walker OC, Rueckert RW, Bonner JM (2001) Patterns of cooperation during new productdevelopment among marketing, operations and R&D: implications for project performance. J Prod Innov Manag 18(4):258–271

Palich LE, Ray Bagby D (1995) Using cognitive theory to explain entrepreneurial risk-taking: challenging conventional wisdom. J Bus Ventur 10(6):425–438

Phelps CC (2010) A longitudinal study of the influence of alliance network structure and composition on firm exploratory innovation. Acad Manag J 53(4):890–913

Podsakoff PM, Organ DW (1986) Self-reports in organizational research: problems and prospects. J Manag 12(4):531–544

Podsakoff PM, MacKenzie SB, Lee J-Y, Podsakoff NP (2003) Common method biases in behavioral research: a critical review of the literature and recommended remedies. J Appl Psychol 88(5):879

Priem RL, Swink M (2012) A demand-side perspective on supply chain management. J Supply Chain Manag 48(2):7–13

Pugh DS, Hickson DJ (1976) Organizational structure in its context: the aston programme I. Lexington Books, Westmead-Farnborough

Ragatz GL, Handfield RB, Scannell TV (1997) Success factors for integrating suppliers into new product development. J Prod Innov Manag 14(3):190–202

Rauch A, Wiklund J, Lumpkin GT, Frese M (2009) Entrepreneurial orientation and business performance: an assessment of past research and suggestions for the future. Entrepreneurship Theory Pract 33(3):761–787

Reinartz W, Haenlein M, Henseler J (2009) An empirical comparison of the efficacy of covariance-based and variance-based SEM. Int J Res Mark 26(4):332–344

Renko M, Carsrud A, Brännback M (2009) The effect of a market orientation, entrepreneurial orientation, and technological capability on innovativeness: a study of young biotechnology ventures in the United States and in Scandinavia. J Small Bus Manag 47(3):331–369

Rindfleisch A, Moorman C (2001) The acquisition and utilization of information in new product alliances: a strength-of-ties perspective. J Mark 65(2):1–18

Ringle CM, Wende S, Will A (2005) SmartPLS 2.0 (M3) Beta

Sáenz MJ, Revilla E, Knoppen D (2014) Absorptive capacity in buyer–supplier relationships: empirical evidence of its mediating role. J Supply Chain Manag 50(2):18–40

Saleh SD, Wang CK (1993) The management of innovation: strategy, structure, and organizational climate. IEEE Trans Eng Manag 40(1):14–21

Sampson R (2007) R&D Alliances and firm performance: the impact of technology diversity and alliance organization on innovation. Acad Manag J 50(2):364–386

Sarkar MB, Echambadi R, Harrison JS (2001) Alliance entrepreneurship and firm market performance. Strateg Manag J 22(6/7):701–711

Schiele H, Veldman J, Hüttinger L (2011) Supplier innovativeness and supplier pricing: the role of preferred customers status. Int J Innov Manag 15(01):1–27

Schumpeter JA (1934) The theory of economic development: an inquiry into profits, capital, credit, interest and the business cycle. Cambridge University Press, Cambridge

Shane S, Venkataraman S (2000) The promise of entrepreneurship as a field of research. Acad Manag Rev 25(1):217–226

Simonin BL (1999) Ambiguity and the process of knowledge transfer in strategic alliances. Strateg Manag J 20(7):595–623

Song M, Di Benedetto CA (2008) Supplier's involvement and success of radical new product development in new ventures. J Oper Manag 26(1):1–22

Song M, Montoya-Weiss MM (2001) The effect of perceived technological uncertainty on Japanese new product development. Acad Manag J 44(1):61–80

Sørensen JB, Stuart TE (2000) Aging, obsolescence, and organizational innovation. Adm Sci Q 45(1):81–112

Spender J-C (1996) Making knowledge the basis of a dynamic theory of the firm. Strateg Manag J. Special issue: knowledge and the firm, vol. 17, pp 45–62

Staw BM, Sandelands LE, Dutton JE (1981) Threat rigidity effects in organizational behavior: a multilevel analysis. Adm Sci Q 26(4):501–524

Stonebraker PW, Afifi R (2004) Toward a contingency theory of supply chains. Manag Decis 42(9):1131–1144

Sunindijo RY, Hadikusumo BH, Ogunlana S (2007) Emotional intelligence and leadership styles in construction project management. J Manag Eng 23(4):166–170

Tan J (2001) Innovation and risk-taking in a transitional economy: a comparative study of Chinese managers and entrepreneurs. J Bus Ventur 16(4):359–376

Teece DJ (2007) Explicating dynamic capabilities: the nature and microfoundations of (sustainable) enterprise performance. Strateg Manag J 28(13):1319–1350

Thompson J (1967) Organizations in action. McGraw-Hill, New York

Tosi H, Aldag R, Storey R (1973) On the measurement of the environment: an assessment of the Lawrence and Lorsch environmental uncertainty subscale. Adm Sci Q 18(1):27–36

Utterback JM, Abernathy WJ (1975) A dynamic model of process and product innovation. Omega 3(6):639–656

Van de Ven AH (1986) Central problems in the management of innovation. Manag Sci 32(5):590–607

Wagner SM, Coley LS, Lindemann E (2011) Effects of suppliers' reputation on the future of buyer–supplier relationships: the mediating roles of outcome fairness and trust. J Supply Chain Manag 47(2):29–48

Wales WJ, Gupta VK, Mousa F-T (2013) Empirical research on entrepreneurial orientation: an assessment and suggestions for future research. Int Small Bus J 31(4):357–383

Wang CL (2008) Entrepreneurial orientation, learning orientation, and firm performance. Entrepreneurship Theory Pract 32(4):635–656

Wang CL, Ahmed PK (2007) Dynamic capabilities: a review and research agenda. Int J Manag Rev 9(1):31–51

Weaver KM, Dickson PH, Gibson B, Turner A (2002) Being uncertain: the relationship between entrepreneurial orientation and environmental uncertainty. J Enterp Cult 10(2):87–105

Webster M, Hudson T (1991) Strategic management: a theoretical overview and its application to the hospitality industry. In: Teare R, Boer A (eds) Strategic hospitality management. Cassell Educational, London

Weick KE (1995) Sensemaking in organizations. Sage Publications, Thousand Oaks

Wiklund J, Shepherd D (2003) Knowledge-based resources, entrepreneurial orientation, and the performance of small and medium-sized businesses. Strateg Manag J 24(13):1307–1314

Wilden R, Gudergan SP, Nielsen BB, Lings I (2013) Dynamic capabilities and performance: strategy, structure and environment. Long Range Plan 46(1–2):72–96

Winter SG (2003) Understanding dynamic capabilities. Strateg Manag J 24(10):991–995

Wold H (1980) Soft modelling: intermediate between traditional model building and data analysis. Math Stat 6:333–346

Wu WY, Chang ML, Chen CW (2008) Promoting innovation through the accumulation of intellectual capital, social capital, and entrepreneurial orientation. R&d Manag 38(3):265–277

Yan T, Dooley K (2014) Buyer–supplier collaboration quality in new product development projects. J Supply Chain Manag 50(2):59–83

Zahra SA, George G (2002) Absorptive capacity: a review, reconceptualization, and extension. Acad Manag Rev 27(2):185–203

Zhang M, Macpherson A, Jones O (2006) Conceptualizing the learning process in SMEs: improving innovation through external orientation. Int Small Bus J 24(3):299–323

Zhao Y, Lavin M (2012) An empirical study of knowledge transfer in working relationship with suppliers in new product development. Int J Innov Manag 16(02):59–83
About this article
Cite this article
Bouncken, R.B., Plüschke, B.D., Pesch, R. et al. Entrepreneurial orientation in vertical alliances: joint product innovation and learning from allies. Rev Manag Sci 10, 381–409 (2016). https://doi.org/10.1007/s11846-014-0150-8
Received:

Accepted:

Published:

Issue Date:
Keywords
Entrepreneurial orientation

Product innovation

Vertical alliance

Inter-organizational learning

Technological uncertainty
JEL Classification