Abstract
This paper aims to contribute to the empirical evidence relating corporate social responsibility (CSR), board composition, and firm performance. Using a sample of Spanish listed firms included in the IBEX 35 over the period 2005–2010 the results show that the percentage of independent directors affect firm CSR activities, and that this effect is moderated by the resources available to the firm (measured by return on assets). Also, the CSR has a mediating role on the relation between the independence of the board of directors and firm value. These results hold for other board characteristics (board size and women as directors).
This is a preview of subscription content, log in to check access.
Access options
Buy single article
Instant access to the full article PDF.
US$ 39.95
Price includes VAT for USA
Subscribe to journal
Immediate online access to all issues from 2019. Subscription will auto renew annually.
US$ 99
This is the net price. Taxes to be calculated in checkout.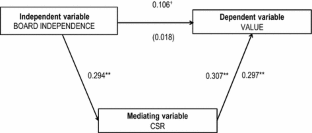 Notes
1.

See Rausch (2011) for a summary about the main characteristics of Shareholder and Stakeholder Theories.

2.

The Observatorio de Responsabilidad Social Corporativa is an association made up of organisations representing civil society, including NGOs, trade unions and consumers' organisations, which encourages participation and cooperation amongst social organisations working in CSR in different ways.

3.

The obligations established in the Norms can be grouped in the following categories: (a) general obligation to respect, promote and secure the fulfillment of human rights, (b) ensuring equality of opportunity and treatment for the purpose of eliminating discrimination, (c) not engaging in nor benefiting from war crimes respecting the right to security of persons, (d) not using forced or compulsory labour, respecting the rights of children to be protected from economic exploitation, providing a safe and healthy working environment, providing workers with remuneration that ensures an adequate standard of living and ensuring freedom of association and effective recognition of the right to collective bargaining, (e) prohibition of corruption, not supporting States or any other entities to abuse human rights and respecting economic, social and cultural rights, as well as civil and political rights, and contributing to their realization, (f) acting in accordance with fair business, marketing and advertising practices and ensuring the safety and quality of the goods and services they provide, (g) carrying out their activities in accordance with the regulation relating to the preservation of the environment and contributing to the wider goal of sustainable development, (h) implementing the necessary internal rules of operation, monitoring and verification in compliance with the Norms.

4.

We initially considered controlling for the sector effect by including dummy variables for each of the sectors to which the sample firms belong. However, this possibility was rejected because it increased excessively the number of explanatory variables considering our sample size and made it difficult to draw up a homogeneous definition of all the variables in all the models considered (determinants for CSR and firm value).

5.

The year considered as a reference was 2005.
References
Adams RB, Ferreira D (2009) Women in the boardroom and their impact of governance and performance. J Financ Econ 94:291–309

Adams RB, Mehran H (2005) Corporate performance, board structure and its determinants in the banking industry. In: EFA 2005 Moscow meetings

Aiken LS, West SG (1991) Multiple regression: testing and interpreting interactions. SAGE Publications, Newbury Park

Albinger HS, Freeman SJ (2000) Corporate social performance and attractiveness as an employer to different job seeking populations. J Bus Ethics 28:243–253

Allouche J, Laroche P (2006) The relationship between corporate social responsibility and corporate financial performance: a survey. In: Allouche J (ed) Corporate social responsibility: performance and stakeholders. Palgrave MacMillan, Basingstoke, pp 3–40

Amato L, Amato CH (2007) The effects of firm size and industry in corporate living. J Bus Ethics 72:229–241

Arellano M, Bond S (1991) Some tests of specification for panel data: Monte Carlo evidence and an application to employment equations. Rev Econ Stud 58:277–297

Arora P, Dharwadkar R (2011) Corporate governance and corporate social responsibility (CSR): the moderating roles of attainment discrepancy and organization slack. Corp Gov Int Rev 19:136–152

Bagnoli M, Watts SG (2003) Selling to socially responsible consumers: competition and the private provision of public goods. J Econ Manag Strategy 12:419–445

Baird P, Gylani P (2012) Corporate social and financial performance re-examined: industry effects in a linear mixed model analysis. J Bus Ethics 109:367–388

Barney JB (1991) Firm resources and sustained competitive advantage. J Manag 17:99–120

Baron DP (2001) Private politics, corporate social responsibility, and integrated strategy. J Econ Manag Strategy 10:7–45

Baron DP (2008) Managerial contracting and corporate social responsibility. J Public Econ 92:268–288

Baron RM, Kenny DA (1986) The moderator-mediator variable distinction in social psychological research: conceptual, strategic, and statistical considerations. J Pers Soc Psychol 51:1173–1182

Bear S, Rhaman N, Post C (2010) Impact of board diversity and gender composition on corporate social responsibility and firm reputation. J Bus Ethics 97:201–221

Bebchuk LA, Weisbach MS (2010) The state of corporate governance research. Rev Financ Stud 23:939–961

Bebchuk LA, Grinstein Y, Peyer U (2010) Lucky CEOs and lucky directors. J Financ 65:2363–2401

Becchetti L, Ciciretti R, Hasan I, Kobeissi N (2012) Corporate social responsibility and shareholder value. J Bus Res 65:1628–1635

Bénabou R, Tirole J (2010) Individual and corporate social responsibility. Economica 77(305):1–19

Béthoux E, Didry C, Mias A (2007) What codes of conduct tell us: corporate social responsibility and the nature of the multinational corporation. Corp Gov Int Rev 15:77–90

Bhagat S, Black B (2002) The non-correlation between board independence and long term firm performance. J Corp Law 27:231–274

Boeker W, Goodstein J (1993) Performance and successor choice: the moderating effects of governance and ownership. Acad Manag J 36:173–186

Bollen KA, Stine R (1990) Direct and indirect effects: classical and bootstrap estimates of variability. Soc Methodol 20:115–140

Campbell JL (2007) Why would corporations behave in socially responsible ways? An institutional theory of corporate social responsibility. Acad Manag Rev 32:946–967

Campbell K, Mínguez-Vera A (2010) Gender diversity in the boardroom and firm financial performance. J Bus Ethics 83:435–451

Carroll AB (1979) A three dimensional conceptual model of corporate social performance. Acad Manag Rev 4:497–505

Carroll AB, Shabana KM (2010) The business case for corporate social responsibility: a review of concepts. Int J Manag Rev 12:85–105

Cespa G, Cestone G (2007) Corporate social responsibility and managerial entrenchment. J Econ Manag Strategy 16:741–771

Chhaochharia V, Grinstein Y (2009) CEO compensation and board structure. J Financ 64:231–261

Coffey BS, Wang J (1998) Board diversity and managerial control as predictors of corporate social performance. J Bus Ethics 17:1595–1603

Cohen J, Cohen P, West SG, Aiken LS (2003) Applied multiple regression/correlation analysis for the behavioral sciences, 3rd ed. Lawrence Erlbaum Associates Inc. Publishers, Mahwah

Cuadrado-Ballesteros B, García-Rubio R, Martínez-Ferrero J (2014) Effect of the composition of the board of director son corporate social responsibility. Span Account Rev (in press). doi:10.1016/j.rcsar.2014.02.003

Dahya J, Dimitrov O, McConnell J (2008) Dominant shareholders, corporate boards, and corporate value: a cross-country analysis. J Financ Econ 87:73–100

Dalton D, Daily C, Johnson J, Ellstrand A (1999) Number of directors and financial performance: a meta-analysis. Acad Manag J 42:674–686

Davis JH, Schoorman FD, Donaldson L (1997) Toward a stewardship theory of management. Acad Manag Rev 22:20–47

De Miguel A, Pindado J, De la Torre C (2004) Ownership structure and firm value: new evidence from Spain. Strateg Manag J 25:1199–1207

De Villiers C, Naiker V, Van Staden CJ (2011) The effect of board characteristics on firm environmental performance. J Manag 37:1636–1663

Diller J (1999) A social conscience in the global marketplace? Labour dimensions of codes of conduct, social labelling and investor initiatives. Int Labour Rev 138:99–129

Donker H, Poff D, Zahir S (2008) Corporate values, codes of ethics, and firm performance: a look at the Canadian context. J Bus Ethics 82:527–537

Fassin Y, Van Rossem A (2009) Corporate governance in the debate on CSR and ethics: sense making of social issues in management by authorities and CEOs. Corp Gov Int Rev 17:573–593

Fernández Sánchez JL, Luna L, Baraibar E (2011) The relationship between corporate governance and corporate social behavior: a structural equation model analysis. Corp Soc Responsib Environ Manag 18:91–101

Ferrero-Ferrero I, Fernández-Izquierdo MA, Muñoz-Torres MJ (2012) The impact of the board of directors characteristics on corporate performance and risk-taking before and during the global financial crisis. RMS 6:207–226

Ferrero-Ferrero I, Fernández-Izquierdo MA, Muñoz-Torres MJ (2013) Integrating sustainability into corporate governance: an empirical study of board diversity. Corp Soc Responsib Environ Manag (in press). doi:10.1002/csr.1333

Freeman RE (1984) Strategic management: a stakeholder approach. Pitman, Boston

García-Castro R, Ariño MA, Canela MA (2010) Does social performance really lead to financial performance? Accounting for endogeneity. J Bus Ethics 92:107–126

Gillan SL (2006) Recent developments in corporate governance: an overview. J Corp Financ 12:381–402

Harjoto M, Jo H (2011) Corporate governance and CSR nexus. J Bus Ethics 100:45–67

Haslam S, Ryan MK, Kulich C, Trojanowski G, Atkins C (2010) Investing with prejudice: the relationship between women's presence on company boards and objective and subjective measures of company performance. Br J Manag 21:484–497

Hayes AF (2009) Beyond Baron and Kenny: statistical mediation analysis in the new millennium. Commun Monogr 76:408–420

Hillman A, Keim G (2001) Shareholder value, stakeholder management, and social issues: what's the bottom line? Strateg Manag J 22:125–139

Himmelberg C, Hubbard R, Palia D (1999) Understanding the determinants of managerial ownership and the link between ownership and performance. J Financ Econ 53:353–384

Holmbeck GN (1997) Toward terminological, conceptual, and statistical clarity in the study of mediators and moderators: examples from the Chile-clinical and pediatric psychology literatures. J Consult Clin Psychol 65:599–610

Holmbeck GN (2002) Post-hoc probing of significant moderational and mediational effects in studies of pediatric populations. J Pediatr Psychol 27:87–96

Hung H (2011) Directors' roles in corporate social responsibility. A stakeholder perspective. J Bus Ethics 103:385–402

Ibrahim NA, Angelidis JP (1995) The corporate social responsiveness orientation of board members: are there differences between inside and outside directors? J Bus Ethics 14:405–410

Jackling B, Johl S (2009) Board structure and firm performance: evidence form India's top companies. Corp Gov Int Rev 17:492–509

Jamali D, Safieddine AM, Rabbath M (2008) Corporate governance and corporate social responsibility synergies and interrelationships. Corp Gov Int Rev 16:443–459

Jensen MC, Meckling W (1976) Theory of the firm: managerial behavior, agency costs, and capital structure. J Financ Econ 3:305–360

Jo H, Harjoto MA (2011) Corporate governance and firm value: the impact of corporate social responsibility. J Bus Ethics 103:351–383

Jo H, Harjoto MA (2012) The causal effect of corporate governance on corporate social responsibility. J Bus Ethics 106:53–72

Johnson RA, Greening DW (1999) The effects of corporate governance and institutional ownership types on corporate social performance. Acad Manag J 42:564–576

Kassinis G, Vafeas M (2002) Boards and outside stakeholders as determinants of environmental litigation. Strateg Manag J 23:399–415

Kleinbaum DG, Kupper LL, Muller KE (1998) Applied regression analysis and other multivariable methods. PWS-KENT Publishing Company, Boston

Kurucz EC, Colbert BA, Wheeler DC (2008) The business case for corporate social responsibility. In: Crane A, McWilliams A, Matten D, Moon J, Seigel D (eds) The oxford handbook on corporate social responsibility. Oxford University Press, Oxford, pp 83–112

Lafuente E, Bayo-Moriones A, García-Cestona MA (2010) ISO-9000 certification and ownership structure: effects upon firm performance. Br J Manag 21:649–665

Lenox M, Nash J (2003) Industry self-regulation and adverse selection: a comparison across four trade association programs. Bus Strategy Environ 12:343–356

Lo S, Sheu HJ (2007) Is corporate sustainability a value-increasing strategy for business? Corp Gov Int Rev 15:345–358

Mackey A, Mackey TB, Barney JB (2007) Corporate social responsibility and firm performance: investor preferences and corporate strategies. Acad Manag Rev 32:817–835

MacKinnon DP, Lockwood CM, Hoffman JM, West SG, Sheets V (2002) A comparison of methods to test the significance of the mediated effect. Psychol Methods 7:83–104

Mak Y, Kusnadi Y (2005) Size really matters: further evidence on negative relationship between board size and firm value. Pac-Basic Financ J 13:301–318

Marquardt DW (1980) You should standardize the predictor variables in your regression models. J Am Stat Assoc 75:87–91

Maxwell JW, Lyon TP, Hackett SC (2000) Self-regulation and social welfare: the political economy of corporate environmentalism. J Law Econ 43:583–618

McWilliams A, Siegel D (2000) Corporate social responsibility and financial performance: correlation or misspecification? Strateg Manag J 21:603–609

McWilliams A, Siegel D (2001) Profit maximizing corporate social responsibility. Acad Manag Rev 26:504–505

Mínguez-Vera A, Martín-Ugedo JF (2007) Does ownership structure affect value? A panel data analysis for the Spanish market. Int Rev Financ Anal 16:81–98

Mishra S, Suar D (2010) Does corporate social responsibility influence firm performance of Indian companies? J Bus Ethics 95:571–601

Moore G (2001) Corporate social and financial performance: an investigation in the UK supermarket industry. J Bus Ethics 34:299–315

Muth M, Donalson L (1998) Stewardship theory and board structure: a contingency approach. Corp Gov Int Rev 6:5–28

Orlitzky M, Schmidt FL, Rynes SL (2003) Corporate social and financial performance: a meta-analysis. Organ Stud 24:403–441

Parrino R, Weisbach MS (1999) Measuring investment distortions arising from stockholder-bondholder conflicts. J Financ Econ 53:3–42

Porter ME, Kramer MR (2002) The competitive advantage of corporate philanthropy. Harv Bus Rev 80(12):56–68

Porter ME, Kramer MR (2006) Strategy and society: the link between competitive advantage and corporate social responsibility. Harv Bus Rev 84(12):78–92

Prado-Lorenzo JM, García-Sánchez I, Gallego-Álvarez I (2009) Características del consejo de administración e información en materia de responsabilidad social corporativa. Rev Española de Financiación y Contabilidad 38(141):107–135

Preacher KJ, Hayes AF (2008) Asymptotic and resampling strategies for assessing and comparing indirect effects in multiple mediator models. Behav Res Methods 40:879–891

Preston LE, O'Bannon D (1997) The corporate social-financial performance relationship. Bus Soc 36:5–31

Prior D, Surroca J, Tribó JA (2008) Are socially responsible managers really ethical? Exploring the relationship between earnings management and corporate social responsibility. Corp Gov Int Rev 16:160–177

Rausch A (2011) Reconstruction of decision-making behavior in shareholder and stakeholder theory: implications for management accounting systems. Rev Manag Sci 5:137–169

Reverte C (2009) Determinants of corporate social responsibility disclosure ratings by Spanish listed firms. J Bus Ethics 88:351–366

Ruhnka J, Boerstler H (1998) Governmental incentives for corporate self-regulation. J Bus Ethics 17:309–326

Sahin K, Basfirinci CS, Ozsalih A (2011) The impact of board composition on corporate financial and social responsibility performance: evidence form public-listed companies in Turkey. Afr J Bus Manag 5:2959–2978

Salama A, Anderson K, Toms JS (2011) Does community and environmental responsibility affect firm risk? Evidence from UK panel data 1994–2006. Bus Ethics Eur Rev 20:192–204

Scherer A, Palazzo G, Baumann D (2006) Global rules and private actors, toward a new role of the TNC in global governance. Bus Ethics Q 16:502–532

Sethi SP (2002) Standards for corporate conduct in the international arena: challenges and opportunities for multinational corporations. Bus Soc Rev 107:20–40

Shleifer A, Vishny R (1997) A survey of corporate governance. J Financ 52:737–783

Shrout PE, Bolger N (2002) Mediation in experimental and nonexperimental studies: new procedures and recommendations. Psychol Methods 7:422–445

Simpson WG, Kohers T (2002) The link between corporate social and financial performance: evidence from the banking industry. J Bus Ethics 35:97–109

Sobel ME (1982) Asymptotic confidence intervals for indirect effects in structural equation models'. In: Leinhardt S (ed) Sociological methodology 1982. American Sociological Association, Washington, pp 290–312

Surroca J, Tribó JA, Waddock S (2010) The role of intangible resources in explaining the relationship between corporate responsibility and financial performance. Strateg Manag J 31:463–490

Van Den Berghe LA, Levrau A (2004) Evaluating boards of directors: what constitutes a good corporate board? Corp Gov Int Rev 12:461–478

Waddock S, Graves SB (1997) The corporate social performance-financial performance link. Strateg Manag J 18:303–319

Walls J, Berrone P, Phan P (2012) Corporate governance and environmental performance: is there really a link? Strateg Manag J 33:885–913

Wang J, Coffey BS (1992) Board composition and corporate philanthropy. J Bus Ethics 11:771–778

Williamson OE (1985) The economic institutions of capitalism. Free Press, New York

Wintoki MB, Lickn J, Netter J (2012) Endogeneity and the dynamics of internal corporate governance. J Financ Econ 105:581–606

Wood DJ (2010) Measuring corporate social performance: a review. Int J Manag Rev 12:50–84

Wotruba T (1997) Industry self-regulation: a review and extension to a global setting. J Public Policy Mark 16:38–54

Zeng SX, Xu XD, Yin HT, Tam CM (2012) Factors that drive Chinese listed companies in voluntary disclosure of environmental information. J Bus Ethics 109:309–321

Zhao X, Lynch JG, Quimei C (2010) Reconsidering Baron and Kenny: myths and truths about mediation analysis. J Consum Res 37:197–206
Acknowledgments
We acknowledge the financial support provided by the Spanish Ministry of Science and Innovation (Projects ECO2012-35439 and ECO2012-36532) and the University of León (Spain) (Project UXXI2014/0038).
About this article
Cite this article
Fernández-Gago, R., Cabeza-García, L. & Nieto, M. Corporate social responsibility, board of directors, and firm performance: an analysis of their relationships. Rev Manag Sci 10, 85–104 (2016). https://doi.org/10.1007/s11846-014-0141-9
Received:

Accepted:

Published:

Issue Date:
Keywords
CSR

Board composition

Board independence

Firm value

Resources available
JEL Classification