Abstract
Recently, the standard dynamic programming model of network revenue management has been extended for integrated upgrade decision-making. However, opposed to the original model, heuristically breaking the extended model down into a series of single-leg problems by dynamic programming decomposition in order to allow for real-world application is not possible. This is because the model's state space does not incorporate resources but commitments reflecting already sold products and capacity consumption is only resolved at the end of the booking horizon, thereby considering upgrade options. In this paper, we consider arbitrary airline networks with upgrades being performed separately on each flight leg. We show that in this case, there are two reformulations of the extended model. First, we prove that an ad hoc formulation, in which upgrades are technically performed immediately after a sale, is completely equivalent. Second, we present another reformulation whose idea is adapted from linear programing-based production planning with alternative machine types. We prove that the resulting dynamic program is also equivalent. The advantage of both reformulations is that their state space is based on either real or virtual resources instead of commitments. Thus, dynamic programming decomposition techniques can again be applied. Despite the formal equivalence of both reformulations, applying decomposition techniques leads to different approximations and thus to potentially different results when applied in practice. Therefore, we finally numerically examine the approaches regarding revenue performance and discuss airline revenue management settings in which they differ.
This is a preview of subscription content,
to check access.
Access this article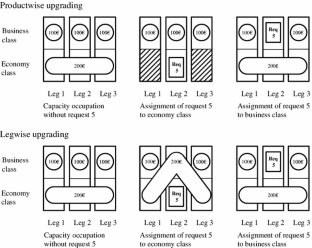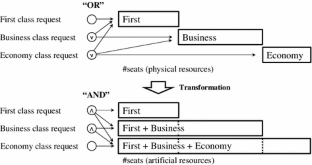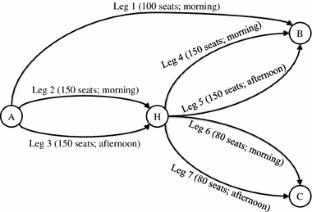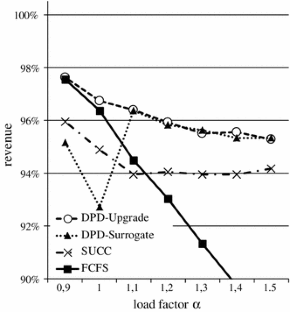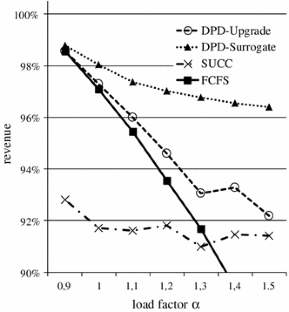 References
Alstrup J, Boas S, Madsen OBG, Vidal RVV (1986) Booking policy for flights with two types of passengers. Eur J Oper Res 27:274–288

Biyalogorsky E, Weiss D, Xie J (2005) The economics of service upgrades. J Serv Res 7:234–244

Gallego G, Stefanescu C (2009) Upgrades, upsells and pricing in revenue management. Working paper. IEOR Department, Columbia University

Gallego G, Stefanescu C (2012) Services engineering: design and pricing of service features. In: Özer Ö, Phillips R (eds) The Oxford handbook of pricing management. Oxford University Press, Oxford, pp 713–737

Gönsch J, Koch S, Steinhardt C (2013) An EMSR-based approach for revenue management with integrated upgrade decisions. Comput Oper Res 40:2532–2542

Karaesmen I, van Ryzin GJ (2004) Overbooking with substitutable inventory classes. Oper Res 52:83–104

Kimes SE, Thompson GM (2004) Restaurant revenue management at Chevys: determining the best table mix. Decis Sci 35:371–392

Leachman RC, Carmon TF (1992) On capacity modeling for production planning with alternative machine types. IIE Transact 24:62–72

Liu Q, van Ryzin GJ (2008) On the choice-based linear programming model for network revenue management. Manuf Serv Oper Manag 10:288–310

McGill JI, van Ryzin GJ (1999) Revenue management: research overview and prospects. Transp Sci 33:233–256

Miranda Bront JJ, Méndez-Díaz I, Vulcano G (2009) A column generation algorithm for choice-based network revenue management. Oper Res 57:769–784

Shumsky RA, Zhang F (2009) Dynamic capacity management with substitution. Oper Res 57:671–684

Steinhardt C, Gönsch J (2012) Integrated revenue management approaches for capacity control with planned upgrades. Eur J Oper Res 223:380–391

Subramanian J, Stidham S, Lautenbacher CJ (1999) Airline yield management with overbooking, cancellations, and no-shows. Transp Sci 33:147–167

Talluri KT, van Ryzin GJ (2004) The theory and practice of revenue management. Kluwer, Boston

Walczak D (2010) Capacity sharing. Presentation at the 2010 AGIFORS airline revenue management conference, New York

Wu HH, Wu CH, Lin JT (2011) Dynamic selling of quality-graded products under demand uncertainties. Comput Ind Eng 61:141–149
Electronic supplementary material
Below is the link to the electronic supplementary material.
About this article
Cite this article
Gönsch, J., Steinhardt, C. On the incorporation of upgrades into airline network revenue management. Rev Manag Sci 9, 635–660 (2015). https://doi.org/10.1007/s11846-014-0129-5
Received:

Accepted:

Published:

Issue Date:

DOI: https://doi.org/10.1007/s11846-014-0129-5
Keywords
JEL Classification