Abstract
Ethnic diversity of both their labor forces and customer bases presents a challenge for companies and fuels debate on the business case for diversity: the view that diversity positively impacts firm performance. This study enriches the business case debate by focusing on a particular organizational activity, customer contact. It combines theory from strategic human resource management (SHRM), research on diversity, and research on marketing to analyze what drives companies to assign migrants to customer contact jobs and which performance impacts ensue. We test our hypotheses in data from 338 German business companies. Companies that recognize the value in ethnic diversity and seek to respond to customer diversity are especially likely to assign migrants to customer contact jobs. The analyses reveal a positive impact of migrants in customer contact jobs on company profitability. This impact is enhanced by a broad range of equality and diversity practices and a supportive works council. These moderators have stronger effects than two other moderators related to business strategy: the market served by a company, and its competitive strategy. The paper contributes to SHRM research in general and diversity research in particular through its original examination associating the business case for ethnic diversity with the role of equality and diversity practices and institutions. The study findings can help managers to decide whether to leverage staff ethnic diversity and show that collaboration between HR management and marketing functions is useful to achieve a strategic fit among practices.
Access options
Buy single article
Instant access to the full article PDF.
USD 39.95
Price excludes VAT (USA)
Tax calculation will be finalised during checkout.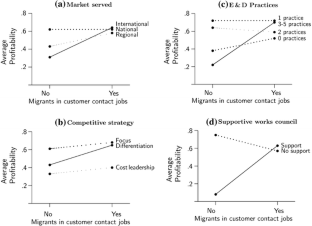 Notes
Although we did not collect the data on our own, we are very convinced that their quality is very high. The media and social research firm we commissioned is a leading institution in this field. It has a high reputation and its conduct of field work is certified according to the international quality norms ISO 9001 and ISO 20252. In addition, a personal visit of one of the firm's call centers where we observed the interviewers' high professional skills and the call center's monitoring facilities as well as comprehensive plausibility checks of the data lead to our assessment of high data quality.

In addition to the 338 companies considered in the analysis of Hypothesis 2, we used the information of the 160 companies that did not employ migrants at all to enlarge the data basis. These companies have an average profitability of 0.50 (to aid in interpretation: the value 0 means "in the last 3 years, returns equaled expenses", 1 means "returns were higher than expenses"). They outperform companies that employ migrants but do not assign them to customer contact jobs (average profitability = 0.46) but perform worse than companies that (employ migrants and) assign migrants to customer contact jobs (average profitability = 0.61). The grand mean profitability of companies that do not assign migrants to customer contact jobs equals 0.48. Further analyses on the basis of the larger data set yielded similar results to those based on the selected data set. Since considering the additional 160 companies did not significantly improve model estimations and the information of the larger data set is not appropriate for analyses of Hypotheses 1, 2c, and 2d in the following we concentrate on the selected data set.
References
Al Ariss A, Syed J (2011) Capital mobilization of skilled migrants: a relational perspective. Br J Manag 22:286–304

Barney JB, Wright PM (1998) On becoming a strategic partner: the role of human resources in gaining competitive advantage. Hum Resour Manag 37:31–46

Bartölke K, Grieger J, Kiunke S (2006) Participation in decision-making at the plant level: reflections on the German experience. Int Rev Sociol 16:101–125

Becker BE, Huselid M (2006) Strategic human resources management: where do we go from here? J Manag 32:898–925

Bendick M Jr, Egan ML, Lanier L (2010) The business case for diversity and the perverse practice of matching employees to customers. Pers Rev 39:468–486

Benschop Y (2001) Pride, prejudice and performance: relations between HRM, diversity and performance. Int J Hum Resour Manag 12:1166–1181

Boxall PF (1996) The strategic HRM debate and the resource-based view of the firm. Hum Resour Manag J 6:59–75

Bruchhagen V, Grieger J, Koall I, Meuser M, Ortlieb R, Sieben B (2010) Social inequality, diversity and equal treatment at work: the German case. In: Klarsfeld A (ed) International handbook on diversity management at work. Country perspectives on diversity and equal treatment. Edgar Elgar, Cheltenham, pp 109–138

Chadwick C, Dabu A (2009) Human resources, human resource management, and the competitive advantage of firms: toward a more comprehensive model of causal linkages. Organ Sci 20:253–272

Cox TH Jr (2001) Creating the multicultural organization: a strategy for capturing the power of diversity. Jossey-Bass, San Francisco

Cox TH Jr, Blake S (1991) Managing cultural diversity: implications for organizational competitiveness. Acad Manag Exec 5:45–56

Delery JE, Shaw JD (2001) The strategic management of people in work organizations: review, synthesis, and extension. In: Martocchio J, Liao H, Joshi A (eds) Research in personnel and human resources management. JAI Press, Greenwich CT, pp 165–197

Dench S, Hurstfield J, Hill D, Akroyd K (2006) Employers' use of migrant labour. Summary report. Institute for Employment Studies, Brighton, Home Office Online Report, 03/06

Ely RJ, Thomas DA (2001) Cultural diversity at work. The effects of diversity perspectives on work group processes and outcomes. Adm Sci Q 46:229–273

Federal Statistical Office Germany (2012) Bevölkerung und Erwerbstätigkeit. Bevölkerung mit Migrationshintergrund. Ergebnisse des Mikrozensus 2011. Wiesbaden

Federal Statistical Office Germany (2013) Bevölkerung nach Migrationshintergrund; https://www.destatis.de/DE/ZahlenFakten/GesellschaftStaat/Bevoelkerung/MigrationIntegration/Migrationshintergrund/Tabellen/MigrationshintergrundBeteiligungErwerbsleben.html (25.04.2013)

Fuchs C, Diamantopoulos A (2009) Using single-item measures for construct measurement in management research. Betrwirtsch 69:195–210

Furrer O, Shaw-Ching Liu B, Sudharshan D (2000) The relationship between culture and service quality perception. J Serv Res 2:355–371

Garbuio M, King AW, Lovallo D (2011) Looking inside: psychological influences on structuring a firm's portfolio of resources. J Manag 37:1444–1463

Harris LC, Ogbonna E (2010) Hiding customer complaints: studying the motivations and forms of service employees' complaint concealment behaviours. Br J Manag 21:262–279

Hekman DR, Aquino K, Owens BP, Mitchell TR, Schilpzand P, Leavitt K (2010) An examination of whether and how racial and gender biases influence customer satisfaction. Acad Manag J 53:238–264

Hitt MA, Bierman L, Shimizu K, Kochhar R (2006) Direct and moderating effects of human capital on strategy and performance in professional service firms: a resource-based perspective. Acad Manag J 44:13–28

Hopkins SA, Hopkins WE, Hoffman KD (2005) Domestic inter-cultural service encounters: an integrated model. Manag Serv Qual 15:329–343

Janssens M, Zanoni P (2005) Many diversities for many services: theorizing diversity (management) in service companies. Hum Relat 58:311–340

Jonsen K, Maznewski ML, Schneider SC (2011) Diversity and its not so diverse literature: an international perspective. Int J Cross Cult Manag 11:35–62

Joshi A, Roh H (2009) The role of context in work team diversity research: a meta-analytic review. Acad Manag J 52:599–627

Kalev A, Dobbin F, Kelly E (2006) Best practices or best guesses? Assessing the efficacy of corporate affirmative action and diversity policies. Am Sociol Rev 71:589–617

Kepes S, Delery JE (2007) HRM systems and the problem of internal fit. In: Boxall P, Purcell J, Wright PM (eds) The handbook of human resource management. Oxford University Press, Oxford, pp 147–175

Kochan T, Bezrukova K, Ely R, Jackson S, Joshi A, Jehn K, Leonard J, Levine D, Thomas D (2003) The effects of diversity on business performance: report of the diversity research network. Hum Res Manag 42:3–21

Kossek EE, Lobel SA, Brown J (2006) Human resource strategies to manage workforce diversity. Examining "the business case". In: Konrad AM, Prasad P, Pringle J (eds) Handbook of workplace diversity. Sage, London, pp 54–74

Lengnick-Hall ML, Lengnick-Hall CA, Andrade LS, Drake B (2009) Strategic human resource management: the evolution of the field. Hum Res Manag Rev 19:64–85

Leonard JS, Levine DI, Joshi A (2004) Do birds of a feather shop together? The effects on performance of employees' similarity with one another and with customers. J Organ Behav 25:731–754

Liff S (1999) Diversity and equal opportunities: room for a constructive compromise? Hum Res Manag J 9:65–75

Litvin D (2002) The business case for diversity and the "iron cage". In: Czarniawska B, Hoepfl H (eds) Casting the other: the production and maintenance of inequalities in work organizations. Routledge, London, pp 160–184

Malhotra NK, Kim SS, Patil A (2006) Common method variance in IS research: a comparison of alternative approaches and a reanalysis of past research. Manag Sci 52:1865–1883

Miles R, Snow C (1978) Organizational strategy, structure, and process. McGraw-Hill, New York

Noon M (2007) The fatal flaws of diversity and the business case for ethnic minorities. Work Employ Soc 21:773–784

OECD (2012) International migration outlook 2012. OECD Publishing, Paris

Ortlieb R, Sieben B (2008a) Diversity strategies focused on employees with a migration background. An empirical investigation based on resource dependence theory. Manag Rev 19:70–93

Ortlieb R, Sieben B (2008b) Exclusion, hazard, adding value, or learning? Diversity strategies focused on employees with a migration background. In: Solomon GT (ed) Best papers proceedings of the sixty-seventh annual meeting of the Academy of Management (CD), ISSN 1543–8643

Özbilgin M, Tatli A (2011) Mapping out the field of equality and diversity: rise of individualism and voluntarism. Hum Relat 64:1229–1253

Podsakoff PM, MacKenzie SB, Lee J-Y, Podsakoff NP (2003) Common method biases in behavioral research: a critical review of the literature and recommended remedies. J Appl Psychol 88:879–903

Porter M (1980) Competitive strategy: techniques for analyzing industries and competitors. Free Press, New York

Richard OC (2000) Racial diversity, business strategy, and firm performance: a resource-based view. Acad Manag J 43:164–177

Richard OC, Kochan TA, McMillan-Capehart A (2002) The impact of visible diversity on organizational effectiveness: disclosing the contents in Pandora's box. J Bus Manag 8:265–291

Richard OC, McMillan A, Chadwick K, Dwyer S (2003) Employing an innovation strategy in racial diverse workforces: effects on firm performance. Group Organ Manag 28:107–126

Richard OC, Murthi BPS, Ismail K (2007) The impact of racial diversity on intermediate and long-term performance: the moderating role of environmental context. Strateg Manag J 28:1213–1233

Rodriguez N (2004) Workers wanted: employer recruitment of immigrant labor. Work Occup 31:453–473

Rynes SL, Barber AE (1990) Applicant attraction strategies: an organizational perspective. Acad Manag Rev 15:286–310

Sharma P, Tam JLM, Kim N (2009) Demystifying intercultural service encounters. Toward a comprehensive conceptual model. J Serv Res 12:227–242

Shore LM, Chung-Herrera BG, Dean M, Holcombe A, Ehrhart K, Jung DI, Randel AE, Gangaram S (2009) Diversity in organizations: where are we now and where are we going? Hum Res Manag Rev 19:117–133

Skaggs BC, Youndt MA (2004) Strategic positioning, human capital and performance in service organizations: a customer interaction approach. Strateg Manag J 25:85–99

Syed J (2008) Employment prospects for skilled migrants: a relational perspective. Hum Res Manag Rev 18:28–45

Tatli A (2011) A multi-layered exploration of the diversity management field: diversity discourses, practices and practitioners in the UK. Br J Manag 22:238–253
Acknowledgments
The authors thank two anonymous reviewers for their helpful comments and suggestions on previous versions of this article. Renate Ortlieb and Barbara Sieben thank Tanja Rabl for constructive feedback, the participants of the 2012 Academy of Management Meeting's paper session "Diversity Management" for inspiring discussions and the European Social Fund for granting the research project from which this article originates.
Additional information
Renate Ortlieb and Barbara Sieben jointly function as first authors of this article. Christina Sichtmann contributed the marketing perspective to the paper's conceptual part and was involved in the empirical analyses.
About this article
Cite this article
Ortlieb, R., Sieben, B. & Sichtmann, C. Assigning migrants to customer contact jobs: a context-specific exploration of the business case for diversity. Rev Manag Sci 8, 249–273 (2014). https://doi.org/10.1007/s11846-013-0106-4
Received:

Accepted:

Published:

Issue Date:

DOI: https://doi.org/10.1007/s11846-013-0106-4
Keywords
Diversity management

Customer contact jobs

Migrant employees

Strategic human resource management

Ethnic diversity
JEL Classification