Abstract
Despite family firm's dominant role in economies worldwide, there is little empirical knowledge on their internationalization. Drawing on a sample of Austrian firms, this paper investigates the impact of family influence and various governance factors on internationalization. The findings reveal an inverted U-shaped relationship between family influence and internationalization. Family firms with medium family influence are the most internationally active companies. This indicates that concerning internationalization the advantages of being a family firm are highest when the family's ownership share and involvement in management and governance boards is not too extensive. Additionally, neither the incumbent generation, nor the level of non-family executives in the management board, nor the existence of a supervisory board has a significant influence on going international. Since advisory boards seem to foster internationalization, they might be an adjuvant means of equipping family firms with the necessary capabilities, know-how and contacts to operate internationally.
Access options
Buy single article
Instant access to the full article PDF.
USD 39.95
Price includes VAT (USA)
Tax calculation will be finalised during checkout.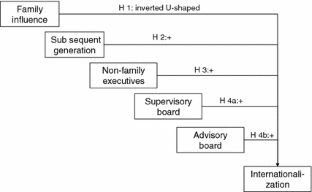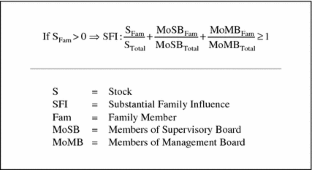 References
Agarwal S, Ramaswami SN (1992) Choice of foreign market entry mode: impact of ownership, location and internalization factors. J Int Bus Stud 23(1):1–27

Aldrich H, Cliff J (2003) The pervasive effects of family on entrepreneurship: toward a family embeddedness perspective. J Bus Ventur 18(5):573–597

Anderson R, Reeb D (2003) Founding-family ownership and firm performance: evidence from the SandP 500. J Finance 58(3):1301–1328

Arregle J, Hitt M, Sirmon D, Very P (2007) The development of organizational social capital: attributes of family firms. J Manag Stud 44(1):73–95

Astrachan J, Klein S, Smyrnios K (2002) The F-PEC scale of family influence: a proposal for solving the Family Business definition problem. Fam Bus Rev 15(3):45–58

Bammens Y, Voordeckers W, Van Gils A (2008) Board of directors in family firms: a generational perspective. Small Bus Econ 31(2):163–180

Barney J (1991) Firm resources and sustained competitive advantage. J Manag 17(1):99–120

Barney JB, Clark C, Alvarez S (2002) Where does entrepreneurship come from: network models of opportunity recognition and resource acquisition with application to the family firm. Paper presented at second annual conference on theories of the family enterprise, Philadelphia

Barroso C, Villegas MM, Pérez-Calero L (2011) Board influence on a firm's internationalization. Corp Gov Int Rev 19(4):351–367

Basly S (2007) The internationalization of family SME: an organizational learning and knowledge development perspective. Baltic J Manag 2(2):154–180

Benavides-Velasco CA, Quintana-García C, Guzmán-Parra VF (2011) Trends in family business research. Small Bus Econ. doi:10.1007/s11187-011-9362-3

Bhaumik SK, Driffield N, Pal S (2010) Does ownership structure of emerging market firms affect their outward FDI? The case of the Indian automotive and pharmaceutical sectors. J Int Bus Stud 41(3):437–450

Bloom N, Van Reenen J (2007) Measuring and explaining management practices across firms and countries. Q J Econ 122(4):1351–1408

Blumentritt T (2006) The relationship between boards and planning in family businesses. Family Bus Rev 19(1):65–72

Blumentritt TP, Keyt AD, Astrachan JH (2007) Creating an environment for successful nonfamily CEOs: an exploratory study of good principals. Fam Bus Rev 20(4):321–335

Brunninge O, Nordqvist M, Wiklund J (2007) Corporate governance and strategic change in SMEs: the effects of ownership, board composition and top management teams. Small Bus Econ 29(3):295–308

Buckley PJ, Strange R (2011) The governance of the multinational enterprise: insights from internationalization theory. J Manag Stud 48(2):460–470

Cabrera-Suárez K, De Saá-Pérez P, Garcia-Almeida D (2001) The succession process from a resource- and knowledge-based view of the family firm. Fam Bus Rev 14(1):37–46

Calabrò A, Mussolino D (2011) How do boards of directors contribute to family SME export intensity? The role of formal and informal governance mechanisms. J Manag Gov. doi:10.1007/s10997-011-9180-7

Calabrò A, Mussolino D, Huse M (2009) The role of board of directors in the internationalization process of small and medium sized family businesses. Int J Glob Small Bus 3(4):393–411

Carr C, Bateman S (2009) International strategy configurations of the world's top family firms: another factor affecting performance. Manag Int Rev 49(6):733–758

Chetty S, Campbell-Hunt C (2004) A strategic approach to internazionalization: a traditional versus a 'born global' approach. J Int Mark 12(1):57–81

Chrisman JJ, Chua J, Sharma P (2005) Trends and directions in the development of a strategic management theory of the family firm. Entrepreneurship Theory Pract 29(5):555–575

Chua JH, Chrisman JJ, Sharma P (2003) Succession and nonsuccesssion concerns of family firms and agency relationship with non-family managers. Fam Bus Rev 16(2):89–107

Claver E, Rienda L, Quer D (2007) The internationalization process in family firms: choice of market entry strategies. J General Manag 33(1):1–16

Claver E, Rienda L, Quer D (2008) Family firm′s risk perception: empirical evidence on the internationalization process. J Small Bus Enterp Dev 15(3):457–471

Claver E, Rienda L, Quer D (2009) Family firms' international commitment: the influence of family-related factors. Fam Bus Rev 22(2):125–135

Corbetta G, Salvato C (2004a) Self-serving or self-actualizing? Models of man and agency costs in different types of family firms: a commentary on "comparing the agency costs of family and non-family firms: conceptual issues and exploratory evidence". Entrepreneurship Theory Pract 28(4):355–362

Corbetta G, Salvato CA (2004b) The board of directors in family firms: one size fits all? Fam Bus Rev 17(2):119–134

Craig J, Lindsay NJ (2002) Incorporating the family dynamic into the entrepreneurship process. Journal of Small Business and Enterprise Development 9(4):416–430

Crick D, Bradshaw R, Chaudhry S (2006) Successful internationalising UK family and non-family-owned firms: a comparative study. J Small Bus Enterp Dev 13(4):498–512

Cromie S, Stevenson B, Monteith D (1995) The management of family firms: an empirical investigation. Int Small Bus J 13(4):11–34

Davis JH, Schoorman FD, Donaldson L (1997) Toward a stewardship theory of management. Acad Manag Rev 22(1):20–47

de Lema DGP, Duréndez A (2007) Managerial behaviour of small and medium-sized family businesses: an empirical study. Int J Entrepreneurial Behav Res 13(3):151–172

Delios A (2011) Governance: the next frontier for research on multinational firms. J Manag Stud 48(2):456–458

Dhanaraj C, Beamish PW (2003) A resource-based approach to the study of export performance. J Small Bus Manag 41(3):242–261

Duller C, Feldbauer-Durstmüller B, Mitter C (2011) Corporate governance and management accounting in family firms: does generation matter? Int J Bus Res 11(1):29–46

Dyer GW Jr (1988) Culture and continuity in family firms. Fam Bus Rev 1(1):37–50

Eddleston KA, Kellermanns FW, Zellweger TM (2012) Exploring the entrepreneurial behavior of family firms: does the stewardship perspective explain differences? Entrepreneurship Theory Pract 36(2):347–369

Federico JS, Kantis HD, Rialp A, Rialp J (2009) Does entrepreneurs' human and relational capital affect early internationalization? A cross-regional comparison. Eur J Int Manag 3(2):199–215

Feldbauer-Durstmüller B, Wimmer B, Duller C (2007) Controlling in österreichischen Familienunternehmen—dargestellt am Bundesland Oberösterreich. Zeitschrift für Planung & Unternehmenssteuerung 18(4):427–443

Fernández Z, Nieto MJ (2005) Internationalization strategy of small and medium-sized family businesses. Fam Bus Rev 18(1):77–89

Fernández Z, Nieto MJ (2006) Impact of ownership on the international involvement of SMEs. J Int Bus Stud 37(3):340–351

Filatotchev I, Wright M (2011) Agency perspectives on corporate governance of multinational enterprises. J Manag Stud 48(2):471–486

Filatotchev I, Dyomina N, Wright M, Buck T (2001) Effects of post-privatization governance and strategy on export intensity in the former soviet union. J Int Bus Stud 32(4):853–871

Filbeck G, Lee S (2000) Financial management techniques in family businesses. Fam Bus Rev 13(3):201–216

Forbes DP, Milliken FJ (1999) Cognition and corporate governance: understanding boards of directors as strategic decision-making groups. Acad Manag Rev 24(3):489–505

Gallo MA, Garcia Pont C (1996) Important factors in family business internationalization. Fam Bus Rev 9(1):45–59

Gallo MA, Sveen J (1991) Internationalizing the family business: facilitating and restraining factors. Fam Bus Rev 4(2):181–190

Gallo MA, Villaseca A (1998) A financial perspective on structure, conduct, and performance in the family firm: an empirical study. Fam Bus Rev 11(1):35–47

Gallo M, Tapies J, Cappuyns K (2004) Comparison of family and nonfamily business: financial logic and personal preferences. Fam Bus Rev 17(4):303–330

George G, Wiklund J, Zahra SA (2005) Ownership and the internationalization of small firms. J Manag 31(2):210–233

Gnan L, Songini L (2003) The professionalization of family firms: the role of agency cost control mechanisms. Working paper N. 104/03, Milan, SDA Bocconi

Gomez-Mejia LR, Nunez-Nickel M, Gutierrez I (2001) The role of family ties in agency contracts. Acad Manag J 44(1):81–95

Gomez-Mejia LR, Makri M, Kintana ML (2010) Diversification decisions in family-controlled firms. J Manag Stud 47(2):223–252

Graves C, Thomas J (2004) Internationalization of the family business: a longitudinal perspective. Int J Global Small Bus 1(1):7–27

Graves C, Thomas J (2008) Determinants of the internationalization pathways of family firms: an examination of family influence. Fam Bus Rev 21(2):151–167

Habbershon T, Williams ML, MacMillan IC (2003) Familiness: a unified systems perspective of family firm performance. J Bus Ventur 18:451–465

Hillman AJ, Dalziel T (2003) Boards of directors and firm performance: integrating agency and resource dependence perspectives. Acad Manag Rev 28(3):383–396

Hitt MA, Tihanyi L, Miller T, Connelly B (2006) International diversification: antecedents, outcomes, and Moderators. J Manag 32(6):831–867

Ibrahim NA, Angelidis JP, Parsa F (2008) Strategic management of family businesses: current findings and directions for future research. Int J Manag 25(1):95–110

Jaskiewicz P, Klein SB (2007) The impact of goal alignment on board composition and board size in family businesses. J Bus Res 60(10):1080–1089

Jensen MC, Meckling WH (1976) Theory of the firm: managerial behavior, agency costs and onwership structure. J Financial Econ 3(4):305–360

Johanson J, Vahlne J-E (1977) The internationalization process of the firm–a model of knowledge development and increasing foreing market commitments. J Int Bus Stud 18(1):23–32

Karra N, Tracey P, Phillips N (2006) Altruism and agency in the family firm: exploring the role of family, kinship, and ethnicity. Entrepreneurship Theory Pract 30(6):861–878

Kellermanns FW, Eddleston K (2006) Corporate entrepreneurship in family firms: a family perspective. Entrepreneurship Theory and Pract 30(6):809–830

Kelley D, Bosma N, Amorós JE (2011) Global entrepreneurship monitor 2010 global report

Klein SB (2000) Family businesses in germany: significance and structure. Fam Bus Rev 13(3):157–181

Klein SB (2005) Beiräte in Familienunternehmen—Zwischen Beratung und Kontrolle. Zeitschrift für KMU und Entrepreneurship 53:185–207

Klein SB, Bell F-A (2007) Non-family executives in family businesses—a literature review. Electron J Bus Stud 1(1):19–37

Kontinen T, Ojala A (2010) The internationalization of family businesses: a review of extant research. J Fam Bus Strategy 1(2):97–107

Kraus S, Fink M, Harms R (2011) Family firm research: sketching a research field. Int J Entrepreneurship Innov Manag 13(1):32–47

Kraus S, Craig JB, Dibrell C, Märk S (2012) Family firms and entrepreneurship: contradiction or synonym? J Small Bus Entrepreneurship 25(2):135–141

Le Breton-Miller I, Miller D (2009) Agency vs. stewardship in public family firms. A social embeddedness reconciliation. Entreprenership Theory Pract 33(6):1069–1091

Lee PM, O'Neill HM (2003) Ownership structures and R&D investments of U.S. and Japanese firms: agency and stewardship perspectives. Acad Manag J 46(2):212–225

Lien YC, Piesse J, Strange R, Filatotchev I (2005) The role of corporate governance in FDI decisions: evidence from Taiwan. Int Bus Rev 14(6):739–763

Litz RA (1995) The family business: toward definitional clarity. Fam Bus Rev 8(2):71–81

Lu JW, Beamish PW (2001) The internationalization and performance of SMEs. Strateg Manag J 22(6/7):565–586

Lubatkin MH, Schulze WS, Ling Y, Dino RN (2005) The effects of parental altruism on the governance of family-managed firms. J Organ Behav 26(3):313–330

Lutz E, Schraml S, Achleitner AK (2010) Loss of control vs. risk reduction—Decision factors for hiring non-family CFOs in family firms, CEFS working paper series, no. 4, Munich, Technische Universität München

Mandl I (2008) Overview of family business relevant issues. Final report, project on behalf of the European Commission, Vienna, Austrian Institute for SME Research

Manolova TS, Brush CG, Edelman LF, Greene PG (2002) Internationalization of small firms: personal factors revisited. Int Small Bus J 20(1):9–31

McConaughy D, Phillips G (1999) Founders versus descendants: the profitability, efficiency, growth characteristics and financing in large, public, founding-family-controlled firms. Fam Bus Rev 12(2):123–131

Menéndez-Requero S (2005) Growth and internationalization of family businesses. Int J Global Small Bus 1(2):122–133

Miller D, Le Breton-Miller I (2006) Family governance and firm performance: agency, stewardship, and capabilities. Fam Bus Rev 19(1):73–87

Miller D, Le Breton-Miller I, Scholnick B (2008) Stewardship vs. stagnation: an empirical comparison of small family and non-family businesses. J Manag Stud 45(1):51–78

Mitter C, Duller C, Feldbauer-Durstmüller B (2012) The impact of the family's role and involvement in management and governance on planning: evidence from Austrian medium-sized and large firms. Int J Bus Res 12(3):56–68

Muñoz-Bullón F, Sánchez-Bueno MJ (2012) Do family ties shape the performance consequences of diversification? Evidence from the European Union. J World Bus 47(3):469–477

Naldi L, Nordqvist M (2008) Family firms' venturing into international markets: a resource dependence perspective. Frontiers Entrepreneurship Res 28(14):1

Naldi L, Nordquist M, Sjoeberg K, Wiklund J (2007) Entrepreneurial orientation, Risk Taking and Performance in Family Firms. Fam Bus Rev 20(1):33–47

Nordqvist M (2005) Familiness in top management teams: commentary on Ensley and Pearson's "an exploratory comparison of the behavioral dynamics of top management teams in family and nonfamily new ventures: cohesion, conflict, potency, and consensus". Entrepreneurship Theory and Pract 29(3):285–291

Okoroafo S (1999) Internationalization of family businesses: evidence from Northwest Ohio, USA. Fam Bus Rev 12(2):147–158

Oviatt BM, McDougall PP (2005) Defining international entrepreneurship and modeling the speed of internationalization. Entrepreneurship Theory Pract 29(2):537–553

Pearson A, Carr JC, Shaw JC (2008) Toward a theory of familiness: a social capital perspective. Entrepreneurship Theory Pract 32(6):949–969

Peng MW (2001) The resource-based view and international business. J Manag 27(6):803–829

Penrose E (1959) The theory of the growth of the firm. John Wiley, New York

Pieper TM, Klein SB, Jaskiewicz P (2008) The impact of goal alignment on board existence and top management team composition: evidence from family-influenced businesses. J Small Bus Manag 46(3):372–394

Pinho J-C (2007) The impact of ownership: location-specific advantages and managerial characteristics on SME foreign entry mode choices. Int Mark Rev 24(6):715–734

Puig N, Fernández Pérez P (2009) A silent revolution: the internationalization of large Spanish family firms. Bus Hist 51(3):462–483

Rialp A, Rialp J, Knight GA (2005) The phenomenon of early internationalizing firms: what do we know after a decade (1993–2003) of scientific inquiry? Int Bus Rev 14(2):147–166

Salvato C (2004) Predictors of entrepreneurship in family firms. J Private Equity 7(3):68–76

Salvato C, Melin L (2008) Creating value across generations in family-controlled businesses: the role of family social capital. Fam Bus Rev 21(3):259–275

Salvato C, Moores K (2010) Research on accounting in family firms: past accomplishments and future challenges. Fam Bus Rev 23(3):193–215

Sanders G, Carpenter MA (1998) Internationalization and firm governance: the roles of CEO compensation, top team composition and board structure. Acad Manag J 41(2):158–178

Schulze WS, Gedajlovic ER (2010) Whither family business. J Manag Stud 47(2):191–204

Schulze WS, Lubatkin MH, Dino RN, Buchholtz AK (2001) Agency relationship in family firms: theory and evidence. Organ Sci 12(2):99–116

Schulze W, Lubatkin M, Dino R (2003a) Exploring the agency consequences of ownership dispersion among the directors of private family firms. Acad Manag J 46(2):174–194

Schulze WS, Lubatkin MH, Dino RN (2003b) Toward a theory of agency and altruism in family firms. J Bus Ventur 18(4):473–490

Sciascia S, Mazzola P (2008) Family involvement in ownership and management: exploring nonlinear effects on performance. Fam Bus Rev 21(4):331–345

Sciascia S, Mazzola P, Astrachan JH, Pieper TM (2012) The role of family ownership in international entrepreneurship: exploring nonlinear effects. Small Bus Econ 38(1):15–31

Segaro E (2010) Internationalization of family SMEs: the impact of ownership, governance, and top management team. J Manag Gov 16(1):147–169

Shane S (2000) Prior knowledge and the discovery of entrepreneurial opportunities. Organ Sc 11(4):448–469

Sharma P (2011) Strategic entrepreneurial behaviours in family businesses. Int J Entrepreneurship Innov Manag 13(1):4–11

Sharma P, Chrisman JJ, Chua JH (1997) Strategic management of the family business: past research and future challenges. Fam Bus Rev 10(1):1–36

Shleifer A, Vishny RW (1997) A survey of corporate governance. Journal of Finance 52(2):737–783

Sirmon D, Hitt MA (2003) Managing resources: linking unique resources, management and wealth creation in family firms. Entrepreneurship Theory Pract 27(4):339–359

Sirmon DG, Arregle JL, Hitt MA, Webb JW (2008) The role of family influence in firms' strategic responses to threat of imitation. Entreprenership Theory Pract 32(6):979–998

Sonfield MC, Lussier RN (2009) Family-member and non-family-member managers in family businesses. J Small Bus Enterp Dev 16(2):196–209

Stockmans A, Lybaert N, Voordeckers W (2010) Socioemotional wealth and earnings management in private family firms. Fam Bus Rev 23(3):280–294

Strange R, Filatotchev I, Buck T, Wright M (2009) Corporate governance and international business. Man Int Rev 49(4):395–407

Thomas J, Graves C (2005) Internationalising the family firm as a demonstration of an entrepreneurial culture. J Small Bus Entrepreneurship 17(2):91–113

Tokarczyk J, Hansen E, Green M, Down J (2007) A resource-based view and market orientation theory examination of the role of "familiness" in family business success. Fam Bus Rev 20(1):17–31

Tsang EWK (2001) Internationalizing the family firm: a case study of a Chinese family business. J Small Bus Manag 39:88–94

Tsang EWK (2002) The case of Chinese family businesses. J Bus Ventur 17(1):21–40

Uhlaner L, Kellermanns FW, Eddleston KA, Hoy F (2012) The entrepreneuring family: a new paradigm for family business research. Small Bus Econ 38(1):1–11

Vallejo MC (2009) The effect of commitment of non-family employees of family firms from the perspective of stewardship theory. J Bus Ethics 87(3):379–390

Villalonga B, Amit R (2006) How do family ownership, management and control affect firm value? J Financial Econ 80:385–417

Westhead P, Wright M, Ucbasaran D (2001) The internationalization of new and small firms: a resource-based view. J Bus Ventur 16(4):333–358

Witt P (2008) Corporate governance in Familienunternehmen. Zeitschrift für Betriebswirtschaft 78(2):1–19

Zahra SA (2003) International expansion of US manufacturing family businesses: the effect of ownership and involvement. J Bus Ventur 18(4):495–512

Zahra S (2005) A theory of international new ventures: a decade of research. J Int Bus Stud 36(1):20–29

Zahra S, Sharma P (2004) Family business research: a strategic reflection. Fam Bus Rev 17(4):331–346

Zahra SA, Neubaum DO, Hayton JC, Dibrell C, Craig J (2008) Culture of family commitment and strategic flexibility: the moderating effect of stewardship. Entrepreneurship Theory Pract 32(6):1035–1054
About this article
Cite this article
Mitter, C., Duller, C., Feldbauer-Durstmüller, B. et al. Internationalization of family firms: the effect of ownership and governance. Rev Manag Sci 8, 1–28 (2014). https://doi.org/10.1007/s11846-012-0093-x
Received:

Accepted:

Published:

Issue Date:
Keywords
Family firms

Internationalization

Family influence

Non-family managers

Supervisory board

Advisory board
JEL Classification