Abstract
This research investigates consumer preferences for different multi-dimensional price profiles. Drawing on research on price affect, we investigate whether consumers prefer descending monthly installments (e.g., 40, 30, 20, 10) over constant (e.g., 25, 25, 25, 25), or ascending ones (e.g., 10, 20, 30, 40). Results of a field experiment with a sample of 1,628 German car buyers corroborate the hypothesized profile effect. In the experiment, participants were asked to evaluate different finance offers for a new car that all had the same present value but differed in terms of how the installments unfolded over time. Consistent with the hypotheses, decreasing monthly installments are evaluated more favorably than constant installments, which, in turn are evaluated more favorably than ascending installments. Furthermore, the results provide evidence for the underlying process by showing that the impact of different MDP profiles is mediated by positive affect. Finally, it was hypothesized that consumers' individual differences (i.e., debt aversion, financial expectations, and product category knowledge) would exert a moderating influence on evaluations of different price profiles; these hypotheses, however, were only partially confirmed. Theoretical and managerial implications are discussed.
We're sorry, something doesn't seem to be working properly.
Please try refreshing the page. If that doesn't work, please contact support so we can address the problem.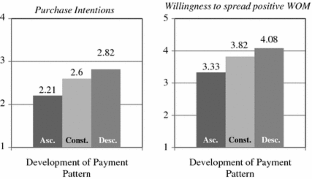 References
Alba JW, Hutchinson JW (1987) Dimensions of consumer expertise. J Cons Res 13(4):411–454

Andrade EB (2005) Behavioral consequences of affect: combining evaluative and regulatory mechanisms. J Cons Res 32(3):355–362

Ariely D (1998) Combining experiences over time: the effects of duration, intensity changes and on-line measurements on retrospective pain evaluations. J Behav Decis Mak 11(1):19–45

Ariely D, Carmon Z (2000) Gestalt characteristics of experiences: the defining features of summarized events. J Behav Decis Mak 13(2):191–201

Ariely D, Zauberman G (2000) On the making of an experience: the effects of breaking and combining experiences on their overall evaluation. J Behav Decis Mak 13(2):219–232

Ariely D, Zauberman G (2003) Differential partitioning of extended experiences. Org Behav Hum Decis Process 91(2):128–139

Bagozzi RP, Gopinath M, Nyer P (1999) The role of emotions in marketing. J Mark 27(2):184–206

Baron RM, Kenny DA (1986) The moderator-mediator variable distinction in social psychological research: conceptual, strategic, and statistical considerations. J Pers Soc Psychol 51(6):1173–1182

Baumgartner H, Sujan M, Padgett D (1997) Patterns of affective reactions to advertisements: the integration of moment-to-moment responses into overall judgments. J Mark Res 34(2):219–232

Brown S, Garino G, Taylor K, Price SW (2005) Debt and financial expectations: an individual- and household-level analysis. Econ Inquiry 43(1):100–120

Dodds WB, Monroe DG, Grewal D (1991) Effects of price, brand, and store information on buyers' product evaluations. J Mark Res 28(3):307–319

Estelami H (1997) Consumer perceptions of multi-dimensional prices. Adv Cons Res 24(1):392–399

Fitzsimons GJ (2008) Death to dichotomizing. J Con Res 35(1):5–8

Fredrickson BL, Kahneman D (1993) Duration neglect in retrospective evaluations of affective episodes. J Pers Soc Psychol 65(1):45–55

Frijda NH (1986) The emotions. Cambridge University Press, New York

Gourville JT (1998) Pennies-a-day: the effect of temporal reframing on transaction evaluation. J Cons Res 24(4):395–408

Helson H (1964) Adaptation-level theory: an experimental and systematic approach to behavior. Harper & Row, New York

Honea H, Dahl DW (2005) The promotion affect scale: defining the affective dimensions of promotion. J Bus Res 58(4):543–551

Hsee CK, Abelson RP (1991) Velocity relation: satisfaction as a function of the first derivative of outcome over time. J Pers Soc Psychol 60(3):341–346

Kahneman D, Tversky A (1979) Prospect theory: an analysis of decision under risk. Econometrica 47(2):263–291

Kahneman D, Slovic P, Tversky A (1982) Judgment under uncertainty: heuristics and biases. Cambridge University Press, New York

Kim MH, Kramer T (2006) The moderating effects of need for cognition and cognitive effort on responses to multi-dimensional prices. Mark Let 17(3):193–203

Ladhari R (2007) The effect of consumption emotions on satisfaction and word-of-mouth communications. Psychol Mark 24(12):1085–1108

Lazarus RS (1991a) Emotion and adaptation. Oxford University Press, New York

Lazarus RS (1991b) Progress on a cognitive-motivational-relational theory of emotion. Amer Psychol 46(8):819–834

Lea SEG, Webley P, Levine RM (1993) The economic psychology of consumer debt. J Econ Psychol 14(1):85–119

Lea SEG, Webley P, Walker CM (1995) Psychological factors in consumer debt: money management, economic socialization, and credit use. J Econ Psychol 16(4):681–701

Liberman N, Trope Y (1998) The role of feasibility and desirability considerations in near and distant future decisions: a test of temporal construal theory. J Pers Soc Psychol 75(1):5–18

Livingstone S, Lunt PK (1992) Predicting personal debt and debt repayment: psychological, social and economic determinants. J Econ Psychol 13(1):111–134

Loewenstein G (1987) Anticipation and the valuation of delayed consumption. Econ J 97(387):666–684

Loewenstein G, Prelec D (1991) Negative time preference. Amer Econ Rev 81(2):347–352

Loewenstein G, Prelec D (1993) Preferences for sequences of outcomes. Psychol Rev 100(1):91–108

Loewenstein G, Sicherman N (1991) Do workers prefer increasing wage profiles? J Lab Econ 9(1):67–84

Lunt PK, Livingstone SM (1991) Psychological, social, and economic determinants of saving: comparing recurrent and total savings. J Econ Psychol 12(4):621–641

Mitchell AA, Dacin PA (1996) The assessment of alternative measures of consumer expertise. J Cons Res 23(3):219–238

Morwitz VG, Greenleaf EA, Johnson EJ (1998) Divide and prosper: consumers' reactions to partitioned prices. J Mark Res 35(4):453–463

O'Neill RM, Lambert DR (2001) The emotional side of price. Psychol Mark 18(3):217–237

Peine K, Heitmann M, Herrmann A (2009) Getting a feel for price affect: a conceptual framework and empirical investigation of consumers' emotional responses to price information. Psychol Mark 26(1):39–66

Peracchio LA, Tybout A (1996) The moderating role of prior knowledge in schema-based product evaluation. J Cons Res 23(3):177–192

Prelec D, Loewenstein G (1998) The red and the black: mental accounting of savings and debt. Mark Sci 17(1):4–28

Richins ML (1997) Measuring emotions in the consumption experience. J Cons Res 24(2):127–146

Roseman IJ, Spindel MS, Jose PE (1990) Appraisals of emotion-eliciting events: testing a theory of discrete emotions. J Pers Soc Psychol 59(5):899–915

Ross WT, Simonson I (1991) Evaluations of pairs of experiences: a preference for happy endings. J Behav Decis Mak 4(4):273–282

Srinivasan N, Ratchford BT (1991) An empirical test of an external search model for automobiles. J Cons Res 18(2):233–242

Suri R, Manchanda RV, Kohli C (2002) Comparing fixed price and discounted price strategies: the role of affect on evaluations. J Prod Brand Manag 11(3):160–171

Trope Y, Liberman N (2003) Temporal construal. Psychol Rev 110(3):403–421

van Raaij WF, Gianotten HJ (1990) Consumer confidence, expenditure, saving, and credit. J Econ Psychol 11(2):269–290

Varey CA, Kahneman D (1992) Experiences extended across time: evaluation of moments and episodes. J Behav Decis Mak 5(3):169–185

Wood SL, Lynch JG (2002) Prior knowledge and complacency in new product learning. J Cons Res 29(3):416–426

Zeithaml VA (1988) Consumer perceptions of price, quality, and value: a means-end model and synthesis of evidence. J Mark 52(3):2–22

Zeithaml VA, Berry LL, Parasuraman A (1996) The behavioral consequences of service quality. J Mark 60(2):31–46
Acknowledgments
The authors would like to thank two anonymous reviewers and the editor for their helpful comments and suggestions.
About this article
Cite this article
Peine, K., Wentzel, D. & Herrmann, A. Getting better or getting worse? Consumer responses to decreasing, constant, and ascending multi-dimensional price profiles. Rev Manag Sci 6, 81–101 (2012). https://doi.org/10.1007/s11846-010-0050-5
Received:

Accepted:

Published:

Issue Date:
Keywords
Multi-dimensional pricing

Evaluations of sequential outcomes

Intertemporal choice

Appraisal theory
Mathematics Subject Classification (2000)
JEL Classification