Abstract
We empirically examine the level and structure of director compensation in a two-tier setting using a novel data set covering German Prime Standard firms for the period 2005–2008. The descriptive analysis reveals that the average compensation per director is rather low at some €38,000 and only 61.2% of firms use performance-based compensation elements. In our regression analysis, we distinguish four types of determinants: firm characteristics, corporate performance, ownership structure and board characteristics. Using panel data analysis allowing for unobserved heterogeneity, we find strong support for an optimal contracting view: compensation of directors is structured in a way that provides incentives to monitor executives, particularly in firms with otherwise weak governance mechanisms.
Access options
Buy single article
Instant access to the full article PDF.
US$ 39.95
Tax calculation will be finalised during checkout.
Subscribe to journal
Immediate online access to all issues from 2019. Subscription will auto renew annually.
US$ 79
Tax calculation will be finalised during checkout.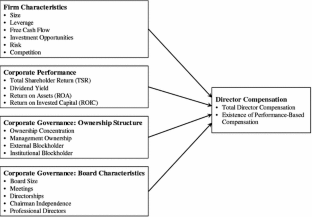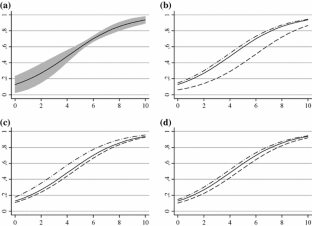 Notes
1.

From now on, we will use the phrase director for any non-executive board member and executive or manager for all executive directors.

2.

It is well known that the German corporate governance system is characterized by a two-tier system with two boards: the supervisory board (Aufsichtsrat) and the management board (Vorstand). According to the German Stock Corporation Act (Aktiengesetz—AktG), the supervisory board supervises (§111 AktG) and appoints (§84 AktG) members of the management board. A peculiarity of the German corporate governance system is the Codetermination Act of 1976 (MitbestG). It regulates the possibility of mandatory employee representatives within the supervisory board depending on firm size and the sector the firm is operating in. Thus, for firms operating under codetermination there are two types of supervisory board members: shareholder representatives and employee representatives. As both director types are subject of the same rights and duties, we do not explicitly distinguish between their backgrounds in the remainder of the paper. Nevertheless, the sensitivity to monetary incentives will be generally lower for employee representatives since they are usually obliged to pass a substantial share of their compensation package on to Hans-Böckler-Stiftung, a foundation of the Confederation of German Trade Unions. However, this does not mean that compensation is irrelevant for employee representatives: First, the general provisions with regard to the payout ratio to employee representatives have been gradually revised in the past years (higher thresholds until a mandatory and proportionate transfer payment kicks in and a removal of total compensation caps for these directors). Second, the remaining residual board compensation will be still a sizeable portion of the total compensation package of employee representatives. Therefore, the quest for optimal compensation is also applicable to boards under codetermination, apart of the fact that shareholder representatives will have a casting vote in the event of deadlocks anyway.

3.

With respect to the result of this bargaining process, two competing views emerged: the optimal-contracting and the managerial-power perspective (see Grossman and Hart 1983; Bebchuk et al. 2002 for an overview of the arguments). While the optimal contracting view presumes that shareholders establish compensation policies, i.e. the bargaining power is allocated to shareholders but agents will take advantage of information asymmetries, in the managerial power framework agents are able to set their own pay (Ruiz-Verdú 2008). Concerning executive compensation, recent evidence suggests that both perspectives are needed to fully understand existing practices (e.g. Bruce et al. 2005; Schmidt and Schwalbach 2007; Dittmann and Maug 2007; Fahlenbrach 2009).

4.

To illustrate, tournament theory has been used in executive compensation studies to provide a theoretical justification for pay differentials among the top management team and its effect on corporate performance (see e.g. O′Reilly et al. 1988; Conyon et al. 2001). However, contrary to executive compensation, director compensation is set for a group of individuals (i.e. the board) as a whole (§ 113 AktG). Interdirectoral differences in compensation stem from assuming additional functions (e.g. chairman or committee membership) or variations in meeting attendance (Farrell et al. 2008).

5.

The keywords are "board of directors compensation", "director incentive pay", "outside director compensation", "board remuneration" and "board incentive contracts". The shortlist of key journals includes (amongst others) the Journal of Finance, the Journal of Financial Economics, the Review of Financial Studies and the Journal of Corporate Finance.

6.

Hence, our review does not consider working papers that deal with director compensation determinants. However, we will refer to them in our development of the hypotheses and the discussion of the results. Relevant papers that we have identified via SSRN are from Perry (1999), Bryan et al. (2000), Bryan and Klein (2004) and Adams (2003). Additionally, we searched the database of the Deutsche Nationalbibliothek for relevant dissertations that have not found their way into refereed journals. We could not find any dissertations that met our requirements.

7.

Various changes in German law strengthened the position of the board and professionalized its service, e.g. Corporation Control and Transparency Act (KonTrAG) 1998 or the introduction of the German Corporate Governance Code (DCGK) 2002. See Nowak (2001), Theisen (2003a) and Goergen et al. (2008) for an overview of the legislative efforts and their implications.

8.

Given the wide adoption of stock-based incentive programs in the US, this evidence has been observed to be more consistent based on capital market-related (e.g. total shareholder return) rather than accounting-based indicators (e.g. return on assets). However, in contrast to US findings, we expect director compensation in Germany to be more closely related to accounting-related performance measures compared to capital market performance. Moreover, we expect fewer stock-based incentives for directors in German companies, since the German Federal Court of Justice prohibited the use of stock options as a component of director pay in the 2004 "Mobilcom" decision (BGH II ZR 316/02). As a consequence, only contractual replications such as phantom stocks or stock appreciation rights are permitted.

9.

Other researchers argue that concentrated ownership represents a prerequisite that shareholders are able to establish efficient contracts and thus suggest a complementary relationship (e.g. Hartzell and Starks 2003). A positive correlation between compensation level and governance mechanisms is, however, also in line with a managerial/director power view. See Fahlenbrach 2009 for a thorough discussion of the empirical predictions of these views for the case of executive compensation.

10.

11.

Note that due to German regulation, e.g. the Codetermination Act, supervisory boards of German firms are about twice the size compared to the proportion of non-executive directors in boards of a one-tier system (Baums 2001).

12.

13.

Consequently, commentators argue that the board should be dominated by firm-external directors who are expected to be less susceptible to collusion and being captured by powerful CEOs (Lipton and Lorsch 1992; Jensen 1993). This idea has also made its way into German policy reforms: according to a recent amendment to the German Stock Corporation Act, former members of the executive management must await a two-year cooling-off period before they can assume a position on the supervisory board. However, the shareholders' meeting may opt out if the combined stake of the nominating shareholders exceeds 25% (§100 AktG). Additionally, the German Corporate Governance Code recommends a maximum of two seats for former executives in supervisory boards in total. However, some academics raise concerns that boards dominated by outside directors may face negative effects: former executives are supposed to have valuable firm-specific knowledge that reduces information costs (e.g. Donaldson and Davis 1994).

14.

This condition was introduced because we want the samples to be exactly the same when comparing coefficients across regression models. Otherwise, the computation of likelihood-ratio tests comparing models cannot be completed and any interpretations of why the results have changed must take into account differences between the samples. In addition, we decided to track stock volatility over a 36-month period requiring at least 3 years of data preceding any sample year.

15.

We are aware of the fact that this approach does not differentiate between different board members (e.g. chairman and ordinary directors) and may introduce a bias into our compensation data if board composition changes during the financial year. However, we chose this approach as it would take enormous effort to compile the relevant data at director level. Additionally, only roughly two-thirds of the companies disclose information about individual pay levels, which would in turn further restrict our sample. Finally, by following this procedure we connect to all prior German studies which also applied this calculation (Schmid 1997; Knoll et al. 1997; Elston and Goldberg 2003).

16.

While in the US context commentators are concerned about the role of the CEO, in particular in the case of CEO duality meaning that the CEO is simultaneously chairman of the company, for the two-tier setting, and Germany in particular, it is rather the role of the chairman of the supervisory board that is controversial. One of the reasons for this is the dominance of the chairman, which constitutes itself in the privilege of having a casting vote if elections between shareholder and employee representatives are tied.

17.

Equation 2 describes a general one-way fixed-effects model where αi is the coefficient of a firm-specific dummy variable. In a random-effects model, the firm-specific effect is presumed to be random with α i ~ (α, σ 2 α ) and ε ~ (0, σ 2 u ). A standard extension of the individual effects model is a two-way effects specification that allows time effects to be incorporated as well. Then, y it  = α i  + γ t  + x′ it β + ɛ it , where γ t are time-variant (but firm-invariant) effects. Since it is common to assume that the time effects are fixed effects, i.e. non-random, the latter equation reduces to Eq. 2, where the regressors include time dummies. We include time dummies in all our regression models.

18.

We use a Breusch-Pagan LM test to examine whether allowing for firm level heterogeneity improves the fit of our compensation level models (Breusch and Pagan 1980). The null hypothesis that the variance of the group-specific errors component α i of groups is zero is rejected at ρ < 0.001, suggesting the use of a firm effects model (see Table 5).

19.

Another way of discriminating between random and fixed effects is to define the target of inference (Wooldridge 2002). A random-effects model is more appropriate if the interest of inference relates to a population mean, i.e. units are viewed as sampled from an overall population. In contrast, fixed effects are more suitable if the interest concerns the particular units in the dataset at hand.

20.

The standard Hausman test that is built in most statistical packages requires the random-effects estimator to be efficient, which in turn requires that α i and ε it are i.i.d. (Cameron and Trivedi 2005). However, this is an invalid assumption if cluster-robust standard errors differ substantially from ordinary standard errors, which is usually the case in panel estimations (Petersen 2008). Here, a robust version of the Hausman test is needed (Wooldridge 2002). In our analysis, we use a panel-robust version that is described by Arellano (1993) and Wooldridge (2002, 290–291).

21.

For example, in short panels like ours where N > T, consistent estimation of firm-fixed effects by simply including individual intercepts is not possible due to the incidental parameters problem (Cameron and Trivedi 2005). An alternative would be the specification of a conditional logit model (Baltagi 1995; Greene 2005). However, as a consequence all companies that exhibit no variation in the dependent variable over time would be dropped. As this is the case in the vast majority of all companies examined in this study (~90%), application of the conditional logit model would induce major inefficiency and is hence less favorable. Similarly, specifying the intercept as a random variable places heavy restrictions on the data such as low intra-class correlation and only a limited numbers of clusters in order to achieve stable results during quadrature approximation (Lesaffre and Spiessens 2001; Rabe-Hesketh et al. 2005). With cluster size over 200 and a high intra-class correlation (>90%), our results change considerably (i.e. greater than a relative difference of 10−2 in coefficient estimates) when we refit random-effects logit models with different numbers of integration points. Thus, although we get similar results to those reported in Sect. 4.2 when specifying a random-effect logit model in the default mode in Stata, we choose to restrict our presentation of results to population-averaged models only.

22.

Andreas et al. (2009) show that only 4% of Prime Standard companies who have adopted short-term performance-based pay for directors tie the incentive plan to stock price development. Similarly, Knoll et al. (1997) do not find a significant relationship in their regression results using stock-based performance indicators.

23.

In fact, there is a controversial discussion in Germany about whether or not compensation packages of directors should be tied to firm performance at all. Opponents regularly argue that reliable performance criteria that board members can actually influence are not available. Moreover, they point to the stewardship theory outlined above and generally question the extrinsic motivation structure of directors (e.g. Fallgatter 2003; Böcking 2004). From their perspective, compensation should, if at all, be exclusively tied to the input dimension of performance, for example meeting attendance. This view is also generally supported by labour unions (Seyboth 2003). However, proponents of performance-based compensation bring forward a series of arguments that illustrate how supervisory boards can increasingly influence the firm's performance, for example via management decisions that must be subject to the board's approval or by indirectly framing the management's behaviour (e.g. Lutter 2001; Fallgatter and Simons 2003). Additionally, based on formal models of a two-tier setting, others emphasize the function of performance-based compensation to provide for congruent interests, to prevent collusion or to attract and retain scarce talent (e.g. Martens 2000; Hartmann 2003).

24.

25.

This is because the variables' marginal effect on the dependent variable will vary with the magnitude of change in the variable of interest, the variables' starting value, and the value of all other model variables (Long and Freese 2006).

26.

However, we see that the confidence interval is smaller near the centre of the data and increases as we move to smaller companies, where our dataset has comparatively few observations.

27.

For example, 84.5% of the chairmen characteristics will remain constant over the sample period.

28.

This is because some observations had to be dropped since some industries perfectly predict (non-)adoption.

29.

The German Commercial Code (Handelsgesetzbuch—HGB) stipulates in Section §289a that stock companies must disclose an annual declaration of corporate governance which should also elaborate on the independence of board members. This requirement has been part of a recent corporate governance reform in Germany (Act to Modernize Accounting Law (BilMoG)).
References
Adams R (2003) What do boards do? Evidence from board committee and director compensation data. Working paper, New York

Adams R, Ferreira D (2008) Do directors perform for pay? J Acc Econ 46:154–171

Adams R, Ferreira D (2009) Women in the boardroom and their impact on governance and performance. J Financ Econ 94:291–309

Adams R, Hermalin BE, Weisbach MS (2009) The role of boards of directors in corporate governance: a conceptual framework and survey. Working paper, Los Angeles

Agrawal A, Mandelker G (1987) Managerial incentives and corporate investment and financing decisions. J Financ 42:823–837

Aguilera VR, Jackson G (2003) The cross-national diversity of corporate governance: dimensions and determinants. Acad Manag Rev 28:447–465

Anderson MC, Banker RD, Ravindran S (2000) Executive compensation in the information technology industry. Manag Sci 46:530–547

Andreas J, Rapp MS, Wolff M (2009) Vergütungspraxis in Aufsichtsräten des Prime Standard. Der Aufsichtsrat 6(3):34–35

Arellano M (1987) Computing robust standard errors for within-groups estimators. Oxf Bull Econ Stat 49:431–433

Arellano M (1993) On the testing of correlated effects with panel data. J Econometrics 59:87–97

Baltagi B (1995) The econometrics of panel data. Wiley, Chichester

Baltagi B, Bresson G, Pirotte A (2003) Fixed effects, random effects or Hausman Taylor? A pretest estimator. Econ Lett 79:361–369

Barkema HG, Gomez-Mejia LR (1998) Managerial compensation and firm performance: a general research framework. Acad Manag J 41:135–145

Baums T (2001) Bericht der Regierugskommission Corporate Governance. Otto Schmidt, Köln

Bäurle I (1996): Krise der Aufsichtsratstätigkeit: welchen Beitrag leistet die Agency-Theorie? Working paper, Ingolstadt

Beatty RP, Zajac EJ (1994) Top management incentives, monitoring, and risk sharing: a study of executive compensation, ownership and board structure in initial public offerings. Adm Sci Q 39:313–336

Bebchuk LA, Jesse MF, David IW (2002) Managerial power and rent extraction in the design of executive compensation. Univ Chicago Law Rev 69:751–846

Bebchuk L, Grinstein Y, Peyer U (2007) Lucky directors. Working paper, Cambridge

Becher DA, Campbell TL, Frye MB (2005) Incentive compensation for bank directors: the impact of deregulation. J Bus 78:1753–1777

Beiner S, Schmid MM, Wanzenried G (2009) Product market competition, managerial incentives and firm valuation. Eur Financ Manag. doi: 10.1111/j.1468-036X.2009.00505.x

Berle AA, Means GC (1932) The modern corporation and private property. Harcourt, Brace and World, New York

Bertrand M, Mullainathan S (2003) Enjoying the quit life? Corporate governance and managerial preferences. J Polit Econ 111:1043–1075

Black B, Bhagat S (2002) The non-correlation between board independence and long-term firm performance. J Corp Law 27:231–274

Böcking HJ (2004) Prüfungsausschuss und Aufsichtsratsvergütung—Elemente einer verantwortungsvollen Corporate Governance. In: Lange TA, Löw E (eds) Rechnungslegung, Steuerung und Aufsicht von Banken: Kapitalmarktorientierung und Internationalisierung. Gabler, Wiesbaden, pp 564–588

Börsch-Supan A, Köke J (2002) An applied econometricians' view of empirical corporate governance studies. Ger Econ Rev 3:295–326

Boyd BK (1996) Determinants of US outside director compensation. Corp Gov 4:202–211

Brandes P, Hadani M, Goranova M (2006) Stock options expensing: an examination of agency and institutional theory explanations. J Bus Res 59:595–603

Bresser RK, Thiele RV (2008) Ehemalige Vorstandsvorsitzende als Aufsichtsratschefs: Evidenz zu ihrer Effektivität im Falle des erzwungenen Führungswechsels. ZfB 78:175–203

Breusch TS, Pagan AR (1980) The Lagrange multiplier test and its applications to model specification in econometrics. Rev Econ Stud 47:239–253

Brick IE, Palmon O, Wald JK (2006) CEO compensation, director compensation, and firm performance: evidence or cronyism? J Corp Financ 12:403–423

Bruce A, Buck T, Main BG (2005) Top executive remuneration: a view from Europe. J Manag Stud 42:1493–1506

Bryan S, Klein A (2004) Non-management director options, board characteristics, and future firm investments and performance. Working paper, New York

Bryan S, Hwang LS, Klein A (2000) Compensation of outside directors: an empirical analysis of economic determinants. Working paper, New York

Bryan S, Nash R, Patel A (2006) Can the agency costs of debt and equity explain the changes in executive compensation during the 1990s? J Corp Financ 12:516–535

Cameron AC, Trivedi P (2005) Microeconometrics: methods and applications. Cambridge University Press, New York

Carpenter MA, Westphal JD (2001) The strategic context of external network ties: examining the impact of director appointments on board involvement in strategic decision making. Acad Manag J 44:639–660

Chatterjee S, Price B (1977) Regression analysis by example. Wiley, New York

Chizema A (2008) Institutions and voluntary compliance: the disclosure of individual executive pay in Germany. Corp Gov 16:359–374

Chizema A (2010) Early and late adoption of American-style executive pay in Germany: governance and institutions. J World Bus 45:9–18

Chizema A, Buck T (2006) Neo-institutional theory and institutional change: towards the 'Americanization' of German executive pay practice. Int Bus Rev 15:488–504

Conyon MJ, Schwalbach J (2000) Executive compensation: evidence from the UK and Germany. LRP 33:504–526

Conyon MJ, Peck SI, Sadler GV (2001) Corporate tournaments and executive compensation: evidence for the UK. Strateg Manag J 22:805–815

Cordeiro J, Veliyath R, Eramus EJ (2000) An empirical investigation of the determinants of outside director compensation. Corp Gov 8:268–279

Core J, Holthausen R, Larcker D (1999) Corporate governance, chief executive officer compensation, and firm performance. J Financ Econ 51:371–406

Cronqvist H, Fahlenbrach R (2009) Large shareholders and corporate policies. Rev Financ Stud 22:3941–3976

Davidson R, MacKinnon J (1993) Estimation and inference in econometrics. Oxford University Press, New York

Davis JH, Schoorman FD, Donaldson L (1997) Toward a stewardship theory of management. Acad Manag Rev 22:20–47

Deutsch Y (2007) The influence of outside directors' stock compensation on firms R&D. Corp Gov 15:816–827

DiMaggio PJ, Powell WW (1983) The iron cage revisited: institutional isomorphism and collective rationality in organizational fields. Am Sociol Rev 48:147–160

Dittmann I, Maug E (2007) Lower salaries and no options? On the optimal structure of executive pay. J Financ 62:303–343

Donaldson L, Davis JH (1991) Stewardship theory or agency theory: CEO governance and shareholder returns. Aust J Manag 16:49–64

Donaldson L, Davis JH (1994) Boards and firm performance—research challenges the conventional wisdom. Corp Gov 2:151–160

Eisenberg T, Sundgren S, Wells M (1998) Larger board size and decreasing firm value in small firms. J Financ Econ 48:35–54

Elsas R, Florysiak D (2008) Empirical capital structure research: new ideas, recent evidence, and methodological issues. Working paper, Munich

Elston JA, Goldberg LG (2003) Executive compensation and agency costs in Germany. J Bank Financ 27:1391–1410

Engel E, Hayes RM, Wang X (2010) Audit committee compensation and the demand for monitoring of the financial reporting process. J Acc Econ 49:136–154

Engeser M (2009) Blick nach vorn: Welche Herausforderungen 2010 auf Top-Manager warten. Wirtschaftswoche No 52:92–96

Ertugrul M, Hegde S (2008) Board compensation practices and agency cost of debt. J Corp Financ 14:512–531

Fahlenbrach R (2009) Shareholder rights, boards, and CEO compensation. Rev Financ 13:81–113

Fallgatter MJ (2003) Variable Vergütung von Mitgliedern des Aufsichtsrates: Resultiert eine verbesserte Unternehmensüberwachung? DBW 63:703–713

Fallgatter MJ, Simons D (2003) Zum Überwachungsgefüge deutscher Kapitalgesellschaften—Eine anreiztheoretische Analyse der Vergütung, Haftung und Selbstverpflichtung des Aufsichtsrates. Working paper, Bielefeld

Fama EF (1980) Agency problems and the theory of the firm. J Polit Econ 88:288–307

Fama EF, French KR (1997) Industry costs of equity. J Financ Econ 43:153–193

Fama EF, Jensen MC (1983) Separation of ownership and control. J Law Econ 26:301–325

Farrell KA, Friesen GC, Hersch PL (2008) How do firms adjust director compensation. J Corp Financ 14:153–162

Ferrarini G, Moloney N, Ungureanu MC (2009) Understanding directors' pay in Europe: an comparative and empirical analysis. Working paper, Brussels

Ferris SP, Jagannathan M, Pritchard AC (2003) Too busy to mind the business? Monitoring by directors with multiple board appointments. J Financ 59:1087–1111

Fich EM, Shivdasani A (2005) The impact of stock option compensation for outside directors on firm value. J Bus 78:2229–2254

Fich EM, Shivdasani A (2006) Are busy boards effective monitors? J Financ 61:689–724

Fockenbrock D (2009) Im Geflecht der Kontrolleure. Handelsblatt, 4 Nov 2009, pp 32–33

Gillette AB, Noe TH, Rebello MJ (2003) Corporate board composition, protocols, and voting behavior: experimental evidence. J Financ 58:1997–2032

Giroud X, Mueller HM (2010) Does corporate governance matter in competitive industries? J Financ Econ 95:312–331

Goergen M, Manjon MC, Renneboog L (2008) Is the German system of corporate governance converging towards the Anglo-American model? J Manage Gov 12:37–71

Granovetter M (1985) Economic action and social structure: the problem of embeddedness. Am J Sociol 19:481–510

Greene WH (2003) Econometric analysis, 5th edn. Prentice Hall, Upper Saddle River

Grosfeld I, Tressel T (2002) Competition and ownership structure: substitutes or complements? Econ Transit 10:525–551

Grossman SJ, Hart OD (1983) An analysis of the principal-agent problem. Econometrica 51:7–45

Hartmann K (2003) Die Aufsichtsratsvergütung als Erfolgsfaktor im deutschen corporate-governance-system. Dissertation, Otto-von-Guerike University, Magdeburg

Hartzell JC, Starks LT (2003) Institutional investors and executive compensation. J Financ 58:2351–2374

Hausman JA (1978) Specification tests in econometrics. Econometrica 46:1251–1271

Heide JB (1994) Interorganizational governance in marketing channels. J Mark 58:71–85

Heinze T (2004) Dynamics in the German system of corporate governance? Empirical findings regarding interlocking directorates. Econ Soc 33:218–238

Hempel P, Fay C (1994) Outside director compensation and firm performance. Hum Resour Manag 33:111–133

Hermalin BE, Weisbach MS (1998) Endogenously chosen boards of directors and their monitoring of the CEO. Am Econ Rev 88:96–118

Heugens PP, Lander MW (2009) Structure! Agency! (and other quarrels): a meta-analysis of institutional theories of organization. Acad Manag J 52:61–85

Hillman AJ, Nicholson G, Shropshire C (2008) Directors' multiple identities, identification, and board monitoring and resource provision. Organ Sci 19:441–456

Himmelberg CP, Hubbard RG, Palia D (1999) Understanding the determinants of managerial ownership and performance. J Financ Econ 53:333–384

Hoetker G (2007) The use of logit and probit models in strategic management research: critical issues. Strateg Manag J 28:331–343

Holderness CG (2003) A survey of blockholders and corporate control. FRBNY Econ Policy Rev 9:51–64

Hung H (1998) A typology of the theories of the roles of governing boards. Corp Gov 6:101–111

Januszweski SI, Köke J, Winter JK (2002) Product market competition, corporate governance and firm performance: an empirical analysis for Germany. Res Econ 56:299–332

Jensen MC (1986) Agency costs of free cash flow, corporate finance and takeovers. Am Econ Rev 76:323–329

Jensen MC (1993) The modern industrial revolution, exit, and the failure of internal control systems. J Financ 48:831–880

Jensen MC, Meckling WH (1976) Theory of the firm: managerial behaviour, agency costs and ownership structure. J Financ Econ 3:305–360

Jensen MC, Murphy KJ (1990) Performance pay and top-management incentives. J Polit Econ 98:225–264

Jensen MC, Murphy KJ (2004) Renumeration: where we've been, how we got there, what are the problems, and how to fix them. Working paper, Brussels

Jensen MC, Zajac EJ (2004) Corporate elites and corporate strategy: how demographic preferences and structural position shape the scope of the firm. Strateg Manag J 25:507–524

Judge WQ, Zeithaml CP (1992) Institutional and strategic choice perspectives on board involvement in the strategic decision process. Acad Manag J 35:766–794

Jungmann C (2006) The effectiveness of corporate governance in one-tier and two-tier board systems—evidence from the UK and Germany. Eur Co Financ Law Rev 3:426–474

Kaserer C, Wagner N (2004) Determinanten der Vorstandsvergütung in Deutschland: Paradigmenwechsel oder Versagen der Unternehmenskontrolle. Working paper, Munich

Knoll L, Knoesel J, Probst U (1997) Aufsichtsratsvergütungen in Deutschland: Empirische Befunde. Zfbf 49:236–254

Kren L, Kerr JL (1997) The effects of outside directors and board shareholdings on the relation between chief executive compensation and firm performance. Account Bus Res 27:297–309

Kumar P, Sivaramakrishnan K (2008) Who monitors the monitor? The effect of board independence on executive compensation and firm value. Rev Financ Stud. doi: 10.1093/rfs/hhn010

Lesaffre E, Spiessens B (2001) On the effect of the number of quadrature points in a logistic random-effects model: an example. J R Stat Soc 50:325–335

Linck JS, Netter JM, Yang T (2008) The determinants of board structure. J Financ Econ 87:308–328

Linn SC, Park D (2005) Outside director compensation policy and the investment opportunity set. J Corp Financ 11:680–715

Lipton M, Lorsch J (1992) A modest proposal for improved corporate governance. Bus Lawyer 48:59–77

Long JS, Freese J (2006) Regression models for categorial and limited dependent variables using Stata, 2nd edn. Stata Press, College Station

Lutter M (2001) Der Aufsichtsrat: Kontrolleur oder Mit-Unternehmer? In: Sadowski D (ed) Entrepreneurial spirits. Gabler, Wiesbaden, pp 225–235

Martens K (2000) Managementüberwachung durch den Aufsichtsrat: Ein Beitrag zur Corporate Governance-Diskussion aus agencytheoretischer Sicht. Dissertation, University of Cologne

Maug E (1997) Boards of directors and capital structure. J Corp Financ 3:113–139

Minnick K, Zhao M (2009) Backdating and director incentives: money or reputation? J Financ Res 32:449–477

Moerland P (1995) Alternative disciplinary mechanisms in different corporate systems. J Econ Behav Organ 26:17–34

Morck R, Shleifer A, Vishny R (1988) Management ownership and market valuation: an empirical analysis. J Financ Econ 20:293–315

Mundlak Y (1978) On the pooling of time series and cross sectional data. Econometrica 56:69–86

Murphy K (1985) Corporate performance and managerial remuneration: an empirical analysis. J Acc Econ 7:11–42

Nickell SJ (1996) Competition and corporate performance. J Polit Econ 104:724–746

Nowak E (2001) Recent developments in German capital markets and corporate governance. J Appl Corp Financ 14:35–48

Nowak E, Mahr T, Rott R (2005) Wer den Kodex nicht einhält, den bestraft der Kapitalmarkt? Eine empirische Analyse der Selbstregulierung und Kapitalmarktrelevanz des Deutschen Corporate Governance Kodex. ZGR 34:252–279

O′Reilly CA III, Main BG, Crystal GS (1988) CEO compensation as tournament and social comparison: a tale of two theories. Adm Sci Q 33:257–274

Oehmichen J, Rapp MS, Wolff M (2009) Busy boards in a two-tier system: old-boys network or efficient monitoring technology. Eur Econ Assoc. Annual meeting 2009 paper

Ornstein M (1984) Interlocking directorates in Canada: intercorporate or class alliance? Adm Sci Q 29:210–231

Perry T (1999) Incentive compensation for outside directors and CEO turnover. Working paper, Tempe

Petersen MA (2008) Estimating standard errors in finance panel data sets: comparing approaches. Rev Financ Stud 22:435–480

Pfeffer J (1972) Size and composition of corporate boards of directors: the organization and its environment. Adm Sci Q 17:218–228

Pfeffer J, Salancik GR (1978) The external control of organizations: a resource dependence perspective. Harper and Row, New York

Prange S (2009) Aufsichtsrat Ahnungslos. Handelsblatt, 10 Jul 2009, p 19

Pugliese A, Bezemer PJ, Zattoni A et al (2009) Boards of directors' contribution to strategy: a literature review and research agenda. Corp Gov 17:292–306

Rabe-Hesketh S, Skrondal A (2008) Multilevel and longitudinal modeling using stata, 2nd edn. Stata Press, College Station

Rabe-Hesketh S, Skrondal A, Pickles A (2005) Maximum likelihood estimation of limited and discrete dependent variable models with nested random effects. J Econometrics 128:301–323

Rapp MS, Wolff M (2010) Determinanten der Vorstandsvergütung—eine empirische Untersuchung der deutschen Prime Standard Unternehmen. ZfB (forthcoming)

Ruiz-Verdú P (2008) Corporate governance when managers set their own pay. Eur Financ Manag 14:921–943

Ryan HE, Wiggins RA (2004) Who is in whose pockets? Director compensation, board independence, and barriers to effective monitoring. J Financ Econ 74:497–524

Schmid FA (1997) Vorstandsbezüge, Aufsichtsratsvergütung und Aktionärsstuktur. ZfB 67:67–83

Schmidt KM (1997) Managerial incentives and product market competition. Rev Econ Stud 64:191–213

Schmidt R, Schwalbach J (2007) Zu Höhe und Dynamik der Vorstandsvergütung in Deutschland. ZfB Special Issue I:111–122

Schöndube-Pirchegger B, Schöndube JR (2010) On the appropriateness of performance-based compensation for supervisory board members—an agency theoretic approach. Eur Acc Rev. doi: 10.1080/09638180903487784

Schwalbach J (2004) Effizienz des Aufsichtsrats. Die Aktiengesellschaft 4:186–190

Scott WR (2003) Organizations: rational, natural and open systems, 5th edn. Prentice Hall, Upper Saddle River

Seyboth M (2003) Angemessene Vorstands—und Aufsichtsratsvergütungen. In: Gewerkschaftsbund D (ed) Themenheft Mitbestimmung und Rechtspolitik. DGB, Berlin, pp 6–26

Shleifer A, Vishny RW (1997) A survey of corporate governance. J Financ 52:737–783

Siegel T (2003) Kriterien der Vergütung des Aufsichtsrats. In: von Werder A, Wiedmann K (eds) Internationalisierung der Rechnungslegung und Corporate Governance: Festschrift für Prof. Dr. Klaus Pohle. Schäffer-Poeschel, Stuttgart, pp 405–418

Smith C, Watts R (1992) The investment opportunity set and corporate financing, dividend, and compensation policies. J Financ Econ 32:263–292

Speidel E, Ward M, Surdel R (2009) Board of director pay: compensation trends in the high-technology and life sciences industries. Compens Benefit Rev 41:52–60

Theisen MR (2003a) Herausforderung corporate governance. DBW 63:441–464

Theisen MR (2003b) Aufsichtsrat/Board: Aufgaben, Besetzung, Organisation, Entscheidungsfindung und Willensbildung–Betriebwirtschaftliche Ausfüllung. In: Hommelhoff P, Hopt KJ, von Werder A (eds) Handbuch corporate governance. Schäffer-Poeschel, Stuttgart, pp 285–304

Tirole J (1986) Hierarchies and Bureaucracies: on the role of collusion in organizations. J Law Econ Organ 2:181–214

Vafeas N (1999) Determinants of the adoption of director incentive plans. J Acc Audit Financ 14:453–474

Velte P (2009) Stewardship-Theorie. ZP. doi: 10.1007/s00187-009-0078-3

von Werder A, Talaulicar T (2008) Kodex Report 2008: Die Akzeptanz der Empfehlungen und Anregungen des Deutschen Corporate Governance Kodex. Der Betrieb 61:825–831

Webster J, Watson RT (2002) Analyzing the past to prepare for the future: writing a literature review. MIS Q 26:xiii–xxiii

Westphal J, Zajac EJ (1994) Substance and symbolism in CEOs' long-term incentive plans. Adm Sci Q 39:367–390

Wiersema MF, Bowen HP (2009) The use of limited dependent variable techniques in strategy research: issues and methods. Strateg Manag J 30:679–692

Williamson OE (1984) Corporate governance. Yale Law J 93:1197–1230

Wooldridge JM (2002) Econometric analysis of cross section and panel data. MIT Press, Cambridge

Yermack D (1995) Do corporations award CEO stock options effectively? J Financ Econ 39:237–269

Yermack D (2004) Remuneration, retention, and reputation incentives for outside directors. J Financ 59:2281–2308

Zajac EJ, Westphal JD (1994) The costs and benefits of managerial incentives and monitoring in large US corporations: when is more not better? Strateg Manag J 15:121–142

Zelner BA (2009) Using simulation to interpret results from logit, probit, and other nonlinear models. Strateg Manag J. doi: 10.1002/smj783

Zhou X (2001) Understanding the determinants of managerial ownership and the link between ownership and performance: comment. J Financ Econ 62:559–571
Acknowledgments
We are grateful for the valuable comments of Aleksandra Gregoric, René Fahr, two anonymous referees of the Review of Managerial Science, Wolfgang Kürsten (the editor) and the anonymous referees and participants of the 72th Pfingsttagung des Verbands der Hochschullehrer für Betriebswirtschaft e. V. in Bremen. Thanks to Jana Oehmichen for outstanding research assistance. The usual caveat applies.
About this article
Cite this article
Andreas, J.M., Rapp, M.S. & Wolff, M. Determinants of director compensation in two-tier systems: evidence from German panel data. Rev Manag Sci 6, 33–79 (2012). https://doi.org/10.1007/s11846-010-0048-z
Received:

Accepted:

Published:

Issue Date:
Keywords
Director compensation

Corporate governance

Two-tier system

Agency costs
JEL Classification
J33-Compensation packages, Payment methods

G3-Corporate finance and governance