Abstract
In this paper, we study the management of financial risks of a custom manufacturer in the specialty chemicals industry arising from increased volatility of profits caused by market uncertainty and growing competitive pressure due to globalization. We argue that such risk management can be established either by creating and utilizing flexibility or by adjusting the risk preferences. Using a model-based approach, we operationalize flexibility and risk preferences to show their effects on the profit/risk and the decision making of a firm through a stylized example motivated by the specialty chemicals business.
Access options
Buy single article
Instant access to the full article PDF.
US$ 39.95
Tax calculation will be finalised during checkout.
Subscribe to journal
Immediate online access to all issues from 2019. Subscription will auto renew annually.
US$ 79
Tax calculation will be finalised during checkout.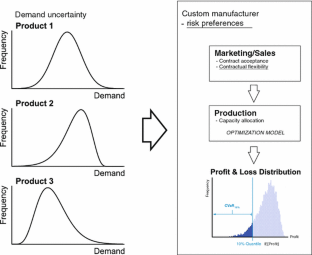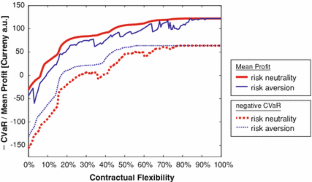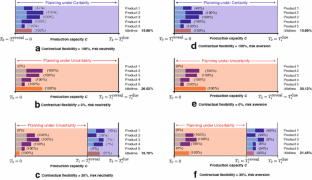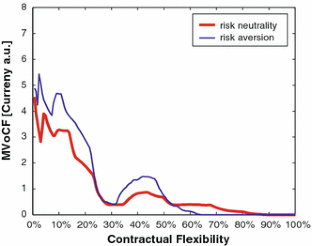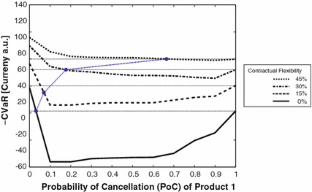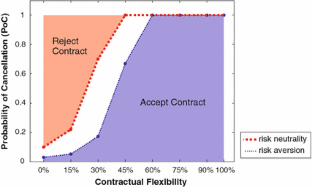 Notes
1.

Here we interpret risk as the unfavorable (negative) outcome of a financial performance measure like the profit (see also Miller 1992).

2.

Note that due to the assumption of a single capacity source, w.l.o.g. all demands are given in units of the underlying capacity and the per-unit financial data p i , c u i and c p i are also defined per unit of this bottleneck capacity.

3.

Strictly speaking this is not always true, as the optimal α may not be unique. In that case the VaR β is the minimum α for which the CVaR β is minimized.

4.

In accordance with our industrial partner, these data are somewhat modified from the real data to better reflect our simplifying model assumptions.

5.

Note that all financial measures are given in arbitrary currency units (a.u.).

6.

In Reimann and Schiltknecht (2009) we discard this assumption and analyze the interdependence of capacity flexibility and contractual flexibility in a risk-neutral setting.

7.

For product 1 the corresponding quantity is zero because of its cancellation probability and the given cost structure.

8.

Note that in this case no new setup is needed for this product, as it was the last product assigned to the plant in stage 1.
References
Ahmed S (2004) Introduction to stochastic integer programming. COSP stochastic programming introduction. http://stoprog.org/

Ahmed S, Sahinidis NV (1998) Robust process planning under uncertainty. Ind Eng Chem Res 37:1883–1892

Ahmed S, Shapiro A (2002) The sample average approximation method for stochastic programs with integer recourse. Technical report. Georgia Institute of Technology

Artzner P, Delbaen F, Eber J-M, Heath D (1999) Coherent measures of risk. Math Financ 9:203–228

Bish EK, Muriel A, Biller S (2005) Managing flexible capacity in a make-to-order environment. Manage Sci 51(2):167–180

Bonfill A, Bagajewicz M, Espuña A, Puigjaner L (2004) Risk management in the scheduling of batch plants under uncertain demand. Ind Eng Chem Res 43:741–750

Chod J, Rudi N, Van Mieghem J (2004) Mix, time, and volume flexibility: valuation and corporate diversification. Technical report. Center for Operations and Supply Chain Management, Northwestern University

Chung C-S, Flynn J, Kirca O (2008) A multi-item newsvendor problem with preseason production and capacitated reactive production. Eur J Oper Res 188:775–792

De Toni A, Tonchia S (2001) Performance measurement systems: models, characteristics and measures. Int J Oper Prod Manage 21(1/2):46–70

Engell S, Märkert A, Sand G, Schultz R (2002) Scheduling of a multiproduct batch plant by two-stage stochastic integer programming. Technical report. Gerhard-Mercator-Universität, Germany

Eppen GD, Martin RK, Schrage L (1989) A scenario approach to capacity planning. Oper Res 37(4):517–527

Francas D, Kremer M, Minner S, Friese M (2009) Strategic process flexibility under lifecycle demand. Int J Prod Econ (to appear)

Gotoh J, Takano Y (2007) Newsvendor solutions via conditional value-at-risk minimization. Eur J Oper Res 179(1):80–96

Gupta D (1993) On measurement and valuation of manufacturing flexibility. J Prod Res 31(12):2947–2958

Jammernegg W, Kischka P (2007) Risk-averse and risk-taking newsvendors: a conditional expected value approach. Rev Manag Sci 1(1):93–110

Lüthi H-J, Doege J (2005) Convex risk measures for portfolio optimization and concepts of flexibility. Math Program 104(2–3):541–559

Markowitz HM (1952) Portfolio selection. J Financ 7:77–91

Miller KD (1992) A framework for integrated risk management in international business. J Int Bus Stud 23(2):311–331

Pagell M, Krause DR (2004) Re-exploring the relationship between flexibility and the external environment. J Oper Manage 21:629–649

Reimann M, Schiltknecht P (2009) Studying the interdependence of contractual and operational flexibilities in the market of specialty chemicals. Eur J Oper Res (to appear)

Rockafellar RT, Uryasev S (2002) Conditional value-at-risk for general loss distributions. J Bank Financ 26:1443–1471

Schultz R (2003) Stochastic programming with integer variables. Math Program 97:285–309

Schultz R (2005) Risk aversion in two-stage stochastic integer programming. Technical report. University of Duisburg-Essen, Germany

Van Landeghem H, Vanmaele H (2002) Robust planning: a new paradigm for demand chain planning. J Oper Manage 20:769–783

Vickery S, Calantone R, Droge C (1999) Supply chain flexibility: An empirical study. J Supply Chain Manage 35(3):16–24
Acknowledgments
This work was started when the first author was still with the Institute for Operations Research at ETH Zurich. The authors would like to thank two anonymous referees and the editor for their thorough review of the manuscript and the many constructive comments that helped to improve the paper.
About this article
Cite this article
Reimann, M., Schiltknecht, P. The role of risk preferences and flexibility for risk management: lessons from a custom manufacturing environment. Rev Manag Sci 3, 117–140 (2009). https://doi.org/10.1007/s11846-009-0028-3
Received:

Accepted:

Published:

Issue Date:
Keywords
Marketing-production interface

Risk management

Flexibility
JEL Classification