Access options
Buy single article
Instant access to the full article PDF.
USD 39.95
Price excludes VAT (USA)
Tax calculation will be finalised during checkout.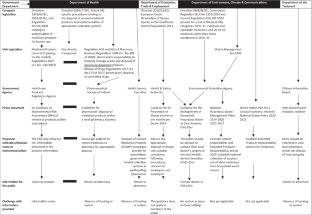 References
Amaral M, Fop L (2013) Unused pharmaceuticals where do they end up? A snapshot of European collection schemes. Health Care Without Harm, Europe. https://noharm-europe.org/documents/unused-pharmaceuticals-where-do-they-end-snapshot-european-collection-schemes Accessed 6 Jan 2022

Mitkidis K, Obolevich V, Chrysochou P, Mitkidis P (2021) Harmonisation of pharmaceutical take-back systems in the EU. Eur J Health Law 1:1–27

Environmental Protection Agency (2021) Draft national hazardous waste management plan 2021 – 2027 for public consultation. Environmental Protection Agency, Wexford, Ireland https://www.epa.ie/publications/corporate/consultations/-consultations/Draft-NHWMP-2021-27_public-consultation.pdf Accessed 6 Jan 2022

National Poisons Information Centre (2020) Poisons Information Centre of Ireland, annual report 2020. National Poisons Information Centre, Dublin, Ireland https://poisons.ie/wp-content/uploads/2021/12/2020-NPIC-Annual-Report-.pdf Accessed 6 Jan 2022

Wilkinson JL, Boxall AB, Kolpin DW et al (2022) Pharmaceutical pollution of the world's rivers. Proc Natl Acad Sci 119:e2113947119

Barnes KK, Christenson SC, Kolpin DW et al (2004) Pharmaceuticals and other organic waste water contaminants within a leachate plume downgradient of a municipal landfill. Groundwater Monitor Remediat 24:119–126

Organisation for Economic Cooperation and Development (2022) Municipal waste, generation and treatment. https://stats.oecd.org/index.aspx?DataSetCode=MUNW# Accessed 22 Mar 2022

Vellinga A, Cormican S, Driscoll J et al (2014) Public practice regarding disposal of unused medicines in Ireland. Sci Total Environ 478:98–102

Organisation for Economic Co-operation and Development (2021) Working Party on Resource Productivity and Waste. Management of pharmaceutical household waste. Guidance for efficient management of unused or expired medicine. Contract No.: ENV/EPOC/WPRPW(2020)10/REV1

Health Service Executive (2020) Free service to Dispose of Unused Medicines Properly (DUMP). Health Service Executive. https://www.hse.ie/eng/services/news/media/pressrel/free-service-to-dispose-of-unused-medicines-properly-dump-.html Accessed 6 Jan 2022

Medsdisposal (2020) Meds Disposal: Easier Than you Think. http://medsdisposal.eu/. Accessed 6 Jan 2022

Toma A, Crişan O (2021) Regulations on green pharmacy in European countries–a comparative study. Farmacia 62:182–188

United Nations. Report of the United Nations Conference on Environment and Development (1992) Rio de Janeiro, Brazil: United Nations. https://www.un.org/en/development/desa/population/migration/generalassembly/docs/globalcompact/A_CONF.151_26_Vol.I_Declaration.pdf Accessed 6 Jul 2022

Chung S-s, Brooks BW (2019) Identifying household pharmaceutical waste characteristics and population behaviors in one of the most densely populated global cities. Resour Conserv Recycl 140:267–277

Zorpas AA, Dimitriou M, Voukkali I (2018) Disposal of household pharmaceuticals in insular communities: social attitude, behaviour evaluation and prevention activities. Environ Sci Pollut Res 25:26725–26735

Constantino VM, Fregonesi BM, Tonani KAA et al (2020) Storage and disposal of pharmaceuticals at home: a systematic review. Cien Saude Colet 25:585–594

West LM, Diack L, Cordina M, Stewart D (2014) A systematic review of the literature on 'medication wastage': an exploration of causative factors and effect of interventions. Int J Clin Pharm 36:873–881

Fiksel J, Bruins R, Gatchett A et al. (2014) The triple value model: a systems approach to sustainable solutions. Clean Technol Environ Policy 16:691–702

Corrigan S, Kay A, O'Byrne K et al (2018) A socio-technical exploration for reducing & mitigating the risk of retained foreign objects. Int J Environ Res Public Health 15:714

Ghazinoory S, Nasri S, Ameri F et al (2020) Why do we need 'Problem-oriented Innovation System (PIS)'for solving macro-level societal problems? Technol Forecast Soc Chang 150:119749
Ethics declarations
Ethical approval
Not required.
Additional information
Publisher's note
Springer Nature remains neutral with regard to jurisdictional claims in published maps and institutional affiliations.
About this article
Cite this article
AlMutairi, M., Redmond, P., Cromie, S. et al. Household medicine disposal and waste management in Ireland, the need for a systems-based approach. Ir J Med Sci (2022). https://doi.org/10.1007/s11845-022-03099-3
Received:

Accepted:

Published:

DOI: https://doi.org/10.1007/s11845-022-03099-3