Abstract
Background
This cross-sectional study sought to establish the prevalence of homelessness amongst inpatients in two psychiatric units in Ireland and explore the perceived relationship between psychiatric illness and homelessness.
Methods
The study employed a semi-structured interview format utilising a specifically designed questionnaire which received ethical approval from the Limerick University Hospitals Group ethics committee.
Results
Fifty psychiatric inpatients were interviewed. Fifteen were either "currently" homeless (n = 8) or had experienced "past" homelessness (n = 7). Those who had experienced homelessness were more likely to have a psychotic illness. A majority of those who had experienced homelessness believed that psychiatric illness contributed to their homelessness. Involuntary admission rates were more than double for patients in the homeless group. A number of participants also reported that a lack of accommodation was preventing their discharge.
Conclusion
Homelessness affects a significant number of psychiatric patients and can be both a contributory factor to, and consequence of, mental illness. With homelessness at unprecedented levels, there is a need for the development of tailored programmes aimed at supporting these vulnerable groups.
Access options
Buy single article
Instant access to the full article PDF.
US$ 39.95
Tax calculation will be finalised during checkout.
Subscribe to journal
Immediate online access to all issues from 2019. Subscription will auto renew annually.
US$ 79
Tax calculation will be finalised during checkout.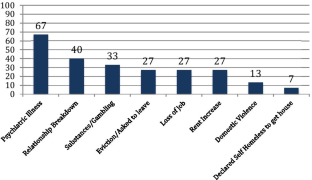 References
1.

Folsom D, Jeste DV (2002) Schizophrenia in homeless persons: a systematic review of the literature. Acta Psychiatr Scand 105(6):404–413. https://doi.org/10.1034/j.1600-0447.2002.02209.x

2.

Fazel S, Khosla V, Doll H, Geddes J (2008) The prevalence of mental disorders among the homeless in western countries: systematic review and meta-regression analysis. PLoS Med 5(12):e225. https://doi.org/10.1371/journal.pmed.0050225.PMID:19053169;PMCID:PMC2592351

3.

Murphy R, Mitchell K, McDaid S (2017) Homelessness and mental health: voices of experience. https://www.mentalhealthreform.ie/wp-content/uploads/2017/06/Homelessness-and-mental-health-report.pdf (accessed 12/05/2020)

4.

Department of Housing, Planning & Local Government Homelessness Report July 2020. https://www.housing.gov.ie/sites/default/files/publications/files/homeless_report_-_july_2020.pdf (Accessed 22/08/2020)

5.

Specialist Mental Health Services for Homeless People, Position Paper EAP02/2011, Approved by Council , The College of Psychiatry of Ireland, September 2011 https://www.irishpsychiatry.ie/wp-content/uploads/2016/12/6Position-Paper-of-College-of-Psychiatry-of-Ireland-on-the-Specialist-Mental-Health-Services-for-Homeless-Peopl.pdf (accessed 25/08/2020)

6.

HSE multi-agency advisory group. Addressing the housing needs of people using mental health services prepared by a multi-agency advisory group for the HSE National Vision for Change Working Group 2012. https://www.hse.ie/eng/services/publications/mentalhealth/housingdocument.pdf (Accessed 22/08/2020)

7.

WHO European Health Information Gateway. https://gateway.euro.who.int/en/indicators/hfa_488-5070-psychiatric-hospital-beds-per-100-000/ Accessed 14/08/2020.

8.

Tulloch AD, Fearon P, David AS (2012) Timing, prevalence, determinants and outcomes of homelessness among patients admitted to acute psychiatric wards. Soc Psychiatry Psychiatr Epidemiol 47(7):1181–1191

9.

Daly A, Craig S, O' Sullivan E. A profile of psychiatric in-patient admissions with no fixed abode (NFA) 2007–2016. Ir Med J. 2019 Jan 15; 112(1):853. PMID: 30719894.

10.

O'Sullivan E. Researching homelessness in Ireland: explanations, themes and approaches. Chapter 2 in Perspectives on Irish homelessness: past, present and future. 2008. Downey D (ed). Homeless Agency, Parkgate Hall, Dublin 8, Ireland. https://www.drugsandalcohol.ie/11723/1/homeless_agency_Perspectives.pdf (accessed 25/08/2020)

11.

Keogh C, O'Brien KK, Hoban A, O'Carroll A, Fahey T (2015) Health and use of health services of people who are homeless and at risk of homelessness who receive free primary health care in Dublin. BMC Health Serv Res 15(1):58

12.

O'Reilly, O., How Did I Get Here? Campaigns & Communications Team Cork Simon Community, October 2013 https://www.corksimon.ie/wp-content/uploads/2015/05/How-Did-I-Get-Here-October-2013-r.pdf (accessed 12/05/2020)

13.

O'Reilly F, Barror S, Hannigan A, Scriver S, Ruane L, MacFarlane A, O'Carroll A. Homelessness: an unhealthy state. Health status, risk behaviours and service utilisation among homeless people in two Irish cities. The Partnership for Health Equity. September 2015. https://www.drugsandalcohol.ie/24541/1/Homelessness.pdf (accessed 12/05/2020)

14.

Gulati G, Otuokpaikhian K, Crowley M, Pradeep V, Meagher D, Dunne CP (2019) Mental healthcare interfaces in a regional Irish prison. Int J Prison Health 15(1):14–23. https://doi.org/10.1108/IJPH-06-2017-0029 (Epub 2019a Feb 20 PMID: 30827156)

15.

Gulati G, Keating N, O'Neill A, Delaunois I, Meagher D, Dunne CP (2019) The prevalence of major mental illness, substance misuse and homelessness in Irish prisoners: systematic review and meta-analyses. Ir J Psychol Med 36(1):35–45. https://doi.org/10.1017/ipm.2018.15 (PMID: 30931873)

16.

Khan Z, McCrone P, Koehne S. Impact on the use and cost of other services following intervention by an inpatient pathway homelessness team in an acute mental health hospital. J Ment Health. 2020 Apr 26:1–7. https://doi.org/10.1080/09638237.2020.1755017. Epub ahead of print. PMID: 32336180.

17.

Newman L, Harris V, Evans LJ et al (2018) Factors associated with length of stay in psychiatric inpatient services in London. UK Psychiatr Q 89:33–43. https://doi.org/10.1007/s11126-017-9498-7

18.

Curley A, Agada E, Emechebe A, Anamdi C, Ng XT, Duffy R, Kelly BD (2016) Exploring and explaining involuntary care: The relationship between psychiatric admission status, gender and other demographic and clinical variables. Int J Law Psychiatry 47:53–59

19.

Cowman J, Whitty P (2016) Prevalence of housing needs among inpatients: a 1 year audit of housing needs in the acute mental health unit in Tallaght Hospital. Ir J Psychol Med 33:159–164

20.

Focus Ireland (2020) Why are so many becoming homeless, https://www.focusireland.ie/resource-hub/about-homelessness/ (accessed 27 May 2020)
Ethics declarations
Informed consent
Was obtained from all individual participants included in the study.
Competing interest
The authors declare that they have no conflict of interest.
About this article
Cite this article
Moloney, N., O'Donnell, P., Elzain, M. et al. Homelessness amongst psychiatric Inpatients: a cross-sectional study in the mid-west of Ireland. Ir J Med Sci (2021). https://doi.org/10.1007/s11845-021-02546-x
Received:

Accepted:

Published:
Keywords
Homelessness

Inpatient

Ireland

Involuntary

Mental health

No fixed abode

Psychiatric illness