Access options
Buy single article
Instant access to the full article PDF.
USD 39.95
Price includes VAT (USA)
Tax calculation will be finalised during checkout.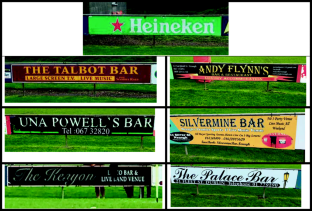 References
1.

Mongan D, Long J (2016) Overview of alcohol consumption, alcohol-related harm and alcohol policy in Ireland. HRB Overview Series 10. Health Research Board, Dublin

2.

Mongan D, Long J (2014) Alcohol consumption in Ireland 2013: analysis of a national alcohol diary. Health Research Board, Dublin

3.

IPSOS MRBI (2017) Healthy Ireland Survey 2017: summary of findings. Government Publications Office, Dublin

4.

WHO (2014) Global status report on alcohol and health 2014. World Health Organisation, Geneva

5.

WHO (2018) Global status report on alcohol and health 2018. World Health Organisation, Geneva

6.

Board HR (2019) Factsheet – alcohol: the Irish situation. Health Research Board, Dublin

7.

Gavin A, Keane E, Callaghan M, Molcho M, Kelly C, Nic Gabhainn S (2015) The Irish Health Behaviour in School-aged Children (HBSC) Study 2014. Health Promotion Research Centre, National University of Ireland, Galway

8.

Taylor K, Babineau K, Keogan S, Whelan E, Clancy L (2016) ESPAD 2015: European schools project on alcohol and other drugs in Ireland. Tobacco Free Research Institute Ireland for the Department of Health, Dublin

9.

National Youth Council of Ireland (2009) Get 'em young: mapping young people's exposure to alcohol marketing in Ireland. National Youth Council of Ireland, Dublin

10.

HSE & TUSLA (2019) Hidden harm strategic statement. HSE & TUSLA, Dublin

11.

Ruan H, Zhou Y, Luo Q, Robert GH, Desrivières S, Quinlan EB, Liu Z, Banaschewski T, Bokde ALW, Bromberg U, Büchel C, Flor H, Frouin V, Garavan H, Gowland P, Heinz A, Ittermann B, Martinot JL, Martinot MP, Nees F, Orfanos DP, Poustka L, Hohmann S, Fröhner JH, Smolka MN, Walter H, Whelan R, Li F, Schumann G, Feng J, IMAGEN Consortium (2019) Adolescent binge drinking disrupts normal trajectories of brain functional organization and personality maturation. Neuroimage Clin 22:101804

12.

Engels R, Hermans R, van Baaren R, Hollenstein T, Bot S (2009) Alcohol portrayal on television affects actual drinking behaviour. Alcohol Alcohol 44(3):244–249

13.

Jernigan D (2010) The extent of global alcohol marketing and its impact on youth. Contemp Drug Probl 37:57–89

14.

Lobstein T, Landon J, Thornton N, Jernigan D (2015) The association between alcohol marketing and youth alcohol consumption: a systematic review for Public Health England. UK Health Foundation, London

15.

Anderson P, De Bruijn A, Angus K, Gordon R, Hastings G (2009) Impact of alcohol advertising and media exposure on adolescent alcohol use: a systematic review of longitudinal studies. Alcohol Alcohol 44(3):229–243

16.

Smith L, Foxcroft D (2009) The effect of alcohol advertising, marketing and portrayal on drinking behaviour in young people: systematic review of prospective cohort studies. BMC Public Health 9(51). https://doi.org/10.1186/1471-2458-9-51

17.

Houghton F, Scott L, Houghton S, Lewis CA (2014) Children's awareness of alcohol sponsorship of sport in Ireland: Munster Rugby and the 2008 European Rugby Cup. Int J Public Health 59:829–832

18.

O'Brien K, Miller PG, Kolt GS, Martens MP, Webber A (2011) Alcohol industry and non-alcohol industry sponsorship of sportspeople and drinking. Alcohol Alcohol 46(2):210–213

19.

Jones SC, Phillipson L, Barrie LR (2010) 'Most men drink... especially like when they play sports': alcohol advertising during sporting broadcasts and the potential impact on child audiences. J Public Aff 10(1–2):59–73

20.

Pettigrew S et al (2013) Game on: do children absorb sports sponsorship messages? Public Health Nutr 1:1–8

21.

Carr S, O'Brien KS, Ferris J, Room R, Livingston M, Vandenberg B, Donovan RJ, Lynott D (2016) Child and adolescent exposure to alcohol advertising in Australia's major televised sports. Drug Alcohol Rev 35(4):406–411

22.

Hastings G (2009) "They'll drink bucket loads of the stuff": an analysis of internal alcohol industry advertising documents. The Alcohol Education and Research Council, London

23.

Bestman A, Thomas SL, Randle M, Thomas SD (2015) Children's implicit recall of junk food, alcohol and gambling sponsorship in Australian sport. BMC Public Health 15:1022

24.

McCreanor T, Barnes HM, Kaiwai H, Borell S, Gregory A (2008) Creating intoxigenic environments: marketing alcohol to young people in Aotearoa New Zealand. Soc Sci Med 67(6):938–946

25.

Griffiths R, Casswell S (2010) Intoxigenic digital spaces? Youth, social networking sites and alcohol marketing. Drug Alcohol Rev 29(5):525–530

26.

Houghton F (2012) A perfect demonstration of the absence of leadership: alcohol policy in Ireland. Ir J Psychol Med 2993:145–146
Ethics declarations
Conflict of interest
The authors declare that they have no conflict of interest.
Ethical approval
This article does not contain any studies with human participants or animals performed by any of the authors.
Additional information
Publisher's note
Springer Nature remains neutral with regard to jurisdictional claims in published maps and institutional affiliations.
About this article
Cite this article
Houghton, F., McInerney, D. Sponsorship, advertising and alcohol control in Ireland: the importance of both premises and products in regulating intoxigenic environments. Ir J Med Sci 189, 1035–1037 (2020). https://doi.org/10.1007/s11845-019-02154-w
Received:

Accepted:

Published:

Issue Date: