Abstract
Pulsed radiofrequency treatment adjacent to the cervical dorsal root ganglion is used to treat persistent cervical radicular pain that has not responded to conservative therapies. This technique has gained popularity in years for both cervical and lumbosacral radicular pain. The evidence to support its use is still evolving.
Methods
We performed a retrospective review of outcomes in 59 patients who underwent this therapy over a 3-year period in our institution. We evaluated a reduction in pain, duration of pain relief, reduction in use of analgesics and progression to surgery.
Results
Our results demonstrated 49 patients experienced some relief. Forty patients of the 59 experienced an improvement in pain of 50% or more. The mean duration of relief in this group was 37 weeks. Seven patients experienced complete resolution of their pain. In this group, the mean duration of relief was 39 weeks. Regarding the 53 patients who were taking medication for pain prior to the procedure, 37 patients reduced or discontinued their usage after the procedure.
Conclusion
Despite the limitations of a retrospective study, we feel our study adds to the growing evidence base that pulsed radiofrequency treatment adjacent to the cervical dorsal root ganglion has a role in the treatment of chronic cervical radicular pain.
Access options
Buy single article
Instant access to the full article PDF.
USD 39.95
Price excludes VAT (USA)
Tax calculation will be finalised during checkout.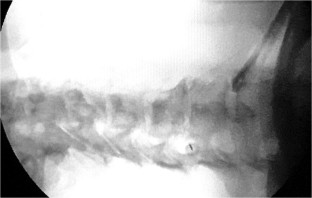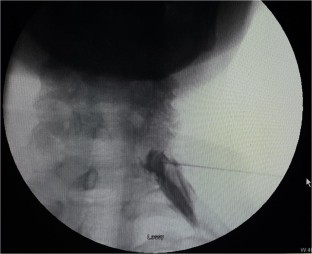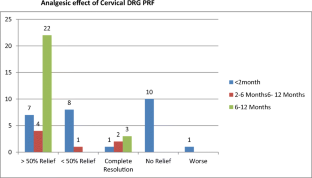 References
Radhakrishnan K, Litchy WJ, O'Fallon WM, Kurland LT (1994) Epidemiology of cervical radiculopathy. A population-based study from Rochester, Minnesota, 1976 through 1990. Brain. 117 ( Pt 2:325–335

Rhee JM, Yoon T, Riew KD (2007) Cervical radiculopathy. J Am Acad Orthop Surg 15(8):486–494

Côté P, Kristman V, Vidmar M, Van Eerd D, Hogg-Johnson S, Beaton D et al (2008) The prevalence and incidence of work absenteeism involving neck pain. Eur Spine J 17(1):192–198

Côté P, Cassidy JD, Carroll L (1998) The Saskatchewan health and back pain survey: the prevalence of neck pain and related disability in Saskatchewan adults. Spine. 23(15):1689–1698

Manchikanti L, Nampiaparampil DE, Candido KD, Bakshi S, Grider JS, Falco FJ, Sehgal N, Hirsch JA (2015) Do cervical epidural injections provide long-term relief in neck and upper extremity pain? A systematic review. Pain Physician 18(1):39–60

Chao S-C, Lee H-T, Kao T-H, Yang M-Y, Tsuei Y-S, Shen C-C, Tsou HK (2008) Percutaneous pulsed radiofrequency in the treatment of cervical and lumbar radicular pain. Surg Neurol 70(1):59–65

Van Boxem K, de Meij N, Kessels A, Van Kleef M, Van Zundert J (2015) Pulsed radiofrequency for chronic intractable lumbosacral radicular pain: a six-month cohort study. Pain Med 16(6):1155–1162

Munglani R (1999) The longer term effect of pulsed radiofrequency for neuropathic pain. Pain. 80(1–2):437–439

Akbas M, Luleci N, Dere K, Luleci E, Ozdemir U, Toman H (2011) Efficacy of pulsed radiofrequency treatment on the saphenous nerve in patients with chronic knee pain. J Back Musculoskelet Rehabil 24(2):77–82

Manolitsis N, Elahi F (2014) Pulsed radiofrequency for occipital neuralgia. Pain Physician 17(6):E709–E717

Philip CN, Candido KD, Joseph NJ, Crystal GJ (2009) Successful treatment of meralgia paresthetica with pulsed radiofrequency of the lateral femoral cutaneous nerve. Pain Physician 12(5):881–885

Van Zundert J, Lamé IE, de Louw A, Jansen J, Kessels F, Patijn J et al (2003) Percutaneous pulsed radiofrequency treatment of the cervical dorsal root ganglion in the treatment of chronic cervical pain syndromes: a clinical audit. Neuromodulation. 6(1):6–14

Van Zundert J, Patijn J, Kessels A, Lamé I, van Suijlekom H, van Kleef M (2007) Pulsed radiofrequency adjacent to the cervical dorsal root ganglion in chronic cervical radicular pain: a double blind sham controlled randomized clinical trial. Pain. 127(1–2):173–182

Wang MC, Chan L, Maiman DJ, Kreuter W, Deyo RA (2007) Complications and mortality associated with cervical spine surgery for degenerative disease in the United States. Spine. 32(3):342–347

Patil PG, Turner DA, Pietrobon R (2005) National trends in surgical procedures for degenerative cervical spine disease: 1990–2000. Neurosurgery. 57(4):753–758

Salahadin Abdi M, Sukdeb Datta M, Andrea MT (2007) Epidural steroids in the management of chronic spinal pain: a systematic review. Pain Physician 10:185–212

Anderberg L, Annertz M, Persson L, Brandt L, Säveland H (2007) Transforaminal steroid injections for the treatment of cervical radiculopathy: a prospective and randomised study. Eur Spine J 16(3):321–328

Choi GS, Ahn SH, Cho YW, Lee DG (2012) Long-term effect of pulsed radiofrequency on chronic cervical radicular pain refractory to repeated transforaminal epidural steroid injections. Pain Med 13(3):368–375

Nelson LS, Juurlink DN, Perrone J (2015) Addressing the opioid epidemic. JAMA. 314(14):1453–1454

Ray WA, Chung CP, Murray KT, Hall K, Stein CM (2016) Prescription of long-acting opioids and mortality in patients with chronic noncancer pain. JAMA. 315(22):2415–2423

Kwak SG, Lee DG, Chang MC (2018) Effectiveness of pulsed radiofrequency treatment on cervical radicular pain: a meta-analysis. Medicine (Baltimore) 97(31):e11761

Facchini G, Spinnato P, Guglielmi G, Albisinni U, Bazzocchi A (2017) A comprehensive review of pulsed radiofrequency in the treatment of pain associated with different spinal conditions. Br J Radiol 90(1073):20150406

Van Boxem K, Huntoon M, Van Zundert J, Patijn J, van Kleef M, Joosten EA (2014) Pulsed radiofrequency: a review of the basic science as applied to the pathophysiology of radicular pain: a call for clinical translation. Reg Anesth Pain Med 39(2):149–159

Das B, Conroy M, Moore D, Lysaght J, McCrory C (2018) Human dorsal root ganglion pulsed radiofrequency treatment modulates cerebrospinal fluid lymphocytes and neuroinflammatory markers in chronic radicular pain. Brain Behav Immun 70:157–165

Cho HK, Cho YW, Kim EH, Sluijter ME, Hwang SJ, Ahn SH (2013) Changes in pain behavior and glial activation in the spinal dorsal horn after pulsed radiofrequency current administration to the dorsal root ganglion in a rat model of lumbar disc herniation: laboratory investigation. J Neurosurg Spine 19(2):256–263
Ethics declarations
Conflict of interest
The authors declare that they have no conflicts of interest.
Ethical approval
Ethical approval for this study was granted by the SJH/AMNCH Joint Research and Ethics Committee which operates in compliance with the European Communities Regulations 2004 and ICH GCP guidelines. (Ref: 2017-11-Chairman's Action [12]).
Additional information
Publisher's note
Springer Nature remains neutral with regard to jurisdictional claims in published maps and institutional affiliations.
About this article
Cite this article
O'Gara, A., Leahy, A., McCrory, C. et al. Dorsal root ganglion pulsed radiofrequency treatment for chronic cervical radicular pain: a retrospective review of outcomes in fifty-nine cases. Ir J Med Sci 189, 299–303 (2020). https://doi.org/10.1007/s11845-019-02087-4
Received:

Accepted:

Published:

Issue Date:

DOI: https://doi.org/10.1007/s11845-019-02087-4
Keywords