Abstract
Introduction
Ureteric stents are frequently placed following endo-urological procedures. These stents cause significant morbidity for patients. Standard ureteric stents are removed by flexible cystoscopy. This procedure can be unpleasant for patients and requires additional resources. A newly designed magnetic stent allows removal in an outpatient setting. The aim of our study is to compare the magnetic stent and standard ureteric stents with regard to morbidity, pain on stent removal and cost-effectiveness.
Methods
This study was carried out across two sites between September 2016 and July 2017. In site A, a magnetic stent (Urotech, Black-Star®) is removed by magnetic retrieval device. Fifty consecutive patients completed the validated Ureteric Stent Symptom Questionnaire (USSQ) and visual analogue scale (VAS) at the time of stent removal. On site B, a soft polyurethane stent (Cook Universa) was removed by flexible cystoscopy. Fifty patients were identified retrospectively and completed questionnaires by post. Cost analysis was also performed.
Results
One hundred questionnaires were included for analysis. No significant difference in stent morbidity as assessed by the USSQ was shown between both groups. Median duration of stenting was significantly shorter in the magnetic stent group (5.5 versus 21.5 days, p < 0.001). Mean pain on stent removal was significantly less with magnetic retrieval (2.9 versus 3.9, p < 0.05). Complication rates were similar in both groups. Cost analysis showed a cost saving of €203 per patient with the magnetic stent group.
Conclusion
Magnetic stents cause similar morbidity for patients compared with standard stents removed by flexible cystoscopy; they are associated with less pain at removal and are cost saving.
Access options
Buy single article
Instant access to the full article PDF.
USD 39.95
Price excludes VAT (USA)
Tax calculation will be finalised during checkout.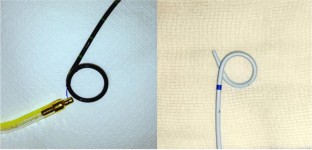 References
Finney RP (1978) Experience with new double J ureteral catheter stent. J Urol 120(6):678–681

Nabi G, Cook J, N'Dow J, McClinton S (2007) Outcomes of stenting after uncomplicated ureteroscopy: systematic review and meta-analysis. BMJ 334(7593):572

Auge BK, Sarvis JA, L'Esperance JO, Preminger GM (2007) Practice patterns of ureteral stenting after routine ureteroscopic stone surgery: a survey of practicing urologists. J Endourol 21(11):1287–1291

Harmon WJ, Sershon PD, Blute ML, Patterson DE, Segura JW (1997) Ureteroscopy: current practice and long-term complications. J Urol 157(1):28–32

Bockholt NA, Wild TT, Gupta A, Tracy CR (2012) Ureteric stent placement with extraction string: no strings attached? BJU Int 110(11 Pt C):E1069–E1073

Rassweiler MC, Michel MS, Ritter M, Honeck P (2017) Magnetic ureteral stent removal without cystoscopy: a randomized controlled trial. J Endourol 31:762–766

Rodriguez-Rubio FSGGSSCEF (2009) Patient tolerance during outpatient flexible cystoscopy--a prospective, randomized, double-blind study comparing plain lubrication and lidocaine gel. Scand J Urol Nephrol 38(6):477–480

Oliver R, Wells H, Traxer O, Knoll T, Aboumarzouk O, Biyani CS et al (2016) Ureteric stents on extraction strings: a systematic review of literature. Urolithiasis 46(2): 129–136

Macaluso JN Jr, Deutsch JS, Goodman JR, Appell RA, Prats LJ Jr, Wahl P (1989) The use of the Magnetip double-J ureteral stent in urological practice. J Urol 142(3):701–703

Joshi HB, Stainthorpe A, MacDonagh RP, Keeley FX Jr, Timoney AG, Barry MJ (2003) Indwelling ureteral stents: evaluation of symptoms, quality of life and utility. J Urol 169(3):1065–1069 discussion 9

Lange D, Bidnur S, Hoag N, Chew BH (2015) Ureteral stent-associated complications--where we are and where we are going. Nat Rev Urol 12(1):17–25

Leibovici D, Cooper A, Lindner A, Ostrowsky R, Kleinmann J, Velikanov S, Cipele H, Goren E, Siegel YI (2005) Ureteral stents: morbidity and impact on quality of life. Isr Med Assoc J 7(8):491–494

Aaronson DS, Walsh TJ, Smith JF, Davies BJ, Hsieh MH, Konety BR (2009) Meta-analysis: does lidocaine gel before flexible cystoscopy provide pain relief? BJU Int 104(4):506–509 discussion 9-10

Abdulmajed Mi SIS (2011) Flexible cystoscopy removal of ureteric stent: is it painful? Br J Med Surg Urol 4(5):223

Damiano R, Autorino R, Esposito C, Cantiello F, Sacco R, de Sio M et al (2004) Stent positioning after ureteroscopy for urinary calculi: the question is still open. Eur Urol 46(3):381–387 discussion 7–8

Scarneciu I, Lupu S, Pricop C, Scarneciu C (2015) Morbidity and impact on quality of life in patients with indwelling ureteral stents: a 10-year clinical experience. Pak J Med Sci 31(3):522–526

Chew BH, Lange D (2016) Advances in ureteral stent development. Curr Opin Urol 26(3):277–282

Sevcenco S, Eredics K, Lusuardi L, Klingler HC (2018) Evaluation of pain perception associated with use of the magnetic-end ureteric double-J stent for short-term ureteric stenting. World J Urol 36(3):475–479

Barnes KT, Bing MT, Tracy CR (2014) Do ureteric stent extraction strings affect stent-related quality of life or complications after ureteroscopy for urolithiasis: a prospective randomised control trial. BJU Int 113(4):605–609

Kim DJ, Son JH, Jang SH, Lee JW, Cho DS, Lim CH (2015) Rethinking of ureteral stent removal using an extraction string; what patients feel and what is patients' preference? : a randomized controlled study. BMC Urol 15:121
Ethics declarations
Conflict of interest
The authors declare that they have no conflict of interest.
Ethical standards
This study has been approved by the ethical review board at both Connolly and Beaumont Hospitals and was performed in accordance with the ethical standards laid down in the 1964 Declaration of Helsinki and its later amendments.
Additional information
Publisher's note
Springer Nature remains neutral with regard to jurisdictional claims in published maps and institutional affiliations.
About this article
Cite this article
O'Kelly, J.A., Haroon, U.M., Rauf, A.J. et al. Ureteric stenting with magnetic retrieval: an alternative to traditional methods. Ir J Med Sci 189, 289–293 (2020). https://doi.org/10.1007/s11845-019-02075-8
Received:

Accepted:

Published:

Issue Date:

DOI: https://doi.org/10.1007/s11845-019-02075-8
Keywords
Double J stent

Flexible cystoscopy

JJ stent

Magnetic stent

Stent symptoms

Ureteric stent

Ureteroscopy